"The lakefront by right belongs to the people…it should be made so alluring that it will become the fixed habit of the people to seek its restful presence at every opportunity." Daniel Burnham, 1909
The story of Navy Pier is remarkable. In the past century it's been re-purposed, recycled, reinvented, and reinvigorated. It's been home to soldiers, prisoners, and students. It's been a driver of commerce, an innovator of entertainment, and a neglected by-product of happier times. It's been a vision of what could be, a reminder of what was, and a glimpse of what should have been.
Now, after more than a hundred years, Navy Pier is experiencing a rebirth and a growth unprecedented in its storied history. The revitalization is astonishing, and the plans for its future ensure that it will become that alluring habit that Burnham envisioned.
Navy Pier is one of Chicago's most popular destinations for a multitude of reasons. Visitors can experience everything from fast food to fine dining, cover bands to Shakespeare, speedboats to serene sailing. It's 50 acres of excitement and variety, and this guide will help you to truly feel like a Local Tourist, to help you enjoy and respect everything it has to offer.
Welcome to Navy Pier!
For even more Chicago fun:
Your Guide to Navy Pier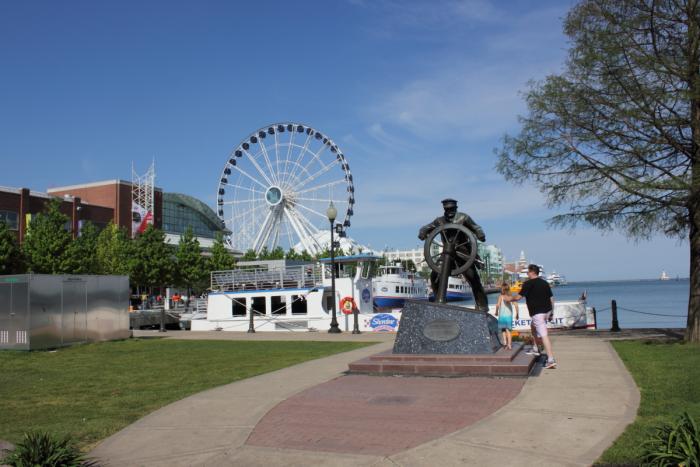 The Basics
Before you dive into the world of Navy Pier, there are a few things you should know.
Guest Services
Make Guest Services at the entrance your first stop. Their staff, garbed in navy blue shirts and khaki pants, can answer any questions and point you in the right direction. You can find additional Guest Services kiosks near West Garage Parking Doors 1 and 5.
TLTip: You can chat with a USO representative on Saturdays from 9am to 2pm. All military past and present are invited to present their ID to receive special offers and discounts.*
*Sprinkled throughout this guide you'll see "TLTips." These provide quick snippets of information designed to make your visit to Navy Pier easier, more enjoyable, or just provide tidbits of trivia so you can annoy your friends and loved ones.
How much is Navy Pier?
Free! Some individual attractions and events charge admission.
Age Restrictions
Anyone of any age can visit Navy Pier. However, after 5pm on Fridays, Saturdays, and Sundays, and during some special events, youths under the age of 18 must be accompanied by a parent or legal guardian at all times. IDs may be checked upon entering all of Navy Pier's facilities and grounds.
Hours
Navy Pier's hours vary depending on the season and the holiday. The following are general hours for the pier. Check with each individual business you plan on visiting for its operating hours.
Memorial Day – Labor Day: Sunday – Thursday: 10 am – 10 pm; Friday and Saturday: 10 am – Midnight
Labor Day – Halloween: Sunday – Thursday: 10 am – 8 pm; Friday and Saturday: 10 am – 10 pm
November 1 – Memorial Day: Monday – Thursday 10 am – 8 pm; Friday and Saturday 10 am – 10 pm; Sunday 10 am – 7 pm
Holidays:

July 4: 10am – 10pm
Thanksgiving Day: Closed
December 24: 10am – 5pm
December 25: Closed
December 31: 10am to Midnight
January 1: 10am to 10pm
Wifi
Yes – free public wifi is available in the food court and the new food experience as well as inside the Crystal Gardens.
Restrooms
Maybe the most important information of all: where are the restrooms?
From the entrance, the restrooms are located to the left across from McDonald's. Additional restrooms are located by:
Jimmy Buffett's Margaritaville
Navy Pier Park
Riva Restaurant
Billy Goat
Richard H. Driehaus Gallery of Stained Glass
Aon Grand Ballroom
During events, restrooms are open in Festival Hall.
TLTip: Navy Pier has two Mamava Nursing Station pods. One is located in the Family Pavilion near Faces in Focus and another is near Riva.
Accessibility
Navy Pier wants everyone to enjoy its many attractions, shops, and restaurants, so they've made every effort to be accessible to all.
Wheelchairs: available from guest services
Elevators: all levels are serviced by elevators
Service Animals: permitted, as defined by the Americans with Disabilities Act (ADA)
Convenient paratransit drop-off and pick-up locations: located at Family Pavilion entrance and Entrances 1 and 2, and all have ramps
Accessible parking spaces: located on floors 1, 3, 4, 5, 6, and 7 in the West Garage, and near every door that leads to the pier in the East Garage. The East Garage has higher ceiling clearance for larger vehicles. (See more in our Parking at Navy Pier chapter.)
Accessible Shakespeare: a performance of every production at Chicago Shakespeare Theater is interpreted in American Sign Language and is audio-described.
Cruises: Mystic Blue, Odyssey, Seadog, Shoreline Sightseeing, and Spirit of Chicago all offer wheelchair accessibility. Some ships are limited to manual wheelchairs, and not all of Shoreline's cruises are accessible. Check with the cruise operator before booking.
TLTip: There is plentiful seating on the South Dock promenade, providing several places to rest along the pier.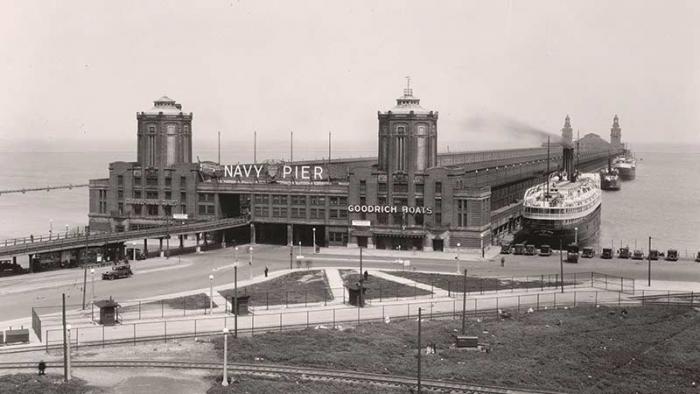 A Brief History
Navy Pier opened in 1916, but its history began years before. What would eventually become one of the city's most popular destination was the concept of one of Chicago's most important historical figures.
Daniel Burnham was a civil engineer and architect whose vision, the 1909 Plan of Chicago, defined much of what makes Chicago the beautiful city it is to this day.
Part of this grand plan was the development of five piers that would provide commerce and recreation along Chicago's lakefront. Only one of these piers was built, and it's survived a century of changes, growth, atrophy, and rebirth.
Burnham died in 1912, but his influence and his vision are still felt to this day.
1916
Municipal Pier #2 opens to the public after two years of construction. It's the first time a pier is used for both shipping and recreation. It was immediately popular because of the cool lake breezes and its unique promenades.
TLTrivia: Where's Municipal Pier #1? It was never built! The pier that stands today was the second of the five piers in Burnham's plan, hence the name Municipal Pier #2.
1917 – 1918
During World War I Naval soldiers and recruits, as well as Red Cross and Home Defense units, moved into the pier. It also housed a jail for draft dodgers.
1920s
The heyday of the 20s was also the heyday of the pier. While it was still used for freighters it also became a full-fledged entertainment destination. There were live bands, plays, art exhibits, children's activities, fireworks displays, and airplane and motorboat races.
The "Pageants of Progress," which took place in 1922, brought over a million visitors to see sky diving stunts, speed boat races, and even mock pirate attacks.
1927
Municipal Pier #2 officially becomes Navy Pier, named to honor the soldiers of World War I.
1930s
Over the next decade freight usage declined due to the Great Depression, but recreational use continued. The pier also hosted several trade shows, including the Flower and Garden Show, the National Motor Truck Show, and the Automotive Services Industry Show.
1941
During World War II Navy Pier was once again used in the war effort. By the end of the war 60,000 sailors and marines had trained at the pier. Navy pilots were also trained here, including George H.W. Bush.
TLTip: As many as 200 WWII planes are at the bottom of Lake Michigan due to training accidents.
1946
The war ended and the University of Illinois moved in, earning Navy Pier the nickname "Harvard on the Rocks."
1965 – 1989
After nearly two decades U of I moves to its new home southwest of downtown Chicago, and for the next 20 years the pier fell into disuse and decay. Shipping had stopped entirely. But then, a brief renaissance and renovation was sparked during the 1976 Bicentennial Celebrations.
In 1977 the City of Chicago declared Navy Pier a Chicago Landmark, and the following year it hosted the first Chicagofest. Where the landmark had previously been in danger of becoming another lost piece of Chicago history it was now poised to be part of the entertainment landscape once again.
TLTrivia: Chicagofest brought entertainers as diverse as Frank Sinatra, Kool and the Gang, Alice Cooper, and the Chicago Symphony Orchestra to Navy Pier. It would later become the Taste of Chicago.
1990 – 1995
The City of Chicago and the Urban Land Institute joined forces to save the pier. As a result the Metropolitan Pier and Exposition Authority was created. Navy Pier was redesigned and reopened in 1995 as a mixed-use facility that focused on entertainment and featured as its centerpiece the iconic Ferris Wheel. It worked – the pier quickly became the #1 destination in the Midwest.
1996 – 2011
Over the next several years Navy Pier continued to draw millions of visitors per year. Summer fireworks shows, trade shows, Chicago Shakespeare Theater, the several cruise tours docked at the pier, and special events like Tall Ships continue to build interest.
2011 – 2016
In 2011 Navy Pier officially becomes a non-profit and a new direction is taken. Building on the success of the previous 15 years, Navy Pier, Inc., unveils The Centennial Vision. The goal is to rebuild the pier as a world-class destination that will provide year-round entertainment, unique attractions, and public gathering spaces for everyone.
TLTrivia: Think Navy Pier is just for tourists? Think again. In 2013 67% of the visitors were from the Chicagoland area. Hello, Local Tourists!
2017
The Centennial Vision is nearly realized, with a new Centennial Wheel, redesigned promenades, and an increased emphasis on local restaurants and highlighting Chicago's assets. Construction is continuing, but Navy Pier is poised to remain one of the Midwest's most popular attraction and to surpass its previous successes.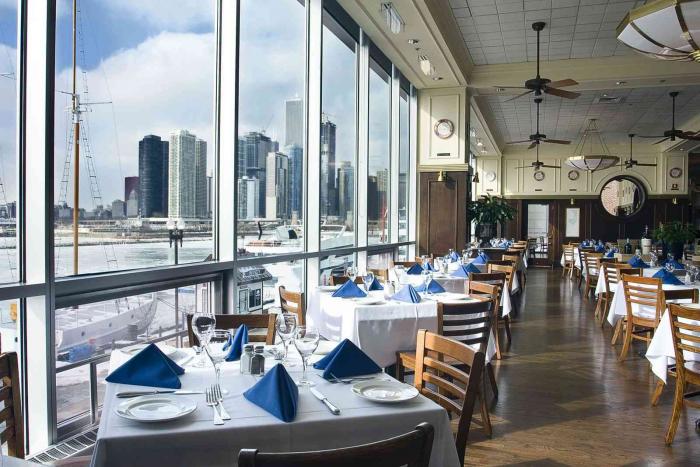 Dining and Drinking
There are several options for eating and drinking on Navy Pier. You can eat outside; you can eat inside. You can eat standing up. You can eat sitting down. You can pick up your food at a counter or you can have it brought to you and served on a white tablecloth. You can drink a beer while watching a game or listening to live music. You can eat out of your hands or out of a bag.
In short, Navy Pier's restaurants and bars offer something for everyone, whether you're a local or a tourist.
It wasn't always this way, but with its redevelopment Navy Pier has made a concerted effort to create a more local dining experience. You can still get Bubba Gump's and Auntie Anne's, but now you can also dig into some DMK burgers, fill your Big Bowl with authentic Chinese cuisine, and indulge in five flavors of ice cream at once as you stroll dockside.
Local Restaurants
America's Dog
$
Two brothers traveled the country to find the best hot dog recipes, then they brought their favorites home with them. America's Dog showcases these favorites with 18 "city dogs." (But you're going to get the Chicago dog, right? RIGHT?) You can get them year round in the food court.
TLTip: several of their city dogs are under 400 calories
Big Bowl
$$
Pick and choose from an array of authentic Chinese cuisine at this local chain located in the food court. Because this is an "express" version you won't get the entire menu, but there are plenty of options including cherry bomb shrimp and Kung Pao chicken.
Big City Chicken
$
If you're looking for some of the best fried chicken in Chicago you're in the right spot. Founded by Chef Tim Hockett, the chef and partner behind the popular M Burger chain, this is not your typical fast food. The chicken is crisp and the fries aren't greasy. You can get 2, 3, or 8 piece fried chicken, chicken sandwiches, and chicken strips, and they're all available with some spice, too.
Billy Goat Tavern
$ – Outdoor seating
While the original, made legendary by Saturday Night Live, is just a few blocks away, you can get your own cheezborger cheezborger right on Navy Pier. This location also offers outdoor seating, providing a much better view than its underground sibling. Like the original, prices here are pretty reasonable. A cheezborger original will only run you $3.45 – just ten cents more than the subterranean location.
Chango Loco
$$ – Outdoor seating
Located on the second floor in the Crystal Gardens, this seasonal restaurant has great views both inside and outside. The cuisine is Mexican but they've got hamburgers and tater tots, too. It's only open from May through August, so you'll want to get it while you can.
DMK Burger Bar and Fish Bar
$$ – Outdoor seating
You don't have to choose between land and sea at this venue. Owners and partners David Morton and Michael Kornick have combined DMK Burger Bar and DMK Fish Bar to bring you a little of both. The burgers include tasty creations like grass-fed bison, goat cheese, pickled red onion, and blueberry BBQ sauce; and the seafood lovers can get crabby patties and salmon BLTs. The prices are higher, but all the burgers include fries and all the fish sandwiches include tots.
Frankie's Pizza by the Slice
$
Get a slice of 'za at this carry-out edition of Frankie's 5th Floor Pizzeria at 900 North Michigan Shops. In addition to pizza by the slice you can get individual pan pizzas, Italian beefs, frozen lemonade and whole pizzas to go.
TLTip: If you're in a group suggest that everyone visit a different place and then share!
Garrett Popcorn
$
There's no mistaking the scent of Garrett Popcorn – or the lines of people waiting to dig into that sweet/salty Chicago mix. Since 1949 they've been air-popping kernels and mixing them with their secret family recipes to create crave-able snacks.
Giordano's
$$ – Outdoor seating
If Chicago deep dish pizza is on your bucket list, then you can check it off as soon as you arrive at Navy Pier. The hometown favorite has a prime location at the entrance, giving you plenty of opportunity to walk off some of that stuffed pie.
Greek Delight
$$
Get a taste of Greektown at this counter-service spot that offers gyros, Greek salads, kabobs, and baklava.
Harry Caray's Tavern
$$$ – Outdoor seating
Holy Cow you're going to love this place! That is, if you love sports and Chicago. They've got lots of sports memorabilia, although the menu is different from their original Italian Steakhouse location. This one features barbecue and craft beer, and they also offer a gluten-free menu with tacos, salads, and sandwiches served on GF buns.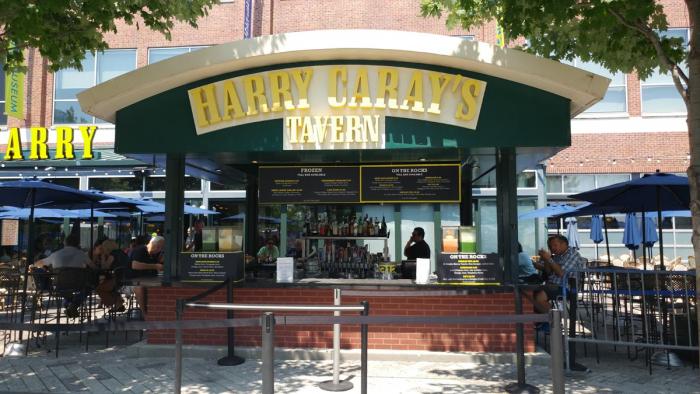 Lalo's Mexican Restaurant
$$
When Lalo's opened in 1971 the idea was to show that Mexican cuisine is more than just tacos, enchiladas, and salsas, although they offer those, too. They now have locations in the city and suburbs and the restaurants are still family owned. Their Navy Pier location is counter-service and offers beers and margaritas to go with your guac.
Miller Lite Beer Garden
$ – Outdoor seating
At first glance you might not think this is a local spot. It has "Miller Lite" in the name, for tourists' sake. What makes this home-grown is that it's owned by Phil Stefani Signature Restaurants, the parent company that owns several local spots including Riva Crab House. The food is burgers and brats and the drinks include frozen cocktails, some craft beer selections, as well as the eponymous Lite. On Wednesdays to Sundays from Memorial Day through Labor Day live music entertains in this prime location at the end of the pier.
The Original Rainbow Cone
$
When one flavor of ice cream isn't enough, get a whole rainbow! The Original Rainbow Cone is a family-owned business that's been serving up five layers of creamy goodness since 1926. A cone includes chocolate, strawberry, Palmer House, which is a blend of vanilla, walnuts and cherries, pistachio and orange sherbet.
Riva Crab House
$$$$$
This is one of the best restaurants with a view in Chicago. While you're dining on seafood from coast to coast, whether it's Atlantic Salmon or Alaskan Red King Crab Legs, you'll have a spectacular vantage point of the dock and the Chicago River's entrance to Lake Michigan through the floor to ceiling windows. Dinner is definitely a dressed-up affair, and lunch at the Cafe can be a bit more casual with salads and sandwiches.
Ryba's Fudge Shop
$
Don't be envious of those sailors competing in the Race to Mackinac. There's a little piece of the island and its handmade fudge right here in Chicago.
Snow Dragon Shavery
$
Instead of another ice cream shop (Navy Pier already has two), here you can get shaved snow. It's lighter and they offer flavors like key lime, mango, green tea, and coconut. Speaking of, you can also get fresh coconut water, plus frozen yogurt and macarons. (Can you ever go wrong with macarons?)
Tiny Tavern
$
This branch of Tiny Lounge will turn your Navy Pier cocktailing on its barrel-aged single-batch ear. Craft cocktails are the order of the day, and it's one of the hottest spots on the pier for both locals and tourists.
Xurro / Churro Factory
$
Since 1996 husband and wife team Ramon and Irma Covarrubias have been serving up these portable desserts in Pilsen. You can get their churros right on Navy Pier at their seasonal dock-side location.
TLTip: Did you know you can walk the pier with an adult beverage in hand? Pick up a drink at one of the outside bars (Harry Caray's Tavern, Jimmy Buffett's Margaritaville, Riva, Billy Goat Tavern, Tiny Tavern, or Miller Lite Beer Garden) and you can sip-and-stroll.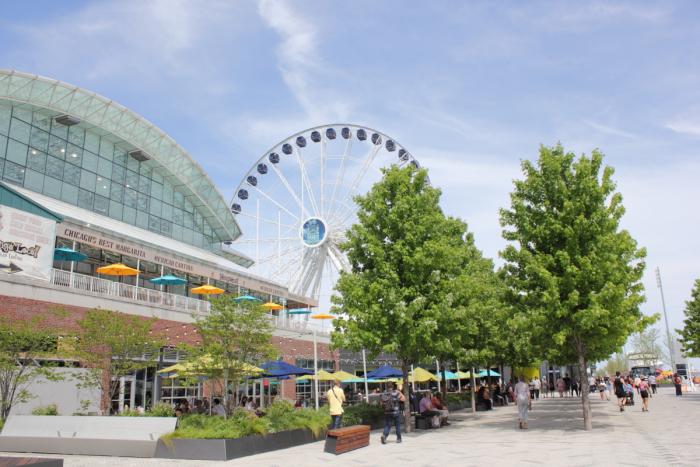 National
Auntie Anne's
$
If you've been in a shopping mall then you're familiar with this pretzel chain. Their cinnamon scent is ubiquitous at shopping centers across the country, and Navy Pier is no exception.
Ben & Jerry's
$
Sometimes you just want a good ol' scoop of ice cream. This Vermont-based shop is known for its commitment to the environment and social good – and for its creative, delicious flavors!
Bubba Gump Shrimp Co.
$$$
In addition to shrimp in just about any preparation you can imagine, this chain out of Monterey, California, also offers other seafood as well as chicken, burgers, and jambalaya. Margaritas are shaken table-side and you can get the shaker to take home with you. They've got a limited gluten-free menu as well as a kids menu.
Freshii
$
If you're looking for something on the healthy side this fast food chain out of Canada offers juices, smoothies, wraps, bowls, salads, and all the kale you could imagine.
Jamba Juice
$
Pick up a whole fruit smoothie or one of their juice blends, or if you just want a quick pick-me-up you can get a shot of wheat grass or orange-cayenne-ginger. For a heartier appetite, they've got sandwiches and California Flatbreads.
Jimmy Buffett's Margaritaville Bar & Grill
$$$ – Outdoor seating
No need to waste away when you can kick back in Margaritaville. Navy Pier's got its own bit of paradise with this outpost of the Key West original. There's both indoor and outdoor seating, and if you'd like some shade while sipping on your tequila you can sit at the weather protected Tiki Bar.
McDonald's
$ – Outdoor seating
Two all-beef patties, special sauce, lettuce, cheese, pickles, onions – on a sesame seed bun…
Starbucks
$
Get your venti-sized caffeine fix in between sightseeing at this standby.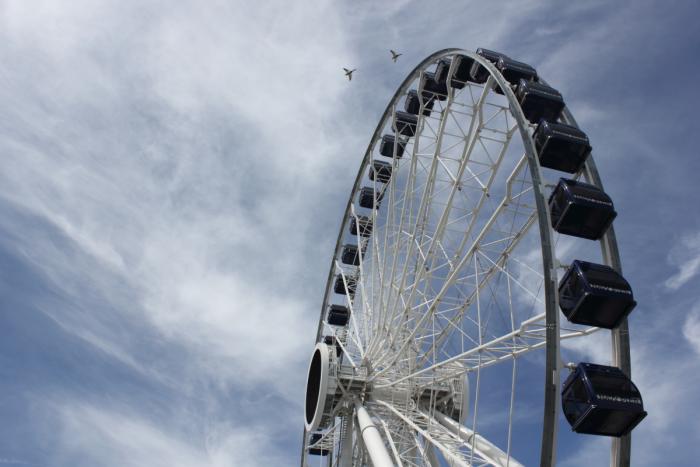 Attractions & Things To Do
Within the attraction that is Navy Pier there are several things to do that are destinations in their own right. Whether you're looking for a family-friendly activity or the perfect date night, Navy Pier has you covered.
Amazing Chicago's Funhouse Maze
This 4,000 square foot attraction wants you to get lost – but don't worry, they'll find you! Weave your way through the Rainbow Tunnel, skip over the Funny Floor, wiggle through the Big Squeeze, and look for Al Capone's hidden loot. There are also games and a mirror maze and spinning lights. You can purchase tickets for the maze only $9.99 or for all of their attractions for just a dollar more. If you plan on spending the day at the pier you can get the unlimited pass for $12.99 and come back as many times as you want. Opens daily at 10am.
Chicago Children's Museum
Since 1995 the Chicago Children's Museum has offered kids and families a place to play and learn at Navy Pier. The museum is filled with interactive exhibits that help children exercise and expand their knowledge and imagination. They can climb a three-story schooner, dig for dinosaur bones, fight "fires," and unleash their inner artists, just to name a few. Tickets are $14 for children and adults and $13 for seniors. Opens daily at 10am.
TLTip: the museum is free the first Sunday of every month for kids 15 and under.
Chicago Shakespeare Theater
The Chicago Shakespeare Theater is a 500-seat courtyard-style theater plus a more intimate 200-seat versatile venue upstairs. The theater stages classic performances, new twists on the Bard's tales, guest troupes from around the world, and shows that the whole family will enjoy. With over 600 performances per year there is always a chance to experience live theater at Navy Pier.
Speaking of stages, CST has created a whole new theater experience called The Yard. Consisting of mobile towers with three levels of seating, the space can be configured differently based on the needs of the production.
Crystal Gardens
Need a break? Step into this indoor oasis and its one-acre botanical garden. The "Crystal" refers to the six-story glass atrium that towers fifty feet above the palm trees. Sprinkled throughout the space are dancing fountains that leapfrog spouts of water.
TLTip: Crystal Gardens is a popular location for weddings and private events so it's often unavailable.
AMC Navy Pier IMAX® Theatre
IMAX gives new meaning to seeing a movie on the big screen. Theirs is big. Like, REALLY big. It's six stories tall big. It's more than just the visuals, though. This theater is a full sensory experience with digital surround sound and impressive acoustics. Buy your tickets in advance and you can select your seat ahead of time, although there's really not a bad spot in the house.
Festival Hall
This grand hall is the location for many of the city's most popular events, including SOFA Chicago and Navy Pier Winter Wonderfest.
Navy Pier Park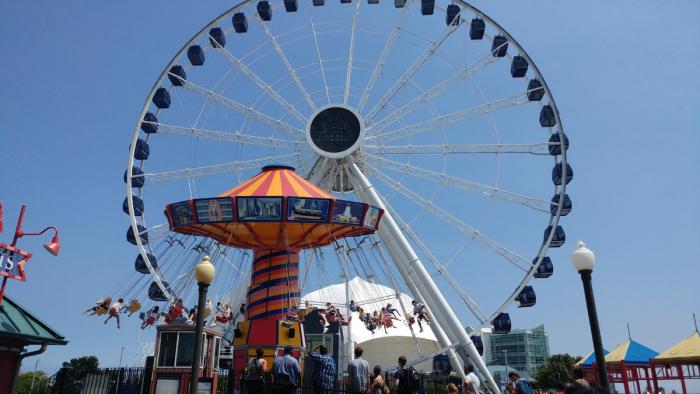 With the Centennial Wheel as its centerpiece, Navy Pier Park is an outdoor playground located on the second level. The park is open seasonally from May through Labor Day.
Centennial Wheel
Unveiled in June of 2016, the Centennial Wheel, like its predecessor, is the iconic representation of Navy Pier. Nearly 200 feet tall, there are 42 gondolas that can carry over 400 passengers.
The cars are climate controlled so visitors can now get those amazing views all-year round. Worried about that infamous wind? Don't be. The wheel is the same model as the one in Hong Kong, which is built to withstand typhoon-strength winds.
Navy Pier Ferris Wheel Hours:
January 1 – March 31, 2020 
Monday – Thursday: 10am – 8pm
Friday – Saturday:  10am – 10pm
Sunday: 10am – 7pm
April 1 – May 23, 2020 
Sunday – Thursday: 10am – 8pm
Friday – Saturday: 10am – 10pm
Memorial Day Weekend
Friday, May 24:  10am – Midnight
Saturday, May 25: 10am – Midnight
Sunday, May 26: 10am – 10pm
Monday, May 27: 10am – 10pm
May 28 – September 2, 2020
Sunday – Thursday: 10am – 10pm
Friday – Saturday: 10am – Midnight
September 3 – October 31, 2020
Sunday – Thursday: 10am – 8pm
Friday – Saturday: 10am – 10pm
November 1 – December 31, 2020* 
Monday – Thursday: 10am – 8pm
Friday – Saturday: 10am – 10pm
Sunday: 10am – 7pm
*Please note the following holiday hours in the months of November and December:
Thanksgiving Day: Closed
Christmas Eve: 10:00 am – 5:00 pm
Christmas Day: Closed
New Year's Eve: 10am – Midnight
Navy Pier Ferris Wheel Ticket Prices
Adult: $18
Illinois Resident Adult: $14*
Military (must show ID at box office): $15
Illinois Resident Military: $12*
Child ages 3-11: $15
Illinois Resident Child: $12*
Children under 3: FREE
*Resident rates offered Tuesdays through Thursdays from November 1 – March 31. To claim discount, please present your Illinois driver's license or state ID at the Pier Park Box Office.
Other Navy Pier Park attractions include:
PEPSI Wave Swinger $8
Carousel $5
Climbing Wall $8
Light Tower Ride $5
Remote Control Boats $2 per boat
Polk Bros Park
As you approach Navy Pier you travel through this beautiful park named for one of the most generous of Chicago families. In 2013 alone The Polk Bros. Foundation, which was established back in the mid-1950s, donated $20 million to more than 350 Chicago nonprofits. The next year, in addition to their normal largesse, the foundation gave another $20 million to Navy Pier to fund the redevelopment of the pier itself and of its gateway park.
At the center of the 13-acre park is a 12,500-square foot fountain. Designed to be experienced, visitors are encouraged to walk through the fountain itself as its 150 programmable jets mimic waves, fish, and birds. In the winter this fountain is slated to become an ice skating rink. Two new performance lawns feature unique programming of arts and cultural events.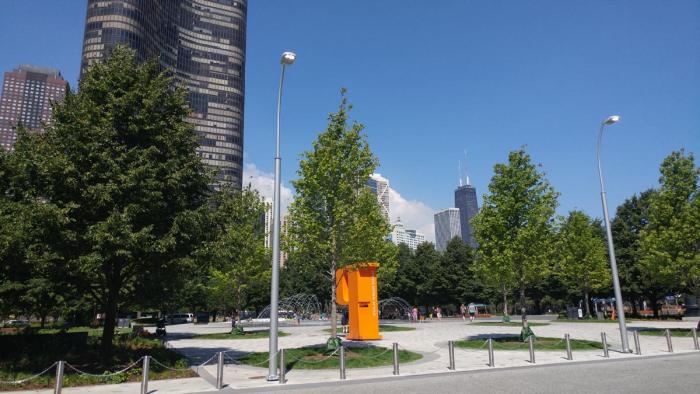 Cruises & Tours
There's nothing like viewing the Chicago skyline from a boat, which makes a cruise on Lake Michigan one of the best ways to experience the city. Several of the cruise ships dock at Navy Pier and there's a diverse selection from which to choose. Whether you're looking for a fancy dinner for two or a fast – literally! – tour of the lakefront these cruises have you covered.
Mystic Blue
This ship offers three enclosed decks with the largest picture windows of any ship on Navy Pier. They offer brunch, lunch, and dinner buffet cruises. You can also catch the fireworks and there are craft beer-themed cruise nights and moonlight cruises for the night owls.
Prices for these range from $49.95 to $104.90 for the cruise and cuisine; drinks are available at the cash bar.  They also offer "Boathouse Cruises," which are casual weekday and Sunday jaunts. No food is provided on these so they cost a little less, but you can order some hors d'oeuvres and drinks on board.
Odyssey Cruises
For a more upscale cruising experience consider Odyssey Cruises. The recently renovated luxury vessel has a sophisticated rooftop lounge and an elegant interior, suited for the three-course dinner you'll enjoy with the Chicago skyline as your backdrop. They have a DJ for those who enjoy dancing, and you'll even have the opportunity to visit the Captain's Bridge. Prices are higher for this experience. Expect to pay $125+ per person for dinner and $75 for lunch.
Seadog Cruises
No time? In a hurry? Or do you just like to go fast? Then Seadog is your speed. With 2,000-horsepower engines you'll feel the spray of the lake on your face as your guide shares fun facts about Navy Pier and Lake Michigan. It's a 30-minute adrenalin rush! If you're looking for a more involved experience, they've also got a combination architecture tour on the river followed by the thrilling race on the lake.
Shoreline Sightseeing
Shoreline has been showing off Lake Michigan since 1939. Since then they've grown to a fleet of ten touring boats and nine water taxis. You can take an architectural tour on the river, a lake tour, or just use their boats for transportation. Their water taxis can take you both to the Museum Campus (Shedd Aquarium, Field Museum of Natural History, and Adler Planetarium) and down the Chicago River to Willis Tower. Food and drink is not included unless you're taking one of their specialty beer- or wine-themed cruises. Note that the Water Taxis are not wheelchair accessible!
Spirit of Chicago
Sister ship to Mystic Blue, Odyssey, and Seadog, Spirit of Chicago offers buffet-style dining with a menu from Chopped champion Chef Eric LeVine. Whether you choose a brunch, lunch, or dinner cruise you can kick your heels up on the dance floor. It features a large winding staircase and an open ceiling, creating a festive party atmosphere.  Their unique specialty cruises include a series of comedy cruises, gospel lunch, senior cabaret, and cocktail cruises, to name a few.
Tall Ship Windy
For a unique cruising experience set sail on the Tall Ship Windy. The 148' schooner is the first certified four-masted traditional sailing vessel built in America since 1921. Up to 150 people can choose from three decks, making for a more intimate cruising experience. In addition to architecture and fireworks sails, have some fun with their "Tales of Real Pirates of the Inland Seas." At a little over $33 this is one of the more affordable boating options on Lake Michigan.
Find a Chicago boat tour and book it in advance
Tours
Bike and Roll Chicago
The 28-mile lakefront path rolls right by Navy Pier, so you can head either north or south with a bike from this kiosk in Polk Bros. Park. You can rent bikes by the hour, day, or week, or you can join a guided tour. That lakefront path will take you north to Lincoln Park Zoo or North Avenue Beach and south to Northerly Island and the Museum Campus, and several miles beyond in either direction. You can also take a Segway tour, those fun two-wheeled contraptions that glide with the greatest of ease. Open seasonally.
Big Bus Tours
This hop on – hop off tour has fourteen stops in downtown Chicago, including Navy Pier. Their distinctive double-decker buses take you to the top attractions. Because you can get on and off at any stop you can use this service as transportation and get a tour along the way. You can get a Classic ticket and choose from day or night tours, or a Premium ticket, which includes the night tour.
Book your Big Bus Hop-On Hop-Off Tour
Shopping at Navy Pier
Navy Pier has several shops that offer unique gift ideas, entertaining souvenirs for you (and your pets!), and items from around the world, so why not take home a reminder of your visit?
Apparel and Accessories
All The Time: watches, belt buckles, and misc jewelry
Cell Depot: cell phone accessories
Chicago Sports Store: officially licensed products representing sports teams
Dancing Sun Crystals: crystal prisms, pendants and jewelry
Dog E Works: accessories for pets
Gold & Silver Art FX: personalized jewelry and accessories
Life in the Windy City: Life is good branded apparel for Chicago
Strictly Sterling: sterling silver jewelry
Sun Coolers: sun glasses
Varsity Stop Outfitters: campus boutique offering collegiate-licensed products
Y-Knot: novelty ties
Chicago Souvenirs
Ahoy Chicago: Navy Pier-themed gifts and souvenirs
Driehaus Museum Store: Take home the Gilded Age of Chicago and mementos from historic moments
Making History: Chicago history-themed gifts and souvenirs
Navy Pier Signature Store: Navy Pier-themed gifts and souvenirs
Oh Yes Chicago: Chicago t-shirts, gifts, and pet items
Sweet Home Chicago: Handcrafted chocolate, candles and jewelry and retro apparel
Gifts and Collectibles
Best Gift Idea Ever: Specialty gifts made with custom photos of objects that look like letters
Faces in Focus: Caricatures and face painters
Ferris Wheel Photos: Souvenir photos
Magnetic Attraction: Refrigerator magnets and keychains
International
Fashion Bazar: Women's clothing, accessories, and tapestries
The Oriental Arts Center: Decorative home and fashion accessories from Asia
Sitara: Handcrafts from Bali and clothing from India
Toys & Games
Build-A-Bear Workshop: Toy shop where children "build" their own stuffed bears
CCM Gift Shop: Gift shop for the Chicago Children's Museum
Convenience & Candy
East West News: Drugstore and convenience items
iCandy Sugar Shoppe: Candy store featuring giant candy, like 5 lb Hershey bars
Pier News & Gifts: Convenience items and Dunkin' Donuts beverages
TLTip: There are lockers in the Family Pavilion so you can store your loot after you shop. They're limited, though, so get yours as soon as you arrive.
Places to Stay Near Navy Pier
Stay where you play, we like to say! Part of the redevelopment plan for Navy Pier is a 240-room hotel, which will provide the option to stay on the pier itself for the first time. (Well, for the first time since the pier was actually used by the Navy in World War II.) Construction is projected to be completed in 2020. We have some recommended places to stay nearby.
Check out our guide for hotels near Navy Pier for more detail on each.
ACME Hotel Company Chicago
Doubletree by Hilton Magnificent Mile
Hyatt Regency Chicago
Intercontinental Hotel Chicago
Loews Chicago Hotel
Radisson Blu Aqua Hotel
Getting to Navy Pier
Navy Pier seems, by its very nature, pretty hard to get to. It's actually in Lake Michigan, and the neighborhood that you have to travel through to get there is one of the most populated and busiest neighborhoods in one of the most populated and busiest cities in the country. It seems like just getting there in the first place is a serious pain in the pier.
That is, until you realize just how many ways there are to get to Navy Pier. You can take a bus, a boat, or even a trolley. You can walk or you can drive. Somebody else can drive you. There is a myriad of ways you can arrive at your destination, allowing you to maintain both your sanity and your solvency.
Public Transportation
Navy Pier's website lists the various buses, and their corresponding numbers, that service their location. That's great for someone who knows Chicago's system, and knows the routes of those specific buses, but doesn't help the tourist or the infrequent CTA (Chicago Transit Authority) rider. The easiest way to find out the best public transportation route is to use Google maps. Plug in your location, enter Navy Pier as your destination, and then choose the Transit option (it's the icon that looks like a train). You can enter the date you'll be traveling and when you want to leave your destination OR arrive at Navy Pier, and the map will provide exact directions.
Taxi
Taxis are a relatively easy and familiar way to get around a big city, especially if you're somewhere in downtown Chicago where they're plentiful. Just tell the driver you're heading to Navy Pier and you'll be dropped at the front door. You don't even need cash; taxis in Chicago are required to accept credit cards.
Ride Sharing Services
Another option is to use a ride sharing service like Uber or Lyft. (If you know about these services you can skip ahead.) You sign up for their service by downloading the app and adding your credit card information. When you're ready for a ride you request a pick up at your location.  Your fare is charged to your card, so no money changes hands, and you can choose to leave an additional tip once the ride is complete.
Cons: be aware that during busy times of the day they'll charge "surge" prices, and that drivers have the option to cancel pickups. The drivers also may rely entirely on GPS and may not be aware of the best route.
If you're new to ride-sharing service use one of our codes and you'll get a credit with Uber or  Lyft.
Ride a Bike
Divvy, the bike sharing system in Chicago, has three stations within half a mile of Navy Pier. You pay a fee for the day and then you can rent as often as you like, in half-hour increments.
You'll be given a code which you enter into the kiosk at the station. There are hundreds of stations throughout the city, so you can pick one up, ride to your next destination, and drop it off.
Then when you're ready to move on you can get another bike.
If you want a bike for the whole day you can rent one!
Free Trolley
Here's a cool way to get to Navy Pier – take their free trolley!  During the summer the trolley runs daily and all other months on Saturdays and Sundays only.
The route extends west from Navy Pier to State Street, then it turns south to Monroe before turning north on Columbus. At Illinois Avenue it turns east to return to the pier.
Stops include State and Kinzie, the Art Institute of Chicago, and several places along Grand and Illinois.
Water Taxi
Taking a water taxi to and from Navy Pier is one of the most scenic modes of transportation. Shoreline Water Taxi service runs from May through September.
You can take the taxi to Museum Campus or to Union Station / Willis Tower.
Drive
If nothing else, you can always drive. Like using public transportation, the easiest way to find the best route is to use Google maps. For quick reference, here are the directions Navy Pier provides:
From the north, take Lake Shore Drive (US 41) to the Grand Avenue exit and follow signs to Navy Pier.
From the northwest, take the Kennedy Expressway (I-90/94) to the Ohio Street Exit, head east on Ohio to Wells, head south on Wells to Illinois Street, then proceed east to Navy Pier. A secondary route is to take the Kennedy Expressway (I-90/94) to the Ohio Street exit, head east on Ohio to Columbus/Fairbanks, then go south on Columbus/Fairbanks to Illinois, and proceed east on Illinois to Navy Pier.
From the west, take the Eisenhower Express (I-290) to Columbus Drive, north to Illinois Street and proceed east to Navy Pier.
From the southwest, take the Stevenson Expressway (I-55) to Lake Shore Drive (US 41) north to Illinois Street exit and turn right (east) at Grand Avenue to Navy Pier Parking.
From the south, take the Dan Ryan Expressway (I-90/94) east to the Stevenson Expressway (I-55) to Lake Shore Drive (US 41) north to Illinois Street exit and turn right (east) at Grand Avenue to Navy Pier Parking.
From the southeast, take Lake Shore Drive (US 41) north to Illinois Street exit.
If you decide to drive you'll have to figure out parking, which is detailed in our next section. Yep. Parking requires its own section…
Parking at Navy Pier
Extending half a mile into Lake Michigan, Navy Pier is one of Chicago's most popular attractions. While location is its biggest asset, it also makes getting there a little difficult, which means parking at Navy Pier can be expensive. Fortunately, there are several options from which to choose.
Park at Navy Pier
For the most convenient parking option you can park on Navy Pier itself so you'll be right there in the heart of the action.
Parking Garages at Navy Pier
There are two garages on Navy Pier. The West Garage is closer to the restaurants and the majority of the attractions, while the East Garage is more convenient if you're going to a show at Chicago Shakespeare Theatre, attending an event in the Festival Halls or in the Grand Ballroom, or taking in some live music at the Miller Lite Beer Garden. If you have an oversized vehicle, you'll need to park in the East Garage. Its 7'9″ height clearance is a foot and a half higher than the West Garage.
TLTip: Signs on Lake Shore Drive and on Illinois Street display how many parking spaces are available in each garage.
Rates: If you park in either garage you'll pay a flat fee of $28 for a 24-hour period.
Valet Parking at Navy Pier
Dine at Harry Caray's Tavern, RIVA Crab House or DMK Burger Bar and Fish Bar and you can valet your car. Just spend $25 at any of those restaurants and you can drop your car off at Entrance 1.
Rates: 0 – 6 Hours $15; 6 Hours to Close $33; Lost ticket and no validation $33
Motorcycle Parking at Navy Pier
Motorcycles have a dedicated parking area by the Riva valet at Entrance 1.
Rates: flat rate of $15
Click and Park
Heading to Navy Pier on a day when you know it's going to be super busy? Buy your parking in advance. You'll pay a premium for the convenience, though, and there are blackout dates.
Rates: April 1 – October 1 $38; November 1 – March 31 $30
Official Remote Alternate Parking Garages
For less expensive parking Navy Pier has partnered with two remote parking garages. Both offer twelve hours of parking for $15. Make sure you don't pay for parking in advance! Bring your ticket to the Navy Pier Guest Services desk and they'll validate it for you.
Grand Plaza Park, 540 N State St: If you plan on exploring River North and the Magnificent Mile this garage is a good option for you. It's a good distance from Navy Pier, but the free trolley has a stop right at the corner of Grand and State. The trolley is seasonal, so if you're visiting during the colder months you'll want to check its schedule first.
Ogden Plaza Self Park, 300 N Water St: A little closer, this garage is about half a mile from the entrance to the pier. The trolley also has a close stop to this garage at Illinois St. and McClurg Court.
Street Parking
While you can park on the street to get to Navy Pier it's not recommended unless you're only going to be there for a couple of hours.  The hardest part is finding a spot, and then once you do it's almost as expensive as a hotel valet. Parking meters in Streeterville, the neighborhood adjacent to Navy Pier, cost $4 an hour, and that can add up quickly.
Chicago's parking meters accept credit and debit cards as well as coins. You'll receive a printed receipt that you put on your dashboard. If you do park on the street a better option is to download the ParkChicago app. With this app you can pay for your parking and if you get close to the expiration you might be able to extend your time. There's no fee if you purchase the maximum time allowed for that meter. If you park for less than that then it will cost you $0.35 extra. Visit chicagometers.com for more information.
Discounted Parking Services
In recent years discounted parking services have provided alternatives to the standard parking options in Chicago. You can search and pay for your parking in advance and it's often much cheaper than if you were to just drive up to the garage or lot. Entering and exiting garages is often done with an app on your phone, and other spots will use your license plate number to verify your spot. Spothero and Parkwhiz are two of the most popular parking apps. With these apps you can find parking for as low as $10 for a full day. The further you're willing to park from Navy Pier the less expensive parking may be. If you plan to spend a day exploring downtown Chicago, then using one of these apps is a good option for parking.
Find discounted parking with Spothero below. Click on "Edit" to change the dates:
We hope enjoy this complete guide to Navy Pier!