Chicago is known for its shopping. The Magnificent Mile alone contains hundreds of retailers, and this high concentration of stores and shops is due in large part to shopping malls.
The first vertical shopping mall in the world was Water Tower Place, and now there are four shopping malls in downtown Chicago. Featuring chains as well as specialized retail shops and places to eat and drink, you can get all of your shopping done at one place.
From south to north, here are downtown Chicago's shopping malls.
Shopping Malls in Downtown Chicago
Block 37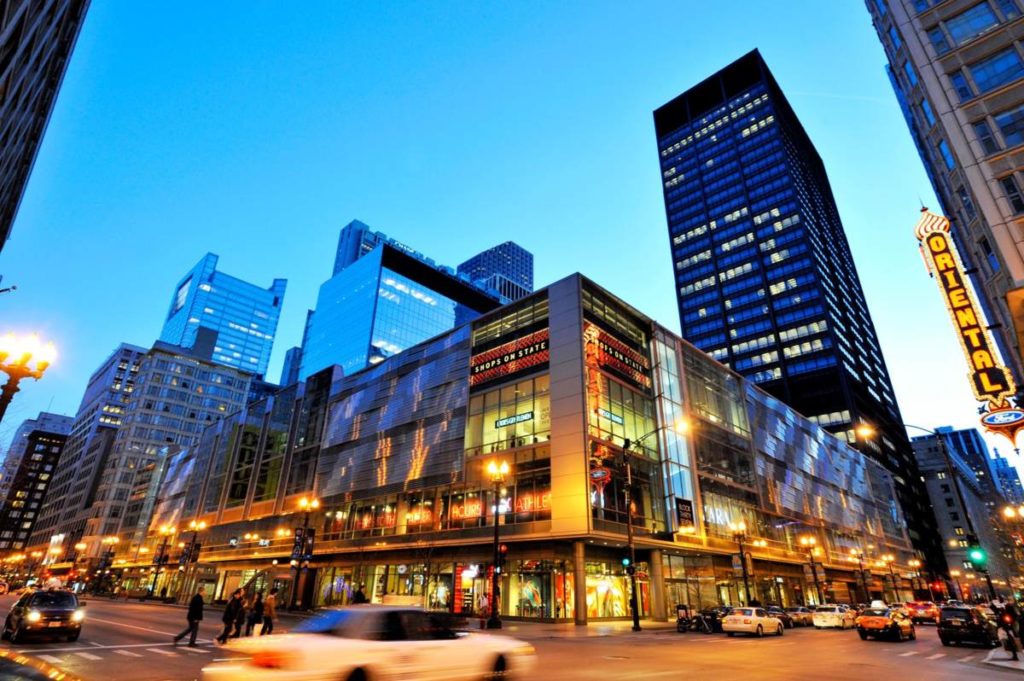 Block 37 is the newest development in downtown Chicago's shopping malls. Located in the heart of the Loop, the shops begin in the Pedway and extends to the fourth floor. This mall features popular retailers like Anthropologie, Sephora, Zara, and Akira in addition to local stores.
You can catch dinner and a movie at AMC Theaters, and dining options include Latinicity food hall, The Dearborn, and quick casual restaurants Simply Thalia, Au Bon Pain, and Gayle's Best Ever Grilled Cheese. 108 N State St
The Shops at North Bridge
With a bridge spanning the city streets of downtown Chicago, The Shops at North Bridge has unique architecture for a shopping mall.
A grand escalator takes shoppers to any of three floors, but the stores aren't limited to the enclosed mall. The retail complex covers a total of seven blocks and includes Italian superstore Eataly.
More dining options include Eddie V's, Sugar Factory, Weber Grill, Big Bowl and many more. The Gwen Hotel is connected to the mall, offering a convenient place to stow your purchases and rest those weary feet. 520 N Michigan Ave
Water Tower Place
Water Tower Place is named after its neighbor, the historic Water Tower. Opened in 1975, this eight-level mall is located at the base of a 74-story skyscraper that includes condominiums, office space, and the Ritz-Carlton hotel. The mall is anchored by Macy's and American Girl.
Retail stores include Victoria's Secret, Coach, and Aldo. Candy lovers will want to stop into Candyality, a local store that sells candy in bulk as well as classic candies, and Godiva. Sports fans will want to visit the 7th floor and the Chicago Sports Museum.
There are several dining options at Water Tower Place. Wow Bao is located at the entrance to the mall and most of the other places to eat are located on the Mezzanine level, including M Burger, Mity Nice, and foodlife. The latter is a multi-cuisine food court that's designed like an upscale cafeteria. 835 N Michigan Ave
Related: stay in a historic hotel in downtown Chicago
900 North Michigan Shops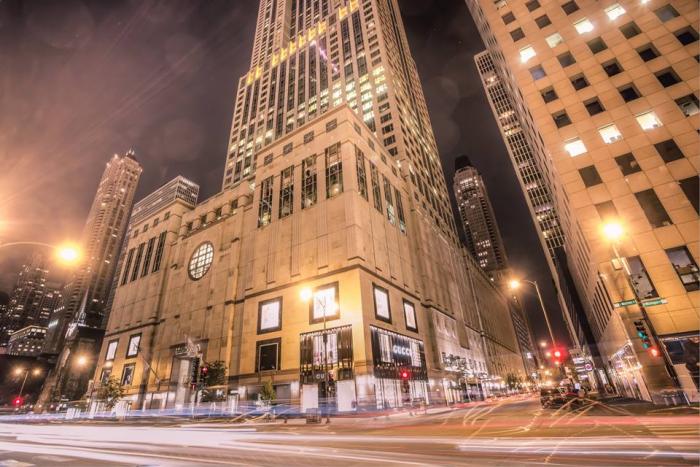 The 70+ stores in this upscale shopping center are focused on the luxury lifestyle. The anchor is Bloomingdale's and retailers include such high end boutiques as Crosell & Co., Galt Toys + Galt Baby, and kate spade new york.
Shoppers at 900 North Michigan Shops can get a pre-spree workout at Equinox Fitness Club and a post-shopping fix at Baisi Thai or Allium Restaurant & Bar in the Four Seasons.
For a special treat stop into Teuscher Chocolates of Switzerland and get a Dom Perignon-filled truffle. 900 North Michigan Avenue
How To Get To Downtown Chicago's Shopping Malls
The distance from Block 37 to the 900 North Michigan Shops is a little over a mile. Begin at Block 37 and work your way up North Michigan Avenue for the ultimate shopping experience.
Map of malls in downtown Chicago
Even easier than a taxi, and often less expensive, is using a ride sharing service like Uber or Lyft. You sign up for their service by downloading the app and adding your credit card information. When you're ready for a ride you request a pick up at your location.
Your fare is charged to your card, so no money changes hands, and you can choose to leave an additional tip once the ride is complete. If you're new to these services, The Local Tourist has a code for a $20 credit with Uber and a $50 credit with Lyft. (Both credit values are valid at time of press. The ride sharing programs can change them at any time.)