Millennium Park is an impressive Chicago park that is a destination for both locals and tourists. With its collection of sculptures, the acoustically-sound Jay Pritzker Pavilion, Lurie Gardens, and other amenities it packs a lot into a small area.
It's always busy with ice skating in the winter, concerts and movies in the summer, and special events and tours all year long.
The park itself is actually built over railroad tracks. The city of Chicago gained the air rights over the tracks from the Illinois Central Railroad in 1997 and shortly after conceived of a multi-use park to beautify the area.
Millennium Park was originally supposed to open in 2000, hence the name, but design changes and budgetary issues pushed the date back to 2004.
There are several sections in Millennium Park, and while it only covers 24.5 acres, this park packs a lot of punch, making it one of the most popular attractions in Chicago.
Related: explore more outdoor things to do in Chicago
Jay Pritzker Pavilion
The Frank Gehry-designed Jay Pritzker Pavilion is the park's centerpiece. In fact, Gehry was the only architect the planners even considered for the project.
Not only is it visually striking, it's also acoustically sound, with speakers installed above the length of the Great Lawn. The pavilion has 4,000 fixed seats and the lawn can accommodate an additional 7,000.
The stage itself becomes a theater during the winter months and events like Chicago Gourmet, when chefs perform cooking demonstrations.
Frequent concerts take place in the pavilion during the summer. The Grant Park Music Festival calls the shell home. The Millennium Park Summer Music Series features a collection of genre-defying local, national, and international artists. Broadway in Chicago and Lyric Opera both perform free shows annually.
The Great Lawn is also a perfect place for a picnic, and there are free workouts in the park and free movie screenings.
Can you drink alcohol in Millennium Park?
The short answer is – it depends. This is one of the few Chicago Park District parks that allows alcohol, but its use is restricted.
You can drink on the Great Lawn during the free performances, and you can bring your own during all but the seven shows with the highest attendance. (You can see which ones on our "Top 8 Dos and Don'ts of Millennium Park" post). You can also drink alcohol on Park Grill's massive patio. Other than those two places, though, booze is prohibited.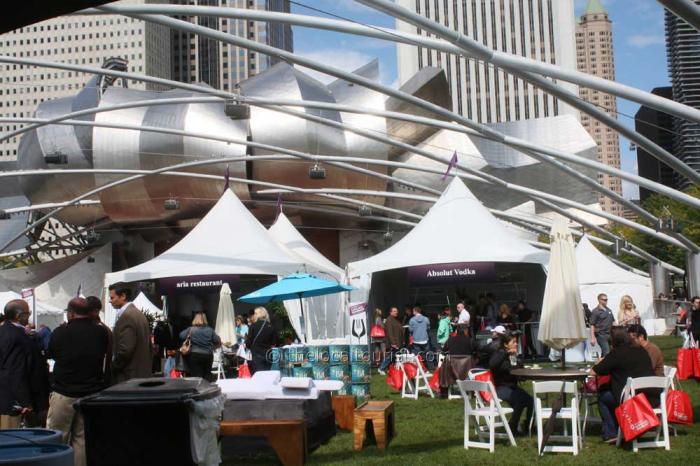 Cloud Gate
Known affectionately as "The Bean", Cloud Gate is one of the most photographed attractions in Chicago. Its smooth reflective surface is made of highly polished stainless steel plates. Artist Anish Kapoor was inspired by liquid mercury, which explains the fluidity of the sculpture.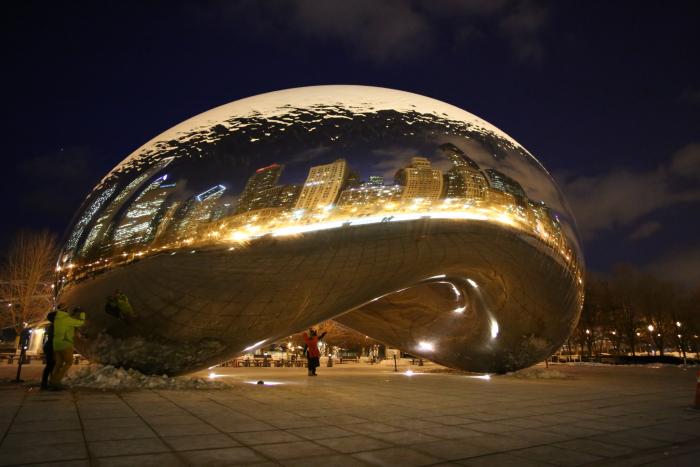 photo credit Erwin Bernal
Chase Promenade
Running the length of the park from Randolph Street to Monroe Street, this promenade is divided into three sections that occupy eight of the park's acres, the center section being home to Cloud Gate. The promenade is often the location for private and public events and festivals.
Find hotels and places to stay near Millennium Park
Wrigley Square
Located on the northeast corner of the park, the square is home to the Millennium Park Monument, a semi-circle of Doric columns surrounding a fountain. The peristyle is a replica of a similar monument located in the same place from 1917 to 1953. This is the original peristyle as seen in 1926: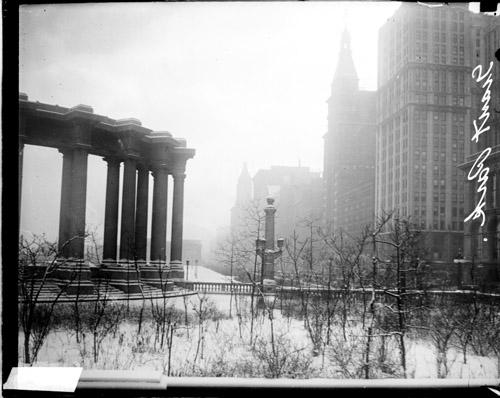 Boeing Galleries
There are two Boeing Galleries: one on the north and one on the south sides of the park. Modern and contemporary art is displayed in these public spaces.
Want to continue exploring Chicago beyond Millennium Park? Take a Big Bus Hop-on Hop-off Tour.
Crown Fountain
The Crown Fountain is a pair of glass block towers on the south end of Millennium Park designed by Spanish artist Jaume Plensa. Images of Chicagoans are projected on LED screens and water spouts from their open mouths during the summer months.
The shallow pool between the two is filled with children (and adults!) splashing around from mid-spring through mid-fall.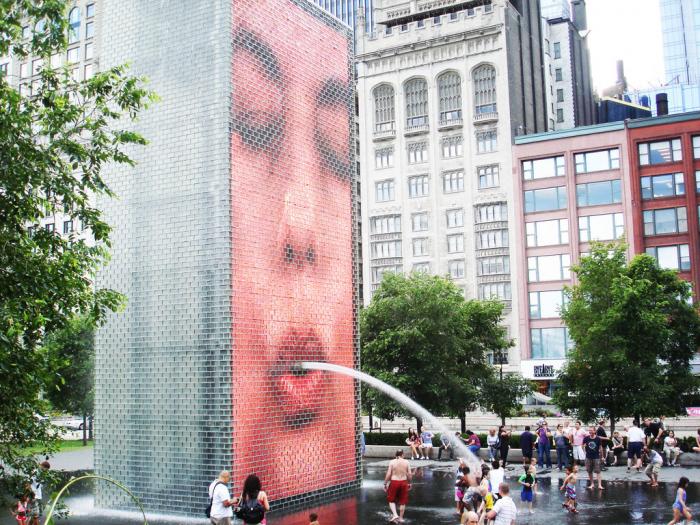 Photo credit Teacher Traveler
Is Millennium Park pet-friendly?
Unfortunately for dog-owners, pets are not allowed at Millennium Park. However, there is a dog park at nearby Grant Park. Called Grant Bark Park (ha!), it's off Columbus almost to Roosevelt Avenue, so you and your pup will get your steps in.
Related: get the story behind Grant Park and how it became Chicago's Front Yard
Harris Theater
The Harris Theater for Music and Dance is underground due to the height restrictions for the area between Randolph and 11th and from Michigan Avenue to Lake Michigan. Known as Montgomery Ward height restrictions, they ensure a free and open space for all residents and visitors of Chicago.
Resident music and dance companies of the theater include the Chicago Opera Theater, Music of the Baroque, and Hubbard Street Dance Chicago. There are also frequent national and international visiting performers.
McDonald's Cycle Center
Next to the Harris Theater is the McDonald's Cycle Center. The station serves commuters with lockers, showers, and bike repair. Casual cyclists and visitors can stop in to rent a bike or sign up for a tour. Call 312-729-1000 for more information.
Lurie Garden
Chicago's motto is "Urbs in Horto", or City in a Garden. Lurie Garden brings this to life with its five acres of perennials. The garden is sheltered by a 15-foot-high hedge that represents the City of Big Shoulders nickname, which was coined by Carl Sandburg. To learn all about the garden take one of their free guided tours or take advantage of one of their free events.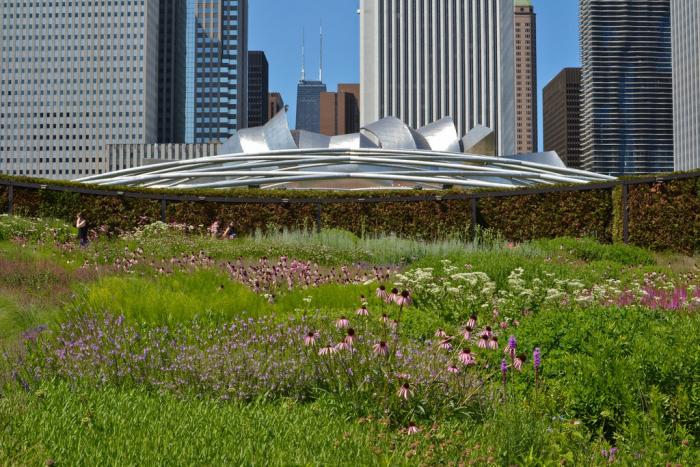 photo credit Center for Neighborhood Technology
Millennium Park Map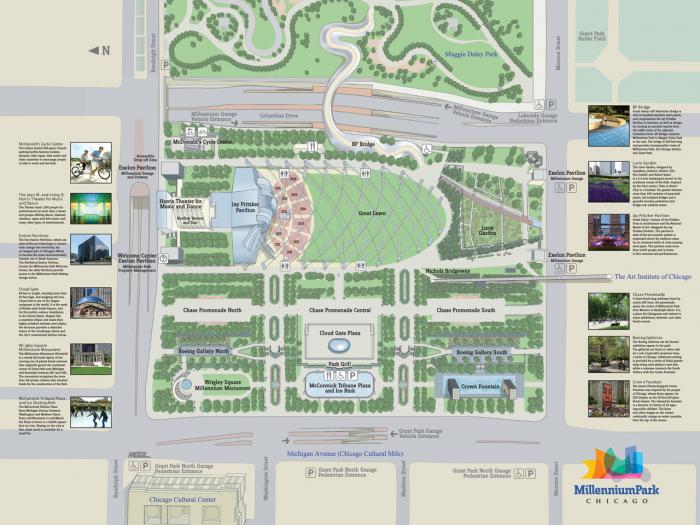 Getting to Millennium Park
With its location in downtown Chicago, Millennium Park is easily accessible via public transportation, whether you're taking a bus, a train, or Metra. The Metra electric line runs under the park with a station at the corner of Michigan Avenue and Randolph Street.
Parking is also available right underneath the park at the Millennium Park Garage – you can't get much closer than that! Check the map below for discounted parking through Spothero:
If you prefer to bike you can park your cycle at the McDonald's Cycle Center.
Don't want to deal with parking near Millennium Park? Take a ride-share service. If you're new to ride-sharing service use one of our codes and you'll get a credit with Uber and Lyft.
---
Millennium Park, 201 E Randolph St, Chicago, IL, is a diverse, lively oasis in downtown Chicago. It is a beautiful collection of art, design, and nature that provides a welcome escape from the brisk business of the city.
Whether you're a local or a tourist you can enjoy it year round, so be sure to take advantage of this free attraction.