Extending half a mile into Lake Michigan, Navy Pier is one of Chicago's most popular attractions.
While location is its biggest asset, it also makes getting there a little difficult, which means Navy Pier parking can be expensive. Fortunately there are several options from which to choose.
Find out more about this top Chicago attraction with The Local Tourist's Guide to Navy Pier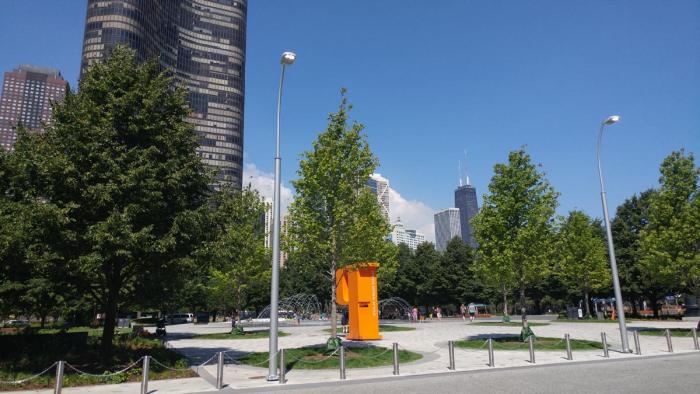 Parking at Navy Pier
For the most convenient parking option you can park on Navy Pier itself so you'll be right there in the heart of the action. Scroll down to find out how much it costs to take advantage of one of their garages.
Is parking at Navy Pier free? No. There is no free parking at Navy Pier.
Parking Garages at Navy Pier
There are two garages on Navy Pier:
The West Garage is closer to the restaurants and the majority of the attractions.
The East Garage is more convenient if you're going to a show at Chicago Shakespeare Theatre, attending an event in the Festival Halls or in the Grand Ballroom, or taking in some live music at the Miller Lite Beer Garden.
If you have an oversize vehicle you'll need to park in the East Garage. It's 7'9″ height clearance is a foot and a half higher than the West Garage.
Navy Pier Parking Rates: As Navy Pier reopens, parking in its garages is currently $19.
Valet Parking at Navy Pier
Dine at Harry Caray's Tavern, RIVA Crab House or DMK Burger Bar and Fish Bar and you can valet your car. Just spend $25 at any of those restaurants and you can drop your car off at Entrance 1.
Rates: 0 – 6 Hours $15; 6 Hours to Close $33; Lost ticket and no validation $33
Motorcycle Parking at Navy Pier
Motorcycles have a dedicated parking area by the Riva valet at Entrance 1.
Rates: flat rate of $15
Click and Park
Heading to Navy Pier on a day when you know it's going to be super busy? Buy your parking in advance. You'll pay a premium for the convenience, though, and there are blackout dates.
Rates: April 1 – October 1 $38; November 1 – March 31 $30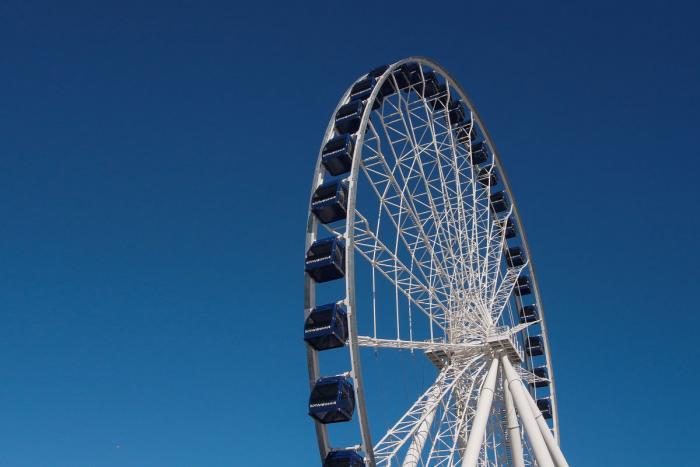 Official Remote Alternate Parking Garages
For less expensive parking, Navy Pier has partnered with two remote parking garages. Both offer twelve hours of parking for $15. Make sure you don't pay for parking in advance!
Bring your ticket to the Navy Pier Guest Services desk and they'll validate it for you.
Grand Plaza Park, 540 N State St 
If you plan on exploring River North and the Magnificent Mile this garage is a good option for you. It's a good distance from Navy Pier, but the free trolley has a stop right at the corner of Grand and State. The trolley is seasonal, so if you're visiting during the colder months you'll want to check its schedule first.
Ogden Plaza Self Park, 300 N Water St
A little closer, this garage is about half a mile from the entrance to the pier. The trolley also has a close stop to this garage at Illinois St. and McClurg Court.
Street Parking
While you can park on the street to get to Navy Pier, it's not recommended unless you're only going to be there for a couple of hours.  
The hardest part is finding a spot, and then once you do it's almost as expensive as a hotel valet.
Parking meters in Streeterville, the neighborhood adjacent to Navy Pier, costs $4 an hour, and that can add up quickly.
Chicago's parking meters accept credit and debit cards as well as coins. You'll receive a printed receipt that you put on your dashboard. If you do park on the street a better option is to download the ParkChicago app.
With this app you can pay for your parking and if you get close to the expiration you might be able to extend your time. There's no fee if you purchase the maximum time allowed for that meter. If you park for less than that then it will cost you $0.35 extra. Visit parkchicago.com for more information.
Discounted Parking Services
In recent years discounted parking services have provided alternatives to the standard parking options in Chicago. You can search and pay for your parking in advance and it's often much cheaper than if you were to just drive up to the garage or lot.
Entering and exiting garages is often done with an app on your phone, and other spots will use your license plate number to verify your spot.
Spothero and Parkwhiz are two of the most popular parking apps. With these apps you can find parking for as low as $10 for a full day.
The further you're willing to park from Navy Pier the less expensive parking may be. If you plan to spend a day exploring downtown Chicago then using one of these apps is a good option for parking.
Find discounted parking with Spothero below. Click on "Edit" to change the dates: