Stay where you play, we like to say! When you're visiting one of the Windy City's biggest attractions, make it easy by staying close to the action at these Chicago hotels near Navy Pier.
Whether you're looking for something fun and affordable, more luxurious accommodations, or an historic hotel, you can find one close to Navy Pier.
We've selected hotels that are within about a mile, so that you can either walk or catch a short ride. You might even be able to take the free trolley.
For routes that recommend the trolley, please note that while it runs daily during the summer, it only runs on the weekends the rest of the year.
If you're planning your Navy Pier visit between Labor Day and Memorial Day, then your best option would be to take a bus, a taxi, or a ride share service.
Those new to ride-sharing services can use one of our codes to get a credit with Uber or Lyft. Need to drive? Check out our guide to Navy Pier parking.
Hotel room rates are not included. They fluctuate dramatically in downtown Chicago based on demand, the weather, how the Cubs / Sox / Bulls / Bears / Blackhawks are doing, which celebrities have been sighted recently, how many roads are closed due to construction, the phase of the moon, etc. etc.
Chicago Hotels Near Navy Pier
ACME Hotel Company Chicago
This hotel is cool. It's got a vibe that'll make you feel like you're cool just by staying there.
Glow-in-the-dark red lip-prints on the bathroom mirror, beach balls in the hot tub, chalkboards on the door so you can leave your own Do Not Disturb – or any other – message.
Coffee is free and brought to your room in a thermos from one of the best bakeries in Chicago, which just happens to be downstairs.
Wifi is also free, and fast. Their hotel bar has more locals than tourists sipping its craft cocktails.
Plus, it's ACME – Wile E. Coyote, anyone?
Location: 15 E Ohio St
Distance from Navy Pier: 1 mile
Best route: Walk to State and Grand to pick up the free trolley
Doubletree by Hilton Magnificent Mile
Located between Navy Pier and the Magnificent Mile, this Hilton property features comfortable rooms with bench seats in the windows, microwaves, refrigerators, and coffee makers.
A large desk, roomy reading chair, and WiFi make DoubleTree Magnificent Mile more than just a place to sleep, although with their "Sweet Dreams Sleep Experience" bedding, you won't have any trouble catching some zzz's.
Plus, they give you a warm chocolate chip cookie when you check in. Aaaaahhhh.
Location: 300 E Ohio St
Distance from Navy Pier: 0.8 mile
Best route: Walk to Fairbanks and Grand to pick up the free trolley
Read reviews of Doubletree by Hilton Magnificent Mile on TripAdvisor or go ahead and book a room.
Hyatt Regency Chicago
With two towers and over 2,000 guest rooms, Hyatt Regency Chicago is the largest hotel in Chicago, and they know it: their second-floor bar is named BIG.
The name isn't just referencing the size of the hotel, though. The bar itself is the longest free-standing bar on the continent.
Downstairs, American Craft Kitchen & Bar features locally sourced cuisine and an impressive collection of craft beer.
Looking for fine dining? Stetsons Modern Steak + Sushi is a destination restaurant. The rooms themselves offer modern décor with enough room to stretch and tech-savvy accoutrements.
Location: 151 E Wacker Dr
Distance from Navy Pier: 1.2 miles
Best route: For a scenic route take the stairs down to the Chicago Riverwalk. Turn right (towards the lake) and you'll run into the Lakefront Path. Turn north to get to Navy Pier. That is a bit of a hike, so you can also pick up a taxi, Uber or Lyft. Be sure to get picked up on Lower Wacker Drive. It's faster and more direct, which also means it's cheaper.
InterContinental Hotel Chicago
If you want a piece of history with your hotel, you'll be swimming in it at the InterContinental Hotel Chicago – literally.
The luxurious hotel was built in 1929 as a men's luxury club, and its 14th floor pool was considered an engineering feat at the time.
Olympic athlete and Tarzan actor Johnny Weismuller trained in the Junior Olympic sized lanes, and now hotel guests can swim in the same space.
As you approach the hotel the first thing you'll notice is its impressive entryway, which is fitting since it's the only hotel with an entrance directly on the Magnificent Mile.
Inside, the four-story lobby and grand staircase lead you to Michael Jordan's Steak House, and beyond that, sumptuous rooms and suites. Surprisingly, you won't pay a premium. As far as downtown Chicago hotels go, the InterContinental's rates are about mid-range.
Location: 505 N Michigan Ave
Distance from Navy Pier: 1 mile
Best route: Take the stairs down to Lower Michigan Avenue and catch the free trolley.
Loews Chicago Hotel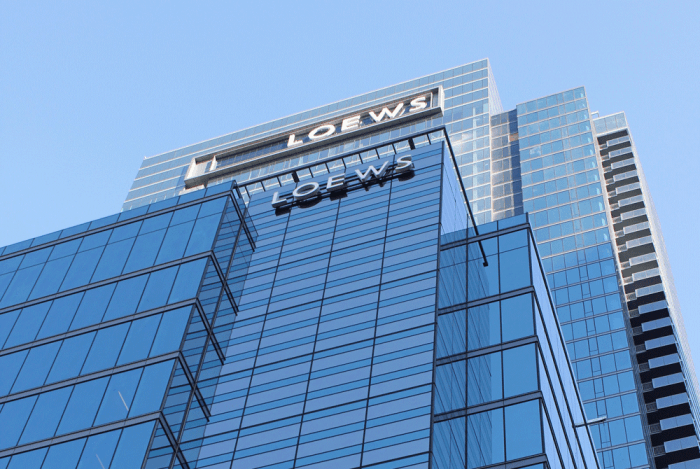 Welcome to the official hotel of Navy Pier!
Ever since Loews built its gleaming tower in 2015, it's been one of the most popular hotels in downtown Chicago.
That popularity can be attributed to the quality of the staff, the comfort of the rooms, the plentiful amenities, and the fantastic location.
It doesn't hurt that Loews made a concerted effort to show their respect for their new city. Elements of "Chicago" are everywhere, from the neighborhood map wallpaper to the materials chosen to reflect the city's past.
Even the elevators are etched with Carl Sandburg's poem "Chicago."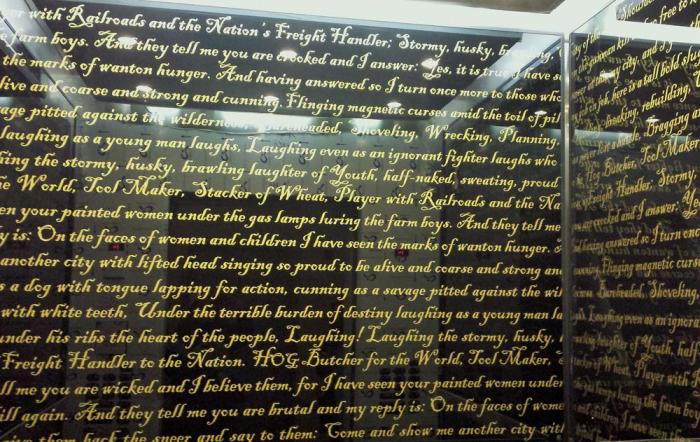 Location: 455 N Park Dr
Distance from Navy Pier: 0.6 mile
Best route: Walk. Or pick up the trolley at McClurg Ct. and Illinois St.
Read what others have said about Loews Chicago Hotel. Ready to stay? Book a room with Booking.com.
Radisson Blu Aqua Hotel
There's no mistaking this hotel. It's in the Aqua building, that distinctive white tower with the exterior that appears to undulate like a wave.
The exterior of Radisson Blu Aqua Hotel is not the only thing that's beautifully designed; so are the rooms, and due to the unique structure of the building each is a different shape.
The hotel shares a fitness center with the residences on the higher floors, so it's one of the best equipped among the city's hotel gyms. They've also got both an indoor and an outdoor pool, a running track, garden, and grills.
Location: 221 N Columbus Dr
Distance from Navy Pier: 0.9 mile
Best route: You've got a few choices from this location. You can take the stairs down to the riverfront and take the Chicago Riverwalk to the lakefront path. You could also walk north on Columbus and take the free trolley at Illinois.
Read reviews of Radisson Blu Aqua Hotel on TripAdvisor. Ready to stay the night? Reserve a room at Booking.com.
With these choices, you're sure to find the perfect hotel near Navy Pier in Chicago Illinois! Click here to find even more Navy Pier hotels
Before you go, don't miss our ultimate guide to Navy Pier.
Save this for later!