A big part of what makes Chicago so special during November and December is the number of annual events that take place. Both locals and tourists look forward to these festivities every year and, for many, these holiday celebrations are an integral part of the season.
Here are favorite Chicago Christmas traditions that bring a smile to the faces of kids of all ages.
Christmas in Chicago
Christmas Around the World & Holiday of Lights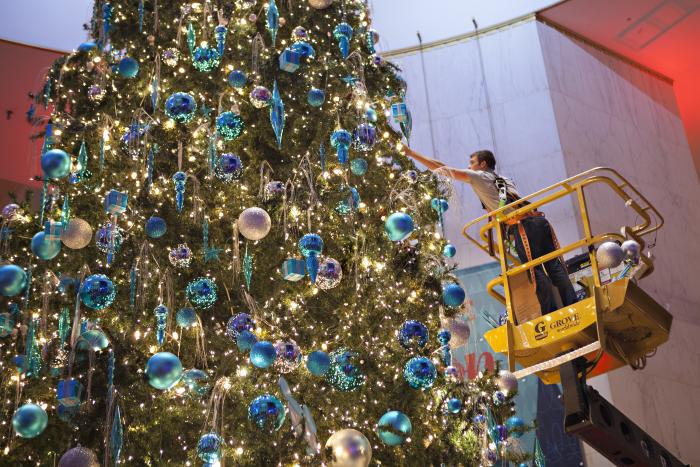 Each year since 1942, the Museum of Science and Industry celebrates the holidays with Christmas Around The World and the Holidays of Light. More than fifty trees represent Chicago's diverse ethnic communities, decorated by volunteers who want to share their cultural traditions.
The displays are included with your museum admission, and you can see them from mid-November into early January. You can see the schedule and get more information here.
Chicago Christmas Tree Lighting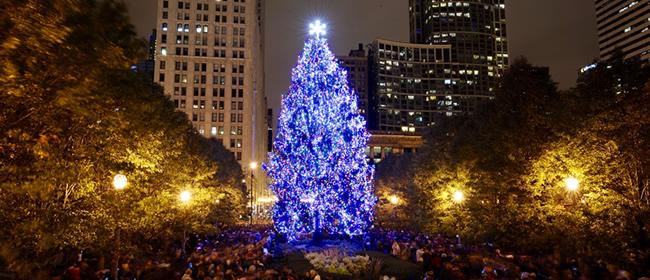 The lighting of the official Christmas Tree of Chicago heralds the beginning of the season.
It takes place the Friday evening before Thanksgiving in Millennium Park and, like all holiday events in the park, is free to attend.
The evergreen is a real tree that's been selected from entries submitted by residents within 100 miles of the Chicago Loop and it must be at least 55 feet tall.
TLTip: Before heading to the Christmas Tree Lighting, be sure to check out our complete (and completely free) guide to Millennium Park!
Magnificent Mile Lights Festival
The Magnificent Mile Lights Festival takes place the weekend before Thanksgiving and features live concerts and special offers at Michigan Avenue shops. It's definitely one of the more popular ways to enjoy Christmas in Chicago.
Pioneer Court is the epicenter of all the fun, with family-friendly and holiday-themed activities.
Click here to find Boutique Hotels in downtown Chicago
Christkindlmarket
Since 1996 Christkindlmarket, 50 E Washington St, has been a family shopping and dining tradition and is one of the top ways to celebrate Christmas in Chicago.
Modeled after the historic market in Nuremberg, Germany, the market attracts over one million visitors per year. Visitors can find gifts from all over the world, and 65 percent of the vendors are actually from Germany.
They've also got a market in Milwaukee.
Butch McGuire's
You might not consider a bar a Christmas tradition, but Butch McGuire's, 20 W Division St, has been delighting revelers and families for over fifty years.
The Rush & Division tavern is decorated with over 40,000 lights and a double-decker train winds through the bar. Children are welcome for lunch and brunch.
The bar is rumored to have fostered over 5,000 marriages so many of those couples return each year with their kids.
Macy's on State Street
Formerly Marshall Field's, Macy's On State Street, 111 N State St, has continued many of the Christmas traditions that people have been celebrating for decades.
Inside, the Walnut Room on the 7th floor is home to the 45-foot Great Tree and diners eagerly await their yearly tradition of the restaurant's famous chicken pot pie.
Outside, visitors line up on the sidewalk to see the famous holiday windows. They've been using the same display for the last few years now, so it's not quite as impressive as it used to be.
Lincoln Park ZooLights
Celebrate Christmas in Chicago at Lincoln Park Zoo, 2200 N Cannon Dr. It's lit up with millions of lights during Lincoln Park Zoo ZooLights. There are giant snow globes, snowmen, and decorations line the paths.
While most of the animals stay inside you can tour the various houses. You'll definitely want to check out the Kovler Lion House, since that's where Santa Claus visits with the children. There are also ice carvers and a musical light show.
There's a $5 fee per guest and limited capacity, but Mondays and Tuesdays are free.
Related: Learn more about Lincoln Park Zoo
Millennium Park Holiday Sing-Along
Bundle up and get ready to belt out some holiday classics at the Millennium Park Holiday Sing-Along, festive events that are part concert, part sing-along as local Chicago choral groups lead hundreds of celebrants in song.
This hour-long concert takes place four Fridays in a row beginning the day after Thanksgiving.
Millennium Park Holiday Sing-Along Schedule (subject to change):
Friday, November 26 at 6pm: Chicago Latino Theater Alliance presents Destinos al Aire: Posadas y Parranda
Friday, December 3 at 6pm: Dexter Walker & Zion Movement
Friday, December 10 at 6pm: The Chicago High School for the Arts Chorale Ensemble
Sunday, December 12 at 4pm: Kol Zimrah Jewish Community Singers 
Friday, December 17 at 6pm: Chicago Community Chorus 
CTA Holiday Train
All-Aboard! The CTA Holiday Train is a festive Chicago tradition that started through a gift of charity. Employees donate their time and money to create food baskets for those in need, and in 1992 the train was strung with a banner that read "Seasons Greetings from the CTA."
They still deliver food to charitable agencies, and now they deliver cheer to the whole city, too.
Navy Pier Light Up The Lake (New for 2021)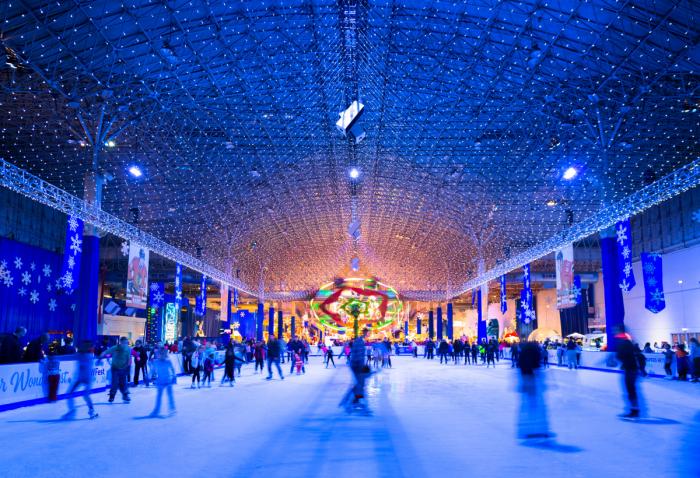 Navy Pier's popular Winder Wonderfest becomes Light Up The Lake!
This festival inside, appropriately, Festival Hall, lets you have your fill of outdoor fun while you stay warm and cozy inside. It's a wonderful way to spend Christmas in Chicago.
The hall is decorated and is the biggest indoor, temperature-controlled light garden. Activities include an indoor ice skating rink, a winter market, a beer garden, and a train ride. Your children can also visit with Santa.
Click here for all the details on Light Up The Lake at Navy Pier!
---
Christmas in Chicago is truly a magical time and these holiday traditions bring the whole family together.