The story of the Clarke House Museum is one of fortitude and grit, determination and commitment.
Picture this: it's 1835. Your family is comfortable. You live in upstate New York, members of the upper-middle-class. You've been married for a few years, have a few children (although one, sadly, died), and then your husband trots off to this marshy prairie on the shores of a giant inland lake.
He comes back, filled with dreams and visions. "Caroline! I've found our new home! It'll take three weeks to get there, and it's pretty much a backwater now, but it'll grow. Oh, yes, it'll grow. Shall we?"
And you look at your husband, and instead of saying "Are you off your rocker?" you say, "Sure, honey. Why not?"
This story is featured in Living Landmarks of Chicago, a fascinating book that brings landmarks to life. Get your copy today!
---
In the early 1830s, Henry Brown Clarke was a merchant in Utica, New York. His father was an attorney and judge and his grandfather was a Revolutionary War hero.
Caroline Palmer Clarke was that oh-so-rare phenomenon: an educated woman. She attended the first higher education institution for women in the United States. The Troy Female Seminary, founded by and later named for Emma Willard, opened in 1821 with the express purpose of providing women the same educational opportunities as men.
What a radical concept.
Henry and Caroline married in 1827, and eight years later Henry's brother-in-law, Charles Walker, returned from a trip to Chicago with tales of potential riches. The two-year-old town's prime location on Lake Michigan along the Chicago River meant it was ripe for expansion.
Rumors of the upcoming Illinois and Michigan Canal, which would enable transportation by boat to the Mississippi River, drove hundreds, and then thousands, to place their bets on this new frontier. Many Easterners had made their fortunes when the Erie Canal opened, and the I&M presented a similar opportunity.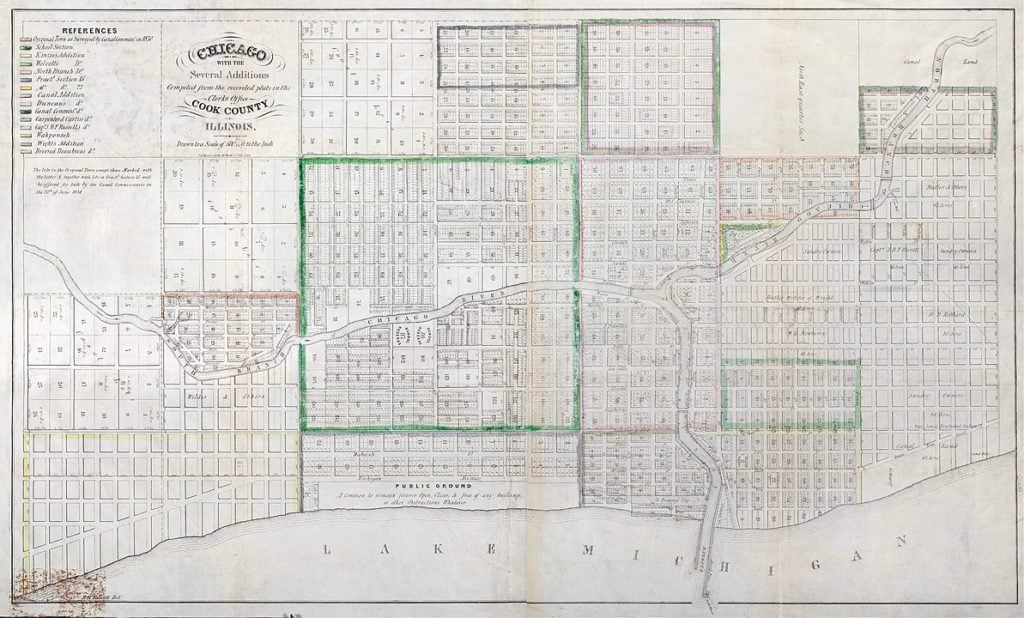 By the time the Clarkes made their westward journey they didn't even have to worry about moving onto Native American land. The Second Treaty of Chicago in 1833 sent the tribe west, and their last dance on their native soil took place in 1835.
Note: Direct descendants of the removed tribes began returning to the Chicago area after World War I. Today, Chicago has the third largest urban Native American population in the country, representing over one hundred tribal nations.
Once Henry arrived, his merchant background came in handy and he quickly became a partner of Jones, King and Company, a wholesale hardware firm. Instead of settling close to the action, Mr. and Mrs. Clarke purchased twenty acres about a mile and a half south of the nearest neighbor. To get to town they rode a dirt trail that had been worn by the Potawatomie.
Their grand landscape, which stretched from Lake Michigan to what is now State Street, and from present-day 16th Street to 17th Street, transitioned from dunes to marshy prairies. The family moved into an existing log cabin, which probably belonged to Elijah Harmon, the property's previous owner.
Buying that much land, that far away from relative civilization, might have seemed foolhardy, but it ended up being prescient and what saved their house.
That, and because Caroline wanted a home made of timber.
When the Clarkes moved to Chicago, Caroline wanted a strong house. She didn't want any of that newfangled "balloon" construction, so-called because the buildings went up quickly.
Nope.
She wanted a sturdy home built of thick-hewn wood. It didn't matter that they'd live in a log cabin with their kids for a year, or that they'd need expensive skilled labor, or that the material would be more costly than boards connected with machine-made nails. She did not pick up and move across the country to live in some flimsy, insubstantial shack.
Caroline wanted timber. Caroline got timber.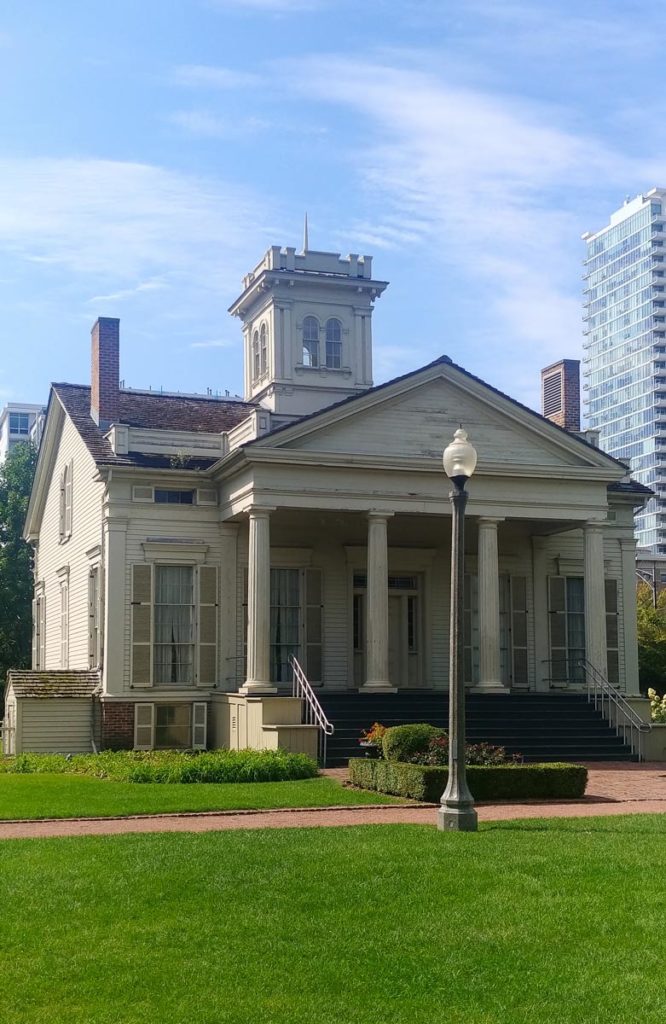 Are you enjoying this excerpt from Living Landmarks of Chicago? Wonderful! Get your copy today.
The Clarkes moved into their Greek Revival home, with its portico and Doric columns, in 1836. Although they hadn't finished the interior, they'd get to it. After all, Henry was a mover and shaker; in addition to the hardware store, he'd become a director of Chicago's first bank, volunteered for Fire Engine No. 1, and participated in the canal committee.
And then the bottom fell out. The Panic of 1837, two months after the town of Chicago was incorporated as a city, meant failed banks, including Henry's. The wholesale hardware firm stumbled. Canal talks stopped.
The Panic devastated the Clarkes financially, and in 1838 they ceased all construction. They barely hung onto the home and property itself, and only escaped foreclosure through the largesse of Charles Walker, the brother-in-law who'd enticed them to move in the first place.
Was it time to quit? Turn around and head back to New York?
No way. Henry began a dairy farm, and milked cows and farmed and hunted on their vast property. The unfinished south parlor turned into a meat locker. They took in boarders. Alice Barnard, who became Chicago Public School's first female principal, rented a room above the hanging deer, snipe, plover, quail, chickens, and ducks.
The smell, as you can imagine, was less than desirable.
The economy began to improve and Henry obtained a position as city clerk. They had more children. The city continued to grow exponentially. By 1840, 4,000 people lived in Chicago. In 1847, Cyrus McCormick brought his harvester manufacturing to the city.
The next year, both the I & M Canal and the Galena to Chicago Railroad began operations, enticing more and more and more fortune-seekers. All of those bodies meant lots of, ahem, waste, which meant disease. In 1849, a cholera epidemic killed nearly three percent of a population that had been quickly climbing to 30,000.
Including Henry B. Clarke.
Caroline, now known as the Widow Clarke, had six children to care for on her own. So, she did what any sensible widow in possession of twenty acres in a city with an exploding population would do.
She carved her acreage up into lots and sold them for a hefty sum.
With her newfound financial security, she redesigned her home in the manner with which she wanted to become accustomed. She added gas service and modern lighting. A second portico enhanced the building's symmetry. A cupola provided a view of Lake Michigan and access to its refreshing breezes.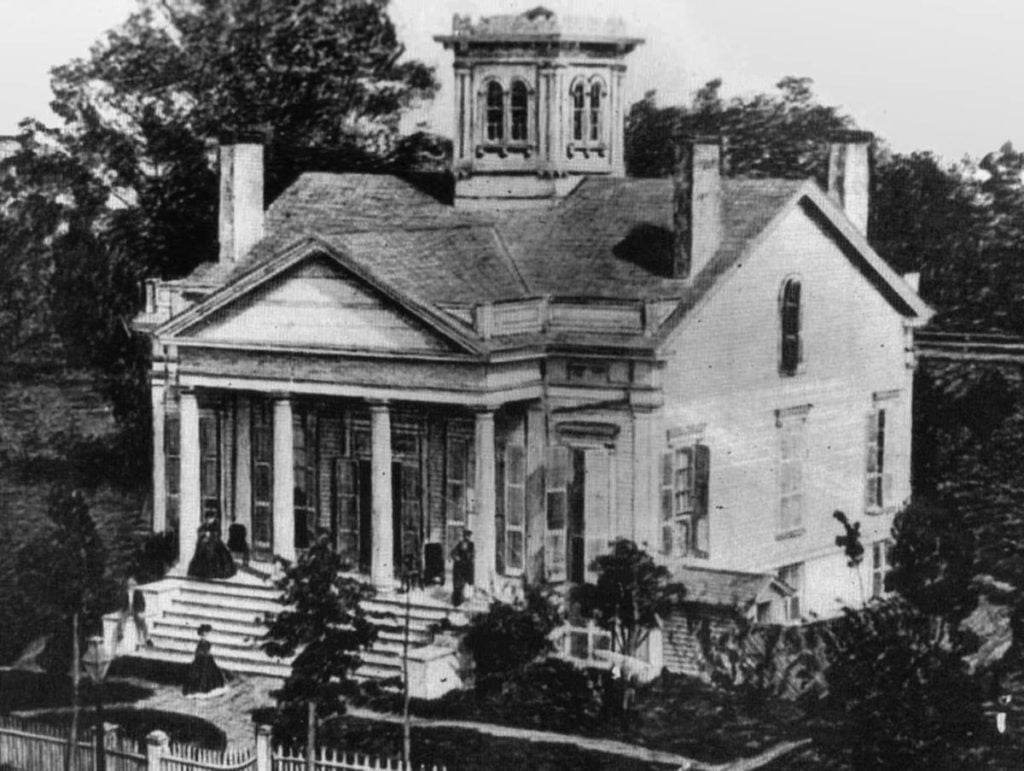 The dreadful, odoriferous meat locker became an ornate double parlor with Italianate fireplaces and, on the ceiling, colorful medallions. As was the custom, the Widow Clarke entertained calling guests for fifteen minutes apiece while her daughters played brilliantly on the Chickering piano. Only uplifting conversation was allowed during these visits, with no hint of politics, scandal, or impropriety.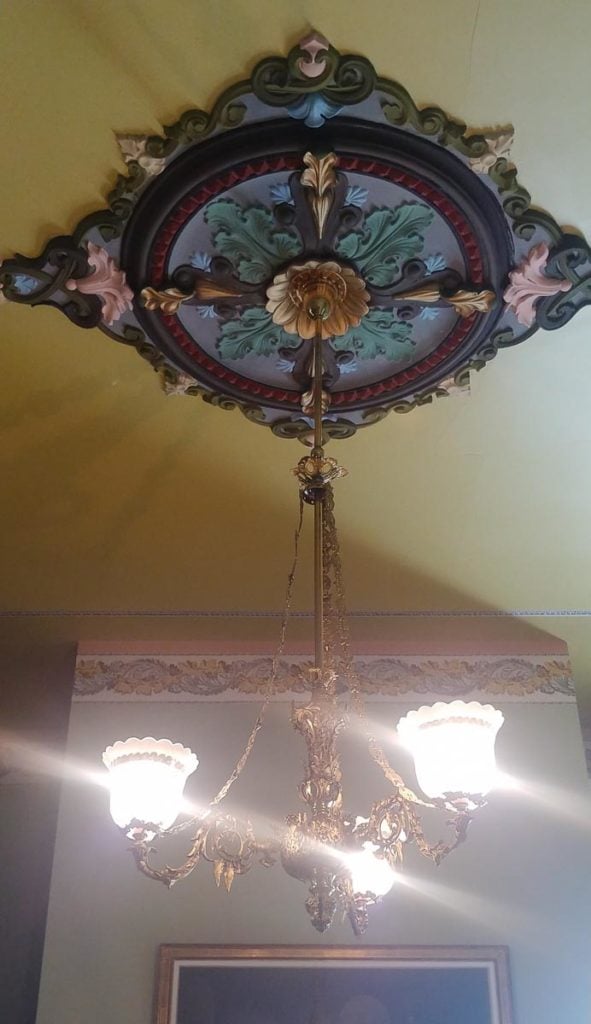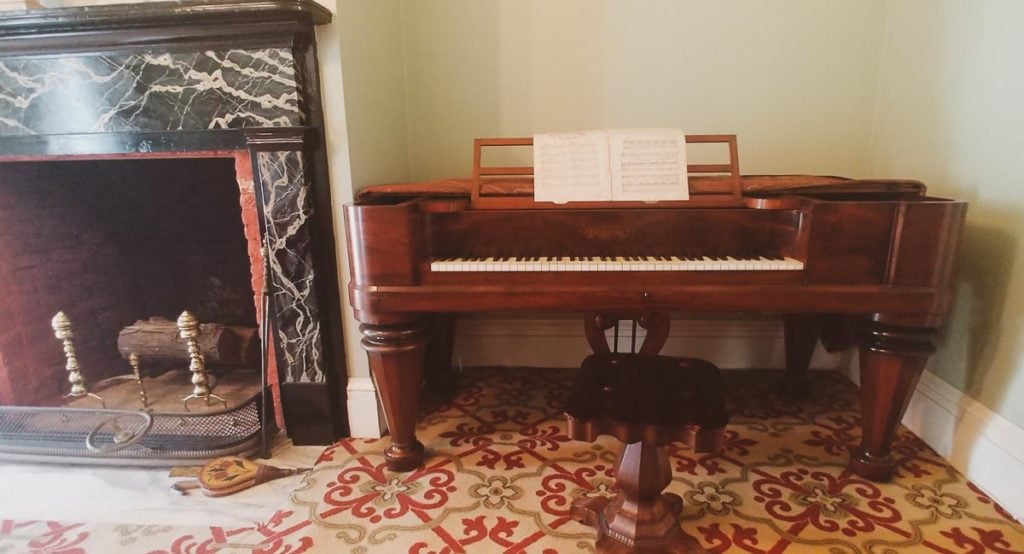 It was all well and good and proper, and lasted until Caroline died in 1860.
The home stayed in the family for the next several years. Because Henry and Caroline had chosen to build so far south, the Great Chicago Fire of 1871 missed the house entirely. The next year the children sold the home to a successful tailor and his wife, John and Lydia Chrimes.
Even though their new property had escaped the previous year's fire unscathed, the proximity and density of the city's population concerned the Chrimes. They were also fretful of the air pollution because of their ailing son, so they picked up the house and moved it twenty-eight blocks south and one block west.
The house stayed in the Chrimes family for three generations. John and Lydia's granddaughters, Lydia and Laura, knew the significance of the building, but by 1941 they didn't want to live in it any more.
They searched until they could find someone who would appreciate the historical value and preserve the structure for future generations. Ideally, they wanted the city to buy it and turn it into a museum.
The city said no, but Louis Henry Ford said yes.
At the time, Ford was a 27-year-old bishop of the St. Paul Church of God in Christ on the south side of Chicago. He and his congregation built a church next to the house, which they used for offices, a school, events, and Ford's parsonage.
The church didn't just use the house; they preserved it. According to an article dated August 19, 1962, in the Chicago Daily Tribune, the congregation had spent $18,000 restoring and preserving the historic structure.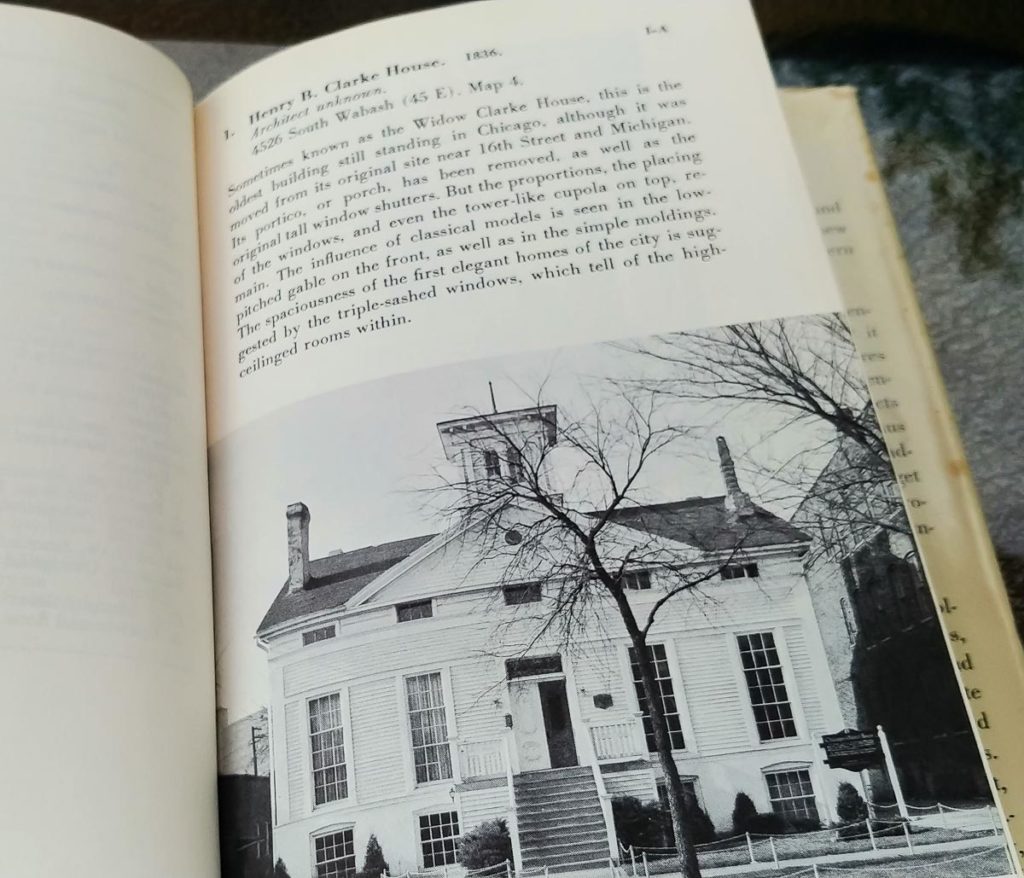 In 1970 the Commission on Chicago Landmarks officially designated the Clarke House a landmark, and in 1977 the city purchased the home to turn it into a museum.
Does Bishop Ford's name sound familiar? It should. I-94 from I-57 to I-80 is named for him.
But first, the house needed to be moved back to its (almost) original location. It had been more than a century since the first move and this one provided a new challenge: the "L" tracks were in the way.
On a cold December night the city stopped the trains and hydraulic lifts raised the Clarke House over the tracks.
And stayed there.
It was so cold that the lifts froze. For two weeks train riders would get a glimpse of Chicago's oldest house as they went on their merry way.
The lifts finally thawed and the house landed in its present location. Since then, it's been faithfully restored to the configuration the Widow Clarke had designed. While none of the displayed furnishings ever belonged to the Clarkes, they are representative of the period, thanks to the National Society of The Colonial Dames of America in the State of Illinois.
Today anyone can visit the Clarke House Museum and take a docent-led tour for free. It's a rare look into the time before the Great Chicago Fire cleared the landscape of nearly everything that had been built before 1871.
It's also a lesson in fortitude, and the grit required to pick up and move to a marshy prairie on the shores of a giant inland lake.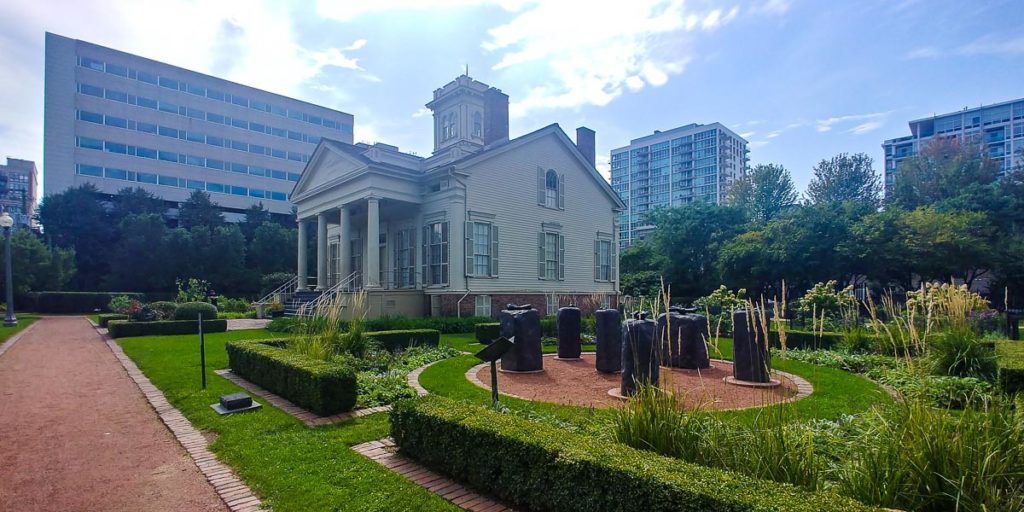 Visiting Clarke House Museum
Clarke House Museum, 1827 S Indiana Ave, is beautifully restored and located in the Chicago Women's Park and Gardens.
Visitors can take a free tour, either guided or audio, every Wednesday, Friday, and Saturday at 1pm and 2:30pm. There's a limit of 15 people per tour on a first-come, first-served basis.
Related: find more free things to do in Chicago
The tours begin in the basement. To enter, look for the staircase on the northwest side of the house and ring the bell.
You'll want to arrive early so you can have time to explore the exhibits downstairs. While the tour will explain the dioramas and photos, there are placards worth reading.
The tour itself begins in a kitchen representative of what Caroline might have used, although she probably cooked over an open fire instead of a stove.
Upstairs, you'll see how the Clarkes might have lived, including the clever combination crib-rocking chair, the oilcloth floor coverings, and the hand-painted window shades.
There's so much information the hour-long tour passes quickly. Before you know it, you're out in the gardens again, marveling that this house survived economic disasters, two moves, and a fire.
TLTip: Technically, a portion of the Noble-Seymour-Crippen House in Norwood Park dates back to 1833 and could be considered the oldest house. However, Chicago didn't annex the community until 1893, and the Clarke House became part of the city when Chicago was incorporated, which leads city purists to believe the Clarke House deserves the oldest designation.