Visiting the Kenneth C. Griffin Museum of Science & Industry should be on every local and tourist's list of Chicago museums to see.
There may be affiliate links in this post, which means we may get a small commission. It's at no extra cost to you and helps keep Your Chicago Guide free. Everybody wins!
With over 35,000 artifacts over 14 acres, the museum is a destination worth visiting again and again.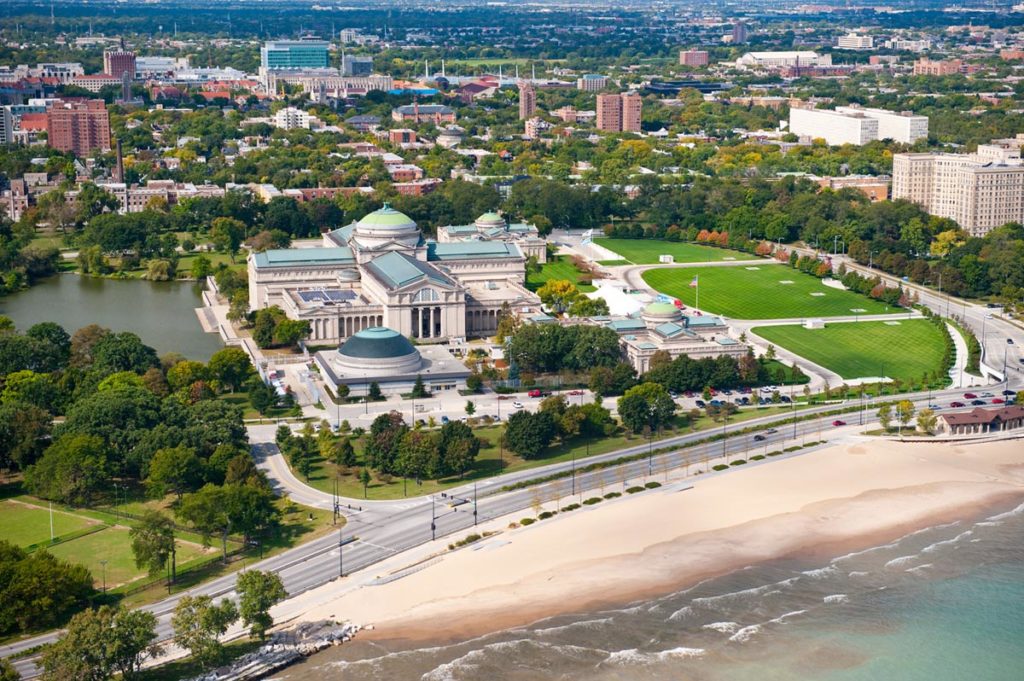 There are many reasons this museum is one of the most popular things to do in Chicago.
History of the Kenneth C. Griffin Museum of Science and Industry
In 1893, the Columbian Exposition turned Jackson Park into what would become known as the White City.
Structures were built around a lagoon to house the exhibits at the fair. The Palace of Fine Arts had a substructure of brick, but the rest were temporary and covered in white plaster.
After the fair was over, the Palace of Fine Arts was the only remaining building and was the first home for the Field Museum of Natural History.
The Field Museum moved to its permanent home in 1920, and the Palace Of Fine Arts building fell into disrepair. Julius Rosenwald, President of Sears, Roebuck and Company, spearheaded the effort to turn the building into a science museum modeled after the Deutsches Museum in Munich.
Despite being the museum's major benefactor, Julius Rosenwald declined to have the museum named after him. While it was originally named the Rosenwald Industrial Museum, the philanthropist requested it be changed.
In 2019, Kenneth C. Griffin donated $125 million to the museum and his name was added.
The building was covered in limestone and the doors officially opened in 1933, during the Century of Progress exposition.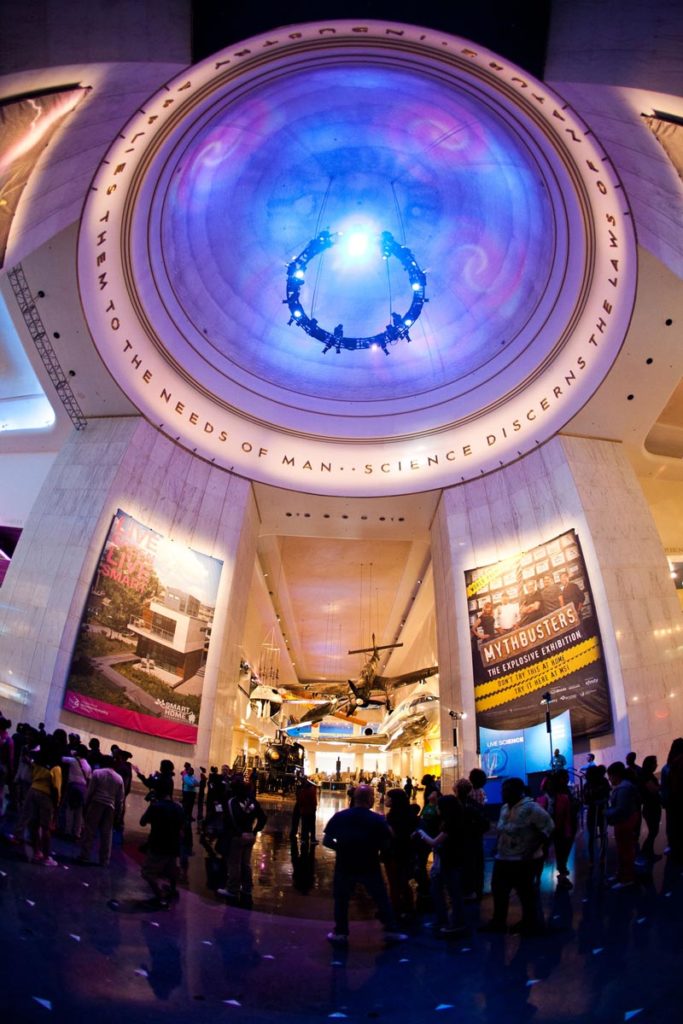 Museum of Science and Industry Exhibits
The Museum of Science and Industry's oldest exhibit is the Coal Mine. Opening with the museum, this exhibit shows visitors what it was like to descend into a coal mine.
The U-505 exhibit features the only World War II German submarine of its kind in the United States (read more about The Lone Wolf), and it's been at the museum since 1954.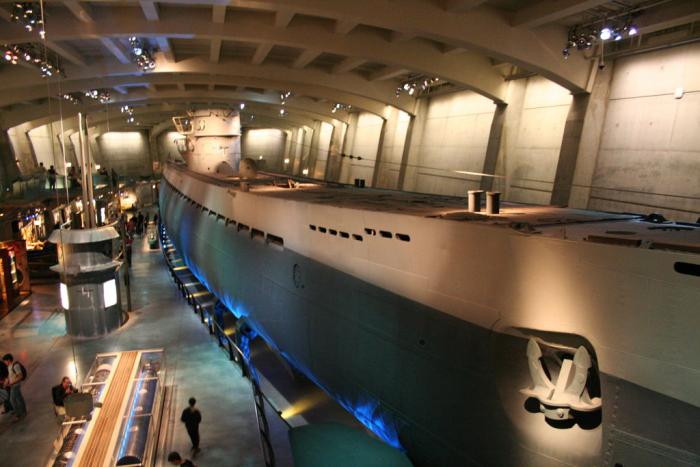 Other popular exhibits include The Great Train Story, a 3,500 square foot model train, and a Boeing 727 jet that was flown into Meigs Field.
There's also a chick hatchery, a Pioneer Zephyr, and a flight simulator for the P-51 Mustang, F-4 Phantom II, F-16 Fighting Falcon.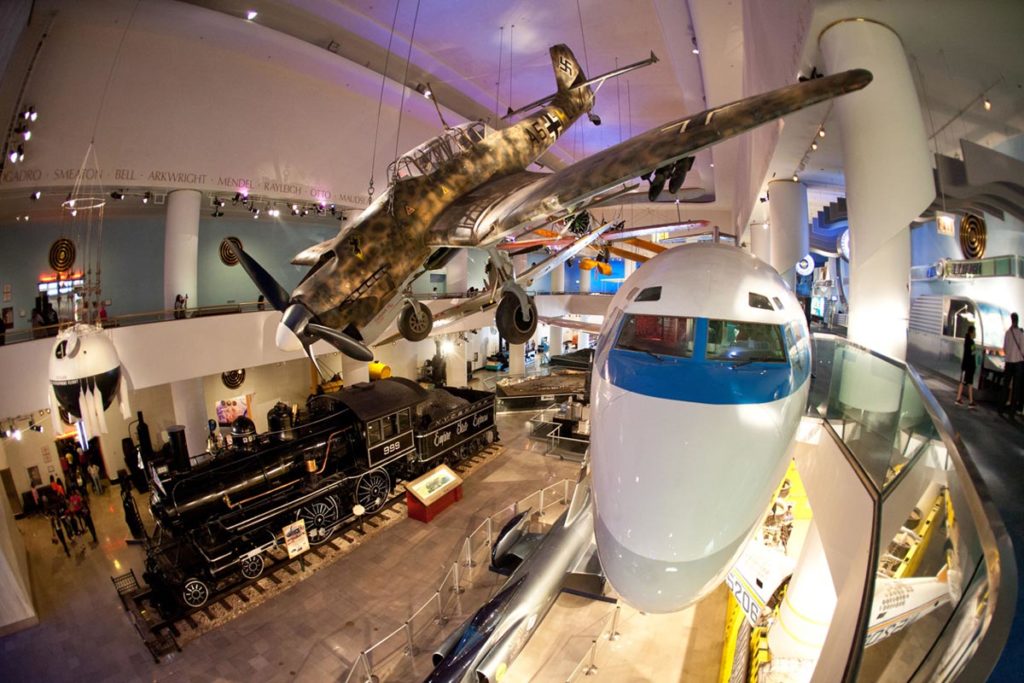 Yesterday's Mainstreet showcases a Chicago street from the 1920s, including a working ice cream parlor.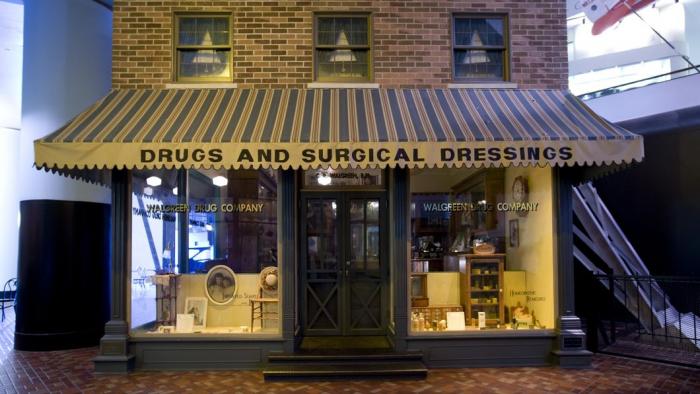 Science Storms is a cool two story exhibit that features a tornado that you can step into, a tsunami tank, and a Tesla coil.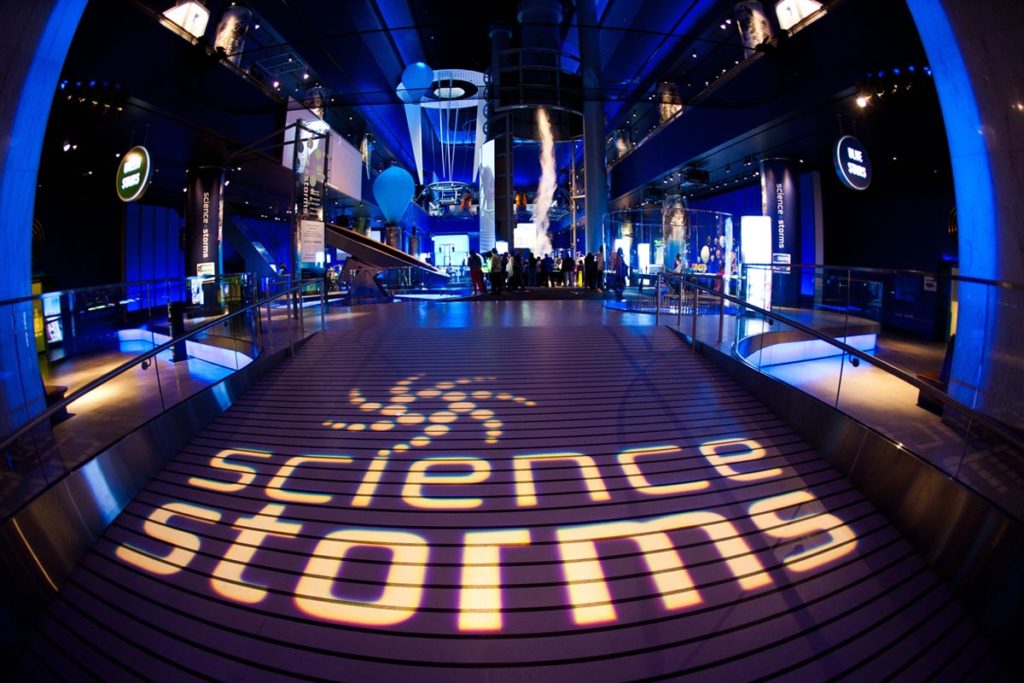 In addition to their ever-growing and improving permanent exhibits, the museum frequently hosts temporary exhibits.
Some of the most notable ones have included Body Worlds, which featured plastinated human specimens, and Leonardo Da Vinci: Man, Inventor, Genius.
They also feature traveling exhibits that are focused on the science of popular fiction, such as Star Wars and Harry Potter. To see what's on exhibit now, visit their website.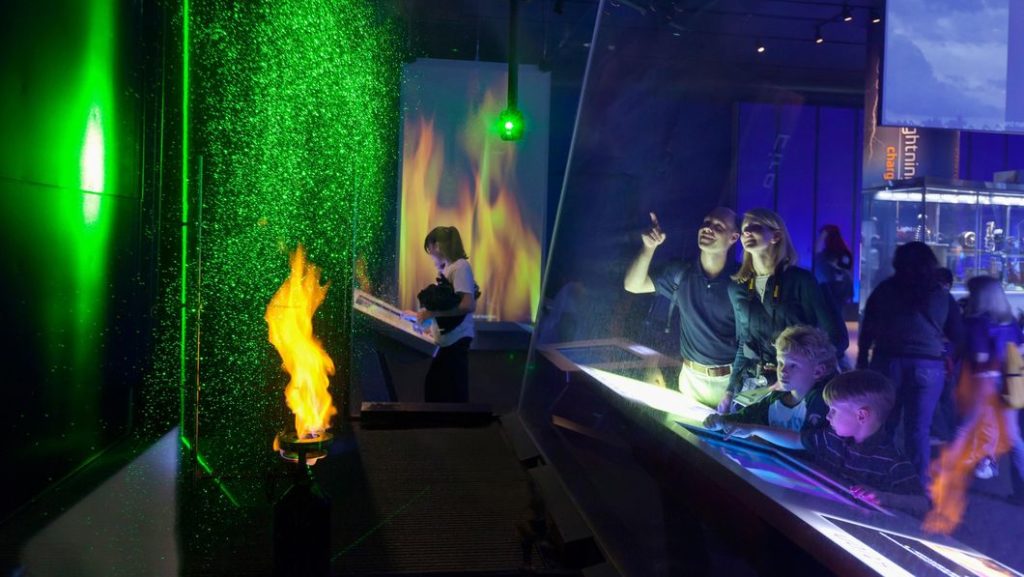 2020 Museum of Science and Industry Free Days
January and February are typically the months with the most free admission days.
Admission includes their classic exhibits, from the Great Train Story to the Baby Chick Hatchery.
These free admission days are a great time to take advantage of the many special exhibits, including the WOW! Tour, the inside glimpse of the U-505 Submarine, and one of the awe-inspiring Omnimax movies.
Special exhibits
Wired to Wear, Makers United, Giant Dome Theater films, Coal Mine, Fab Lab workshops, WOW! Tour, and Future Energy Chicago are $12 for adults and $9 for children 3 – 11.
If you want a guided tour of the U-505 Submarine tickets are $18 for adults and $14 for children.
The Museum of Science and Industry is free for Illinois residents with valid ID on the following dates in 2020:
January 6-9, 13-16, 20-23, 27-30
February 3-6, 10-13, 18-20, 24-27
These free days for Illinois residents at the Museum of Science and Industry are a great deal. Ticket prices are $21.95 adults and $12.95 for children ages 3 to 11.
Find a place to stay near the Museum of Science and Industry
Museum of Science and Industry Tickets
Can't make it on those dates?
Chicago residents save $5 for adults and $3 for children (ages 3-11). Everyone saves $2 if they purchase their tickets online.
If you're not a Chicago or Illinois resident, you can get discounted admission to the Museum of Science & Industry and four other top attractions with CityPass. Save at even more attractions (25+!) with the Go Chicago Card.
There are also free days at the Shedd Aquarium, Field Museum of Natural History, and Adler Planetarium throughout the year. Check out our free museum days guide, which is updated as soon as dates are available.
The Museum of Science and Industry is located in the Hyde Park neighborhood of Chicago at 57th Street and Lake Shore Drive.
Museum of Science and Industry Parking
The Museum of Science and Industry has a convenient garage that opens right into the museum. Rates are $22.
You can also get discounted parking with Parkwhiz and Spothero .
---
The Museum of Science and Industry is a must-see destination for any local or visitor. If you plan on visiting, be sure to save this for later: