Christkindlmarket Chicago is an annual Christmas market modeled after the German markets in Nuremberg, Germany, that attracts more than one million visitors per year.
It's such a popular Chicago holiday tradition that they added a Naperville Christkindlmarket in 2015, and a third location in 2017 in Wrigleyville.
While the Naperville location ended in 2019 and 2020 was, well, 2020, Christkindlmarket returns for its 25th year in 2021.
If you're looking to attend these fun and festive events, we've got all the information you'll need to know before you go.
There may be affiliate links in this post, which means we may get a small commission. It's at no extra cost to you and helps keep Your Chicago Guide free. Everybody wins!
Christkindlmarket Chicago
History of the Christkindlmarket
The Chicago Christkindlmarket traces its roots to the original German festival, which began in Nuremberg in 1545. Four and a half centuries later the German American Chamber of Commerce of the Midwest dreamed of bringing a similar market to Chicago.
In 1996 the first market was held on Pioneer Court, and the following year it moved to Daley Plaza, and it's been there ever since.
Shopping at Christkindlmarket
When you're looking for unique gifts for the holidays, or just want something for yourself, you can shop to your heart's content at this open-air market.
Browse stall after stall of holiday gifts, including toys, decorations, and ornaments.
The vendors come from all over the world. Shopkeepers from Germany, Poland, the Ukraine, Peru, Ecuador, and Canada travel to this Chicago Christmas market.
You can get hand-painted glass ornaments from Ernstthal, wooden Christmas decorations from Dresden, and traditional Slavic nesting dolls from Kharviv.
You can even purchase hand-carved wooden nativity scenes from Bethlehem.
TLTip: The Christkind is an angel that led parades during the holiday season. Traditionally robed in gold and white, she would distribute gifts to children like Santa Claus, even delivering the gifts on December 24 while the kids are still sleeping.
Food & Drink at the Christkindlmarket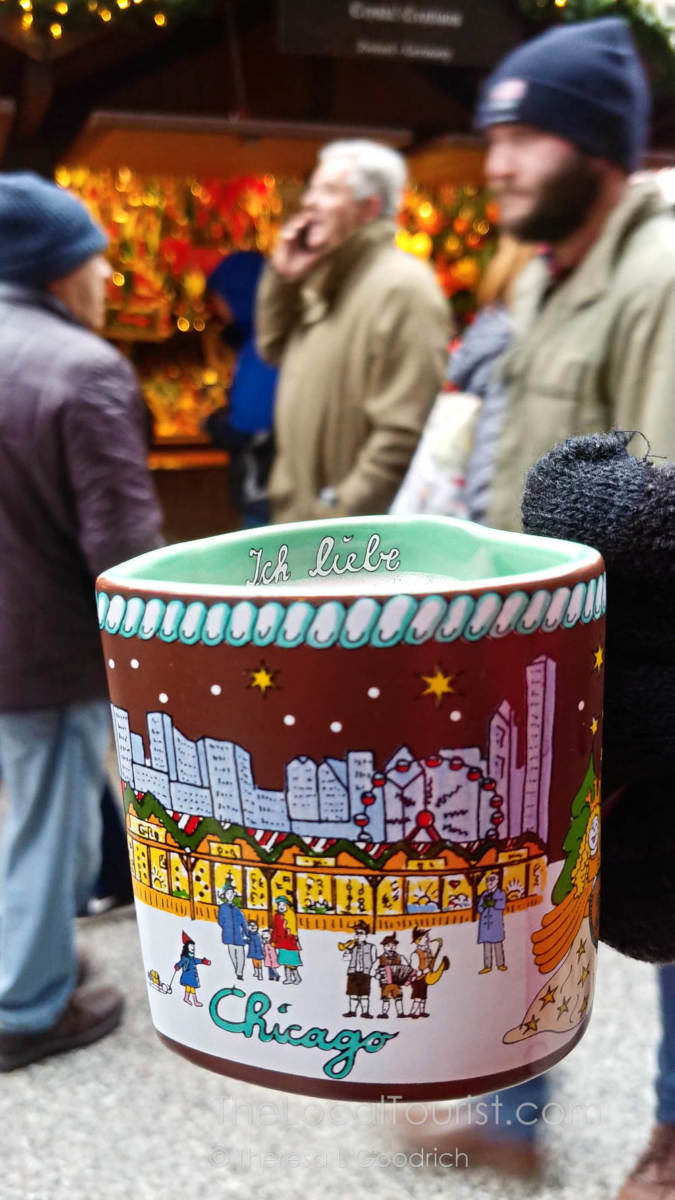 The food and drink at the Christkindlmarket is exactly what you'd expect from a German market.
You can get a variety of sausages, sauerkraut, fried potatoes, and potato pancakes. Bratbus from Nurnberg serves recipes that have been handed down for three generations.
There's a vendor from Stuttgart that offers noodles and kabobs, and the Schnitzelhaus serves schnitzel.
Stop into the Sweet Castle for roasted nuts and gingerbread, as well as chocolates and candy to take home with you. If it gets too cold (hello Chicago winter), you can warm up with tea from TeaGschwendner or some hot spiced wine or Bitburger beer.
Hotels near Christkindlmarket
Since you're going to the market, why not stay someplace nearby? Here are a few hotels near Christkindlmarket Chicago. Click on the name of each hotel to read reviews and check rates.
Chicago
To find discounted parking with Spothero, click on "Edit" below and enter the dates you'll be visiting Christkindlmarket Chicago:
Milwaukee
Aloft Milwaukee Downtown
Holiday Inn Milwaukee Riverfront
Hyatt Regency Milwaukee
InterContinental Milwaukee
The Pfister Hotel
Residence Inn by Marriott Milwaukee Downtown
SpringHill Suites by Marriott
Christkindlmarket 2021 Dates and Locations
Christkindlmarket Chicago

Daley Plaza, 50 E Washington St
November 19 – December 24, 2021
Sun – Thurs 11am to 8pm, Fri – Sat 11am to 10pm
Thanksgiving, November 25 & Christmas Eve, December 24: 11am – 4pm

Christkindlmarket Wrigleyville

Gallagher Way, 3635 N Clark St
November 19 – December 31, 2019
Mon – Thurs 3pm to 9pm, Fri & Sat 11am to 10pm, Sun 11am to 7pm
Thanksgiving, November 25 & Christmas Eve, December 24: 11am – 4pm
Christmas Day, December 25: Closed
New Year's Eve, December 31: 11am – 4pm
Christkindlmarket Chicago is one of the most cherished of Chicago holiday traditions. Visit yourself and find out why!