The BMO Harris Bank Magnificent Mile Lights Festival is an annual event that's filled with holiday activities.
Considered the unofficial kick-off of the Chicago holiday season, the fest features family fun, shopping, a lighting parade, visits with Santa Claus, live concerts, and special offers at Michigan Avenue shops.
The Magnificent Mile in Chicago is beautiful year-round, but it is particularly magnificent during the winter and the holiday season. Each November, two hundred trees are festooned with one million lights, creating a winter wonderland in the city's most famous shopping district.
The season kicks off the Friday and Saturday before Thanksgiving, attracting millions of visitors and culminating in a parade that's broadcast worldwide.
Here's everything you need to know about the Magnificent Mile Lights Festival, one of Chicago's most cherished Christmas traditions.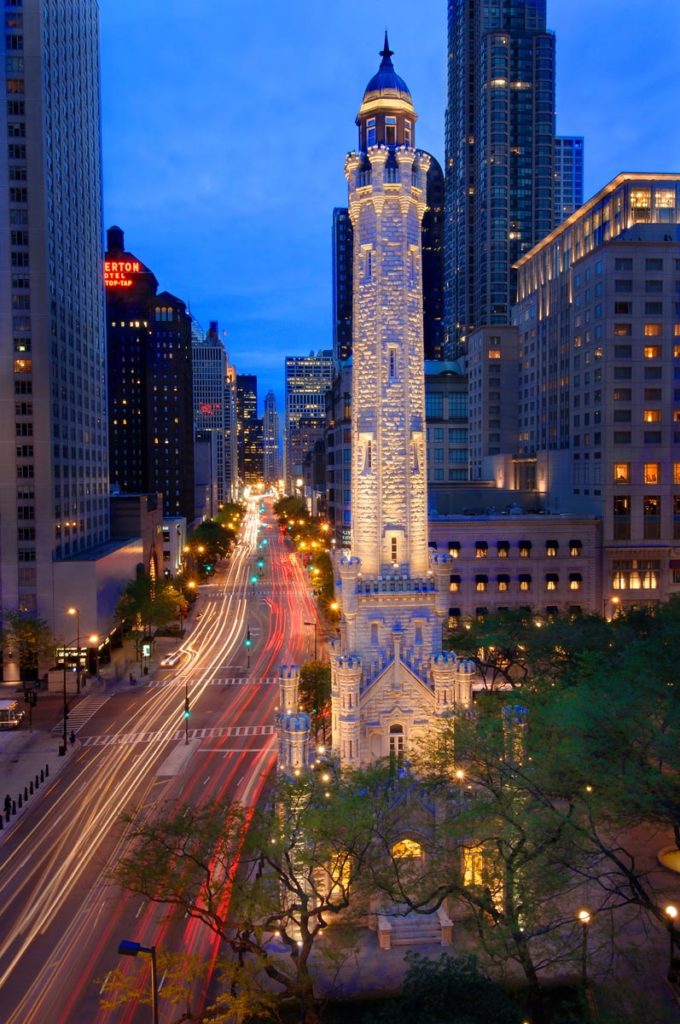 Magnificent Mile Lights Festival
History of the Magnificent Mile Lights Festival
This Chicago festival of lights began simply, with a single tree erected in Water Tower Park in 1949 by the Greater North Michigan Avenue Association (GNMAA). It was a 50-foot tree and the association decorated it with 1,500 lights.
The stretch of Michigan Avenue from the Chicago River to Oak Street had just gained its now-famous "Magnificent Mile" nickname two years previously when real estate magnate Arthur Rubloff coined the phrase.
One of the anchor stores of The Magnificent Mile was Saks Fifth Avenue. Opened in 1929, it was the first branch of the New York department store to operate year-round. In 1959, the store made an indelible mark on Chicago by decorating the trees in front of the store with tiny white lights.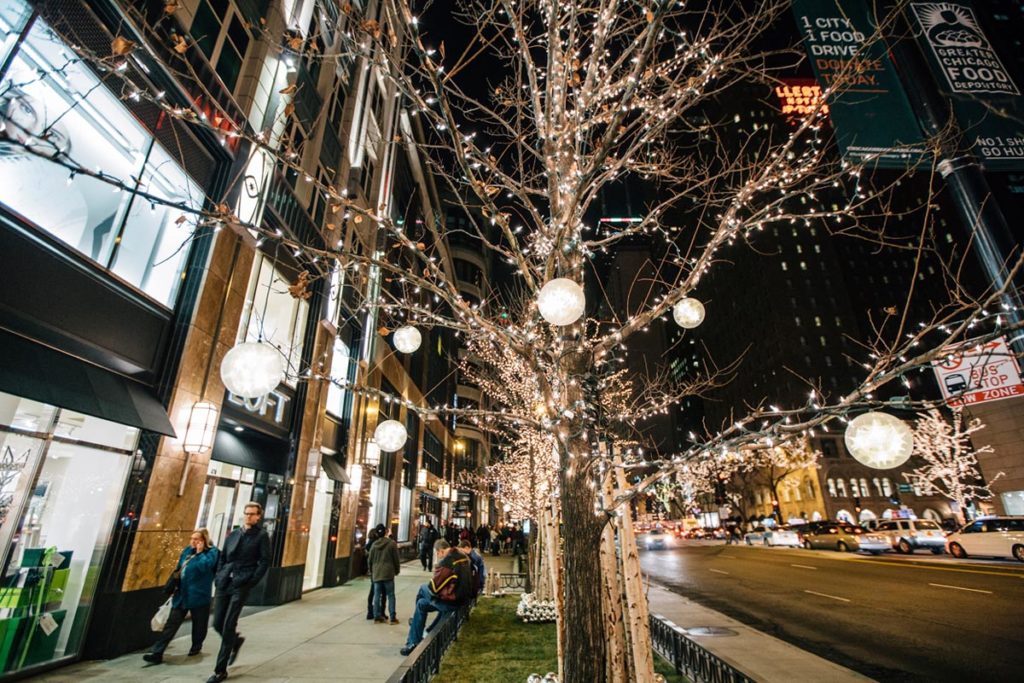 Over the years, more and more stores followed suit until it became an official event in 1992, when Walt Disney and company joined in the festivities.
The company became an official sponsor, and the Magnificent Mile Lights Festival parade was born.
More sponsors participated over the years, and while it is now known as the Wintrust Magnificent Mile Lights Festival, Mickey Mouse and Minnie Mouse lead the parade each year.
Related: Find more free things to do in Chicago
Things to do at the Magnificent Mile Lights Festival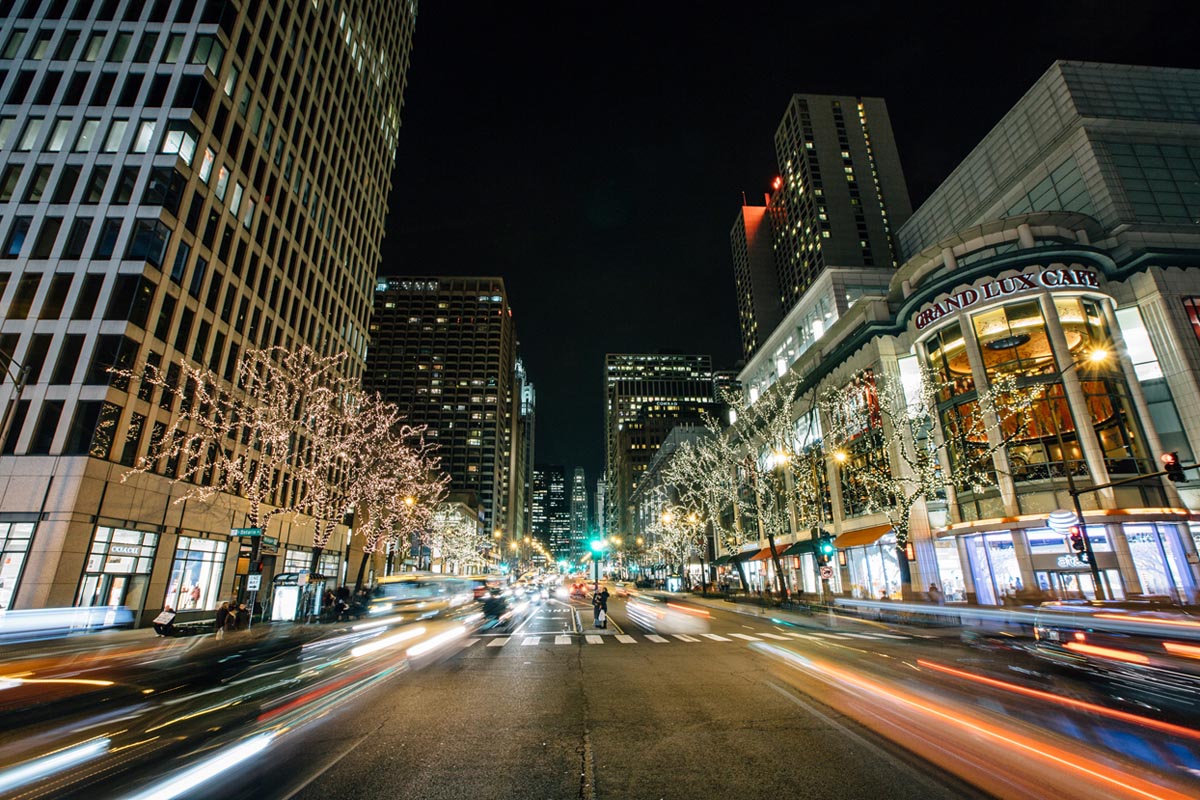 The Magnificent Mile Lights Festival is more than just a parade. It's two days of fun!
Events begin on Friday evening with a tree lighting at the Wrigley Building and culminate with the parade and fireworks on Saturday night.
Pioneer Court, located at the base of the Chicago Tribune Tower, becomes Lights Festival Lane, a magical place where children can get their photos taken with Santa and of all ages can indulge in Chicago favorites, including Eli's Cheesecake and Garrett's Popcorn.
There's also a stage with live performances. Previous performers include The Caroling Connection, Dickensian-garbed a capella performers who truly bring the spirit of the season.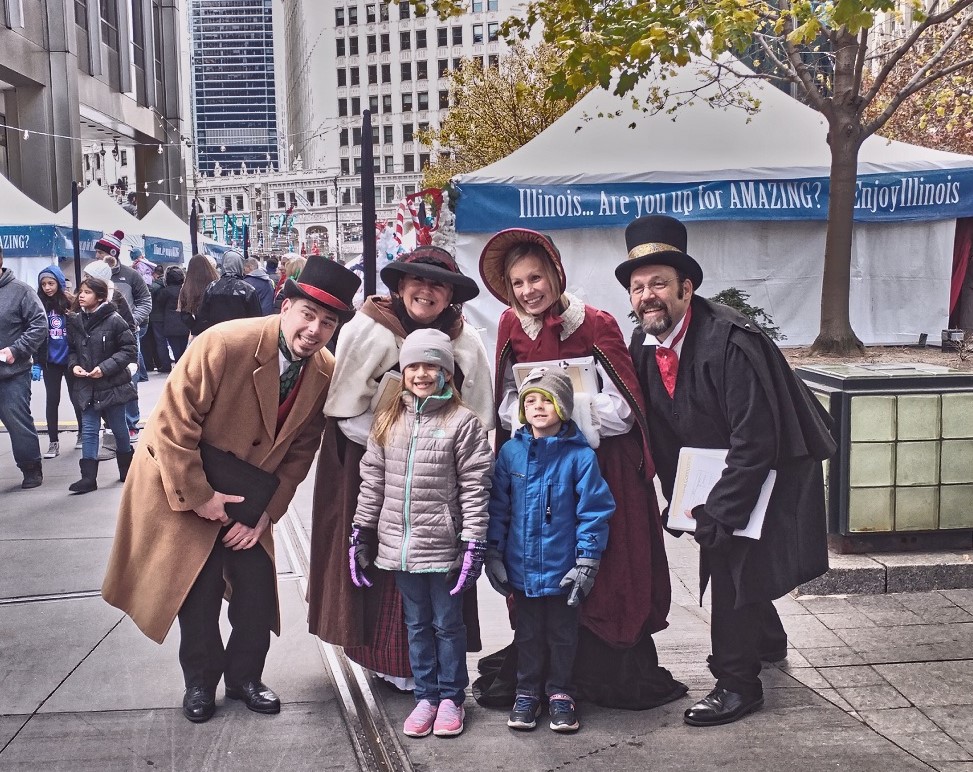 The Magnificent Mile Parade begins on Saturday at 5:30 p.m. on Oak Street, and for an hour and a half spectators are delighted by dozens of participants, including local sports teams, giant helium-filled balloons, marching bands, and Walt Disney World characters.
The parade ends at Michigan Avenue and Wacker Drive, just south of the river.
The Grand Finale of the Magnificent Mile Lights Festival is the Fireworks Spectacular. The show begins at 7 p.m. and the fireworks are launched over the Chicago River. It's truly a sight to see.
Magnificent Mile Lights Festival Schedule 2022
Friday, November 18, 2022
4:00PM: Holiday tree lighting ceremony at 4 p.m. in The Wrigley Building Centennial Plaza to kick-off the festive weekend.
Saturday, November 19, 2022
11:00AM – 4:00PM: Explore an interactive wonderland of holiday-themed activities at Lights Festival Lane in Pioneer Court (401 N. Michigan Avenue).
Santa Claus is always ready to greet guests, alongside lots of holiday-themed activities. Lights Festival Lane hosts a variety of family-friendly activities including special appearances by Enjoy Illinois' Big Lincoln, complimentary cheesecake with Eli's Cheesecake Company, the Museum of Ice Cream's sprinkle pool, the Dunkin' Community Cruiser and pop-up musical and special performances.
As early as 3:30PM: DuSable Bridge (formerly Michigan Avenue Bridge) closes to pedestrian traffic.
4:00PM: North Michigan Avenue closes to vehicular traffic between Oak Street and Wacker Drive.
5:30-7:00PM:  The Wintrust Magnificent Mile Lights Festival tree-lighting parade steps onto North Michigan Avenue at Oak Street.
Mickey Mouse and Minnie Mouse are the Grand Marshals, and they're joined by friends from the Walt Disney World® Resort in Florida.
Joining Mickey and Minnie this year are Mirabel from Disney's Encanto in a horse and carriage, Goofy and Pluto bringing some holiday cheer from EPCOT, and Chip and Dale commemorating Disney's 50th Anniversary.  
The parade route travels down North Michigan Avenue to Wacker Drive, lighting one million lights as they go.
The procession features fun floats, giant helium-filled balloons, marching bands, and top musical performers.
The festive holiday parade will also feature fabulous floats, giant helium balloons, and celebrity performances by one of the top five female groups of all time, The Pointer Sisters, and American rhythm and blues vocal favorites, The Spinners. American singer-songwriter Debbie Gibson will perform songs from her eleventh studio album, Winterlicious, and C&C Music Factory will make "Everybody Dance Now!"
7PM: Fireworks spectacular over the Chicago River at North Michigan Avenue.
Tips for attending the Magnificent Mile Lights Festival
Get the most out of the festival of lights with these tips:
The temperatures will drop as soon as the sun goes down, so remember to bring extra clothing.
You'll also want to bring a camera to record your experiences.
Since you're going to be in the shopping mecca of the Midwest, bringing your holiday shopping list is a must!
Bring a portable battery charger for your cell phone.
Bookmark this page so you can reference it for the day's activities!
Magnificent Mile Lights Festival By The Numbers:
Over 1.2 million people travel to Chicago for the Magnificent Mile Lights Festival.
It takes an entire year to plan the festival with the help of 600 volunteers.
Each year the festival closes with a fireworks show featuring 10,000 shells exploding over the Chicago River.
Getting to the Festival of Lights
Because there are so many people coming to the festival you'll want to allow plenty of time.
If you plan on enjoying the festivities in Pioneer Plaza you can take the Red Line to Grand Station or you can take any of the other lines into the Loop and walk across the river.
If you drive, there are several parking garages in the area. Use a service like Spothero to purchase your parking ahead of time. Not only will it be less stressful than trying to find a spot, reserving a space can also save you money.
To find discounted parking with Spothero, click on "Edit" below and enter the date(s) you'll be attending the fest:
Hotels near the Magnificent Mile Lights Festival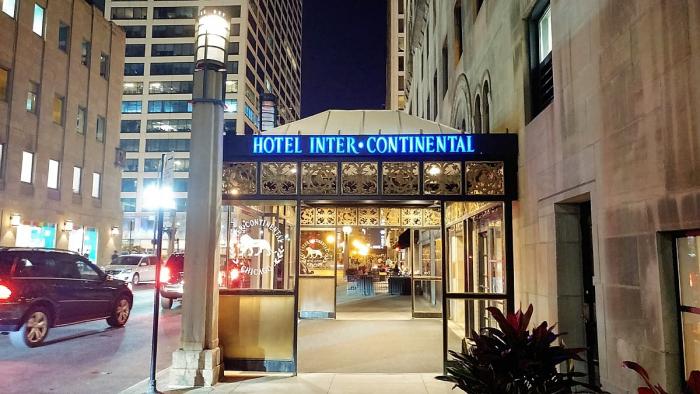 ACME Hotel Company – fun and affordable boutique hotel | Check rates
Doubletree by Hilton Magnificent Mile – get a warm cookie at check-in! | Check rates
Hyatt Regency Chicago – one of Chicago's largest hotels | Check rates
Intercontinental Hotel Chicago – an historic hotel on the Magnificent Mile | Check rates
Loews Chicago Hotel – closest hotel to Navy Pier | Check rates
Radisson Blu Aqua Hotel – located in one of the most distinctive buildings in Chicago | Check rates
Find more hotels near the Magnificent Mile Lights Festival
---
The Magnificent Mile Lights Festival is one of the most anticipated events of the year. It delights children of all ages and heralds the beginning of the holiday season in Chicago.