The Field Museum of Natural History is one of Chicago's most iconic attractions. With millions of specimens in its collections, from gems to mummies to dinosaurs, the museum is a destination for people from all over the world.
Visiting the Field Museum of Natural History
History of the Field Museum
The museum's beginnings date back to the World's Columbian Exposition of 1893. Originally named the Columbian Museum of Chicago, it was incorporated to showcase art, archaeology, science and history, as well as to encourage scientific exploration of these fields.
The museum's first home was the Exposition's Palace of Fine Arts, which is now the Museum of Science & Industry, and it was moved to its present location in 1921.
The name was changed in 1905 to the Field Museum Of Natural History to both honor Marshall Field and to provide a more descriptive title of its focus. The retail magnate had bequeathed $8 million to the museum in his will.
The involvement of the Field family continued throughout the 20th Century. Marshall's nephew Stanley donated $2 million and then served as the museum's president for 56 years.
Related: Find more things to do in Chicago
Collections
The Field Museum hosts both permanent and traveling exhibitions covering our natural history. You can see exhibits on humanity's past, like a Pawnee Earth Lodge and one of the nation's largest mummy collections.
Explore the history of the earth with Evolving Planet, which covers four billion years. Marvel in the Grainger Hall of Gems, where you can see up close a 3,400 year old Egyptian garnet necklace and Tiffany & Co.'s Sun God Opal.
Of course, the most famous exhibit of the Field Museum is probably Sue the T. rex. This giant lady is the most complete T. rex skeleton ever discovered. You'll also see what it was like to hunt a woolly mammoth and learn the story behind the man-eating lions of Tsavo.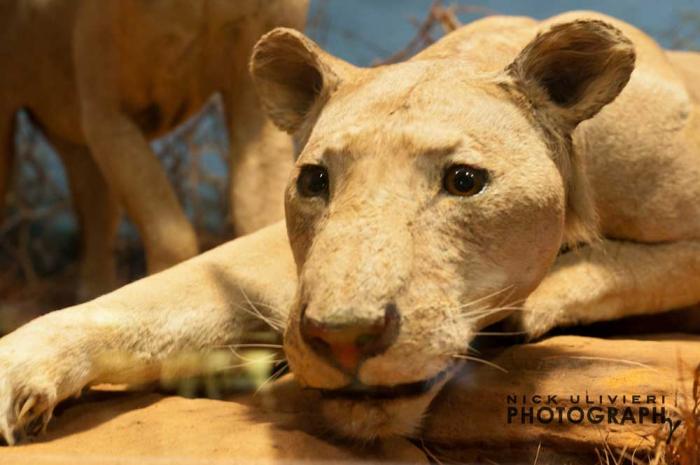 The Crown Family PlayLab is of special interest to families with children. In the Illinois Woodland kids can push buttons to see and hear the corresponding animals, and the whole family can put on costumes to play the parts.
The Pueblo introduces Southwest Native American culture, and there's corn they can "harvest". There's an art room where they can work on the project for the day, or just dig into the supplies and let the artist out.
What kid doesn't like banging on drums? And what adult wishes they had earplugs anytime a child gets near a percussive instrument? The Rhythm Section is, blessedly, an enclosed room.
The Dinosaur Field Station has nests to play in and fossils to search for, and in The Scientists' Lab they can measure and sort and magnify.
Each exhibit is tied into one in the museum. Families can start in the Playlab, and when they see the kachinas in the Ancient American exhibit, or wonder at Sue, they can point back to the activities.
While many of the museum's attractions are look-but-don't-touch, this section lets your kids play drums, dress up, and dig up a dinosaur bone.
Past traveling exhibitions have included everything from "Maharaja: The Splendor of India's Royal Courts" to Genghis Khan to "The Romance of Ants".
These exhibits are usually on display for several months. You can see what exhibitions are in town now and which will be arriving soon on their Exhibitions page.
Free Days at the Field Museum of Natural History
Visiting the Field Museum can be very expensive, especially if you're taking the kids. Basic admission for a family of four is more than $80. Worth it? Yes, but if you can go for free, you can spend that money on some great deep dish pizza or take a tour.
Luckily for Illinois residents, there are several free days at the Field Museum of Natural History.
Related: find free things to do in Chicago
2020 Free Days at the Field Museum of Natural History
January 8, 15, 20, 22, 29
February 1 – 29
Can't make it on those dates or not an Illinois resident? Get discounted admission to the Field Museum of Natural History and four other top attractions with CityPass. Save at even more attractions with the Go Chicago Card: Over 30 Attractions on One Ticket Saves You up to 55%!.
There are also free days at the Shedd Aquarium, Museum of Science and Industry, and Adler Planetarium throughout the year. Check out our free museum days guide, which is updated as soon as dates are available.
This is also a good time to see more than the basic admission offers. With the Discovery Pass, you can choose one ticketed exhibition or one 3D movie: Adults: $16, Seniors and Students: $14, Children (3-11): $12.
The All-Access Pass gives you complete access to The Field Museum, including all ticketed exhibitions and one 3D movie. Adults: $23, Seniors and Students: $20, Children (3-11): $17.
You can order tickets online, and get complete information on the museum, exhibits, hours and pricing on their website.
Free Admission Requirements
To get your free admission, you'll need to provide proof of residency. According to the museum's website, no special coupon, ticket, or pass is required to enter during Free Admission Days. Just present a current Illinois driver's license, state ID, or Chicago CityKey card at the ticket desk to establish proof of residency.
If you do not have an Illinois identification card, you may establish residency by showing a valid photo ID along with one of the following:
Illinois lease
Illinois library card
Illinois student ID with photo
Illinois utility bill
Illinois work ID or check stub
Places to stay near the Field Museum
Stay nearby at these hotels near the Field Museum of Natural History:
Hyatt Regency Chicago – With two towers and over 2,000 guest rooms, Hyatt Regency Chicago is the largest hotel in Chicago, and they know it: their second-floor bar is named BIG.
Palmer House Hilton – The Palmer House Hilton began as a love story and is now one of Chicago's most luxurious hotels and one of the grandest places to stay in the country. It's a great location, in the Loop and within walking distance to Grant Park.
Hilton Chicago – Lighten up your stay with an abundance of natural light and stunning views of Grant Park, Lake Michigan, and the urban landscape of downtown Chicago.
Blackstone Autograph Collection – Built in 1920, this historic Chicago hotel is on the National Register of Historic Places. Feel free to bring Fido when you stay here; the Blackstone is a pet friendly hotel and allows two dogs per room up to 75 pounds each.
St. Jane Hotel Chicago – Located in the historic Carbide and Carbon Building, the St. Jane Hotel is a luxurious hotel near Grant Park that focuses on providing an exemplary experience.
Getting to the Field Museum of Natural History
With its location in downtown Chicago, the Field Museum (1400 S Lake Shore Dr) is easily accessible via public transportation, whether you're taking a bus, a train, or Metra. The Metra electric line runs under Grant Park with a nearby station. You can also get discounted parking:
Field Museum of Natural History is located at 1400 S Lake Shore Dr, Chicago, IL
Save this for later!