With its stately lions gracing its Michigan Avenue Entrance, the Art Institute of Chicago welcomes art fans from all over the world to see its extensive collections.
Exhibitions span all art genres and multiple centuries to bring a comprehensive experience to anyone who visits.
The Art Institute's permanent collections are some of the most impressive of any art museum in the world. More than 5,000 years are represented in over a quarter of a million works of art.
The museum is probably best known for its collection of Impressionist and Post-Impressionist paintings with such famous works as Claude Monet's "Haystacks" and Renoir's "Two Sisters".
While that collection is impressive, the museum is much more than Impressionism. There are galleries devoted to American art, to African American art, to photography, prints and drawings, and Indian Art of the Americas. There are Japanese prints and exhibits devoted to ancient Greece, Rome, and Egypt.
The Art Institute of Chicago is one of the city's finest attractions, and its story illustrates the passions of a people who embraced culture as well as commerce.
Related: Find more things to do in Chicago
History of the Art Institute of Chicago
This story is featured in Living Landmarks of Chicago, a fascinating book that brings landmarks to life. Get your copy today!
In 1866, Chicago wasn't exactly known for its culture. Culture? Art? In Chicago? Nah – that town was all about making money. It was dirty and consumed with building and the accumulation of wealth. It stunk, with its stockyards and grain elevators and sewage-filled river, and the people that kept coming, thousands of them, hoping to make their own fortune, or at least have a chance.
But even in the mercenary, rapidly expanding city of Chicago, art was necessary, and in 1866, the Chicago Academy of Design began with thirty-five artists. The Dearborn Street studio featured a school and gallery, holding daily classes, regular receptions, and exhibitions. By 1870, they needed more room and moved into a five-story building on Adams Street.
Yes, even in Chicago, art was necessary.
The fire destroyed the new building and the Academy never recovered. It wasn't for lack of effort, but by 1878 the organization was ten thousand dollars in debt and the artists and patrons didn't see eye to eye on its mission. The Chicago Academy of Design declared bankruptcy and a group of businessmen bought their assets at auction, incorporating as the Chicago Academy of Fine Arts on May 24, 1879.
This new-ish organization enlarged the concept from artist-driven classes, studios, and galleries to an institute with an expansive school and museum. To reflect that mission, they renamed it the Art Institute of Chicago.
They hit a home run their first time at bat by making 28-year-old Charles L. Hutchinson, who'd been a founding trustee of the Chicago Academy of Fine Arts, their president. Charles was a wealthy young man; his dad, Benjamin, started the Chicago Packing & Provision Co. and was a trustee with the First National Bank of Chicago at the same time Samuel Nickerson was Vice President.
Although Charles worked for his dad as first a clerk and then a junior partner, he was about much more than the holding and accumulating of money. He was about people, and about art, and about art helping people.
The decade after the Great Chicago Fire was a frenetic and meteoric period of building and growth. It was less about recovering from a disaster and more about showing the world, and themselves, that Chicagoans could take anything thrown at them.
The first priority was rebuilding. Then, they could attend to things like culture. By the time the 1880s rolled around, the hierarchy of needs, at least as far as the wealthy were concerned, had reached the tip of the pyramid.
The young city's population numbered half a million, most of whom struggled to survive. Many of the wealthiest citizens, like John Glessner, Ferdinand Peck, and Charles Hutchinson, threw their energies towards helping to improve the less fortunates' situations and believed that people should not have to wait for art and creativity, no matter what their status.
Providing cultural access to everyone would raise the city as a whole. The Grand Opera Festival proved there was a need; so did the art hall at the Inter-State Industrial Exposition. The first building Jane Addams and Ellen Gates Star added to Hull-House Settlement was an art gallery.
It didn't take long for the Art Institute to outgrow its space and it did so multiple times in the next several years. Admission was free to the public Wednesdays, Saturdays, Sundays, and holidays, and the demand was so great they went through not one, but two new buildings, both designed by John Wellborn Root.
When the city secured the World's Columbian Exposition, which was basically a LOOK AT ME coming out party for the city, the Art Institute of Chicago negotiated a win-win plan for another new building.
This time, they were in it for keeps. In 1892, the "temporary" Inter-state Industrial Exposition had been holding court at Michigan and Adams for twenty years. Charles was also the fair's Chairman of the Committee for Fine Arts and he proposed replacing the Expo with a building that both the institute and the fair could use. The museum and school would raise most of the money, the park district would provide the land, and the World's Fair would kick in $200,000, but only if the building was completed on time.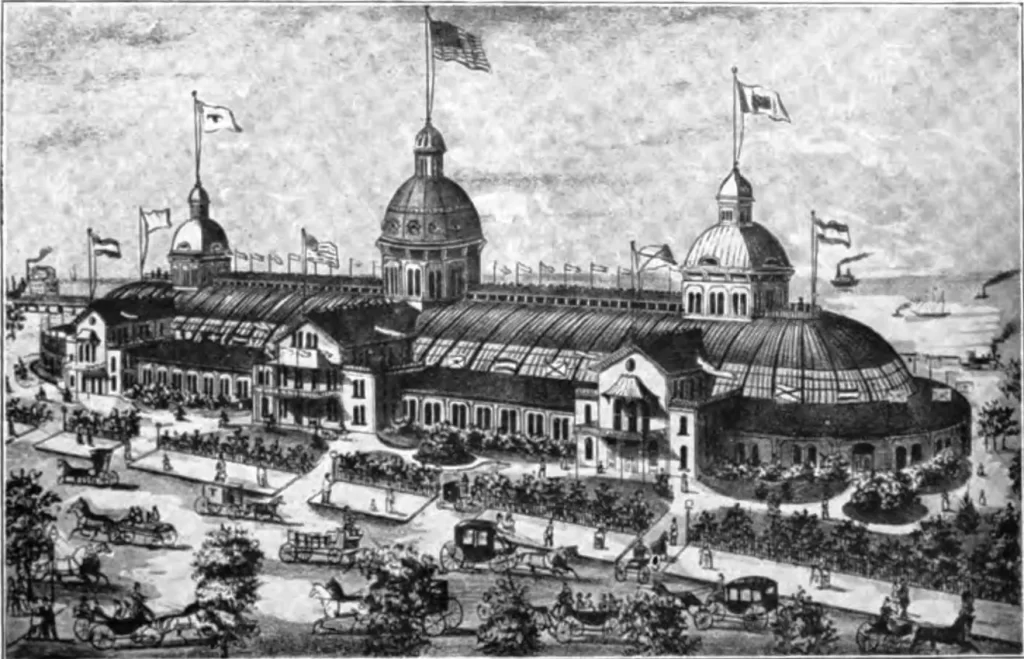 It was. From May 1 to October 31, 1893, the World's Congress Auxiliary of the World's Columbian Exposition held lectures, seminars, and the World's Parliament of Religions. After the fair closed, the Art Institute of Chicago moved in, celebrating with an opening reception featuring Theodore Thomas' orchestra on December 8.
The new building, designed by Shepley, Rutan, and Coolidge, who had also completed the Glessners' mansion, cost $648,000 to build. It quickly filled with collections and within a year gifts to the museum equaled half the cost of the building.
Early holdings included prints donated by Elizabeth H. Stickney, with etchings by Rembrandt and Whistler, and architectural casts sent to the Columbian Exposition by the French government.
The entrance hall was filled with reproductions of classical sculptures. The museum also had paintings by Rembrandt as well as Van Dyke, Rubens, and other Dutch masters. In 1890, Charles and his like-minded colleague Martin Ryerson paid $200,000 for the paintings with funds they'd contributed as well as donations raised from Marshall Field, Phillip Armour, and other wealthy gents.
Florence Lathrop Page, widow of Henry Field and Marshall Field's sister-in-law, donated another substantial collection of paintings. She's most famously responsible for the lions at the entrance. Artist Edward Kemeys, a renowned "animalier," or sculptor of animals, had created multiple plaster sculptures for the Columbian Exposition, including a pair of lions that flanked the Palace of Fine Arts. Florence paid to have Kemeys recreate those lions in bronze, and they've guarded the Michigan Avenue entrance since 1894.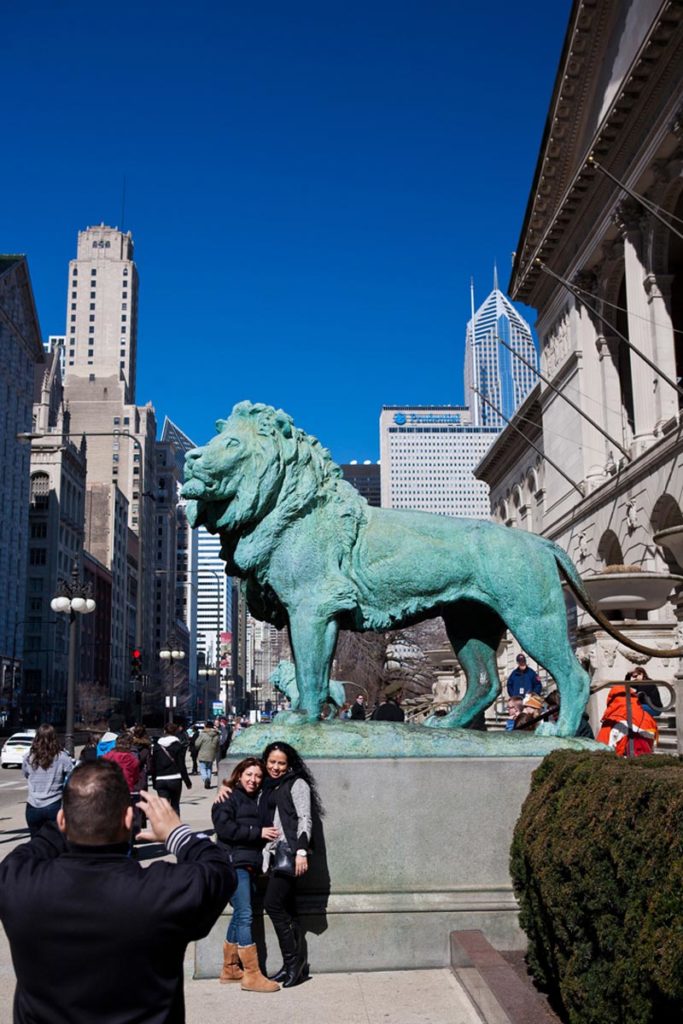 For forty-three years, Charles Hutchinson led the Art Institute of Chicago's growth. The school became the largest in the country by the mid-1890s. The building added wings to the north, to the south, and over the railroad tracks.
Charles W. Fullerton donated money for a lecture hall in honor of his father. Built in 1897, it was topped with a Tiffany dome. Ryerson donated funds for a library. They needed a sculpture hall, so Isabella Blackstone paid for one. Daniel Burnham thought the museum needed a library focused on architecture, and his 1912 will took care of that. McKinlock Court honored a soldier who'd fallen in World War I.
And, the collections grew, as people like the Nickersons donated the acquisitions made during their travels. Bertha Palmer, who'd made collecting Impressionist paintings an art form, stipulated not one but two bequests in her will for a grand total of half a million dollars. Her sons then donated an additional thirty-two paintings and pastels from her holdings. Clarence Buckingham, whose sister would later have a grand fountain built in his honor, bequeathed significant works of art as well.
The museum also purchased art, including its first major acquisition in 1906, El Greco's The Assumption of the Virgin. Some of the funds to increase the Art Institute's holdings were raised by door fees and memberships, but the majority came from donations and bequests.
When Charles died in 1924, the museum and school – the Institute – he'd shepherded had become world renowned. It helped to establish Chicago as a place of both commerce and culture, and it's a reputation the city has held ever since.
In 1925, the museum acquired the Helen Birch Bartlett Memorial Collection. This remarkable bequest included pieces by Gauguin, Modigliani, and Van Gogh, including his The Bedroom. Picasso's The Old Guitarist and Georges Seurat's A Sunday on La Grande Jatte were also part of the donation.
That same year, The Goodman Theatre opened where the Modern Wing now stands. A few years later, one and a half million people would visit the museum's "A Century of Progress" exhibition in just five months.
Over the next several decades, the Art Institute of Chicago continued to increase the breadth and depth of its holdings. In 1930, Grant Wood won a $300 prize in a contest held by the museum for his American Gothic. Georgia O'Keeffe, a former student, donated her husband Alfred Stieglitz's collection in 1949.
In 1956, the museum installed Narcissa Niblack Thorne's exquisitely detailed miniature rooms. The museum acquired decorative art. Armor and weaponry. Religious art. Native American art. Art from Africa. Asia. Ancient Greece, Rome, Egypt. Etruscan art. Byzantine art. Art from everywhere and every time.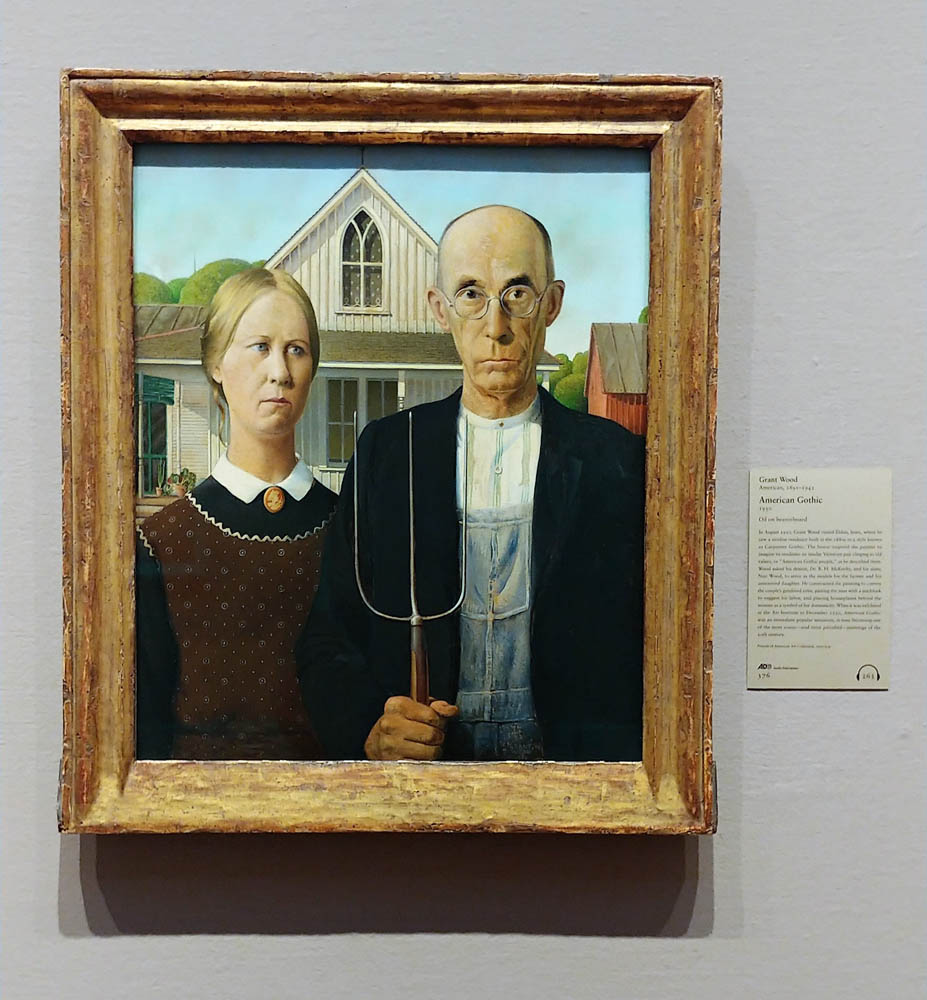 They needed room for all that art. The Morton Wing provided some on the south side of the original building in 1962 and they moved Lorado Taft's Fountain of the Great Lakes to make space for the addition. The allegorical fountain, installed in 1913, now faced Michigan Avenue.
The Rubloff Building expanded the school and the museum in the 1970s, and in 1988 the Daniel F. and Ada L. Rice Building provided yet more space. Finally, in 2009, Renzo Piano's Modern Wing added another 65,000 square feet, making the Art Institute of Chicago the second-largest art museum in the United States.
Are you enjoying this excerpt from Living Landmarks of Chicago? Wonderful! Get your copy today.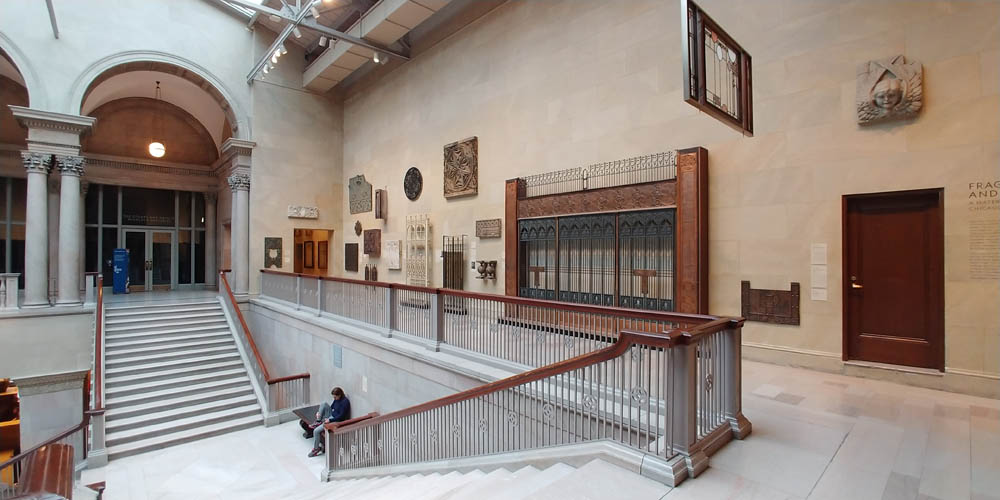 The Art Institute of Chicago Today
With nearly 300,000 works of art from every part of the world and spanning 5,000 years, the Art Institute of Chicago is truly a global museum. It goes beyond the celebration of art to provide an encyclopedic look at humanity.
The names of the people whose generosity made, and make, the museum possible can be found in the names of the collections, the names of the halls, and the names of the buildings. Each piece is accompanied by a descriptive plaque that includes, where applicable, who donated it.
In addition to the permanent collections, the Art Institute often hosts temporary exhibitions. In the past these have included works from Steve McQueen, Lewis Carroll, Roy Lichtenstein, and Bertrand Goldberg, architect of Chicago's famed Marina City Towers.
Terzo Piano is the restaurant within the Modern Wing of the Art Institute. It's named after the architect of the wing, Renzo Piano.
Because the restaurant is within the museum it is only open for lunch except for dinner on Thursday evenings, when the museum is open until 8pm. However, you don't have to pay admission to the museum to dine. There is a free entrance on Monroe Street.
Note: all restaurants are currently closed
If you can't visit the museum, more than 50,000 works of art are available to view online and download. These are public domain, which means that all rights are waived and you can basically do anything you want with them. It's a continuation of the belief that art is for everyone.
At the east end of the museum you can see the original entrance to the Chicago Stock Exchange, which was designed by Louis Sullivan.
Art Institute of Chicago Admission
General admission to the museum is $25 for adults and $19 for students, teens, and seniors. Children under 14 years old are free.
Chicago residents receive a discounted price of $20, and Illinois residents pay $22. Thursday evenings are free for Illinois residents from 5pm to 8pm.
Click here to get admission to the Art Institute of Chicago
Art Institute of Chicago Free Days
November 29–December 17, 2021, and January 3–March 17, 2022 the Art Institute of Chicago is free Mondays, Thursdays, and Fridays.
Free admission days require tickets and you must reserve them in advance.
To reserve your free ticket to the Art Institute, choose General Admission. On the next page you'll be prompted to enter your zip code. Your credit card will be used to confirm your zip code at check out.
Free days at the Art Institute of Chicago:
November 29
December 2, 3, 6, 9, 10, 13, 16, 17
January 3, 6, 7, 10, 13, 14, 17, 20, 21, 24, 27, 28, 31
February 3, 4, 7, 10, 11, 14, 17, 18, 21, 24, 25, 28
March 3, 4, 7, 10, 11, 14, 17
The Art Institute of Chicago is currently free for the following groups:
Kids under 14
Chicago teens under 18
Students who attend one of our University Partner schools
LINK and WIC cardholders
Illinois educators, including pre-K–12 teachers, teaching artists working in schools, and homeschool parents
Active-duty military free every day. Active-duty military families are free from Armed Forces Day through Labor Day
Kids Museum Passport: individuals with a Chicago Public Library card can check out a pass for free general admission to the Art Institute.
Bank of America or Merrill Lynch credit or debit cardholders receive free general admission to the museum on the first full weekend of each month
Sotheby's Preferred cardholders and up to three guests receive complimentary general and special exhibition admission
The Cultivist members and up to three guests receive free general and special exhibition admission
If none of these apply to you: Get a fast pass to the Art Institute of Chicago.
Related: Free days at Chicago museums
Art Institute of Chicago Hours
The museum is open Thursdays through Mondays from 11am to 6pm. Members have access from 10am to 11am on those days.
Closed Thanksgiving, Christmas, and New Year's Day.
Please note that starting January 2, 2022, the museum will close at 5 p.m.
Art Institute of Chicago; 111 South Michigan Ave, Chicago, IL 60603, artic.edu
Getting to the Art Institute
Located at Adams and Michigan, the Art Institute of Chicago is accessible from nearly every train line as well as several buses. Nearby parking is available in the Millennium Garages. Find discounted parking with SpotHero:
The Art Institute of Chicago not only houses treasures, it is one of Chicago's finest treasures. Its continued excellence and growth secures its place as one of the premiere art museums in the world.