The Shedd Aquarium is one of the most popular attractions in Chicago.
Like its neighbor Adler Planetarium, the Shedd was built in 1930, and ever since it's been a favorite place to visit for locals and tourists.
There may be affiliate links in this post, which means we may get a small commission. It's at no extra cost to you and helps keep TLT free. Everybody wins!
As you enter the museum you're greeted by the Caribbean Reef. This 90,000 gallon tank is located under the rotunda and provides a 360 degree experience. The tank is filled with sharks, eels, turtles, puffers, angelfish, and lots of other sea creatures.
A diver feeds them and answers your questions. Check the dive schedule ahead of time so you can learn about the creatures that live in this tank from an expert who's swimming alongside them.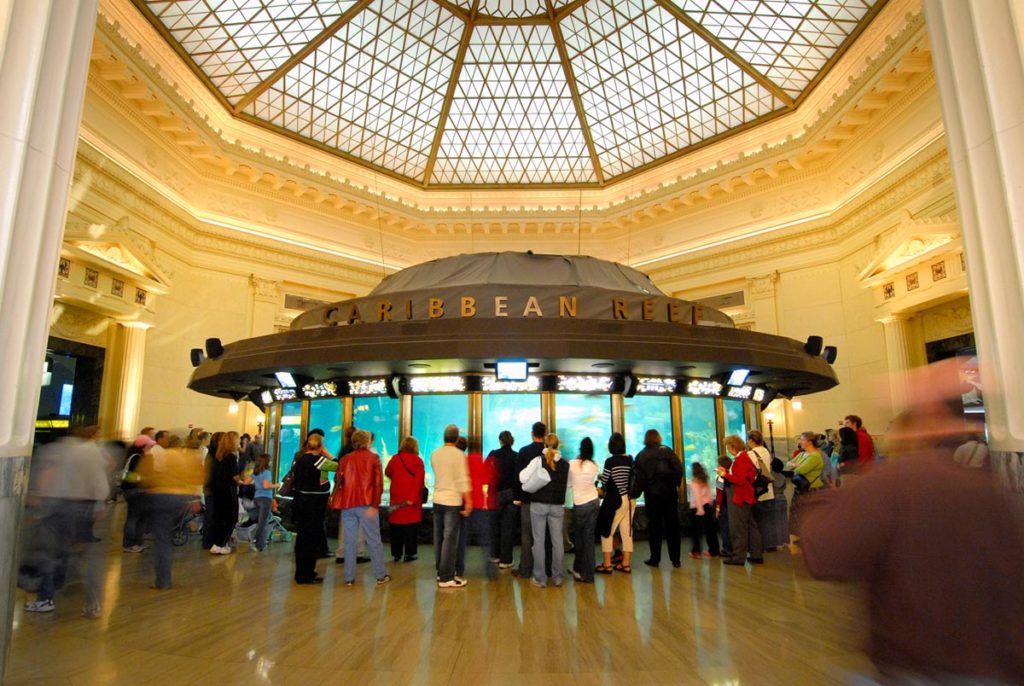 You won't want to miss the jellyfish. As they undulate gracefully they change colors like Christmas Tree lights set on slow. Contrast those with the prehistoric-looking creatures in Amazon Rising, and then check out the cute – but quite lethal – tree frogs.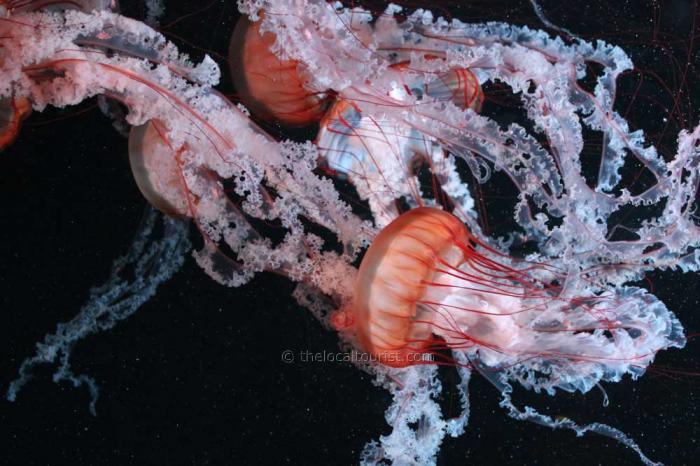 The seahorses are also a must-see, and not just because they look like cartoon figures. In this fantastic species the males get pregnant!
Find even more free things to do in Chicago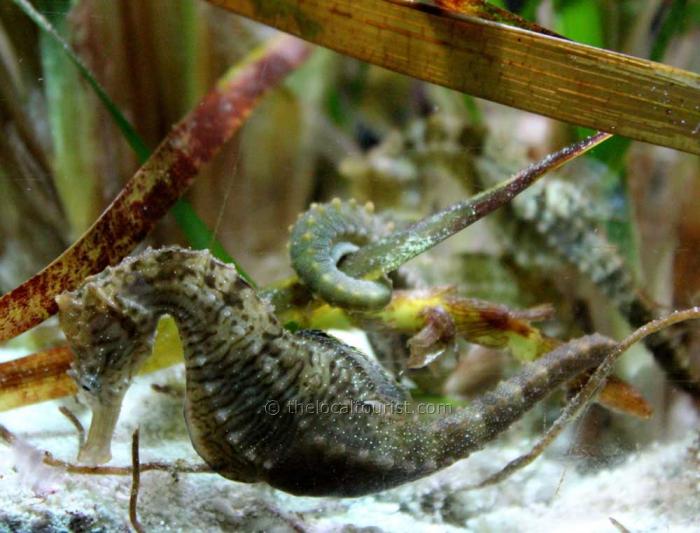 The "Wild Reef" is home to several species of sharks separated from you by 5″ of glass. You can also walk all over a bunch of Stingrays – literally! Their tank is under the floor.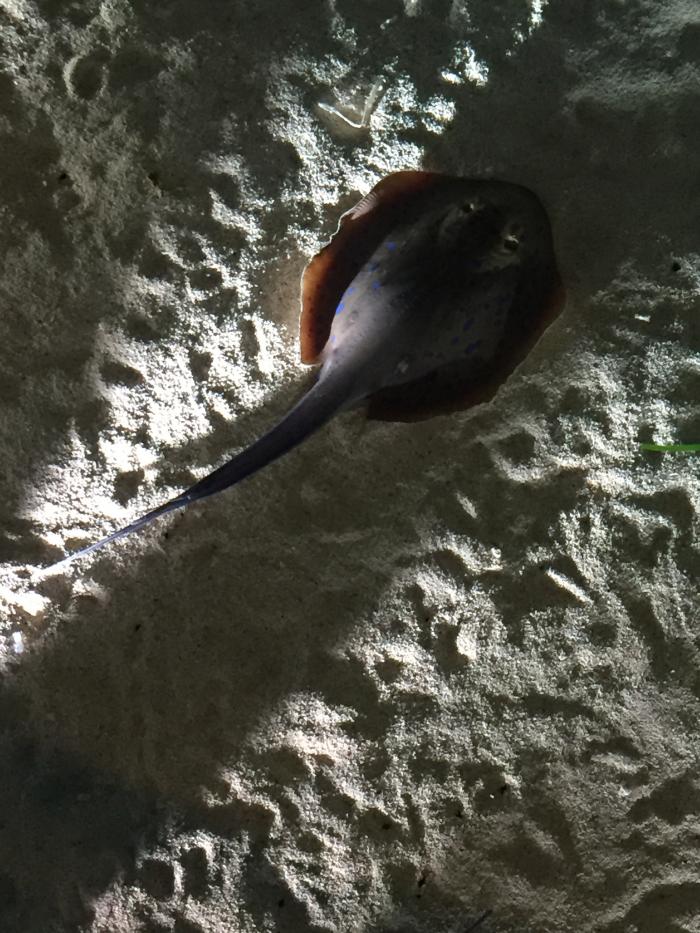 Whales and dolphins and penguins, oh my! In the Oceanarium's amphitheater you can see how beluga whales, sea lions, dolphins and other animals are cared for every day by their trainers.
John G. Shedd Aquarium Chicago
Here's everything you want to know about Chicago's Shedd Aquarium, including how this beloved institution came to be and who John G. Shedd was anyway.
Shedd Aquarium History
The following is an excerpt from Living Landmarks of Chicago: Tantalizing Tales and Skyscraper Stories Bringing Chicago's Landmarks to Life
It was December of 1923 when Chicago learned that it would be getting an aquarium. A rumor leaked that John G. Shedd was going to donate two million dollars for that purpose, and John was known as a pretty generous guy. He'd contributed six figures to the Young Men's Christian Association, gave $50,000 to the Smith college development fund, and was an early and consistent supporter of the arts, not to mention his work helping to bring the Plan of Chicago to life.
The papers called the aquarium an early Christmas gift, and in January the Chicago Tribune published a preliminary drawing of the new museum. It would sit just east of the Field Museum of Natural History. It was a perfect location, not only because it was right on Lake Michigan, but because it would continue the combined legacies of Marshall Field and the man who succeeded him.
John Graves Shedd was born on a New England farm in 1850. One winter he and his brother were out sugaring, or tapping trees for syrup. John fell while carrying a yoke of heavy pails filled with the sticky substance and it leaked into his boot. While his brother laughed, John decided then and there that he would quit.
The next June, shortly before he turned seventeen, he made good on his word and found a job at a grocery in Bellows Falls, Vermont. His pay may have only been $1.50 a week, plus room and board, but he'd gotten off the farm and he wouldn't go back. After a year he returned to his hometown of Alstead, New Hampshire, where he found a job at James H. Porter's general store and met the proprietor's niece Mary.
When John was twenty-one he took a job at another dry goods store, this time in Rutland, Vermont, but a fire burned the store down after he'd only been there for three months. Benjamin H. Burt hired the young man and doubled his pay. Even though Mr. Burt would leave a lifelong impression on John, enough so that he kept a portrait of Benjamin in his office until he retired, the ambitious young man had big dreams. Within a year he made his way to Chicago, determined to work for the biggest store in town. That store was Field, Leiter and Company.
"What can you do?" Marshall Field asked.
"Sir, I can sell anything," was John's reply.
Marshall hired him.
The two had no way to know this, but they'd followed extremely similar paths. They'd both grown up on New England farms and realized as teens that was not the life for them. They began working at dry goods stores at the age of seventeen, and when they turned twenty-two, they both moved to Chicago, showed up at the most prosperous store in the city, and were hired on the spot.
John quickly made himself indispensable. If he'd proven himself after five months he was supposed to get a raise from ten dollars a week to twelve. Marshall was so impressed with the young man that he bumped it up to fourteen.
A few years later, John returned to Alstead long enough to marry Mary, the niece of his one-time employer, and the couple came straight back to Chicago. In 1893, John became a partner of what was by then Marshall Field & Company, and in 1901 he was the vice president. When Marshall died in 1906, there was no question that John would take over as the company's president.
In addition to his role at Marshall Field & Company, John was also a director of several banks and railroads; combined, these activities made him very, very wealthy. He was the kind of wealthy that could drop a couple million dollars to give his city another cultural asset.
He decided on an aquarium because, according to the Guide to the John G. Shedd Aquarium, written by director Walter H. Chute in 1933, "His choice was influenced by the belief that an aquarium would provide instructive entertainment for a larger number of individuals than any other type of institution." His condition was that the South Park board provide the site and create a fund for maintenance.
The board agreed, and the Shedd Aquarium Society was established with two hundred members.
Graham, Anderson, Probst and White, who had designed the Field Museum, and was therefore the only firm for the job, designed an octagonal palace with a Doric exterior similar to the natural history museum's. The building's bill would be another $1.25 million on top of the already donated two, and John provided it.
John never got to see his gift to the city. The groundbreaking wouldn't happen until 1927 and he died the year before from appendicitis. Construction was completed on December 19, 1929 and on May 30, 1930, the John G. Shedd Aquarium, a "magnificent marble home for fish," officially opened its doors.
The entire building, encased in white Georgia marble, was an ode to aquatic life. The Guide described it thus: "Fishes, turtles, shells and invertebrates, all modeled from life, are seen on every hand. Even the marble wainscoting was especially selected and was set in place with the markings so matched as to give a wave effect. At the far end is a lofty archway, in the center of which is hung an interesting clock having aquatic animals in place of numbers."
The Shedd was the world's largest and the only inland aquarium with saltwater. The building itself accommodated five different water environments: heated and chilled saltwater; and heated, chilled, and natural fresh water. Fresh water was easy enough to get; they could pump it in from Lake Michigan. The salty stuff was a little more challenging. Before they could add any animals, twenty railroad cars made eight trips to Key West, transporting over a million gallons of seawater.
Then they had to get the animals. Fish are notoriously bad travelers, so the Pullman Company created a special "collecting car" dubbed Nautilus. One end of the train car was outfitted with a berth, galley, and living quarters for six men. The rest of the car was a traveling miniature aquarium. "During a normal collecting season the Nautilus travels more than 20,000 miles," the Guide detailed. "It has visited in a single season Boothbay Harbor, Maine, Los Angeles, California, and Key West, Florida, as well as many points nearer home." The Nautilus would be used until 1959.
John's belief that the aquarium would be popular was quickly proven right. Between June 30, 1930, and December 21, 1932, more than ten million people visited the museum. On May 21, 1931, alone, 78,658 entered its doors. Most of those visitors came on Thursdays, Saturdays, and Sundays, when admission was free.
The first thing people would see after entering was a forty-foot pool in the Rotunda. It was a makeshift swamp, home to turtles, snakes, frogs, and the like, with rocks covered with ferns in the middle. Six wings extended from the center like spokes, and each wing was a different gallery. There were exotic creatures such as electric eels from South America, Japanese salamanders, and Hawaiian goatfish, and more familiar species from the Great Lakes.
In 1971, the first big change occurred when they replaced the pool in the rotunda with the Caribbean Reef. This 90,000 gallon circular tank brought the tropics to Chicago. That same year the Shedd acquired its first research vessel, which was replaced with its second in 1985. In 1991, they added the Oceanarium, known since 2010 as the Abbott Oceanarium, a habitat for Pacific Northwest marine mammals including dolphins, beluga whales, California sea lions, and sea otters.
Below the Oceanarium, Magellanic and rockhopper penguins live in the Polar Play Zone, designed to replicate the Falkland Islands. Wild Reef, added in 2003, recreates a Philippine coral reef, considered the most diverse underwater ecosystem in the world, with twenty-six interconnected habitats. The addition of the Oceanarium and the Wild Reef more than doubled the aquarium's original size.
Shedd Aquarium Today
John G. Shedd's gift to the city continues to delight and attract millions each year. Not only is it a home for thousands of species, Shedd Aquarium also has an Animal Response Team that rescues, rehabilitates, and releases animals. The aquarium is a Smithsonian affiliate, an accredited member of the Association of Zoos and Aquariums, and is active in conservation and research around the globe.
Shedd Aquarium Free Days 2022
Chicago's biggest museums all offer free days for Illinois residents throughout the year, including the Shedd Aquarium.
Free days at Shedd Aquarium are listed below. You can take your chance and line up, or you can reserve admission in advance. There's a $3 charge to hold your ticket, just to make sure you're serious. Upgrade to a 4-D experience for just $4.95.
Find a place to stay near the Shedd Aquarium
These free admission days include all permanent exhibits, Underwater Beauty special exhibit, aquatic presentation (subject to availability) and seasonal Stingray Touch (open late May to October).
January 13-17, 2022
February 7-11, 2022
February 14-18, 2022
These free days for Illinois residents at the Shedd Aquarium are a great deal: regular admission is $39.95 for adults and $29.95 for children ages 3 to 11.
Chicago residents save 50% and their tickets are $19.95 for adults and $14.95 for children.
Ticket prices include the Shedd Pass and Total Experience Pass to offer just one general admission ticket that includes all of the permanent exhibits.
Can't make it on those dates or not an Illinois resident? Get discounted admission to the Shedd Aquarium and four other top attractions with CityPass.
There are also free days at the Museum of Science and Industry, Field Museum, and Adler Planetarium throughout the year. Check out our free museum days Chicago guide, which is updated as soon as dates are available.
Getting to the Shedd Aquarium
With its location in downtown Chicago, the Shedd Aquarium (1200 S Lake Shore Dr, sheddaquarium.org) is easily accessible via public transportation, whether you're taking a bus, a train, or Metra. The Metra electric line runs under Grant Park with a nearby station. 
Don't want to deal with parking near the Shedd Aquarium? Take a ride-share service. If you're new to ride-sharing service use one of our codes and you'll get a credit with Uber or Lyft.
Whether you stop in for a quick visit to the Caribbean Reef or make a day of it, the Shedd Aquarium is fun for all ages.
Save this for later and pin it!