The Shedd Aquarium is one of the most popular attractions in Chicago.
Like its neighbor Adler Planetarium, the Shedd was built in 1930, and ever since it's been a favorite place to visit for locals and tourists.
There may be affiliate links in this post, which means we may get a small commission. It's at no extra cost to you and helps keep TLT free. Everybody wins!
As you enter the museum you're greeted by the Caribbean Reef. This 90,000 gallon tank is located under the rotunda and provides a 360 degree experience. The tank is filled with sharks, eels, turtles, puffers, angelfish, and lots of other sea creatures.
A diver feeds them and answers your questions. Check the dive schedule ahead of time so you can learn about the creatures that live in this tank from an expert who's swimming alongside them.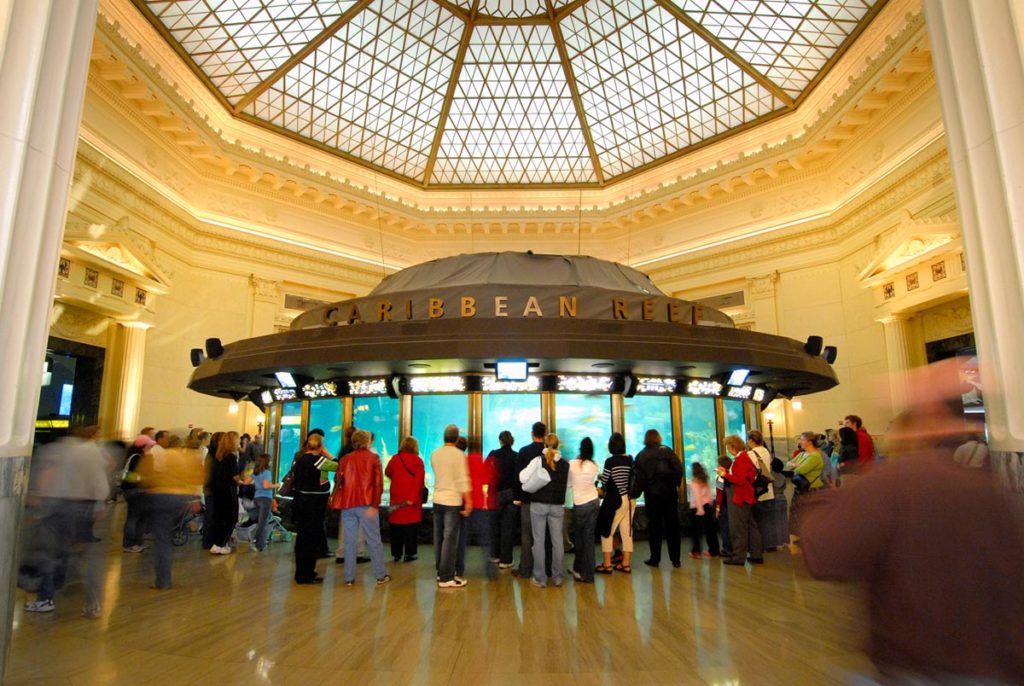 You won't want to miss the jellyfish. As they undulate gracefully they change colors like Christmas Tree lights set on slow. Contrast those with the prehistoric-looking creatures in Amazon Rising, and then check out the cute – but quite lethal – tree frogs.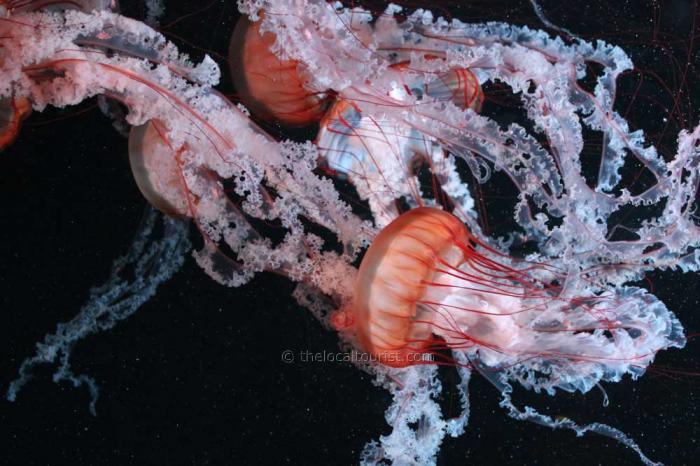 The seahorses are also a must-see, and not just because they look like cartoon figures. In this fantastic species the males get pregnant!
Find even more free things to do in Chicago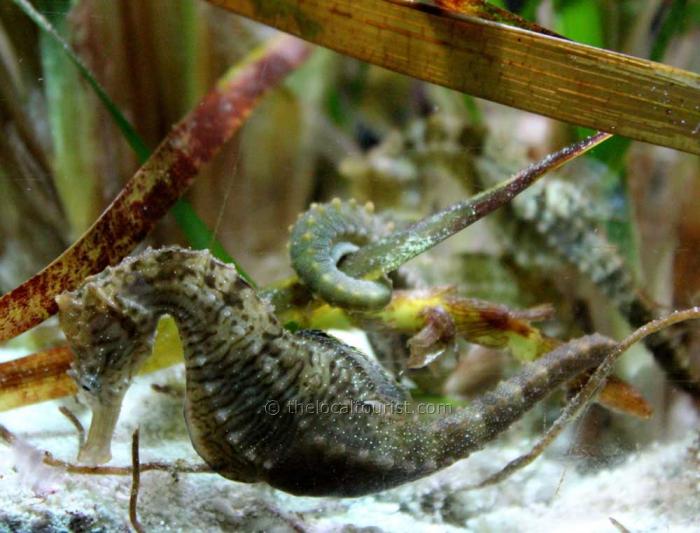 The "Wild Reef" is home to several species of sharks separated from you by 5″ of glass. You can also walk all over a bunch of Stingrays – literally! Their tank is under the floor.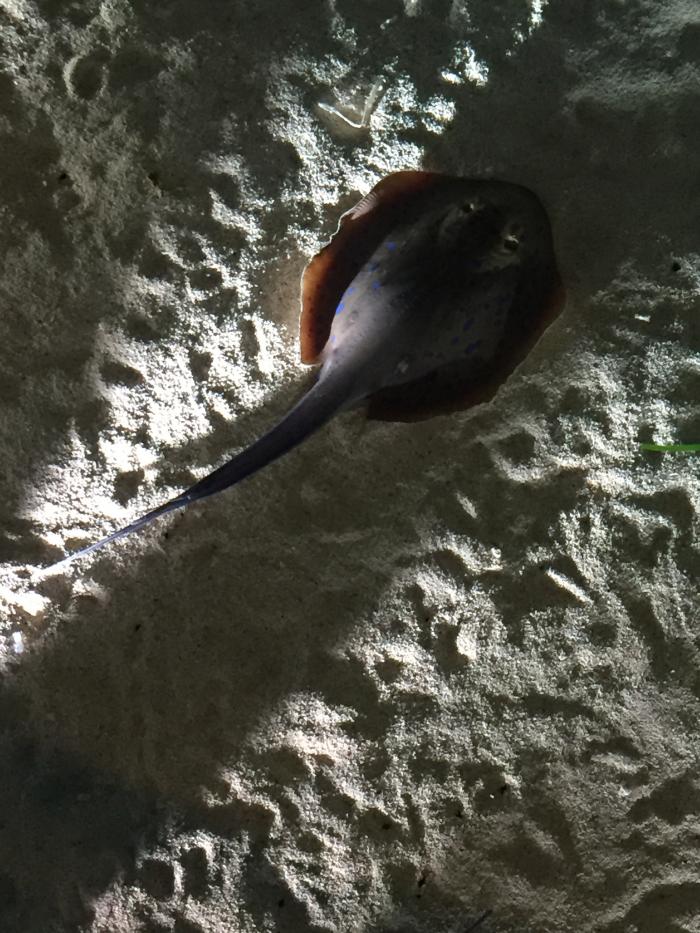 Whales and dolphins and penguins, oh my! In the Oceanarium's amphitheater you can see how beluga whales, sea lions, dolphins and other animals are cared for every day by their trainers.
TLTrivia: Because the Shedd Aquarium is inland a special train, called the Nautilus, was required to bring in the fish and seawater. The Nautilus ran until 1957.
Shedd Aquarium Free Days 2020
Please note that museums and attractions are currently closed to safeguard our communities' health.
Chicago's biggest museums all offer free days for Illinois residents throughout the year, including the Shedd Aquarium.
Free days at Shedd Aquarium are listed below. You can take your chance and line up, or you can reserve admission in advance. There's a $3 charge to hold your ticket, just to make sure you're serious. Upgrade to a 4-D experience for just $4.95.
Find a place to stay near the Shedd Aquarium
These free admission days include all permanent exhibits, Underwater Beauty special exhibit, aquatic presentation (subject to availability) and seasonal Stingray Touch (open late May to October).
January 16-20
February 3-7, 10-14, 17-21, 24-28
June 15, 16, 22, 23
These free days for Illinois residents at the Shedd Aquarium are a great deal: regular admission is $39.95 for adults and $29.95 for children ages 3 to 11.
Chicago residents save 50% and their tickets are $19.95 for adults and $14.95 for children.
Ticket prices include the Shedd Pass and Total Experience Pass to offer just one general admission ticket that includes all of the permanent exhibits.
Can't make it on those dates or not an Illinois resident? Get discounted admission to the Shedd Aquarium and four other top attractions with CityPass.
There are also free days at the Museum of Science and Industry, Field Museum, and Adler Planetarium throughout the year. Check out our free museum days Chicago guide, which is updated as soon as dates are available.
Getting to the Shedd Aquarium
With its location in downtown Chicago, the Shedd Aquarium (1200 S Lake Shore Dr) is easily accessible via public transportation, whether you're taking a bus, a train, or Metra. The Metra electric line runs under Grant Park with a nearby station.
Don't want to deal with parking near the Shedd Aquarium? Take a ride-share service. If you're new to ride-sharing service use one of our codes and you'll get a credit with Uber or Lyft.
Whether you stop in for a quick visit to the Caribbean Reef or make a day of it, the Shedd Aquarium is fun for all ages.
Save this for later and pin it!