The J. Parker sits atop the Hotel Lincoln and offers stunning lake views, craft cocktails, and delectable food. They recently invited Your Chicago Guide to visit for a sample of their menu.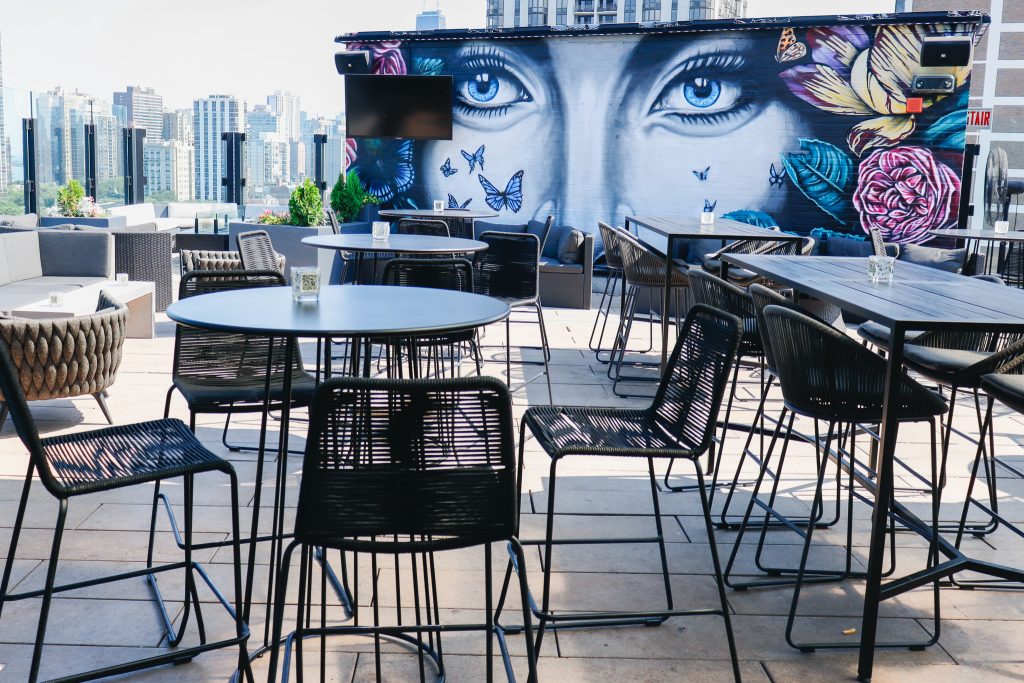 Lake views are always at a premium in Chicago. In my culinary wanderings, few spots have impressed me more than the J. Parker in terms of view. Located on the 13th floor of the Hotel Lincoln, the J. Parker commands stunning views of the lake as well as a bird's eye view of the Lincoln Park Zoo. My recent visit started just as the sun began to set, and the incredible play of light and shadow on the lake was mesmerizing.
After nine years, the J. Parker recently underwent a renovation and rolled out a new look. The new vibe is sleek, urban, and chic. The venue accommodates 140 outside with another 55 seats indoors but it is really an all-season spot. When the weather turns cold or inclement, they can slide in walls and still offer fantastic service for a smaller crowd.
Come for the view and the vibe – stay for the food and cocktails. Their cocktail and food menus are superb and offer a perfect complement to the unobstructed lake views.
The inventive craft cocktail menus runs the gamut from "light and refreshing" to "dark and intense." On the lighter side, we sampled three:
Afternoonified – Frosé (Rose, pisco, Dimmi liqueur, garden cordial, lemonade)
Bubble Around (Ceres Vodka, lemongrass, elderflower, lemon, prosecco)
Collie-Shangles (Tanqueray Gin, hibiscus tea, peach liqueur, lemon, splash of soda water)
All three of these are what I might term "patio pounders." On a warm summer day, any of these will be a fantastic way to cool off and enjoy the view. My vote goes to the "Afternoonified Frosé." I love a great frozen cocktail but don't enjoy too much sugar. This one was more floral than sweet – a delightful experience on a hot day.
On the darker side, we opted for two:
Mad As Hops (Evan Williams 100 Proof Kentucky Bourbon, rhubarb, demerara, lemon, sour ale)
See The Elephant (Glenmorangie 10yr Scotch, Aperol, apricot liqueur, sweet vermouth)
The "Mad as Hops" has the bitter note of hops from the sour ale but with a nice balance of other flavors. My favorite was "See the Elephant." Served up, this one is a boozy an warming drink with just a hint of sweetness to balance out the Aperol while still retaining the notes of the scotch.
They also have a nice selection of seltzer, cider and beer with a focus on Chicago-based breweries.
The food menu offers both small and large plates. The larger options are sandwiches, wraps, and burgers – all excellent – but where the J. Parker truly excels is in the small plates. My guest and I sampled four of these offerings:
Buffalo Cauliflower: If you follow my culinary adventures, you will know that I am spice-averse when it comes to 'heat' in food. This was a happy surprise! There was just enough heat for me without having to slather blue cheese dressing on the food.
Soy Ginger Chicken Wings: Just when I think nobody can impress me with a chicken wing, this one came along. The combination of flavors was superb – messy to eat but worth it.
Crispy Brussels Sprouts (served with pickled grapes, hoisin vinaigrette, garlic breadcrumbs): Brussels Sprouts seem like "the new kale" popping up on every menu in the past couple of years. In the case of the J. Parker, it's a great thing that they did pop up on this menu. The hoisin vinaigrette is inspired and the inclusion of pickled grapes elevates this to a whole new level.
Smoked Pork Belly (served with whipped goat cheese, compressed melons, frisée, mint): Another intriguing combinations of flavors and ingredients that works impeccably. The compressed melon and mint provide a fascinating texture and flavor to meld with the goat cheese. All together, this is another winning bite.
Little known fact – they are open for breakfast on weekdays. From 7 – 11 a.m. every Monday – Friday the J. Parker offers a simple but excellent breakfast menu, including perennial cocktail favorites – Bloody Marys and Mimosas. If you are planning a weekday outing to the Lincoln Park Zoo, stop by the J. Parker for breakfast and then simply walk across the street to the zoo.
The J. Parker (1816 N. Clark Street, 13th floor) is open Monday – Thursday, 5 – 11 p.m.; Friday – Saturday, 1 p.m. – 1 a.m.; Sunday, 1 – 11 p.m. They are also open for breakfast Monday – Friday, 7 – 11 a.m. For more information, call (312) 254-4747.