There's a stunning new lady in Chicago, and she's getting all dressed up for a night, and a morning, and an afternoon, on the town.
Loews Hotels is opening their newest location in the heart of Streeterville (455 N Park Drive, Chicago, IL) on March 2, 2015. The hotel and accompanying private residences were designed from the ground up to reflect, both literally and figuratively, their neighborhood and their city. Using Carl Sandburg's Chicago as their inspiration, local architecture and design firm Solomon Cordwell Buenz is creating a stunning monument to the city of big shoulders.
The Local Tourist was invited to take an exclusive hard hat tour of this work-in-progress. Hotel spokesman Erik Grazetti spoke with excitement and vast pride as we explored this building from guest room to lobby and everywhere in between, learning about the details that turn a collection of plans into a tangible representation of an idea.
The rooms, and the rest of the hotel, are decorated in muted shades of grays, browns, beiges, and black. This is not only to provide a soothing environment but it also honors one of the main influences for the project, Mies Van der Rohe. The architect's theory of simplicity is carried throughout the hotel. The stone, metal, and brick work used is a tip to Chicago's architectural importance. Even the fabrics used have meaning. Leather, mohair, and wool represent the clothes that Chicagoans wear during our legendary winters.
The guest rooms are well-appointed, with a foyer and entry table in every room. There's a considerable amount of bathroom counter space, 800 thread count bed linen, a Keurig coffee maker, and a work desk and ergonomic chair in an impressive 377 to 405 square feet of space. Recognizing how important being connected is to today's traveler, each room has its own wifi access point, which is provided free of charge, so you never have to worry about your connection dropping.
Because of the hotel's particular location, floor to ceiling windows offer fantastic views, with some corner rooms providing vistas of both the Chicago River and Lake Michigan. Some also offer views of the 9,000 foot rooftop space (more on that later) and the yoga deck (pictured below).
The wallpaper is custom-made. The bathroom wallpaper is a map of Chicago, with the street names as the streets. The ballroom wallpaper design can also be found in the lobby and ballroom ceilings and in the decorative tiles in the bathtubs and showers.
The lobby is an impressive open space that Grazetti and Loews hope will not just be a place to check in, but will also be a gathering place for hotel guests and neighboring residents. In addition to the requisite lobby bar the vast room will have workstations with electrical outlets and a coffee cafe around the corner from the giant patterned stone fireplace.
The details are almost too numerous to mention. The main ballroom is large enough for the biggest Chicago celebration, yet it can be split into smaller rooms, as can the breakout rooms. The executive board room, with its custom-made table, overlooks Ogden Park. Meeting planners get their own rooms, equipped with "swashers" that steam and refresh their clothes, from which to organize and monitor their clients' events. Separate entrances for both the meeting spaces and the restaurant means less congestion in the lobby, and meeting rooms have a separate elevator bank.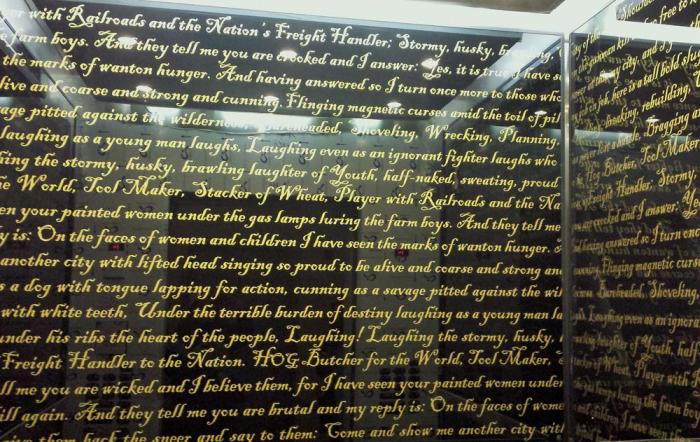 Speaking of elevators, those that carry guests to their rooms are lined with Carl Sandburg's poem. This specific poem was chosen because it describes the hard working city of Chicago.
This city that works hard also likes to play hard, and Chicagoans will particularly appreciate the Loews Chicago rooftop. At 9,000 square feet it will be the largest rooftop space in the city. The space will be configurable for any type of leisure. There will be a removable bar, lots of trees, and grass – real grass – that can be used for croquet, bocci ball, giant jenga, Derby parties, you name it.
Chicago's hotel restaurants are some of the best in the city. Loews Chicago aims to join the roster of NoMI, Sixteen, The Lobby, and Mercat a la Planxa with a dining destination of their own. Details will be forthcoming soon, but rumor has it that Iron Chef (and Mercat owner) Jose Garces will be making his culinary stamp in Streeterville.
While the hotel doesn't open for a few months you can start booking your stay now. You can call or make reservations on the Loews Chicago website, or beginning on December 1 you can use their innovative social media reservation system. Simply tweet #BookLoews and they'll reply with a direct link which will open a private chat. Have questions or special needs? You'll get them answered online instead of having to call in. Since that's also Cyber Monday you'll get 20% off your reservation for 2015 if you book it that day.