One of the best things about summer is dining at one of the Chicago Riverwalk restaurants.
Located on the south side of the Chicago River, the Chicago Riverwalk is one of the city's must-visit summer destinations.
In addition to renting boats and cycles you can also find places to eat. Restaurants line the walkway from Clark Street to east of Michigan Avenue, nearly to Lake Shore Drive.
Here are all the Chicago Riverwalk restaurants, so you can plan your waterfront dining with ease.
These are open seasonally and are weather-dependent, so you'll want to confirm they're open before trying to visit. The exception is City Winery, which breaks out awesome heated domes in the winter.
Please note that face coverings and social distancing are required.
In 2019 even more dining options were added! The Community Marketplace offers these vendors:
Batter and Berries, currently operating in the Lincoln Park neighborhood, will provide soul food inspired dishes, including breakfast.
Chiya Chia, currently operating in the Logan Square neighborhood, will provide a variety of chias and interesting curry pies inspired by Nepal.
Gordo's Homemade Ice Cream, currently operating in the South Loop and Edgewater neighborhoods, will provide homemade ice cream bars dipped in a variety of toppings.
Justice of the Pies, currently a Chicago City Market favorite, will provide a variety of quiches and pies.
Luxury Cake will provide a variety of desserts including special orders for birthdays or other occasions.
Twisted Eggroll will provide interpretations of the traditional eggroll representing American favorites to cultural-inspired dishes
Looking for more riverfront dining? Check out 12 Restaurants on the Chicago River.
Chicago Riverwalk Restaurants
Tiny Tapp & Cafe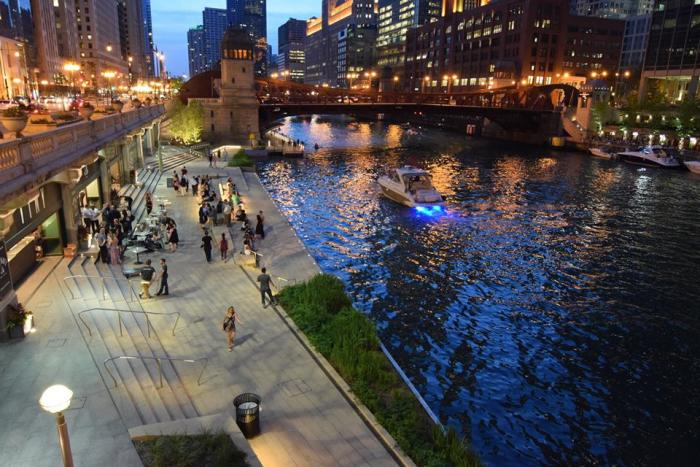 This outpost of popular Tiny Lounge is a sunny spot for sipping craft cocktails. You can also get some tasty nosh, like brisket nachos.
You'll love the frozen cocktails on those hot summer days.
Tiny Tapp, 55 W Riverwalk South
Did you know? Tiny Tapp has a sister spot in Navy Pier.
Sweet Home Gelato
Looking to cool down? Then look no further than Sweet Home Gelato.
Serving gelato, floats, and milkshakes, you can get your frozen fix in a cup or a waffle cone. It's a nice treat either before or after your electric boat rental.
Sweet Home Gelato, 151-155 W Riverwalk South (312)405-5736
City Winery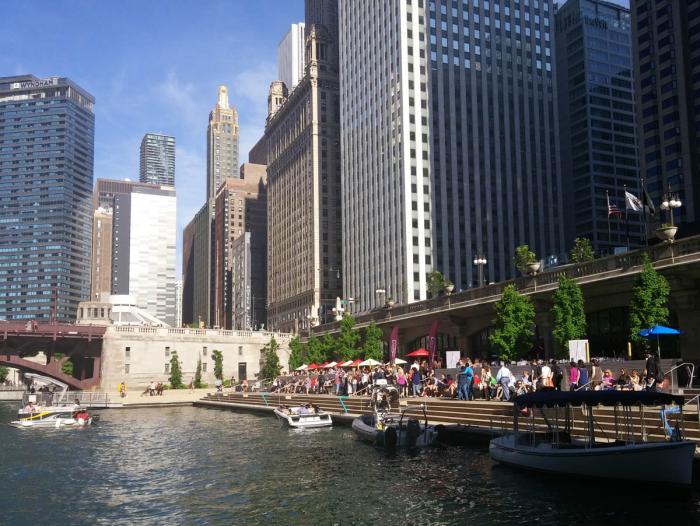 No plastic cups at this riverfront outpost – it's Riedel all the way! Their wine is poured directly into the storied glassware from the barrels in their cellar.
Menu items include imported Italian burrata, dolmades, and the requisite cheese and charcuterie. They also often feature live music.
City Winery, 11 W Riverwalk South (312)733-9463 (phone number for Randolph Street location)
Chicago Brewhouse
Chicago's craft beer scene is out of this world, and this spot showcases the stars. They exclusively pour local beers and serve food inspired by the city's many ethnic enclaves.
Menu items include Pilsen Street Tacos, Devon Ave Chicken Tikka Masala, and Lincoln Square Jumbo Pretzel.
Chicago Brewhouse, 35 E Riverwalk South (312)867-7717
O'Brien's
If you'd like a little shade during your riverfront dining, O'Brien's offers plenty of umbrella seating.
One of the first places to have an outpost on the riverwalk, they offer a relaxed atmosphere with burgers, salads, apps, and more. This is also a kid-friendly spot that the whole family can enjoy.
O'Brien's, 45 E Riverwalk South (312)346-3131
Since you're out and about, here are some more things to do in Chicago.
---
Beat Kitchen on the Riverwalk
Fans of this Roscoe Village favorite will be happy to find its location on the Chicago Riverwalk. Located next to the Bridgehouse Museum, you can enjoy refreshing drinks and delicious food including tacos, pizzas, bacon mac 'n' cheese, guac and chips, and more.
Beat Kitchen, (773) 281-4444
The Northman Beer and Cider Garden Riverwalk
If cider's your thing, then there's no better place to enjoy it than at one of the newest Chicago Riverwalk restaurants. If you want to mix it up, they've also got beer, wine, and a full bar.
Drinks aren't the only things they've brought from their year-round location. Dig into their signature Döner Kabob Sausage, inspired by The Northman Lincoln Square's döner kabob, served with a bun, seasoned yogurt, marinated tomatoes, cucumbers, onions and sriracha.
The Northman Beer and Cider Garden Riverwalk, 233 E Riverwalk, (312) 228-1911
Island Party Hut
Head to the end of the line for this party place. The guys behind the Island Party Boat – you know, the tiki hut boat with the slide off the back? – have taken the party landside with this Riverwalk outpost.
Expect live music on Thursdays through Sundays, grilled goodies, and a Polynesian-themed party.
Island Party Hut, 355 E Riverwalk South (312)600-0488
Get above it all at these Chicago rooftop bars
---
What Chicago Riverwalk restaurants will you visit this summer? Visit chicagoriverwalk.us for more details on this Chicago attraction.
Pin this for later!