With the sun setting before you get off of work, winter can seem a little dreary in the Midwest. Fortunately, Chicago can brighten up your holidays – literally. Because it gets darker earlier in the day, you've got plenty of time to see the magical twinkling Christmas lights in Chicago.
There are gorgeous lights displays all over the city and suburbs, and downtown is particularly festive. If you want to put a little twinkle in your December, here's where you can catch the best views of Chicago's holiday lights.
One of the best things about this time of year is the festive lights.There are many places throughout the city to enjoy them. Here are the best places to catch holiday lights in Chicago.
Best Christmas Lights in Chicago
A stroll down Michigan Avenue is a visit to a winter wonderland. The Magnificent Mile is strewn with lights from the Chicago River all the way to Oak Street. This tradition goes back more than 50 years, turning the city's most famous shopping district into a boulevard of lights.
The season in Chicago begins during the Magnificent Mile Lights Festival, which takes place the weekend before Thanksgiving.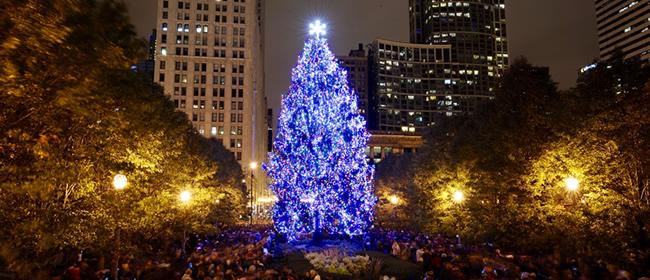 Another wonderful place to see the holiday lights is in Millennium Park. The city of Chicago Christmas Tree is set up near the McCormick Tribune Ice Skating Rink, Cloud Gate, and the Jay Pritzker Pavilion. Each year the tree is donated by a local family and then trimmed with hundreds of lights.
Find more places to go ice skating in Chicago.
Lincoln Park Zoo is one of the city's most popular attractions year-round, but it's particularly exciting in December. The free Lincoln Park ZooLights turns the zoo into a winter wonderland with more than two million lights and larger-than-life lighted animals.
There are free crafts for children during the week, musical light shows, holiday snacks and gift shopping, and to help you warm up, some warm spiced wine. You can also visit Santa Claus when you're there.
To see some moving holiday lights, keep an eye out for the CTA's Holiday Train. An "L" train, pulled by Santa and his sleigh, traverses the city with candy canes and Christmas decorations. There are even elves to take photos of the kids with the jolly man in red.
Navy Pier takes the lights inside with their annual Light Up The Lake. Festival Hall is filled with decorations, rides, nearly 500 trees, and lights everywhere. It's truly a wonderland of winter fun. Get your tickets here.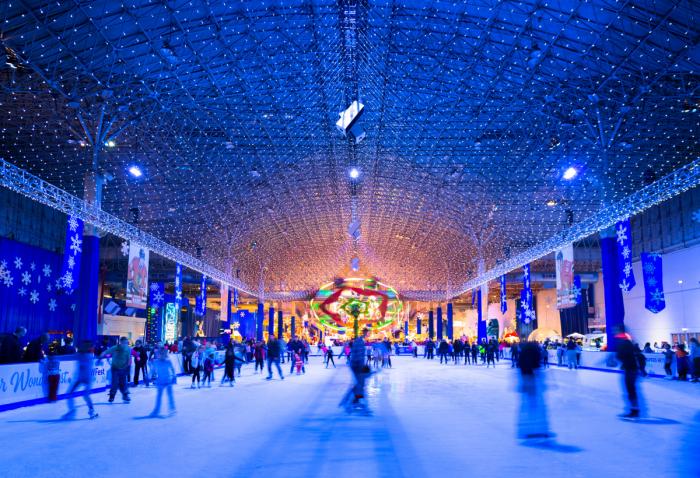 Thousands of twinkling lights and new features that shine with all the colors imaginable are on display during Lightscape at the Chicago Botanic Garden. Starting November 12 and running on select dates until January 2, 2022, the outdoor illuminated trail includes an all-new, one-way, 1.25-mile path filled with favorite artistic installations set to seasonal music along with new and reimagined pieces.
"Lightscape has been so popular because it's a festive opportunity to celebrate the season with friends and family while being amazed by exciting new installations that have never been seen before," said Harriet Resnick, the Garden's vice president of visitor experience and business development.
More than 80 percent of this year's trail will feature new installations from Chicago-based and international artists, including:
Floraison (flowering): A mass of red poppies that appear to have flown up and cling to tree branches where they gracefully dangle to create a canopy above a path or among the trees—from French artist Pitaya.
Kinetic Hues: An immersive installation made from 12 dazzling saturated pillars of light whose up-and-down movements create a stunning series of shadows that move, morph and are constantly changing—from Australian artist Mandylights.
McGinley Laser Show: Laser beams dance across the water in time to music, taking the surface reflections with them and creating shapes that rise up into the sky—from Chicago artists Christopher Wren and Fog-Man Enterprises.
Additionally, favorite installations like the Winter Cathedral and Singing Trees will return to the trail along with reimagined versions of the Fire Garden and Heritage Tree.
Lightscape is sold out for 2021 – 2022. Sign up for their newsletter to find out when tickets will be available for 2022 – 2023.
If you want to keep warm, you won't want to miss the decorations at Butch McGuire's. They begin decorating just after Halloween. Not only are there lights and ornaments everywhere you look, but there's also a double-decker train track that circles the bar. Come before 8 p.m. and Butch's is kid-friendly, so the whole family can enjoy the display.
These are just a few of the many places to see Christmas lights in Chicago. For more fun holiday events, check out these Chicago Christmas events and traditions.