Sometimes you just want to get away from the hustle and bustle of everyday life. The Chicago Botanic Garden is an oasis in the northern Chicago suburb of Glencoe. The 385-acre attraction features over 2.5 million plants that represent nearly 10,000 varieties.
A Brief History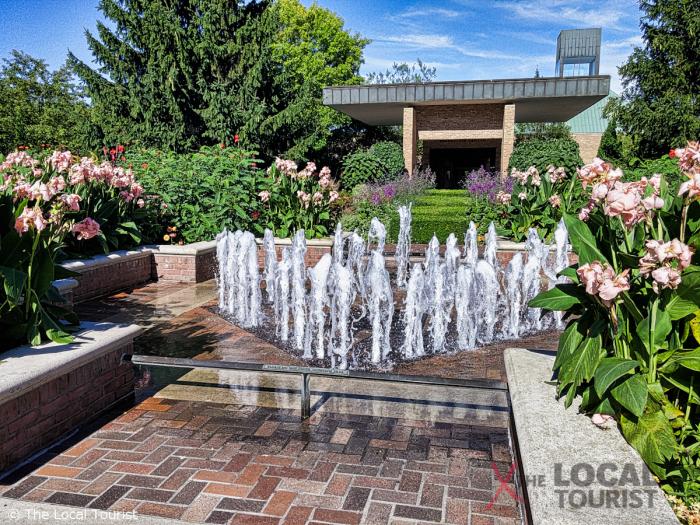 Chicago Botanic Garden opened in 1972 as a public garden by the Chicago Horticultural Society, an organization whose roots dated back to 1890. Living the city's motto of "Urbs in Horto," a city in a garden, the society hosted nationally and internationally recognized flower and garden shows.
In 1963 the Society partnered with the Forest Preserve District of Cook County, an organization they helped found, to turn 300 acres into a public garden. They enlisted the help of landscape architect John O. Simonds, who then partnered with Geoffrey Rausch to create a garden of winding lakes dotted with islands.
The Garden is one of only seventeen public gardens accredited by the American Association of Museums, making it a living museum. It boasts 27 gardens and four natural areas on nine islands, with six miles of shoreline and a total of 385 acres. It's a resource for research, with the 125,000-volume Lenhardt Library, as well as several laboratories. They also offer several classes suited for people of all ages and interests.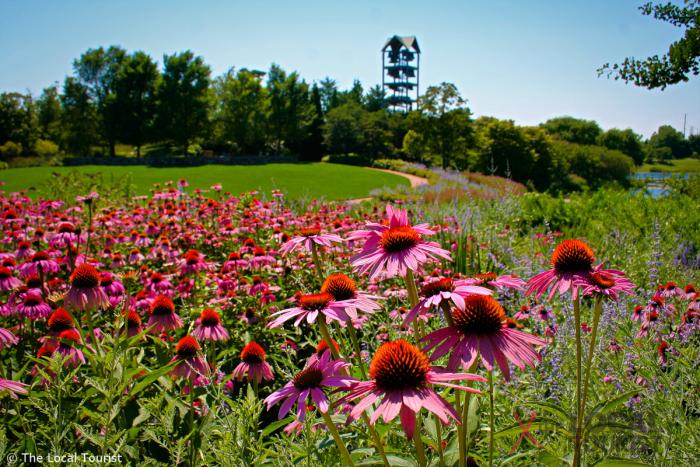 What to do
Of course, the main thing to do is look at plants – lots and lots of plants!
Walking
With several paths winding through 385 acres, 25 gardens, and four natural habitats, you'll be sure to do a lot of walking when you visit. While you can meander at your whim, they've also mapped out routes from 1 mile to 2.3 miles. You can pick up a free walking map at the Visitor Center or you can download one.
Birding
If you're a birder, help the Garden in a friendly competition with other Forest Preserves to see who records the most birds, and brings the most birders. They've got a list of birds and hotspots, and when you see one record your sighting at eBird.
Browse the Bonsai Collection
Chicago Botanic Garden has one of the biggest collections of these tiny trees, with nearly 200 bonsai. It's a stunning display of the beauty and artistry capable through this ancient practice.
Tram Tours
If you want to learn more about the plants of the Garden, take a Tram Tour. They've got a 2.3-mile Grand Tram Tour and a .8-mile Bright Encounters Tour. Rates are $5 for members and $6 for non-members, with discounted rates for seniors and children. The tours are seasonal, from late April through October.
Take a Class
With 1,500 options, the Garden offers classes for everyone. You can take basic gardening classes or get certified. Families can learn together, or they offer programs just for kids. You can also get in shape with yoga, tai chi, and fitness classes all year long.
Related: can't miss free things to do in Chicago, and even more Chicago attractions
What not to do
Don't be a jerk! Basically, don't wander off the paths, trample any plants, be loud and obnoxious, or ruin the serenity of this beautiful spot in any way.
Stay out of the fountains
Don't bring your pet – Service animals are welcome (of course!)
No food
No campfires or outdoor cooking
Keep the musical instruments at home
No balloons
Sit on benches or chairs only. Blankets are allowed during Garden performances only
Don't bring your rollerblades, skateboard, Frisbee, fishing pole – Chicago Botanic Garden is for viewing, not doing.
Don't smoke – even e-cigarettes
Concealed carry firearms must be concealed – in your car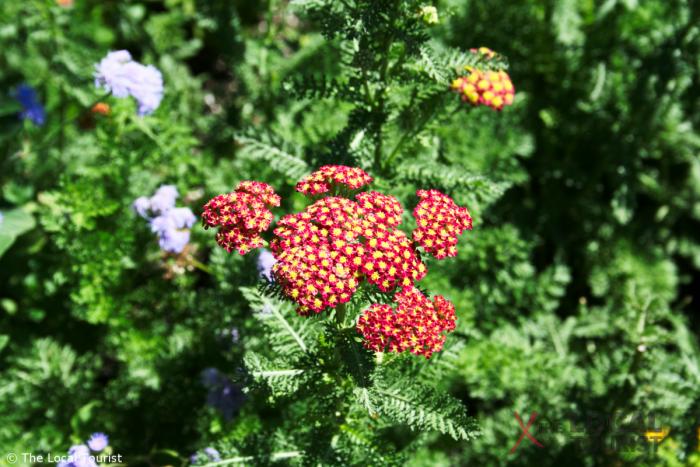 Eating and Drinking at Chicago Botanic Garden
As you might expect from a place whose mission is to "cultivate the power of plants to sustain and enrich life," the dining options feature local, sustainably produced and seasonal ingredients. You can even see which providers they use.
The Garden View Cafe is open year round, and you can either dine-in or grab sandwiches, salads, yogurts, and snacks to go. Their seasonal restaurants include the Garden Grille, serving grass-fed beef burgers, bratwurst, and chicken sandwiches.
The Rose Terrace Beer Garden offers regional craft beers as well as wines to enjoy with your appetizers, sandwiches, and salads. If you want to bring-your-own, there's a picnic area next to parking lot 2.
TLTip: Sunset Foods is one of the best places to pack a picnic basket in the Chicago area and is just down the road.
Events
There is always something happening at Chicago Botanic Gardens. From story time for kids to wine tastings to garden walks to plant sales to farmers markets, their calendar is full.
The summer is especially packed, with Summer Evenings concerts Mondays through Thursdays. These concerts are the one time you can spread out a blanket and have a picnic. While the Garden does have chairs available, those are limited so you'll want to bring your own.
Related: Chicago Events Calendar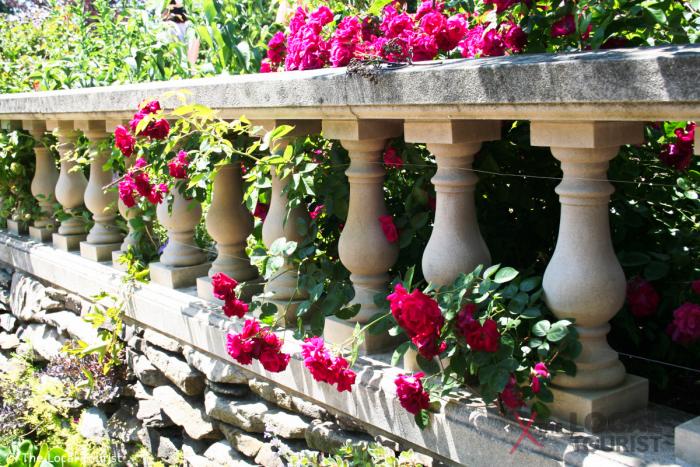 Where to Stay Near Chicago Botanic Garden
These hotels are close by, so you can make a staycation or a vacation of your visit. Links will take you to Tripadvisor*, so you can see reviews and get the best deal: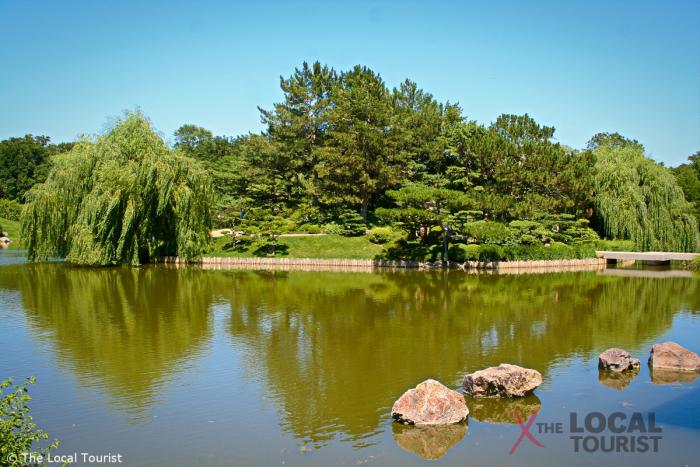 Photography Dos & Don'ts
This place is a photographer's playground. There are so many visually appealing subjects you could spend weeks trying to capture them all. You're welcome to do that, just be aware of the following rules:
Stay on the paths
No props or clothing changes allowed
Don't disturb the plants
Don't block others
No drones
If you're media or you're shooting for commercial purposes your visit must be arranged in advance
On that note, you're not allowed to sell your photos that you've taken at the Chicago Botanic Garden
Permits (with fees) are required for formal and large group photography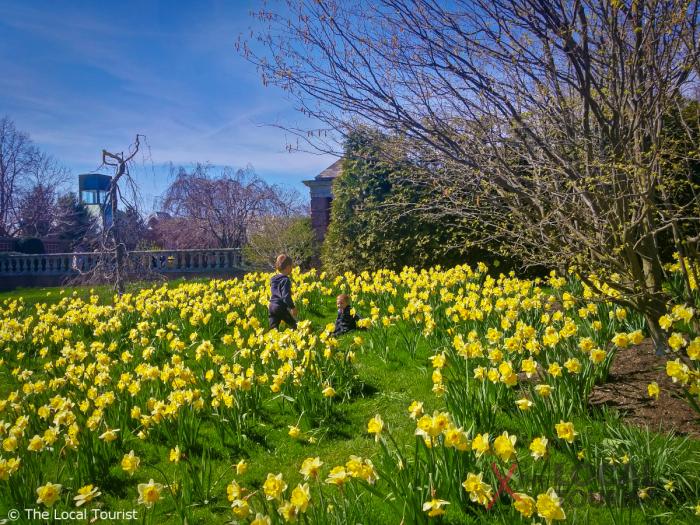 Hours
There's a lot to see at Chicago Botanic Garden, and hours change seasonally based on what you'd like to experience. The garden grounds are open every day of the year, and during the summer they offer extended hours from 7 a.m. to 9 p.m.. Your best bet is to visit their website for specific hours based on what you want to see and when you'll be there.
Admission and Parking
Admission varies and it's best to purchase in advance. Parking is $8 per car. You can also pre-pay for your parking online.
If you get a membership not only can you park for free, you'll also get admission to 270 botanic gardens and arboreta across the country, including Morton Arboretum in the western suburb of Lisle.
Getting there
Chicago Botanic Garden is located in the north Chicago suburb of Glencoe. You can drive, or you can take a Metra train to Braeside Station and walk to the Garden or take a cab. If you get off at the Glencoe Metra station both a trolley and a Pace bus will get you there. The trolley runs on Sundays in the summer and is $2 per person.
One of the best ways to get there (weather permitting) is by bike. There's a trail link between Green Bay Trail and the North Branch Trail that features interpretive signs along the way. The North Branch Trail is nearly thirty miles and begins at Devon Avenue in Chicago. The Garden has plentiful bike racks, and since you won't have to pay for parking your experience will be free.
Want to see more flowers? Check out these spots for the best places to see spring flowers in the Midwest.
---
Like this? Pin it!