The Chicago River is one of this city's most defining assets.
With its individualized bridge towers, movable bridges, and use for both transportation and leisure it's as much a character in the Chicago story as are the skyscrapers and Lake Michigan. One of the easiest ways to enjoy this feature is at one of the many restaurants that line its banks.
Here's our roundup of spots for year-round dining on the Chicago River.
We've also got a complete list of the restaurants on the Chicago Riverwalk and restaurants on Lake Michigan! Waterfront dining rocks.
Chicago River Restaurants
Chicago Burger Company
One of the few riverside restaurants east of Michigan Avenue, the Chicago Burger Company is a casual spot with an upscale address. Sip on a frozen cocktail while you watch the boats head to and from Lake Michigan.
You can find this idyllic spot in the Sheraton Towers a block east of the Mag Mile on the Riverwalk. Chicago Burger Company, 301 E North Water Street, (312)464-1000
Chicago Cut Steakhouse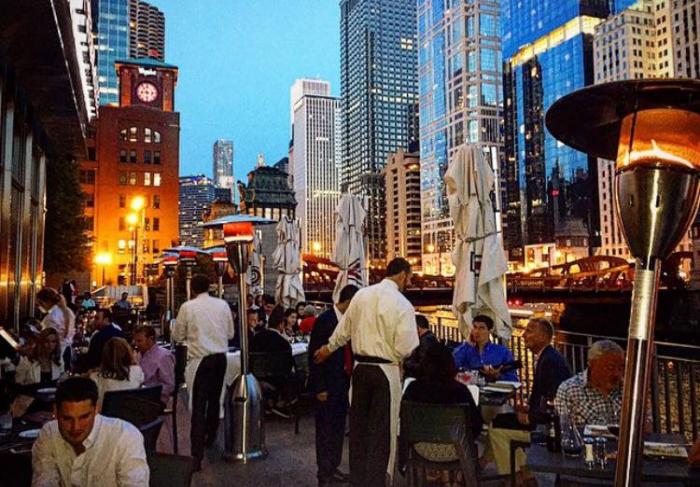 If you want a Chicago steakhouse on the river, Chicago Cut has made a national name for itself. Since opening in 2010, it's been on Esquire's Best New Restaurants list, named the #1 Steakhouse by USA Today's 10 Best, listed as one of Yahoo's 5 Best Steakhouses in America, and on Food Network's collection of best places for steak in America. Add a killer view on top of their in-house butcher and dry-aged steak and his place should definitely make your restaurant bucket list. Chicago Cut Steakhouse, 300 N LaSalle St, (312)329-1800
Dick's Last Resort
Located in River North's Marina Towers this spot is known for the "rude" behavior of the servers and its theme nights. The menu of mid-American goodness includes bbq chicken, ribs, fries and slaw. There's also a buffet Sunday brunch and "big-ass" beers. Dick's Last Resort, 315 N Dearborn St, (312)836-7870
ESTATE Ultra Bar
This riverfront spot may be off the beaten path but its stunning view of the Chicago skyline makes it worth a visit. The bar's Star Deck has over 4,000 square feet for your lounging and viewing pleasure. They've also got their own dock so you can cruise up the river and tie off for awhile. Check their hours before you go, since they change seasonally. Estate Ultra Bar, 1177 N Elston Ave, (312)523-4296
The Kitchen
The Kitchen is a Colorado transplant that sources its ingredients locally. While it doesn't have an outdoor space the south side of the restaurant features large windows that overlook the river. Designed to feel like you're in a friend's kitchen, this restaurant has its own non-profit that gives back to the community by creating learning gardens in schools. The Kitchen, 316 N Clark St, (312)836-1300
Lizzie McNeill's Irish Pub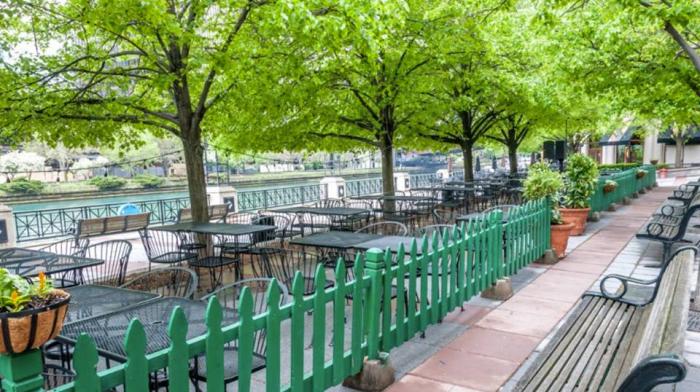 Tucked down a side street east of the Sheraton Hotel, Lizzie McNeill's is the secluded outpost for outside dining on the east branch of the Chicago River before it ends and Lake Michigan begins. This is an ideal spot to watch the fireworks from Navy Pier on Wednesday and Saturday nights. Besides the traditional Irish pub fare, and lots of whiskey, they also offer wraps and salads. Lizzie McNeill's Irish Pub, 400 N McClurg Ct, (312)467-1992
Rittergut Wine Bar & Social Club
This hidden gem is a riverside hideaway that offers wine flights and excellent cheeses. It's just two blocks north of Willis Tower, making it a great place to stop before you catch the Metra, or have a nice date before an evening at Lyric. Rittergut Wine Bar & Social Club, 10 S Wacker Dr, (312)835-1832
River Roast
Located in the instantly recognizable Reid Murdoch building, River Roast also has one of Chicago's most recognizable chefs. At the helm is James Beard Award-winning Chef Tony Montuano. Meat, fish and veggies are roasted (of course) and carved tableside.
Craft cocktails (from slow drip infusion towers) and craft beer make this a great spot for an after work cocktail on their riverside patio followed by an impressive dinner in the historic building. River Roast, 315 N LaSalle, (312)822-0100
Rivers
One of the earliest restaraunts to take advantage of a prime waterfront location, Rivers has been serving on the Chicago River since 1997. Their menu changes seasonally and offers both a bistro menu, with more casual items, and a regular menu with signature entrees.
With their location in the Loop their weekend hours are limited to Friday and Saturday nights, making them a prime spot for weddings. Rivers, 30 S Wacker Dr, (312)559-1515
Smith & Wollensky / Wollensky's Grill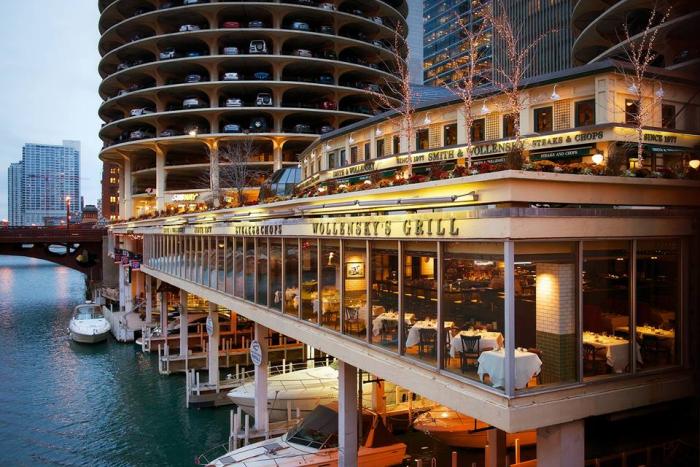 Whether you're looking for fine dining upstairs or more casual dining downstairs, these sister restaurants offer prime dry aged steak with prime views to match. Smith & Wollensky offers the standard steakhouse fare such as jumbo shrimp cocktail, tuna tartare, and bone-in Kansas City Strips.
Wollensky's Grill offers items like a Burrata Bar and shareable plates including lobster corn dogs. Smith & Wollensky / Wollensky's Grill, 318 N State St, (312)670-9900
South Branch Tavern Grille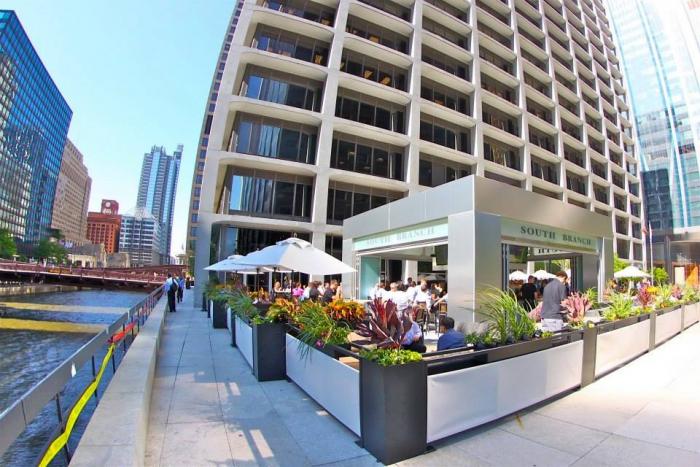 Named for its location on the Chicago River this is one of three river-side restaurants in the Loop. It's only open to the public Monday through Friday, leaving it open on the weekends for private parties.
Stop in here for a truffle chicken salad sandwich or root beer short rib before catching the Metra or enjoying a night in Chicago's Theater District. South Branch Tavern Grille, 100 S Wacker Dr, (312)546-6177
Featured photo courtesy of River Roast