If you want to feel like you're instantly on vacation, head to Chicago's lakefront. With miles of beaches and the seemingly endless Lake Michigan on the horizon, you'll be transported from the hustle and bustle of the bustling city. This is even more true when you've got a drink in hand. To help you get away, even if it's just for lunch, we've found the best Chicago restaurants on Lake Michigan.
Related: Restaurants on the Chicago Riverwalk
Chicago Restaurants on Lake Michigan
Caffe Oliva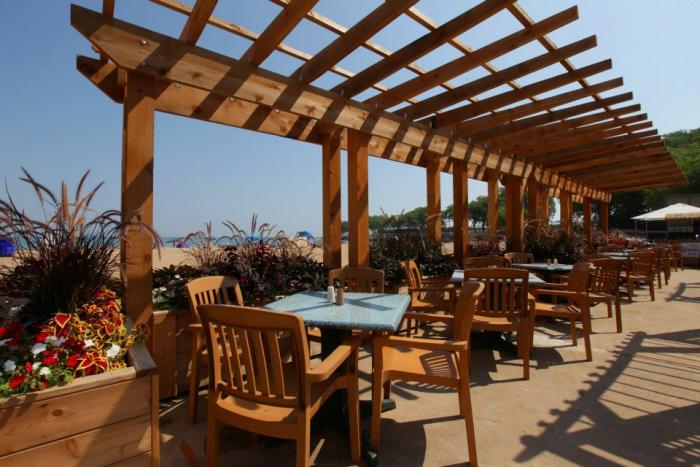 Caffe Oliva offers Mediterranean cuisine on Ohio Street Beach. The seasonal cafe is built anew each year, and they have private cabanas so you can really feel luxurious. Their location is close enough to Michigan Avenue that you can take a break from shopping on the Magnificent Mile to stick your toes in the sand.
Caffe Oliva is also a stroll from Navy Pier
Oak Street Beach Food and Drink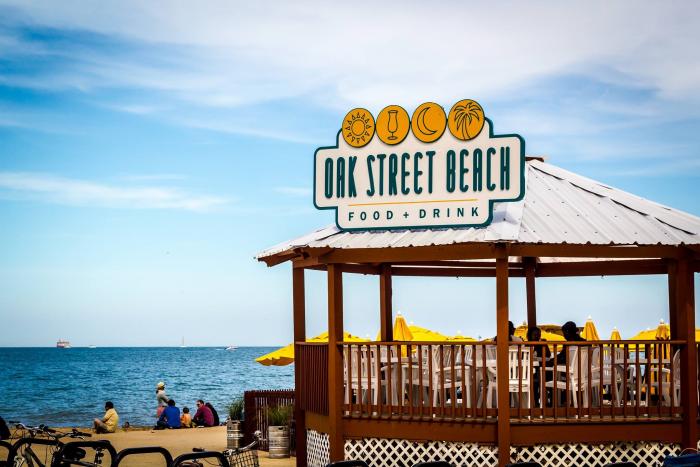 When you need a break from shopping on the Magnificent Mile, head to this tropical getaway. Well, you're not exactly in the tropics, but you'll feel like it at Oak Street Beach Food and Drink. It's the perfect place for a margarita and some chips and guac.
Shore Club
North Avenue Beach is always happening during the summer, and it's even more so with Shore Club. Offering globally-inspired cuisine, there's a restaurant and a giant patio, offering prime viewing of those summer volleyball contests. It's a perfect spot for brunch after a walk on the lakefront path, or a cocktail in between dips in the lake.
Castaways
Also at North Avenue Beach is the instantly recognizable Castaways. Shaped like a boat, it's the location for summer in Chicago. Keep it casual downstairs with ice cream and burgers, and head upstairs for a full meal. They've even got daily drink specials to keep you cool.
Lakefront Restaurant
You definitely won't want to miss the aptly named Lakefront Restaurant. Helmed by acclaimed Chicago chef Cleetus Friedman, it's inside the renovated Theater on the Lake on the Fullerton Promontory. The upscale tavern offers intimate tables, communal seating, and a lounge. You'll definitely want to make time for a pre- or post-prandial cocktail on the patio as you soak in stunning views of Lake Michigan and the Chicago skyline.
Del Campo's Tacos
Photo courtesy Del Campo's Tacos
If you didn't know about 12th Street Beach, you'd probably never find it. Tucked into a spot just south of Adler Planetarium on Northerly Island, this beach feels like it's a world away (ba dum bum). When you need a little fuel, you're in luck. Del Campo's Tacos is located right there, serving up authentic Mexican cuisine.
Pier 31
Photo courtesy Pier 31
Head to 31st Street Beach for some of the best views of downtown Chicago. Pier 31 is right on the sand and a popular place for boaters who dock at the pier, especially since they'll deliver straight to the boat. They've got live music to with those burgers, wings, and salads, too.
The Dock at Montrose Beach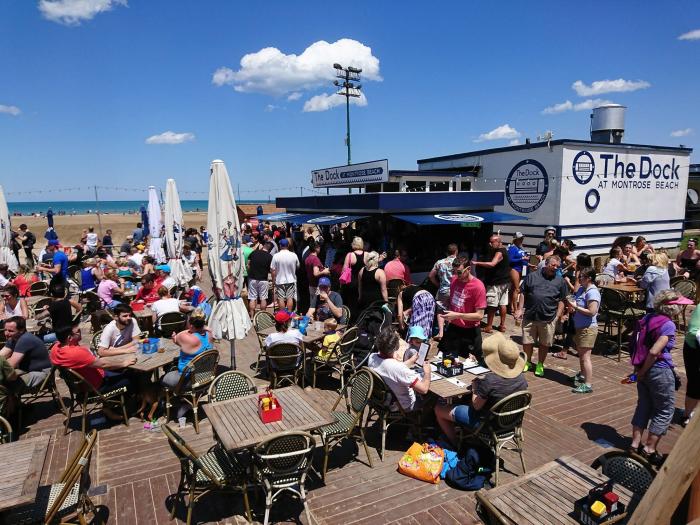 Photo courtesy The Dock at Montrose Beach
Not only does The Dock at Montrose Beach have a prime location with enough room to enjoy it, it's also got live music seven days a week. Basically, it's a party all summer long.
Waterfront Cafe
Bring your pup to Waterfront Cafe – even though it's in an historic coach house, this lakefront restaurant is dog-friendly. It's also a great spot for live music, and they feature local musicians. They'll add a buck to your check during those performances, but you can opt out (why would you, though?).
---
This summer, take advantage of the third coast and make sure to dine at one of these Chicago restaurants on the beach.