The Grant Park Music Festival is a free summer concert series showcasing classical music performed by the Grant Park Orchestra.
Taking place at the Jay Pritzker Pavilion in Millennium Part, the series begins June 15, 2022, with Mozart Symphony No. 35 and Pianist Michelle Cann.
Listeners are the ones who "score" with this season, with favorites like Mendelssohn's Reformation symphony and Dvorak's Symphony No. 8. On July 8th and 9th there are Lights on Broadway, and the August 3rd concert is A Mariachi Fiesta.
Be sure to bring the kids for Cirque Goes to Hollywood, when the Grant Park Orchestra performs music from hit films while Troupe Vertigo performs gravity-defying acts.
While the Great Lawn and Seating Bowl in front of the pavilion are free and first come first served, Members and One Night Pass holders get the best seats in the house.
It's set to be another year of stellar music under the stars in downtown Chicago!
See the entire Grant Park Music Festival 2022 schedule below and start marking your calendar now.
Before you go, check out our complete guide to Millennium Park and find a place to stay near Millennium Park
2022 Grant Park Music Festival
All programs subject to change. For more information on the Grant Park Music Festival, visit www.grantparkmusicfestival.com.
Related: find more free activities in Chicago
Mozart Symphony No. 35
Wed, June 15, 6:30 to 8pm
FEATURING
Grant Park Orchestra
Carlos Kalmar, conductor
Michelle Cann, piano
PROGRAM
Wolfgang Amadeus Mozart: Symphony No. 35, Haffner
Florence Price: Piano Concerto in One Movement
Richard Wagner: Die Meistersinger von Nürnberg (excerpts)
Mendelssohn Reformation Symphony
Fri, June 17, 6:30 to 8:30pm
Sat, June 18, 7:30 to 9:30pm
FEATURING
Grant Park Orchestra and Chorus
Anima — Glen Ellyn Children's Chorus
Carlos Kalmar, conductor
Christopher Bell, chorus director
Nathalie Rose Richardson, poet and orator
PROGRAM
Felix Mendelssohn: Symphony No. 5, Reformation
Judith Weir: We Are Shadows
Misha Zupko: Blue Matter (World Premiere)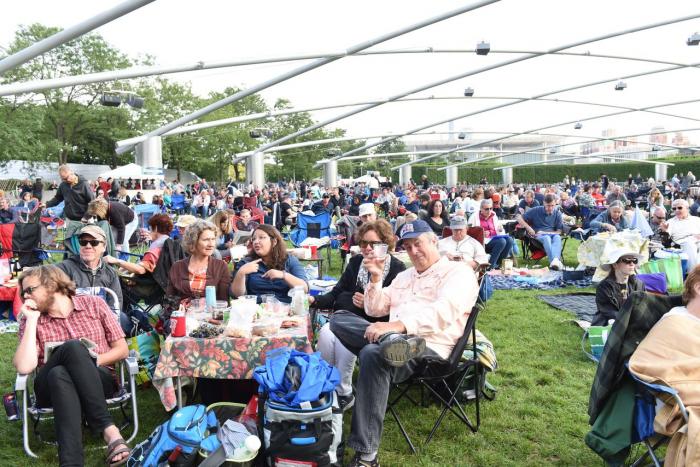 Schubert Unfinished Symphony
Wed, June 22, 6:30 to 8pm
FEATURING
Grant Park Orchestra
Carlos Kalmar, conductor
ZOFO, piano duo
PROGRAM
Franz Schubert: Symphony No. 8, Unfinished
Carl Vine: Zophomorphosis (World Premiere)
George Whitefield Chadwick: The Angel of Death
Shostakovich Symphony No. 11
Fri, June 24, 6:30 to 8:30pm
Sat, June 25, 7:30 to 9:30pm
FEATURING
Grant Park Orchestra
Carlos Kalmar, conductor
Simone Lamsma, violin​​​​​​
PROGRAM
Erich Wolfgang Korngold: Violin Concerto
Dmitri Shostakovich: Symphony No. 11, The Year 1905
Britten Spring Symphony
Wed, June 29, 6:30 to 8:30pm
Fri, July 1, 6:30 to 8:30pm
FEATURING
Grant Park Orchestra and Chorus
Anima — Glenn Ellyn Children's Chorus
Ellie Dehn, soprano
Susan Platts, mezzo-soprano
John Matthew Myers, tenor
PROGRAM
Nikolai Rimsky-Korsakov: Russian Easter Overture
Arvo Pärt: In principio
Benjamin Britten: Spring Symphony
Independence Day Salute
Sat, July 2, 7:30 to 9:30pm
FEATURING
Grant Park Orchestra and Chorus
Christopher Bell, conductor
PROGRAM
John Williams: Liberty Fanfare
Arr. Bill Holcombe: George Gershwin Medley
Glenn Miller/Joe Garland: In The Mood
André Thomas: I Hear America Singing
Irving Berlin/arr. Roy Ringwald: Give Me Your Tired, Your Poor
William Steffe/arr. Peter Wilhousky: Battle Hymn of the Republic
William Grant Still: Festive Overture
Aaron Copland: "The Promise of Living" from The Tender Land
Arr. Robert Wendel: The Orange Blossom Special
Arr. John Rutter: When the Saints Go Marching In
Arr. Robert Wendel: From Sea to Shining Sea
Arr. Robert Lowden: Armed Forces Salute
Arr. Carmen Dragon: America the Beautiful
Piotr Ilyich Tchaikovsky: 1812 Overture
John Philip Sousa: Stars and Stripes Forever
Cirque Goes to Hollywood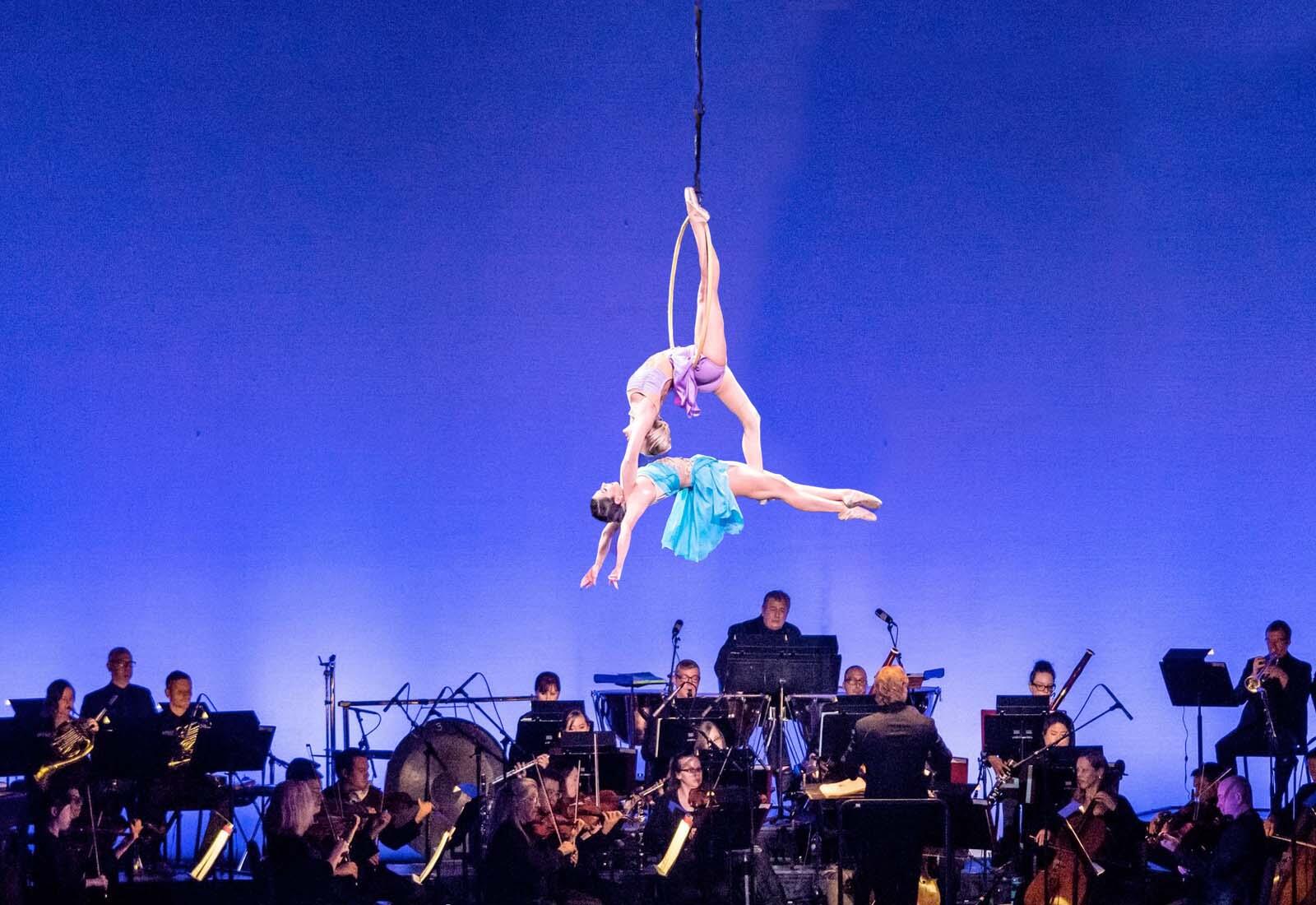 Wed, July 6, 8 to 10pm
FEATURING
Grant Park Orchestra
Sarah Hicks, conductor
Troupe Vertigo
PROGRAM
Lalo Schifrin: Theme from Mission Impossible
Bernard Herrmann: Scene D'Amour from Vertigo
John Kander/arr. Michael Gibson: Medley from Chicago
Elmer Bernstein: Theme from Magnificent Seven
Danny Elfman/arr. Bartel/Bankey: Batman Suite
Michael Giacchnio: "Married Life" from Up
James Horner: Theme from The Mask of Zorro
Lights on Broadway
Fri, July 8, 8 to 10pm
Sat, July 9, 8 to 10pm
FEATURING
Grant Park Orchestra
Kimberly Grigsby, conductor
Capathia Jenkins, vocals
Sam Simakh, vocals
PROGRAM
George Gershwin: Selections from Of Thee I Sing
Richard Rodgers: Selections from South Pacific
Frank Loesser: Selections from How to Succeed in Business without Really Trying
Stephen Sondheim: Selections from Sundays in the Park with George
Marvin Hamlisch: Selections from A Chorus Line
Lin-Manuel Miranda: "You'll Be Back" from Hamilton
Charlie Smalls: "Everybody Rejoice" from The Wiz
and more
Haydn Drum Roll Symphony
Wed, July 13, 6:30 to 8pm
FEATURING
Grant Park Orchestra
David Chan, conductor
She-e Wu, percussion
PROGRAM
Samuel Coleridge-Taylor: Ballade
Jennifer Higdon: Percussion Concerto
Franz Joseph Haydn: Symphony No. 103, Drum Roll
Beethoven Eroica Symphony
Fri, July 15, 6:30 to 8:30pm
Sat, July 16, 7:30 to 9:30pm
FEATURING
Grant Park Orchestra
Miguel Harth Bedoya, conductor
Rachel Barton Pine, violin
PROGRAM
Victor Agudelo: La Madre de Agua
Billy Childs: Violin Concerto No. 2
Ludwig van Beethoven: Symphony No. 3, Eroica
Dvorak Symphony No. 8
Wed, July 20, 6:30 to 8pm
FEATURING
Grant Park Orchestra
Jonathon Heyward, conductor
Afendi Yusuf, clarinet
PROGRAM
Louise Farrenc: Overture No. 1
Wolfgang Amadeus Mozart: Clarinet Concerto
Antonin Dvořák: Symphony No. 8
Rachmaninov Piano Concerto No. 2
Fri, July 22, 6:30 to 8:30pm
Sat, July 23, 7:30 to 9:30pm
FEATURING
Grant Park Orchestra
Markus Stenz, conductor
Simon Trpčeski, piano
PROGRAM
William Grant Still: Darker America
Sergei Rachmaninov: Piano Concerto No. 2
Béla Bartók: Concerto for Orchestra
A Gospel Jubilee
Wed, July 27, 6:30 to 8pm
FEATURING
Grant Park Orchestra
Soul Children of Chicago
Charles Floyd, conductor
Walt Whitman, chorus director
PROGRAM
Coleridge-Taylor Perkinson – Worship: A Concert Overture
Ed Tucker/Jamie M. Dominicak: "Sacrifice of Praise"
E. A. Hoffman: "What A Fellowship"
Rick Robinson: "Lift Him Up"
Thomas A. Dorsey: "Precious Lord, Take My Hand"
Fred Nelson, III: "He's Been Good"
Charles Floyd: "The Lord's Prayer"
Lamont Lenox: "Worthy Is The Lamb"
Kelvin Lenox: "Nobody Like Jesus"
Dr. Charles Hayes: "Take It To The Lord In Prayer"
Leon Lumpkins: "Open Our Eyes"
Albertina Walker: "I Can Go To God In Prayer"
Mahler Symphony No. 9
Fri, July 29, 6:30 to 8pm
Sat, July 30, 7:30 to 9pm
FEATURING
Grant Park Orchestra
Carlos Kalmar, conductor
PROGRAM
Gustav Mahler: Symphony No. 9
A Mariachi Fiesta
Wed, Aug 3, 6:30 to 8pm
FEATURING
Grant Park Orchestra
Carlos Kalmar, conductor
Mariachi Herencia de Mexico
60th Anniversary Choral Spectacular
Thu, Aug 4, 6:30 to 8pm
FEATURING
Grant Park Chorus
Christopher Bell, conductor
PROGRAM
Ēriks Ešenvalds: Stars
Ola Gjeilo: Dark Night of the Soul
Abbie Betinis: To the Evening Star
Eric Whitacre: Lux aurumque
Morten Lauridsen: Lux aeterna
Samuel Barber: Sure on this Shining Night
Berlioz Symphonie Fantastique
Fri, Aug 5, 6:30 to 8:30pm
Sat Aug 6, 7:30 to 9:30pm
FEATURING
Grant Park Orchestra
Carlos Kalmar, conductor
Andreas Haefliger, piano
PROGRAM
Augusta Holmès: Andromède
Maurice Ravel: Piano Concerto for the Left Hand
Berlioz: Symphonie fantastique
Franck Symphony in D Minor
Wed, Aug 10, 6:30 to 8pm
FEATURING
Grant Park Orchestra
Carlos Kalmar, conductor
Marina Piccinini, flute
PROGRAM
Libby Larsen: Deep Summer Music
Christopher Theofanidis: Flute Concerto (World Premiere)
César Franck: Symphony In D Minor
Tetzlaff Plays Shostakovich
Fri, Aug 12, 6:30 to 8:30pm
Sat, Aug 13, 7:30 to 9:30pm
FEATURING
Grant Park Orchestra and Chorus
Carlos Kalmar, conductor
Christopher Bell, chorus director
Christian Tetzlaff, violin
PROGRAM
Dmitri Shostakovich: Violin Concerto No. 1
Ralph Vaughan Williams: Dona Nobis Pacem
Tchaikovsky Sleeping Beauty
Wed, Aug 17, 6:30 to 8pm
FEATURING
Grant Park Orchestra
Carlos Kalmar, conductor
PROGRAM
Carl Maria von Weber: Overture to Oberon
Josef Suk: Fairy Tale
Piotr Ilyich Tchaikovsky: Suite from Sleeping Beauty
Haydn Creation
Fri, Aug 19, 6:30 to 8:30pm
Sat, Aug 20, 7:30 to 9:30pm
FEATURING
Grant Park Orchestra and Chorus
Carlos Kalmar, conductor
Christopher Bell, chorus director
Janai Brugger, soprano
Duke Kim, tenor
Douglas Williams, bass
PROGRAM
Franz Joseph Haydn: The Creation
Find parking near Grant Park Music Festival:
Photo courtesy Grant Park Music Festival