The Grant Park Music Festival is a free summer concert series showcasing classical music performed by the Grant Park Orchestra, and it's back in 2021!
Taking place at the Jay Pritzker Pavilion in Millennium Part, the series begins July 2nd and 3rd, 2021, with an Independence Day Salute.
Listeners are the ones who "score" with this season, with favorites like Dvořák's New World symphony and Rossini's William Tell overture. The August 4th concert is dedicated to Ireland. Be sure to bring the kids for Family Night, when the Grant Park Orchestra performs Camille Saint-Saëns' Carnival of the Animals.
While the Great Lawn and Seating Bowl in front of the pavilion are free and first come first served, Members and One Night Pass holders get the best seats in the house. The only downside to their return is that this year there will be no public access to the rehearsals.
Still, it's set to be another year of stellar music under the stars in downtown Chicago!
See the entire Grant Park Music Festival 2021 schedule below and start marking your calendar now.
Before you go, check out our complete guide to Millennium Park and find a place to stay near Millennium Park
2021 Grant Park Music Festival
All programs subject to change. For more information on the Grant Park Music Festival, visit www.grantparkmusicfestival.com.
Related: find more free activities in Chicago
Independence Day Salute
WHERE & WHEN
Jay Pritzker Pavilion
Friday, July 2 and Saturday, July 3, 6:30pm – 8pm 
FEATURING
Grant Park Orchestra
Carlos Kalmar, conductor
Christopher Bell, conductor
PROGRAM
John Williams: Summon the Heroes
Scott Joplin: Overture to Treemonisha
Arr. Robert Lowden: Armed Forces Salute
Florence Price: Dances in the Canebrakes
Leonard Bernstein: Selections from West Side Story
George Walker: Lyric for Strings
Pytor Ilyich Tchaikovsky: 1812 Overture
John Philip Sousa: Stars and Stripes Forever
William Tell Overture
WHERE & WHEN
Jay Pritzker Pavilion
Wednesday, July 7, 6:30pm – 8pm  
FEATURING
Grant Park Orchestra
Carlos Kalmar, conductor
Joyce Yang, piano
PROGRAM
Julia Perry: Short Piece for Orchestra
Georges Bizet: Suite from L'Arlésienne
Edvard Grieg: Piano Concerto
Gioachino Rossini: Overture to William Tell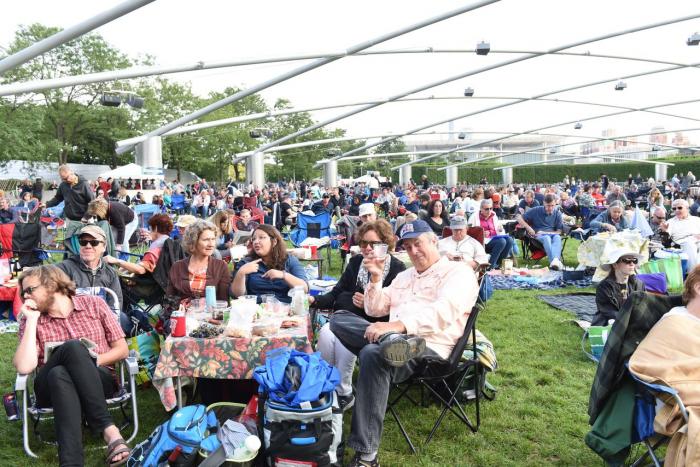 Brahms Symphony No. 3
WHERE & WHEN
Jay Pritzker Pavilion
Friday, July 9 and Saturday, July 10, 6:30pm – 8pm 
FEATURING
Grant Park Orchestra and Chorus
Carlos Kalmar, conductor
Christopher Bell, chorus director
Susan Nelson, soprano
Sarah Ponder, mezzo-soprano
Corinne Wallace-Crane, mezzo-soprano
PROGRAM
Antonio Vivaldi: Gloria
Samuel Barber: Adagio for Strings
Johannes Brahms: Symphony No. 3
Beethoven Symphony No. 1
WHERE & WHEN
Jay Pritzker Pavilion
Wednesday, July 14, 6:30pm – 8pm 
FEATURING
Grant Park Orchestra and Chorus
Carlos Kalmar, conductor
Christopher Bell, chorus director
Katelyn Lee, soprano
Sarah Ponder, mezzo-soprano
Hoss Brock, tenor
Dan Richardson, bass-baritone
PROGRAM
Anna Clyne: Sound and Fury
Franz Joseph Haydn: Nicolai Mass
Ludwig van Beethoven: Symphony No. 1
Sibelius Symphony No. 5
WHERE & WHEN
Jay Pritzker Pavilion
Friday, July 16 and Saturday, July 17, 6:30pm – 8pm 
FEATURING
Grant Park Orchestra
Carlos Kalmar, conductor
Masumi Per Rostad, viola
PROGRAM
Leonard Bernstein: Three Dance Episodes from On the Town
Margaret Brouwer: Viola Concerto
Jean Sibelius: Symphony No. 5
Bruckner E Minor Mass
WHERE & WHEN
Jay Pritzker Pavilion
Wednesday, July 21, 6:30pm – 8pm 
FEATURING
Grant Park Orchestra and Chorus
Carlos Kalmar, conductor
Christopher Bell, chorus director
PROGRAM
Lili Boulanger: Psalm 24
Jonathan Dove: The Passing of the Year
Anton Bruckner: Mass No. 2 in E minor
Dvořák New World Symphony
WHERE & WHEN
Jay Pritzker Pavilion
Friday, July 23 and Saturday, July 24, 6:30pm – 8pm 
FEATURING
Grant Park Orchestra
Eun Sun Kim, conductor
Natasha Paremski, piano
David Gordon, trumpet
PROGRAM
Texu Kim: Blow, Fly, Pop!!
Dmitri Shostakovich: Piano Concerto No. 1
Antonín Dvořák: Symphony No. 9, From the New World
Prelude to the Afternoon of a Faun
WHERE & WHEN
Jay Pritzker Pavilion
Wednesday, July 28, 6:30pm – 8pm  
FEATURING
Grant Park Orchestra
Carlos Kalmar, conductor
Anthony Trionfo, flute
PROGRAM
Claude Debussy: Prelude to the Afternoon of a Faun
Saverio Mercadante: Flute Concerto
Camille Saint-Saëns: Symphony No. 2
Haydn Symphony No. 8 (Live Stream Only)
WHERE & WHEN
Harris Theatre for Music and Dance
Friday, July 30 and Saturday, July 31, 6:30pm – 8:00pm 
FEATURING
Grant Park Orchestra
Carlos Kalmar, conductor
PROGRAM
Franz Joseph Haydn: Symphony No. 8, Le soir
Caroline Shaw: Entr'acte
Rodion Shchedrin: Carmen Suite
From Ireland with Love
WHERE & WHEN
Jay Pritzker Pavilion
Wednesday, August 4, 6:30pm – 8:00pm 
FEATURING
Grant Park Chorus
Christopher Bell, conductor
PROGRAM
arr. Ēriks Ešenvalds: "O Danny Boy" 
Charles Villiers Stanford: Three Motets 
David Fennessy: chOirland 
Sean Doherty: "I am the World"
Michael McGlynn: "Aisling"
arr. Mark Sirett: "Wild Rover"
arr. Leslie Hewlett: "Paddy McGinty's Goat"
arr. Earlene Rentz: "To Work Upon the Railway"
arr. Joseph Martin: "The Last Rose of Summer"
arr. Teena Chinn: "Irish Eyes are Smiling"
arr. C. Courtney Lorenz: "Three Irish Folksongs"
arr. Desmond Earley: "The Parting Glass"
arr. Erik Jones: "I'll Tell My Ma"
Sibelius Violin Concerto
WHERE & WHEN
Jay Pritzker Pavilion
Friday, August 6 and Saturday, August 7, 6:30pm – 8pm
FEATURING
Grant Park Orchestra
Carlos Kalmar, conductor
Augustin Hadelich, violin
PROGRAM
Jean Sibelius: Violin Concerto
Pyotr Ilyich Tchaikovsky: Symphony No. 1, Winter Daydreams
Family Night: Carnival of the Animals
WHERE & WHEN
Jay Pritzker Pavilion
Wednesday, August 11, 6:30pm – 8pm 
FEATURING
Grant Park Orchestra
Norman Huynh, conductor
Ashley Kim, piano
Colin Song, piano
PROGRAM
Jacques Offenbach: Overture to Orpheus in the Underworld
Camille Saint-Saëns: Carnival of the Animals
Edvard Grieg: Suite from Peer Gynt
Classic Broadway
WHERE & WHEN
Jay Pritzker Pavilion
Friday, August 13 and Saturday, August 14, 6:30pm – 8pm 
FEATURING
Grant Park Orchestra
Lawrence Loh, conductor
Mamie Parris, vocals
Madison Claire Parks, vocals
Bronson Norris Murphy, vocals
Doug LaBrecque, director
PROGRAM
Rodgers and Hammerstein: "Wonderful Guy" from South Pacific
Leonard Bernstein: "Maria" from West Side Story                                 
Alan Menken: "Be Our Guest" from Beauty and the Beast                  
Claude-Michel Schönberg: "Why God, Why?" from Miss Saigon
Andrew Lloyd Webber: "Memory" from Cats 
Andrew Lloyd Webber: "All I Ask of You" from The Phantom of the Opera            
Stephen Schwartz: "Defying Gravity" from Wicked  
Schubert Mass in G Major
WHERE & WHEN
FEATURING
Grant Park Orchestra and Chorus
Carlos Kalmar, conductor
Christopher Bell, chorus director
Laura Anderson, soprano
Kaitlin Foley, soprano
Lindsey Adams, mezzo-soprano
John Concepcion, tenor
Joe Shadday, tenor
John Orduña, baritone
Ryan Cox, baritone
PROGRAM
Felix Mendelssohn: Sinfonia No. 8
Franz Schubert: Mass in G Major
Benjamin Britten: Rejoice in the Lamb
Mozart Violin Concerto No. 3
WHERE & WHEN
Jay Pritzker Pavilion
Friday, August 20 and Saturday, August 21, 6:30pm – 8:30pm 
FEATURING
Grant Park Orchestra and Chorus
Carlos Kalmar, conductor
Christopher Bell, chorus director
Vadim Gluzman, violin
David Govertsen, bass-baritone
PROGRAM
Gabriela Lena Frank:Elegía Andina
Wolfgang Amadeus Mozart: Violin Concerto No. 3
George Frideric Handel: Dettingen Te Deum
Find parking near Grant Park Music Festival:
Photo courtesy Grant Park Music Festival