The Millennium Park Summer Music Series is one of the reasons Chicago is the place to be in the summer.
Sitting on the Great Lawn listening to live music pouring forth from Jay Pritzker Pavilion is a truly delightful way to spend an evening – or ten.
Multiple genres, and genre-defying artists, are represented by artists from Chicago, the country, and the world. These free outdoor concerts will take place beginning in June and running through August.
All concerts are FREE and open to the public. Performances begin at 6:30 p.m. and take place rain or shine.
You'll definitely want to get there early so you can get a prime spot. Bring a picnic, and this is one of the few Chicago parks that allows alcohol.
The free things to do in Chicago in summer are why some of the many reasons it's so phenomenal.
Before you go, check out our comprehensive (and free!) Guide to Millennium Park, with everything you need to know!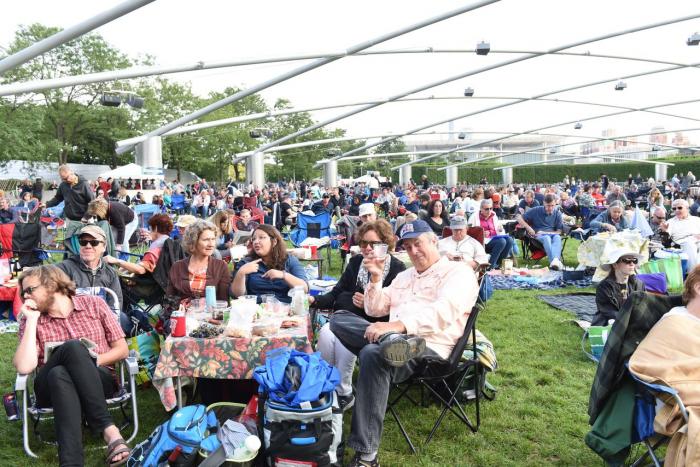 Know before you go: Top 8 Summer Dos and Don'ts at Millennium Park
The Millennium Park Music Series is produced by the Department of Cultural Affairs and Special Events and sponsored by the Chicago Transit Authority.
Refreshments are available for purchase from Goose Island Beer Company, Riboli Family Wines and Pepsi at various locations throughout the park. Or, you can bring your own!
2023 Millennium Park Summer Music Series
Ramsey Lewis Tribute
Thursday, June 22 • 6:30pm
Join us in honoring the legacy of the legendary jazz pianist, Ramsey Lewis. With a career spanning over five decades, Lewis has shaped the landscape of modern American music. To celebrate his enduring influence, we have a night of music and surprise guests who have been inspired by his extraordinary talent.
Ramsey Lewis was a prolific jazz pianist, hosting popular television and radio shows that celebrated the history of jazz. His compositions echo in R&B and hip-hop, influencing generations of musicians. As Barack Obama once said, "Ramsey Lewis is a man who has touched all of our lives."
Eddie Palmieri Salsa Orchestra / El Laberinto del Coco
Monday, June 26 • 6:30pm
Experience the electrifying rhythms of Grammy award-winning pianist and bandleader, Eddie Palmieri. Born to Puerto Rican parents in the South Bronx, Palmieri revolutionized the New York salsa sound. His salsa orchestra will perform his greatest hits from a career spanning more than six decades.
El Laberinto del Coco is an Afro-Puerto Rican Bomba Fusion ensemble founded by Hector "Coco" Barez. With syncopated horn lines, funky guitar licks, and enchanting voices, this band is sure to please.
Big Freedia / "The Femmergy" featuring Mister Wallace & Friends + VITIGRRL
Thursday, July 13 • 6:30pm
Get ready for a high-energy performance from Big Freedia, the Queen of New Orleans Bounce. Known for her feature on Beyoncé's Grammy-winning single, "Break My Soul," Big Freedia's unique voice and catchy phrases have made her a cultural icon.
"The Femmergy" is a showcase of performances by rappers Mister Wallace, J Bambii, Empress Darling Shear, and Zolita, hosted by Your Godmutha Tristen & Party Mom Kristen. This display of queer artistry aims to activate self-love and joy, with a focus on women-powered music.
Yemi Alade / Son Palenque + DJ's TopDonn & Dee Money
Monday, July 17 • 6:30pm
Yemi Alade, a Nigerian Afropop singer-songwriter, has made a significant impact on the music industry, particularly in Africa. Her hit song "Johnny" catapulted her to fame in 2013, and she has since become one of the biggest artists in Africa.
Son Palenque, an Afro-Colombian band, blends Colombian music with a variety of African styles. They perform ancestral music with deep roots in the champeta musical genre.
Stephen Marley
Thursday, July 20 • 6:30pm
Stephen Marley, the award-winning musician, has captured the heart of reggae lovers with his unique style. Stephen, a 8-time Grammy award-winner, has cemented his place in the industry, following the path of his legendary parents, Bob and Rita Marley. Known for his solo projects like "Mind Control" and "Revelation Part I: The Root of Life," Stephen has also left a remarkable footprint as a producer. His 2022 tribute to Nina Simone, "Celebrating Nina: A Reggae Tribute to Nina Simone," stands as a testament to his versatile talent.
Sharing the stage with Stephen Marley is Skanking Lizard, Chicago's first reggae band, known for their unique blend of American roots rock and Jamaican reggae rhythms. The band features original members, including DJ Chuck Wren, host of the ska radio show "Everything Off-Beat."
Kurt Vile and the Violators
Monday, July 24 • 6:30pm
Kurt Vile, Philadelphia's psych-pop maestro, is known for his laid-back charm and innovative songwriting. His latest album "(watch my moves)" showcases his talent as a singer, songwriter, multi-instrumentalist, and producer.
Finom, the eclectic duo of Sima Cunningham and Macie Stewart, will open for Kurt Vile. Known for their unconventional approach to guitar music, Finom captivates audiences with their daring and distinctly unique sound.
Shemekia Copeland
Monday, July 31 • 6:30pm
Shemekia Copeland, the 2021 Blues Music Award winner, connects with audiences through her soulful and fearless music. Known for her deeply resonating voice, Copeland's music delivers messages of resilience and hope for a kinder tomorrow.
Joining Copeland is Martha Redbone, an Afro-Indigenous Americana artist. Her songs, inspired by her childhood in Harlan County, Kentucky, and pre-gentrified New York City, give voice to social justice issues and celebrate the human spirit.
GRAMMY® Legacies and Looking Ahead – Vieux Farka Touré & Cedric Burnside
Thursday, August 10 • 6:30pm
The Recording Academy's Chicago Chapter presents an evening of cross-genre and multi-generational talent, including GRAMMY-winning blues guitarist and singer/songwriter, Cedric Burnside. His latest album "I Be Trying" presents a deep dive into the diverse stories of love, hurt, connection, and redemption in the South.
PJ Morton
Thursday, August 17 • 6:30pm
PJ Morton, a multi Grammy-winning R&B and soul artist, has won critical acclaim for his creative streak of self-released and self-produced albums. His latest project, "Gospel According to PJ," won the 2021 Grammy Award for Best Gospel Album.
Delvon Lamarr Organ Trio, a Seattle-based band known for their feel-good music, will join PJ Morton. Their unique sound, a mix of 1960s soul-jazz, New Orleans funk, and acid-rock guitar, promises an exhilarating performance.
Carla Morrison
Monday, August 21 • 6:30pm
Carla Morrison, a Grammy-nominated artist, has taken the Latin pop scene by storm with her album "El Renacimiento". Known for her collaborations with top artists like Ricky Martin, J Balvin, and Nicky Jam, Morrison is a testament to the potential of Latin music.
Opening for Morrison is Girl Ultra, a Mexico City native who has made a name for herself in
the R&B and neo-soul scene. Known for her smooth vocals and modern, urban sound, Girl Ultra is set to captivate audiences with her unique blend of music.