With its access to O'Hare, the Blue Line, I-90 and I-294, the Village of Rosemont, IL is incredibly easy to visit, but it wasn't always on the map. That, however, has definitely changed.
What was once "an oft-flooded swampy area with pothole-ridden, unpaved roads, no streetlights and taverns that became hangouts for the mob" is now an entertainment, shopping, and business destination. With just 2.5 square miles and 4,200 residents, the Chicago suburb attracts about 100,000 visitors a day.
The reasons for this popularity extend beyond just ease of access and convenience to one of the busiest airports in the world. Rosemont has turned itself into a place for both locals and tourists to enjoy, with its theaters, attractions, shopping, and plethora of dining options.
This is no sleepy little village, although there are plenty of comfortable places to rest your head. To make it even easier to get around there's a free Rosemont Entertainment Circulator that will transport you to and from the Blue Line, Parkway Bank Financial Park, The Fashion Outlets of Chicago, and the Donald E. Stephens Convention Center.
Here are some of the many attractions and places to go in Rosemont, IL
Things To Do In Rosemont, Illinois
Allstate Arena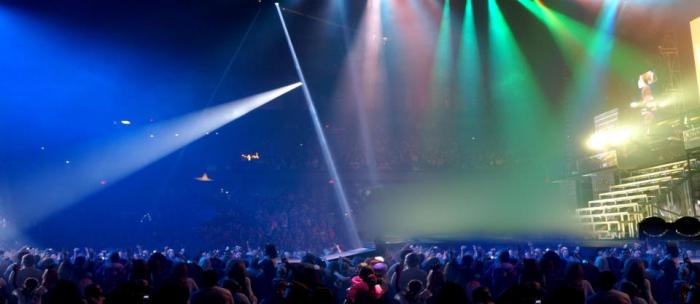 No Rosemont roundup would be complete without this entertainment venue. Home to the Chicago Wolves and the DePaul Blue Demons it also attracts giant concerts and family shows. It's so big that in 2015 it was ranked 3rd in the US for ticket sales! Expect to see shows like Stars on Ice and stars like Justin Bieber and Carrie Underwood.
Allstate Arena, 6920 N Mannheim Rd, Rosemont, IL 60018
Adobe Gila's – Rosemont
The full name for this late-night spot is Adobe Gila's Margarita Fajita Cantina. Just like the lizard they're named for, they don't mess around. Come in for the fajitas and then stay all night long – until 4 in the morning. That's easy to do when their drinks are served in fish bowls!
Adobe Gila's – Rosemont, 5455 Park Place, Rosemont, IL 60018
The Ashburn
The Ashburn gets its name from Chicago's first airport, the Ashburn Flying Field, and pays homage to aviation. Located inside the Loews Chicago O'Hare Hotel, the restaurant offers a variety of cuisines with an emphasis on contemporary American. You can get everything from grilled octopus to tacos to a burger on a bacon mac 'n' cheese waffle bun. Their whimsical side really comes out in the dessert menu, which includes a popsicle bar and donut holes.
The Ashburn, 5300 N River Rd, Rosemont, IL 60018
Big Ten Experience
Sports fans won't want to miss this free museum dedicated to the Big Ten. They've got interactive games, a notch and groove basketball court, a football and basketball touch screen, and timelines, speeches, trophies, and more. Speaking of trophies, you can strike your "Heisman" pose for the Heisman Trophy photo op.
Big Ten Experience, 5440 Park Place, Rosemont, IL
Fashion Outlets of Chicago
There's a reason this mall was named the Best Factory Outlet Centre in the world. Not only does it have a world-class selection of retailers, several of whom can only be found here, but they also offer world-class services. Text concierge, baggage check to O'Hare, coat check, and reservations are just a few of the services they provide. If you're looking for an upscale shopping experience without paying upmarket prices, Fashion Outlets of Chicago is the place to go.
Related: Read more about this Rosemont shopping mall
Fashion Outlets of Chicago, 5220 Fashion Outlets Way, Rosemont, IL 60018
Five Roses Pub
This Irish pub is a warm bastion of hospitality with a twist. Their menu includes all the bar standards (nachos, wings, potato skins, etc.) and the pub specialties (fish and chips, bangers and mash, corned beef, shepherd's pie, etc.) and throws in a healthy selection of burgers and entrees. As any self-respecting pub should they've got a number of draught beers, too. Come on Friday evening for live acoustic music, and then stay into the night as the pub becomes a club.
Five Roses Pub, 5509 Park Place, Rosemont, IL 60018
Fogo de Chao
This Brazilian steakhouse has more meats on spits than you can shake a stick at. While it is a carnivore's paradise, you don't have to be a meat eater to enjoy Fogo de Chao. Their Market Table has oodles of options, including imported cheeses, fresh vegetables, salads galore, charcuterie, and candied bacon. Their jumbo shrimp cocktail is served with a delightfully spicy cocktail sauce, and they've got a sea bass entree topped with mango and malagueta pepper sauce. With such a selection of cuisine they've also got an extensive wine list so you can find something to match your favorites.
Fogo de Chao – Rosemont, 5460 Park Place, Rosemont, IL 60018
Gene & Georgetti
Gene & Georgetti – Rosemont, 9421 W Higgins Rd, Rosemont, IL 60018
Gibson's Bar & Steakhouse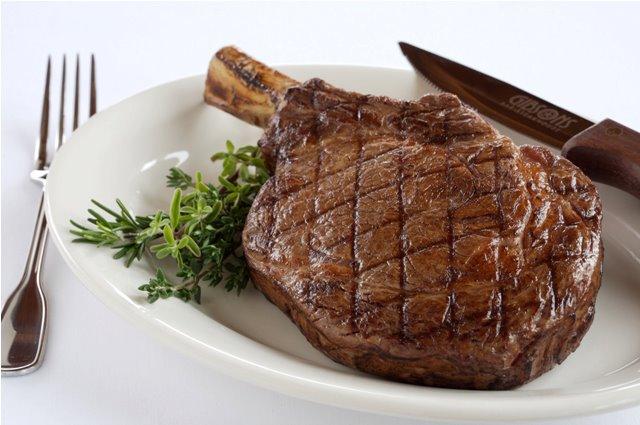 The legendary Chicago steakhouse has an outpost in Rosemont, so you can get your prime beef (Gibsons has its own certification) and your big-as-your-head desserts without having to deal with Gold Coast parking. Seafood fans have an extensive array from which to choose as well, including lobster from Australia, King crab legs from Alaska, and salmon from Norway.
Gibson's Bar & Steakhouse – Rosemont, 5464 North River Road, Rosemont, IL 60018
Hofbräuhaus Chicago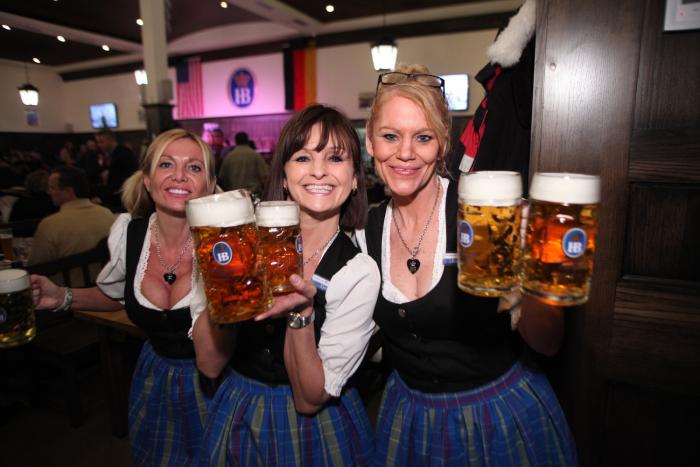 For an experience that's straight out of Munich grab a stein and some schnitzel at Hofbräuhaus. One of the few official locations of the German legend, they import their pretzels and their musicians from the homeland.
Hofbräuhaus Chicago, 5500 Park Place, Rosemont, IL 60018
iFLY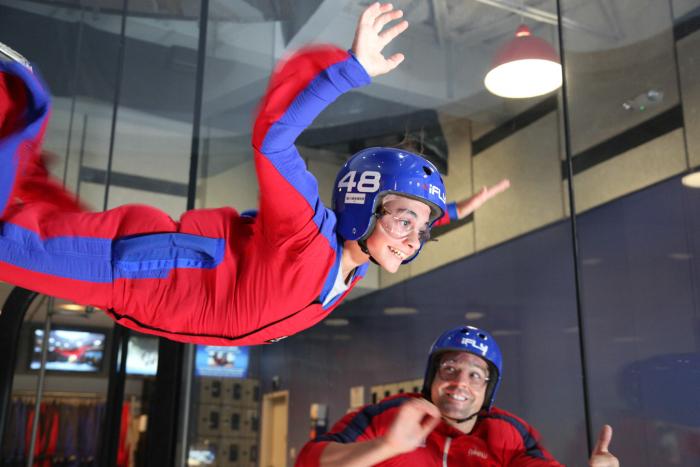 If you like the idea of skydiving but don't like the idea of jumping out of a plane, put iFLY on your radar. This indoor attraction creates the conditions of free falling in a safe environment. Their wind tunnel generates a cushion of air so you can float like a bird with no tether and no parachute. Unlike skydiving kids as young as three years old can participate, and because you don't have to worry about those pesky planes it's much less expensive.
iFLY – Rosemont, 5520 Park Place, Rosemont, IL
Kings Bowl Rosemont
When is a bowling alley not just a bowling alley? When it's a Kings. Founded in Boston, Kings Bowl offers bowling, billiards, and an impressive menu worthy of a visit whether you strap on those fancy shoes or not. Everything is made in-house, including the pictured buffalo wontons with their additive ranch dressing (no seasoning packets or dried chives here). Whether it's date night, girls night, guys night, or family night, Kings offers a fun night for all.
Kings Bowl Rosemont, 5505 Park Place, Rosemont, IL 60018
Muvico Rosemont 18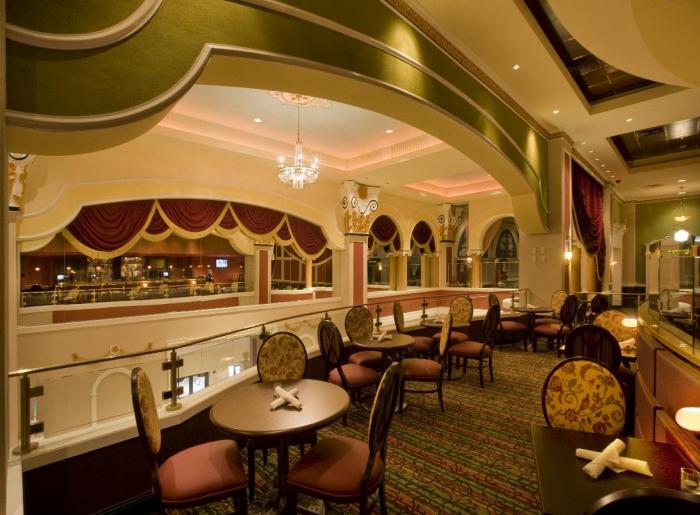 Watching a movie becomes an experience at this premiere theater offering eighteen screens and large, luxurious seating. The theater screens first-run movies and, whether you're watching a film or not, you can have dinner or drinks or both at the second floor restaurant. At Bogart's you can make it a date night, or bring the kids on Tuesday when they eat for free.
Muvico Rosemont 18, 9701 Bryn Mawr Ave, Rosemont, IL 60018
Park Tavern – Rosemont
Park Tavern – Rosemont, 5433 Park Place, Rosemont, IL 60018
Rosemont Theatre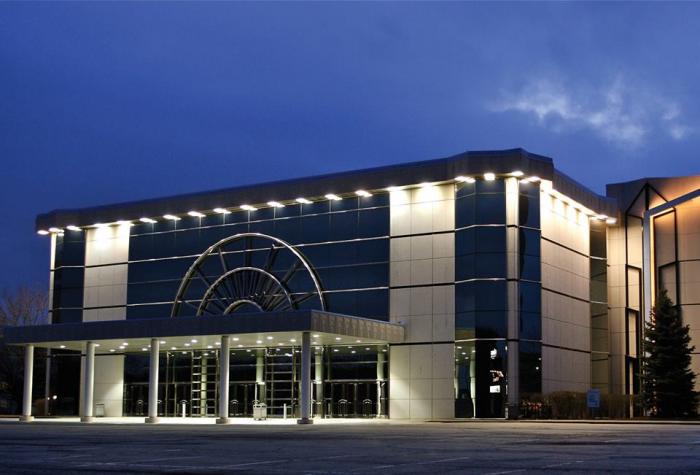 Some of the biggest talent to come through Chicago performs at this theatre. With 4,400 seats it's bigger than the population of Rosemont itself! Past performers include Lady Gaga, Bruce Springsteen, David Bowie, shows like Mamma Mia!, South Pacific, the Radio City Christmas Spectacular, and so many more. Check out their listing here to find upcoming shows.
Rosemont Theatre, 5400 N River Rd, Rosemont, IL 60018
Sugar Factory American Brasserie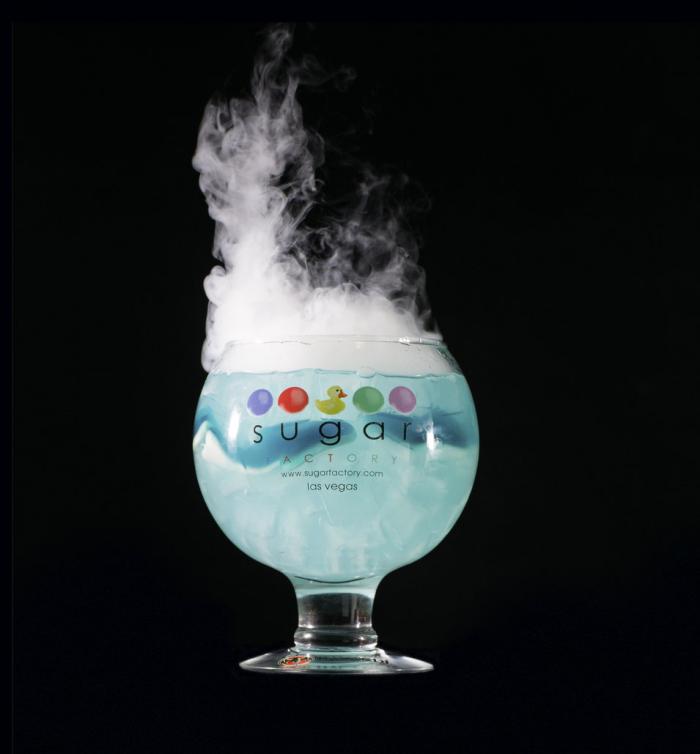 It's a candy store; it's a restaurant; it's a bar; it's Sugar Factory! More than just a place to overload on sugar, this restaurant is festooned with chandeliers and features a menu offering classic American cuisine. Think eggs benedict for brunch, burgers and flatbreads for lunch, and salmon and steak for dinner. Their signature smoking goblet drinks turn any table into a party thanks to dry ice and foot-long lollipops.
Sugar Factory American Brasserie, 5445 Park Place, Rosemont, IL 60018
Zanies Comedy Night Club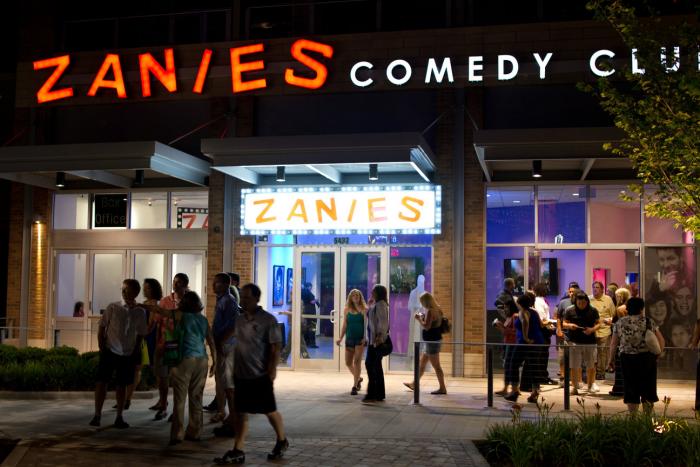 Since 1978 Zanies has been making people laugh with their stellar lineup of comedians in Old Town. Their Rosemont location, which opened in 2012, is now their flagship. Although it seats 250 the low ceilings and dark lighting create the intimate environment that helps to make a good comedy club. With its proximity to O'Hare they'll sometimes have last minute appearances when comedians come in town.
Zanies Comedy Night Club – Rosemont, 5437 Park Place, Rosemont, IL 60018