The moment you enter The Ritz-Carlton Chicago you know you're someplace special. It's more than just the decor, which elicits the sort of hushed tones you expect in a four star hotel. It could be the soothing sound of the signature fountain, decorated to celebrate local partners or holidays. Maybe it's the floor-to-ceiling windows across the lobby bringing in the natural light. More likely, it's the deferential service you receive every step of your stay.
At the Ritz-Carlton Chicago guests expect a certain level of amenities. There should be excellent dining, a luxurious spa, a premiere location, and richly appointed guest rooms. Above all, the service should be impeccable. When you stay at a hotel of this caliber it's more than just accommodations; it's an experience.
Creating an experience you'll not only remember but also cherish is important to the Ritz. One of the most popular add-ons guests can include during their stay is The Candy Man. When he knocks on your door wearing his red and white striped jacket and charming boater your kids, and you, will squeal with delight. He rolls his cart full of goodies into your room, gives you a quart-sized bag, and you choose how you want it filled. This is one time you'll want to get caught with your hand in the candy jar!
Another unique offering is the seasonally available Sunrise Yoga on the Rooftop. This is one of the most exhiliarating, yet relaxing, ways to start your day. You'll greet the sun 75 floors above Michigan Avenue, close enough to the top of the John Hancock Building that you can almost shake the hands of those at 360 Chicago. The breeze from Lake Michigan and the sun glinting off the skyline's highrises make each stretch sublime.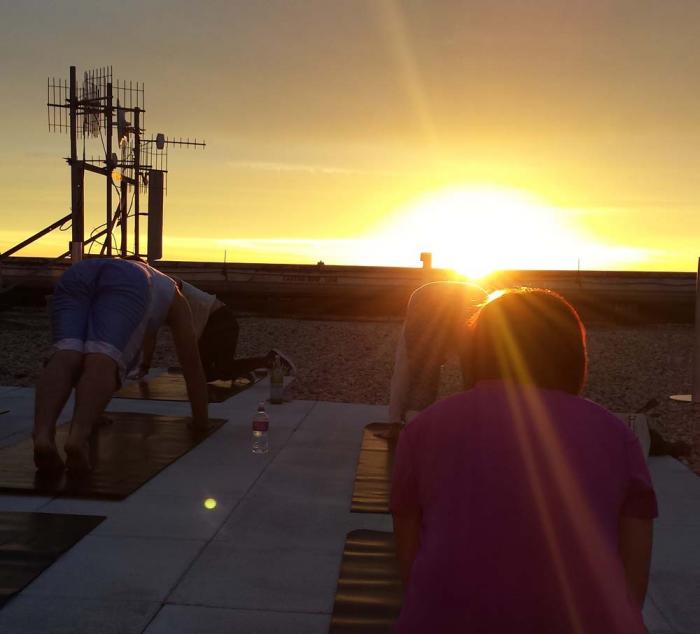 The hotel's location is a shopper's delight. Whether it's a warm weather jaunt down Michigan Avenue or a cold weather elevator ride to Water Tower Place, the next big find is just steps away. The Magnificent Mile Lights Parade, which kicks off the holiday season in Chicago, passes just a few steps away from their doors.
Dining options abound, with many within walking distance or a short drive away. One of the best restaurants in the area is located right in the hotel. deca RESTAURANT + BAR features items like roasted bone marrow with oxtail jam and scallops with wild mushrooms, purple potato, and a miso dashi broth. For a relaxing drink settle into the lounge in front of those magnificent windows, or head outside when it's warm to the DEC rooftop bar.
If you really want to treat yourself, luxuriate in your room wrapped in your comfortable bathrobe and slippers and order room service. Your linen-covered table will be rolled in and placed exactly where you desire. The server will unveil your entry, pour your coffee or wine or Champagne, and see if there's anything else you require before quietly exiting. It's a prime example of the white-gloved service you'll encounter throughout your stay.
All of these amenities and services come with a high price tag, but The Ritz-Carlton Chicago offers multiple packages to make your stay more affordable. The Chicago Escape provides a 15% discount and complimentary parking for stays longer than two nights. With the Bed and Breakfast Package your in-room dining is included. Suprise your little princess with the American Girl Place Package, complete with a take-home doll-size travel bed, milk and cookies, and the opportunity to make their very own cookies with the hotel's pastry chef.
Whether it's a special occasion, a family vacation, or just a couple of nights to get away from at all, The Ritz-Carlton will make you feel like the world is at your service.
The Ritz-Carlton Chicago, is located at 160 East Pearson Street. Reservations can be made by visiting their website or by calling 312.266.1000.
The Ritz-Carlton Chicago provided one night accommodations for our #GrandAdventure #StaycationSeries. All opinions are mine and weren't influenced at all by the beer and nuts they sent to the room. That Candy Man, however…