The foodie world is filled with fads. Cupcakes, doughnuts, cronuts, avocado toast, even ramen have been the objects of obsession in recent years. While many of these fads are mere phases, the ramen craze began in 2014 and it's still going strong. This is due, in part, to places like Strings Ramen.
Opened in Chinatown the year the fad began, Strings Ramen has continued to dominate the noodle restaurant scene. With Chef Katie Dong at the helm, it's easy to see why.
Chef Katie was our host at our Chef's Table event, and guests not only had the opportunity to try several dishes from both the Chinatown and the Lakeview menus, they also got to see where the magic happens.
It was hot and muggy out, but we were cool and comfortable in the glass-enclosed patio. It was a tiny affair, with just 16 of us in the sidewalk space. Pitchers of "Stringsgria" were flowing throughout the dinner, with the option to add some red wine for those who wanted to imbibe. (Strings is BYOB but they provided wine for this special event.)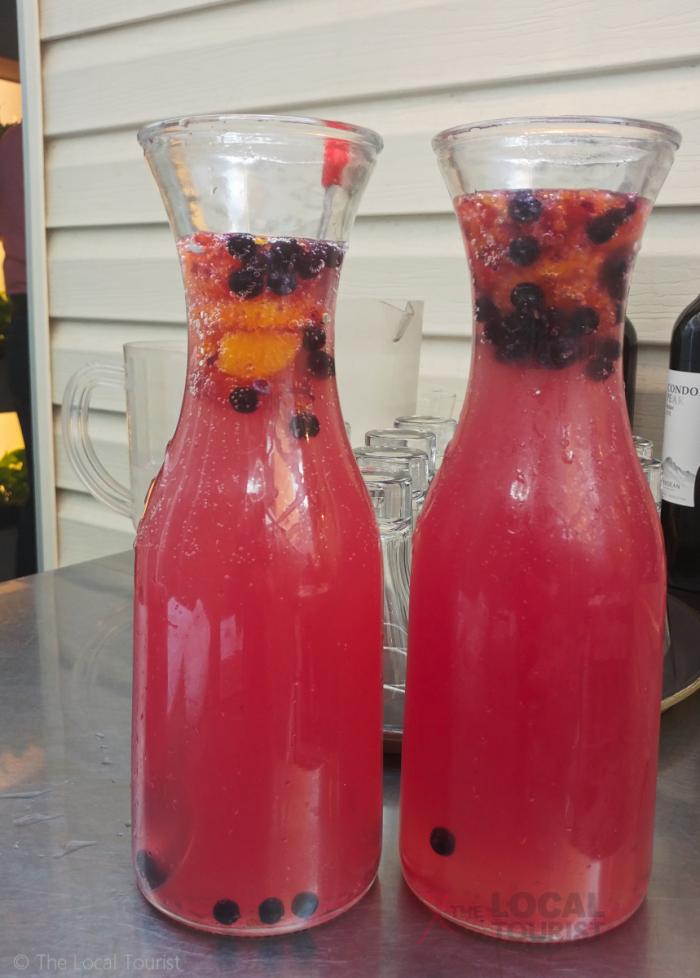 The first course was a bowl of broccoli with bacon topped with sriracha mayo, accompanied by sunomono, which was salmon cured in shiro miso and yuzu, served atop pickled vegetables. When they say fresh they mean it – the salmon had arrived that morning from the Faroe Islands.
As you can probably tell by the shade of green, the broccoli was a perfect al dente. The sriracha added just a kick of heat, but it was cooled down by the mayonnaise. I could have just eaten bowls of that and the sunomono all night and been perfectly happy, but Chef Katie had other plans.
The next course was a sample of oden, which is Japanese winter street food. It's a variety of bites that are simmered in dashi, or fish broth. The tasting included fried tofu, shiitake mushroom, daikon, a fried fish ball, and perhaps the most surprising option, Kuro Buta sausage, made with Berkshire pork.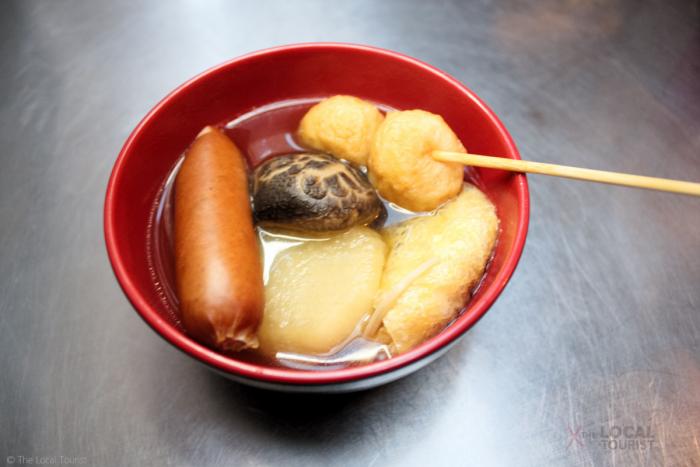 For our next course we could choose one of the rice dishes. The options were cat rice, topped with tuna sashimi in spicy mayo with crispy seaweed, and truffle oil; or Gyu Don, a Lakeview-only option of thin sliced Angus beef in butter soy sauce, onions, beni shoga, negi and Onsen tamago and topped with an egg.
I had the cat rice, and that truffle oil…oh my.
Before our ramen course Chef Katie took us downstairs to see where the magic happens. What sets Strings Ramen apart is the ramen itself. They not only have a noodle machine that they imported from Japan, they went so far as to import a Japanese scale used to measure the special flour that's used in the noodles.
It's a painstaking process that requires constant attention. The dough is wound on rollers and then threaded through the machine, which cuts them into the specific shape. The attendant whisks them off the belt and sets them in a tray, which is then stored for 24 hours. This resting time gives the noodles the texture required to stand up to the hearty bone broths. Just like with Italian pastas, they prepare these noodles al dente. If you prefer yours a little softer, just let them know and they can accommodate you.
After seeing how the noodles are made we got to see what all the fuss was about. In an incredible show of generosity, each guest was given a full size bowl of ramen! We selected one of three choices: 
Tonkotsu Ramen, a creamy 48-hour-simmered pork bone broth with black mayu and garlic oils topped with sliced Berkshire pork belly
Hell Ramen, which is Shoyu broth topped with asari, ground pork, crispy pork skin, hot pepper and chili, and available in 5 increasing levels of heat
Miso Premium Ramen, a chicken based miso broth with spicy clams and pork, filet mignon, red onions, bamboo shoots and toasted seaweed
Strings Ramen is known for their Monster Hell Challenge. If you can eat a full-size level 5 in twenty minutes, not only will you not have to pay for it, they'll also give you a Monster Hell T-Shirt and a $50 gift certificate. As of March, 2017, only four people had completed this challenge.
I chose to skip the heat and go for the Miso Premium Ramen instead, since it's one of the new items that is only available at their Lakeview location. It was rich and meaty and made delicious leftovers for lunch the next day. These portions are seriously huge!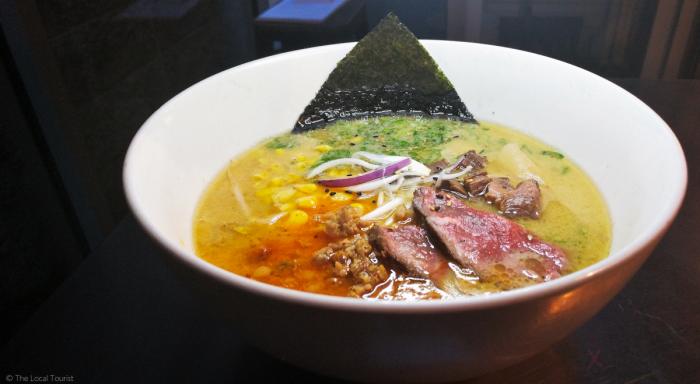 Our final course was a traditional Japanese dessert. Sasa Dango is rice mochi with red bean filling which is wrapped in bamboo leaf. The presentation is elegant, and the taste is more savory than sweet. It was a fitting end to a wonderful experience.
The original Strings Ramen is located at 2141 S Archer St in Chinatown, and their Lakeview location is at 919 W Belmont. The Lakeview location will have additional menu items, including the Gyu Don and the Miso Premium Ramen, to reflect the different tastes of the neighborhood.