Chicagoans are an opinionated bunch. Ask them about pretty much anything and they'll give you an unfiltered, unadulterated reason why A is best and B has no chance. This is exponentially true when it comes to food. Pizza? Check. Italian beef? Double check. Hot dogs?
Ooooh boy. If you want to see a discussion go from civil to political-level crazy town, just mention hot dogs in Chicago. Everybody's got a favorite, and everybody else is W-R-O-N-G.
I asked on Facebook who has the best hot dogs in Chicago and because my momma didn't raise no dummy, I'm including them all. Below, in no particular order (except for the surprising runners-up at the bottom) are the results of my completely non-scientific crowd sourcing research into the best places to get a hot dog in the Chicago area.
Don't see your favorite? Don't kill the messenger. I mean, it's not like I put ketchup on it or anything. Just leave a comment.
Best Hot Dogs in Chicago
Hot "G" Dog – CLOSED
Do you miss Hot Doug's? (If you're reading this and you're from Chicago, you most likely do.) Hot "G" to the rescue. It's run by former Hot Doug's chefs, so you can still get your alligator and foie gras dogs with a side of duck fat fries, and this time you can get those fabulous fries on Friday, Saturday, and Sunday. It's like your birthday comes every weekend.
5009 N Clark St Chicago, IL 60640
Photo: The Local Tourist
Byron's Hot Dogs
Byron's is consistently on "best Chicago hot dog" lists and they're also noted for their fries. If that's not enough, they went to D.C. for the 2010 Taste of the States picnic. Chicago-style in the House! White House, that is.
1017 Irving Park Chicago, IL 60613, (773) 281-7474
1701 W Lawrence Ave Chicago, IL 60640, (773)271-0900 Website
Wolfy's Chicago
When a place says "the jumbo char dog is the proper choice here," it's probably best to get the jumbo char dog, especially since the pickle is extra crunchy. Plus, they've got a cool sign, which gets any hot dog stand bonus points.
2734 W Peterson Ave Chicago, IL 60659, (773) 743-0207 Website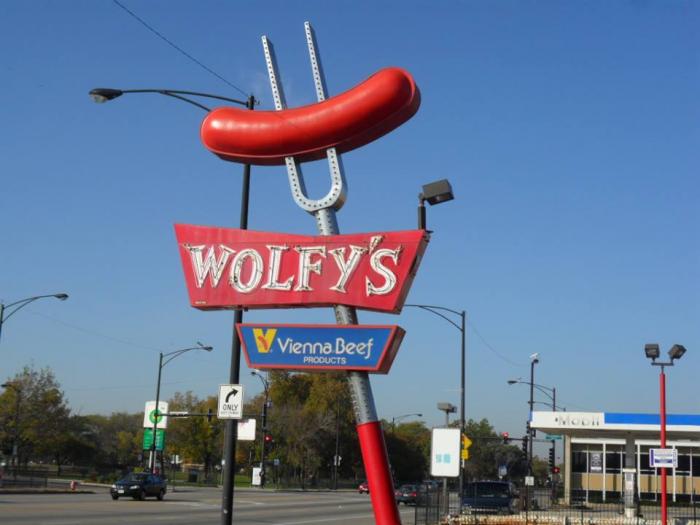 Photo: Wolfy's
Superdawg
People looooooove this place. They're not Vienna Beef. They're not Red Hots. They're….Superdawg! They've got their own secret recipe, but other than the dog itself they don't mess with the perfection that is the Chicago-style dog. This is an almost universally acclaimed spot for a hot dog in Chicago (unless you're Bull Garlington, that is.).
6363 N Milwaukee Ave Chicago, IL 60646, (773) 763-0660
Photo: Superdawgs
Gene and Jude's
Gene and Jude's ain't messin' around. In HUGE letters on their website it says NO SEATS NO KETCHUP NO PRETENSE NO NONSENSE. Cool, but how good are they, really? People in Chicago will actually drive out of Chicago to stand up and eat one. That's how good.
2720 N River Rd River Grove, IL 60171, (708) 452-7634 Website
Photo: Gene & Jude's
Big Guys Sausage Stand
These Big Guys make their own encased meats, including a Turduckyn one in November (if you've had one please leave a comment. Please please please!). If you want just a plain dog it's only a buck, but why not splurge on Wednesday with a $3 Italian sausage.
7021 Roosevelt Rd Berwyn, IL 60402, (708) 317-5213 Website
Paradise Pup
If you're not lucky enough to live near this place, make an excuse to drop off or pick somebody up at nearby O'Hare Airport just so you can go. That's what Guy Fieri would tell you to do. WWGFD? Go to Paradise Pup, that's what he'd do.
1724 S River Rd Des Plaines, IL 60018, (847) 699-8590
Portillo's
This is considered the standard of Chicago-style hot dogs by many. There's a reason they've got so many suburban locations and on the weekends there's a line at every one of them.
Multiple locations. Website
America's Dog
When you want to step outside Chicago, at least with your hot dog, this place has styles from different cities. Take your taste buds to Louisville, Atlanta, Santa Fe, the Bronx, and Dallas while your feet are firmly planted in the Loop or at Navy Pier. They've also got an O'Hare location, for when you really want to get away.
Multiple locations Website
Fatso's Last Stand
When the name says it all…even the Veggie Burger is fried at this joint. All their dogs are charred and served Chicago-style. Period. If you even think about ordering ket…
2258 W Chicago Ave Chicago, IL 60622, (773) 245-3287 Website
Jimmy's Red Hots
People come here for one reason and one reason only: the red hots. OK, maybe two. Their Polish are pretty popular, too. Be aware they subscribe to the minimalist school of Chicago dogs: mustard, onion, relish, and sport pepper only. None of that fancy tomato, pickle, and celery salt here, by gum.
4000 W Grand Ave Chicago, IL 60651, (773) 384-9513 Website
Vienna Beef Factory
Go straight to the source and you can get a dog on the spot or take a pack to go. They've also got all the accoutrements, so you can make the real deal in the comfort of your own back yard.
2501 N Damen Ave Chicago, IL 60647, (773) 278-7800 Website
Photo: Vienna Beef
Fat Johnnie's Famous Red Hots
Don't let the run-down exterior fool you; this hot dog shack can hold its own. For a South Side twist get the Mother-In-Law, where a tamale is thrown in and there's chili added for good measure. (Not sure who inspired that, but I wouldn't want to make her angry.)
7242 S Western Ave Chicago, IL 60636, (773) 633-8196 Website
Banger's & Lace
When a place is named for a type of encased meat, it should probably do a good job. This place does, with a cheddarwurst made with pork, beef, beer, and white cheddar topped with almond-red pepper romesco sauce, sauteed rapini, and potatoes, just to pull one from their menu. You can also try lamb kofta or pollo verde. If you're a purist, they've got the Chicago-dog, too. (Pictured below for proof, just in case you doubt me.)
1670 W Division St Chicago, IL 60622, (773) 252-6499 Website
Photo: Bangers & Lace
Poochie's
When you're in the Hot Dog Hall of Fame…wait – what? There's a Hot Dog Hall of Fame? Yes, and Poochie's is in it. Vienna Beef awards this honor to stands that not only offer stand-out dogs, but also stand out in their community, and Poochie's gives back like a champ.
3202 Dempster St Skokie, IL 60076, (847) 673-0100 Website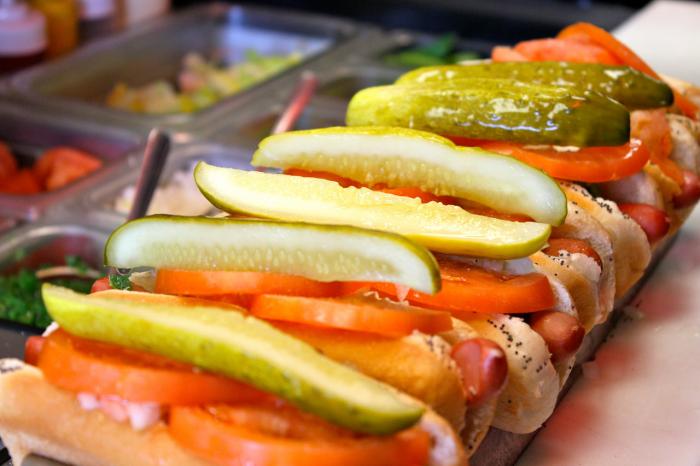 Photo: Poochie's
Jim's Original
Jim's is home to the original – yes, the real original – Maxwell Street Polish Sausage Sandwich. The original Jim made it up in his original stand on Maxwell Street. They've got Vienna Beef Chicago-style dogs too, because if you have Polish you have to. It's the law. Bonus: you get a side of fries free!
1250 S Union Ave Chicago, IL 60607, (312) 733-7820
Express Grill
Express Grill is also home to the original Maxwell Street Polish Sausage. How is this possible? They're owned by the same family. And yes, they're right next to each other. Basically, if you go to one, you might not want to let the other one see you…
1260 S Union Ave Chicago, IL 60607, (312) 226-6995 Website
U.B. Dogs
Go crazy and step away from the sport peppers! The Joey Dog will confuse and delight at the same time, with its fries on top, garlic wasabi aioli, and Tabasco.
185 N Franklin St Chicago, IL 60606, (312) 251-7009 Website
Photo: U.B. Dogs
The Wiener's Circle
Get your cheddar char dog with a side of abuse at this Lincoln Park spot known for its sassy slinging. Best handled after midnight.
2622 N Clark St Chicago, IL 60614, (773) 477-7444
Morrie O'Malley's
Down the street from Guaranteed Rate Field (or, Sox Park as the locals like to call it since the name keeps changing) is this bastion of beef – beef dogs, that is. The toppings are piled high, and include a cucumber just for fun. Crazy kids.
3501 S Union Ave Chicago, IL 60609, (773) 247-2700
Guaranteed Rate Field
Speaking of Sox Park, hot dogs and baseball go together like celery salt and neon relish. The dogs here hit a home run (boo. I know. I went for the easy one.)
333 W 35th St Chicago, IL 60616, (312) 674-1000 Website
Felony Franks
This isn't called Felony Franks because they allow ketchup (which many will argue is a crime). It's because they hire people who have done some time, giving them a second chance. The only high recidivism rate here is the fans who return for more.
6427 W North Ave Oak Park, IL 60302, (708) 948-7483
Mustard's Last Stand
Northwestern fans have been getting their Chicago-dog and half-pound burger fix since 1969. The name, like this post, was crowd sourced: they had a contest offering a $100 prize for the best moniker.
1613 Central St Evanston, IL 60201, (847) 864-2700 Website
Runners-Up
These suggestions may or may not surprise you: Costco and Home Depot. Costco's are a buck fifty and include a drink, and the location on Clybourn uses Vienna Beef dogs. Home Depots' almost always have a hot dog stand at the entrance, because working on your home is hungry work. That's right, folks. Some of the best places to get a hot dog in Chicago are a discount warehouse and a home improvement store.