Following months of remodeling and renovations, Kenny Yang's reimagined Ken Kee Restaurant officially opened late April, celebrating the bold flavors and bright vibe of 1950s Hong Kong in Chicago's Chinatown. They invited Your Chicago Guide to visit for a sample of their menu.
Fans of Chicago's Chinatown will know that Ken Kee is not new. The restaurant has been around for over 20 years. During the pandemic closure, the business was purchased by Kenny Yang of Strings Ramen and the restaurant underwent a major renovation. The new look is inspired by the street and markets of 1950s Hong Kong featuring neon, retro pop-art, and kitschy designs. The overall impression is bright, cheerful, and inviting.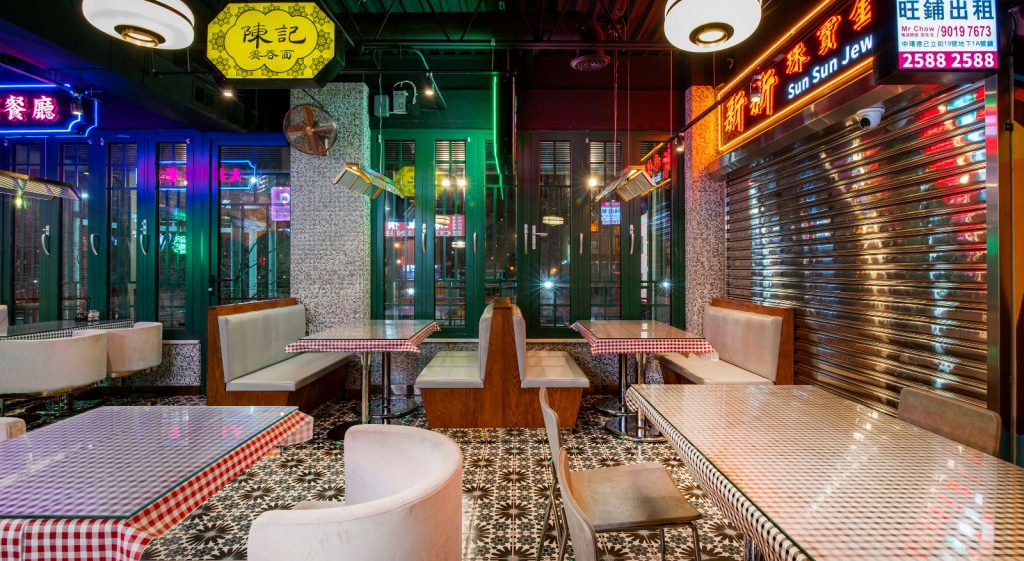 The menu is divided into two separate sections. You can order from the traditional Cantonese menu, or you can opt for the new Hong Kong cart noodle menu. Both have a staggering array of options, so be prepared for plenty of decision-making and/or ask the staff for recommendations.
The Cantonese menu spans three full pages and quite literally has something for everyone. For more traditional palates, you can order familiar appetizers like egg rolls and Crab Rangoon. The latter was superb – possibly the best Crab Rangoon I have tasted. Traditional entrées include favorites preparations – Kung Pao, General Tsao, Sweet and Sour. Moving into a bit more experimentation you can explore various proteins served in styles like Salt & Pepper, Crispy Garlic, Salted Egg Yolk, Sweet Sake Sauce, or Thai Sweet Chile.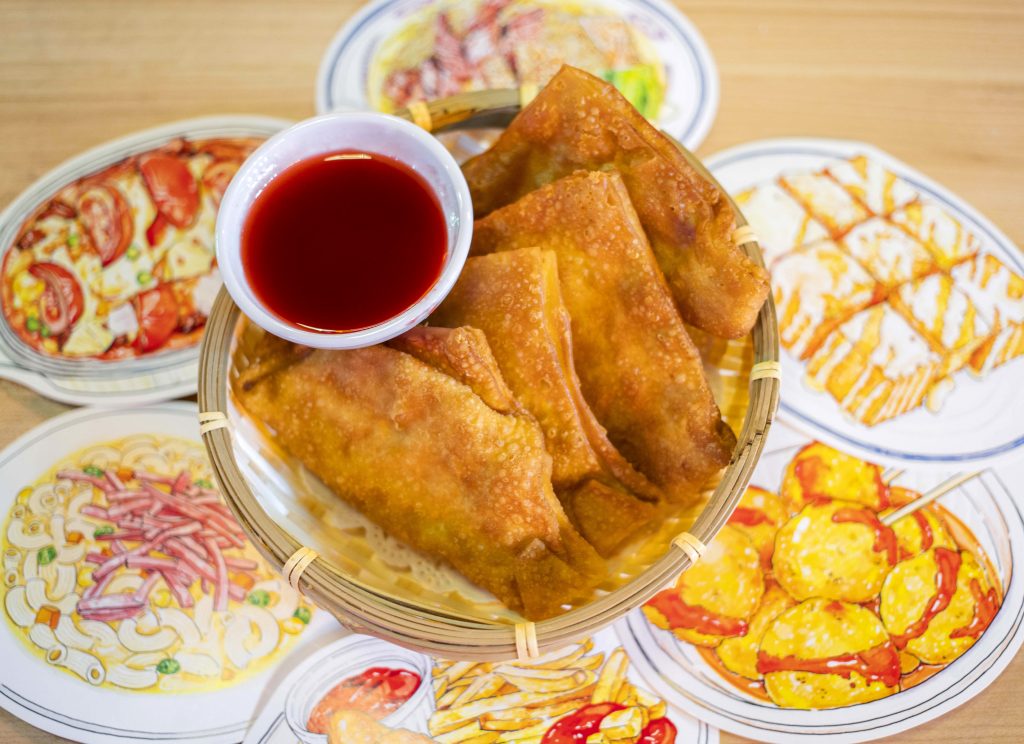 My guest and I ordered Salt & Pepper Shrimp. They give you the chance to ask for either 'shell on' or 'shell off.' I always go for the latter when possible. The shrimp were lightly battered and cooked to perfection – succulent without a hint of dryness. The Salt & Pepper combination has just the right mix of spices to give a little hint of heat without overpowering the delicate flavor of the shrimp.
If you're even more adventurous, look for items like Stir-Fried Pork Blood Cake with Chives, Szechuan Boiled Essence of Offal, or Stir-Fried Beef Tripe with Ginger and Scallion. The menu also includes a large section of Congee options available in both small and large portions – making that section a nice way to sample several items for sharing.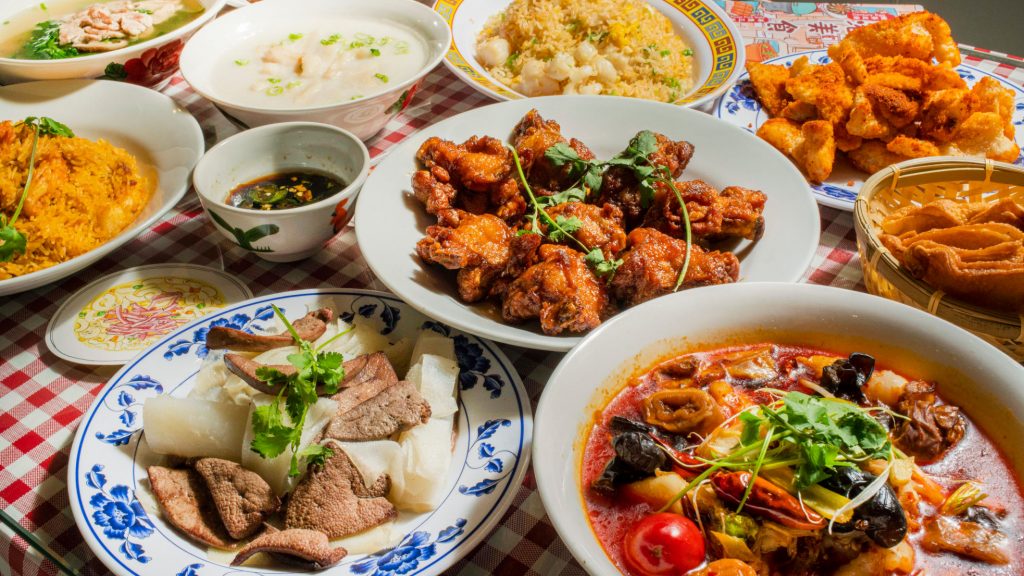 The most intriguing part of the menu for me, however, was the Hong Kong Cart Noodle offerings. If you look up the history of Hong Kong card noodles you will know that they were first made popular in the 1950s but were neither savory nor sanitary. That has changed over the years and now they are as iconic to Hong Kong as ramen to Japan or spaghetti to Italy.
At Ken Kee, the noodle menu can be a bit intimidating, but with patience and recommendations from the staff, you should be able to navigate the options. It is presented in a five-step process.
Step 1: Choose Base – either Plain Noodle Soup or Rice Bowl, each served with baby bok choy and a half, marinated soft-boiled egg. Easy! Only two options. Hint – go for the plain noodle soup.
Step 2: Choose Toppings – this is where it gets complicated. There are nearly 40 options for toppings. Once you navigate through this intense section, take a deep breath and move on to the next step.
Step 3: Choose Noodle – here are 8 options for noodles. Luckily, the menu has a little 'thumbs up' icon next to the items that are the most iconic. Best traditional bets here are either the Handmade Noodle or the Cantonese Egg Noodle.
Step 4: Slowly moving towards the finish line, this is the step where you choose your broth. The suggested traditional option is the Signature Beef Broth, but other possibilities include chicken, vegetable, or Laksa (spicy red curry).
Step 5: If you don't yet have decision fatigue, you are close to the end now. Here's where you decide on final garnishes – belly sauce, spicy sauce, scallions, and cilantro. The 'thumbs up' icon here suggests the spicy sauce, either mild, medium, or extra. If you're brave, go for extra. Me? I am all about mild.
Step 6: Take a deep breath and wait for the meal to arrive!
Luckily, if that feels daunting, they do have a menu with pre-selected toppings.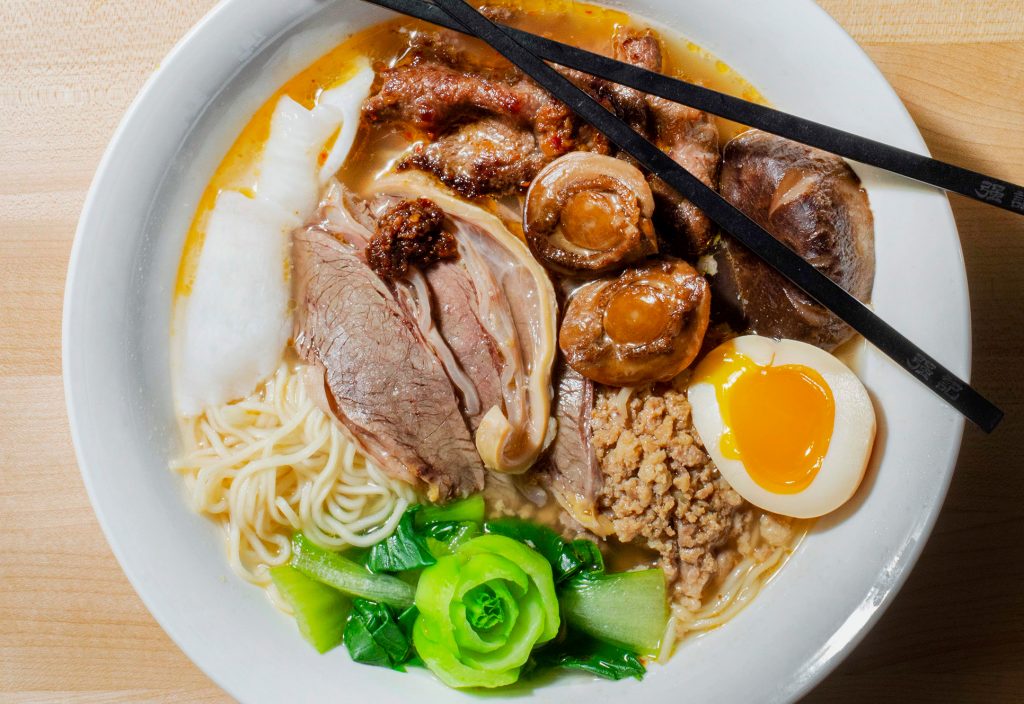 With my head spinning, I opted to go for one of the six pre-made items – the Supreme Bowl (abalone, fish maw, satay wagyu, beef brisket, spicy minced pork and clam, mushroom in abalone sauce, Chinese lettuce, soft-boiled egg). With this one, I still had to make a few final decisions, so I took the recommendation of the server and went for beef broth, no belly sauce, mild spicy sauce, and no additional scallion or cilantro. Whew!
This was my first experience sampling Hong Kong cart noodles, and I was impressed with the flavor and complexity. Be warned if you have never sampled cart noodles (or ramen) – it can be a messy process figuring out how to best serve yourself. Still – it's worth both the mess and effort. With so many options, you could go back dozens of times and never quite sample the entire menu.
Ken Kee Restaurant (2129 S. China Place, Chicago) is open Sunday – Thursday, 11 a.m. – 11 p.m. and Friday – Saturday, 11 a.m. – 12 a.m. For more information, call (312) 326-2088.