Located in Andersonville, Bar Roma specializes in meatballs, house made pasta and wood-fired dishes highlighting the cuisine of Rome, Italy. After opening in 2016, Bar Roma quickly built a reputation as one of the best Italian restaurants not only in Andersonville but in the city. In 2017, I had the pleasure of visiting and posted my thoughts here.
Bar Roma recently invited Your Chicago Guide to come back for a sample of their seasonal summer menu.
The kitchen is led by talented chef Alfredo Ramos. In 2016, Chef Ramos helped open Bar Roma in Andersonville with owners Julia Zhu and Howard Davis. They were joined by beverage director Devin Colloton. This dream team remains with the restaurant and continue to produce extraordinary experiences for guests.
Plan to have a long, leisurely meal so you can enjoy as much of the menu and beverages as possible. The restaurant sits on the corner of Clark and Carmen, and during fair weather days, Bar Roma has a beautiful outdoor patio on Carmen, hedged in by boxes of glorious flowers so that you feel secluded from the bustle along Clark Street.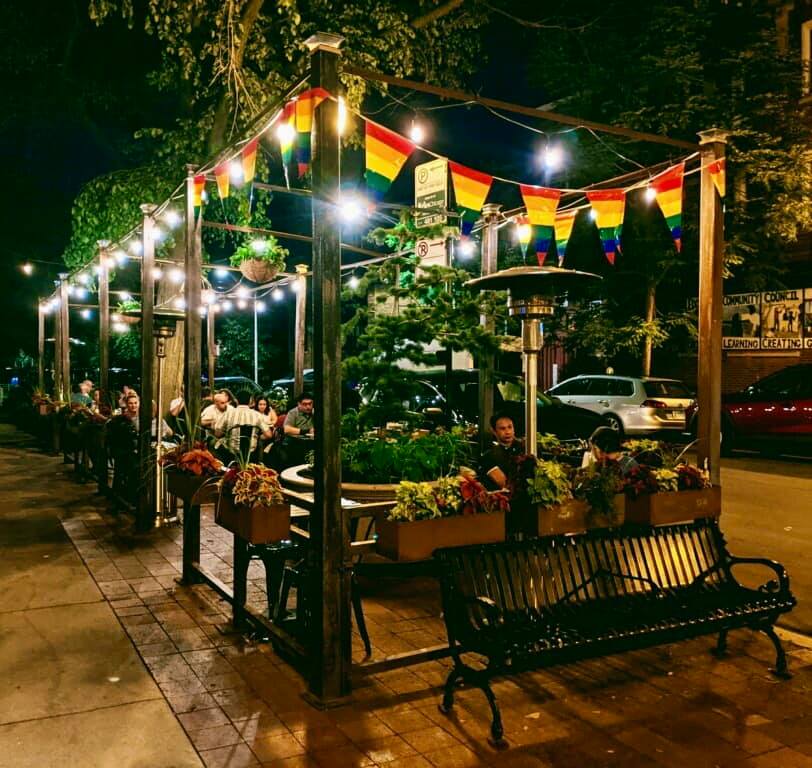 Inside, the spacious bar provides a perfect spot to relax and sample some of the excellent craft cocktails, birra, wine, and amari. The vibe of the main dining room is bright, chic, and inviting with exposed brick and light rustic wood accents. For me, Bar Roma exudes a sense of both vibrancy and comfort – the kind of place you want to become your special "go to" spot.
The menu is divided into Antipasti, Pasta Fatta a Mano, Pesce e Carne, and Dolci
Antipasti
The appetizers are the most extensive portion of the menu and offer a bit of something for nearly any guest. On this trip, we started with two items that included beautiful seasonal fruit:
Liuzzi Burrata (Italian creamy cow's milk cheese, soppressata, prosciutto, seasonal melon, wood grilled crostini)
Cavalo Toscana (Tuscan kale, Michigan peaches, toasted pistachio, shaved ricotta salata, white balsamic vinaigrette)
Perhaps the most iconic items on the menu are Chef Ramos' superb Polpette, known as "The Balls." These are huge portions of intriguing meatballs which have long been the biggest sellers on the menu. Each serving is more than enough to share around the table.
Here are three you should sample:
Manzo (ground beef, braised beef cheeks, pomodoro, whipped herb ricotta)
Maiale (spicy barbecue pork belly, Calabrian pepper, rapini, crispy pork rind)
Pollo (chicken, pistachio, caramelized onions, lemon white wine sauce, ricotta salata)
All three of the meatball preparations are superb and quite individual. The Manzo is the most traditional and popular. For a slightly spicier option, the Maiale gives a nice kick of heat. The Pollo may be lighter in color and texture but is just as densely flavored as the others and was my favorite of the three.
Pasta Fatta a Mano
These are the hand-made pastas for which Bar Roma has become justifiably well-known. Apart from the Bucatini (which is hand-made in Italy and imported) all the rest are made daily in the restaurant. If you have never tasted hand-made pasta, be warned that you will never want to go back to pre-packaged again. Bar Roma excels with their pasta.
Although there are many options, we tried the Bucatini all'Amatriciana (imported hollow-shaped spaghetti, spicy Berkshire pork cheek ragu, pecorino). My guest told me that during the past year the US has experienced a bucatini shortage. I thought she was kidding until I researched. If you want a humorous deep dive into the murky world of imported pasta, the FDA, and the angst of people fruitlessly trying to buy bucatini then type the words "bucatini shortage" into your favorite search engine.
Luckily for us, Bar Roma has plenty of bucatini and this preparation was exceptional!
Pesce e Carne
This section, titled Fish and Meat, also includes an excellent eggplant parmesan so if you're more in the mood for vegetarian, don't be put off by the title. My guest and I shared two of these generous entrée portions:
Bistecca (wood-grilled 16 oz. prime ribeye with salsa verde) – I have long maintained that the best steaks in Chicago are not always at "steakhouses" but at other types of restaurants. Case in point here. This was one of the best steaks I have had in a long time – with a perfect char from the grill and cooked on the rare side of medium rare. The meat was nearly fork-tender and was outstanding alone – even better with a bit of the salsa verde.
Branzino (wood-fired Mediterranean seabass, rapini, marinated artichokes, tomato, olive vinaigrette) – Another wood-fired triumph for Bar Roma. The fish was flaky, tender, and perfectly seasoned with a hint of smoke. The combination of vegetables with the light vinaigrette added a superb accompaniment to the smoky flavors.
Dolci
Ah, dessert! Bar Roma has a small but stunning selection of desserts. On this recent visit, I sampled the Crème Caramelo (baked caramel custard, fresh strawberries and blueberries, pizzelle cookie). The combination of velvety custard with the savory caramel and the tart fruit was a perfect ending to a fantastic meal.
No visit to Bar Roma would be complete without trying out their exceptional beverage program curated by Devin Colloton. The menu changes with the season but there are staples you can always count on, as well as house made Limoncello – every batch made by Devin himself. The staples include an extensive collection of amari along with a well-curated wine list filled with both Italian favorites and a few obscure Italian varietals that are worth more than just a casual sip.
They offer take-out and have a small selection of high-quality Italian pantry items including 00 flour, farro, cannellini beans, classic taralli (somewhere between a cracker and a breadstick) and Sogno Toscano whole peeled tomatoes.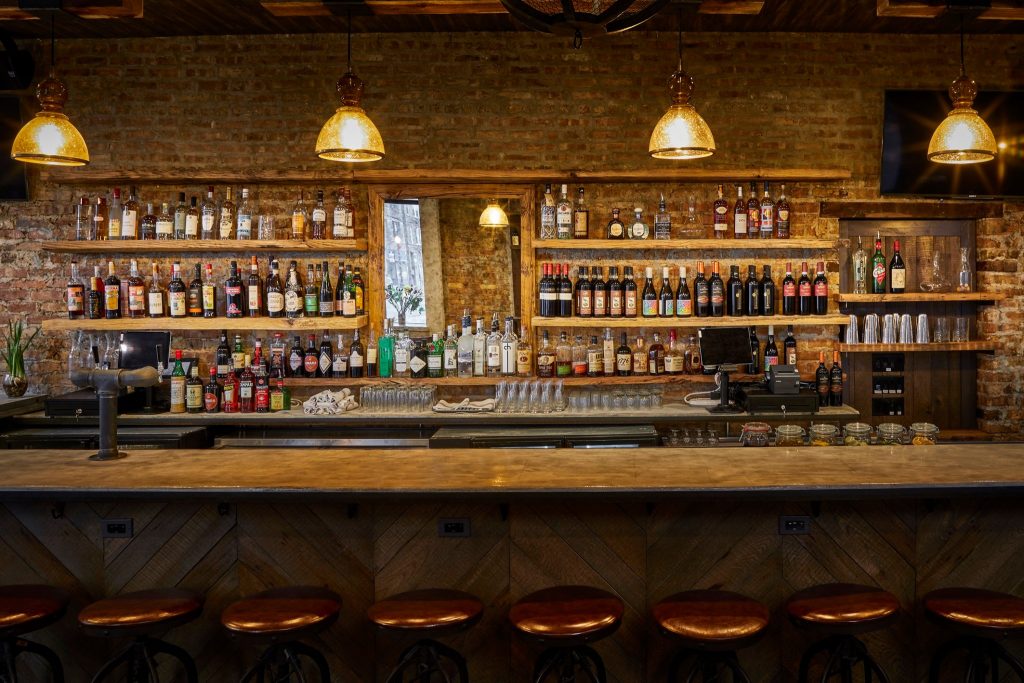 Bar Roma (5101 N. Clark Street, Chicago, IL 60640) is open Wednesday, Thursday & Sunday from 5 – 10 p.m.; Friday & Saturday from 5 – 11 p.m. They offer happy hour specials Wednesday – Sunday from 4:30 – 6 p.m. For more information, call (773) 942-7572.