During the cold winter months in Chicago, ice skating is one of the most popular things to do.
Families, couples, and friends can ice skate all over the city from neighborhood park facilities, to downtown along Michigan Avenue, to above the Magnificent Mile.
Whether you're a future Blackhawk, a former Olympian, a weekend warrior, or a slightly sedentary office worker, there's something about ice skating in Chicago that brings out the kid in all of us (especially if you are, in fact, a kid).
Ice skating is not only fun, it's also a great way to fight the holiday weight gain since you can burn a few hundred calories an hour.
Chicago Ice Skating
Here are some of the best places to go ice skating in Chicago.
McCormick Tribune Ice Rink
One of the most scenic skating rinks in the city is the McCormick Tribune Ice Skating Rink.
Located just off Michigan Avenue in Millennium Park, the rink offers free ice skating from November through the first part of March. Skate rental is $12 Monday through Thursday and $14 Friday through Sunday. 
Open mid-November through early March.
Find hotels near Millennium Park
Maggie Daley Park Skating Ribbon
Head east from Millennium Park over the Frank Gehry-designed bridge and you'll see the Maggie Daley Park skating ribbon.
It's twice as long as a regular rink lap and winds around the seasonal rock climbing towers. Surrounded by evergreens, the park has the feel of an alpine village, complete with hot chocolate at the on-site cafe.
Admission is free and skate rental is $13 Monday through Thursday and $15 Friday through Sunday and holidays. Lockers are $3, and you can get a fast pass that includes skate rental and a locker.
Open mid-November to early March.
Find even more fun free things to do in Chicago
Sky Rink at Peninsula Chicago
The famed Peninsula hotel turns their fourth-floor terrace into the Peninsula Sky Rink, complete with pine trees and snowflake lighting.
Glide above the fray of the Magnificent Mile with hot cider, hot chocolate, and other treats. Admission includes skates and is $20 for adults and $10 for children. All proceeds benefit local children's charities
Check rates and read reviews at Peninsula Chicago
Chicago Park District Ice Rinks
There are several ice skating rinks operated by the Chicago Park District around the city. They're sponsored by the Chicago Blackhawks, so you better believe there's hockey – Stick & Puck, Pond Hockey, and Rat Hockey.
There's even sled assisted skating for those with mobility issues, and stake trainers and walkers are available for kids new to the sport.
Skating is free for children and adults. Skate rental is $7.
Wicker Ice
Wicker Park has its own ice skating rink, too. Unlike many of the other neighborhoods rinks, Wicker Ice is funded and maintained by the community surrounding it.
This non-refrigerated ice rink is open to anyone anytime the ice is frozen. That means this rink is open based on weather. Generally it opens around late November – early December and closes sometime in early March.
Find more fun things to do in Chicago!
Navy Pier Light Up the Lake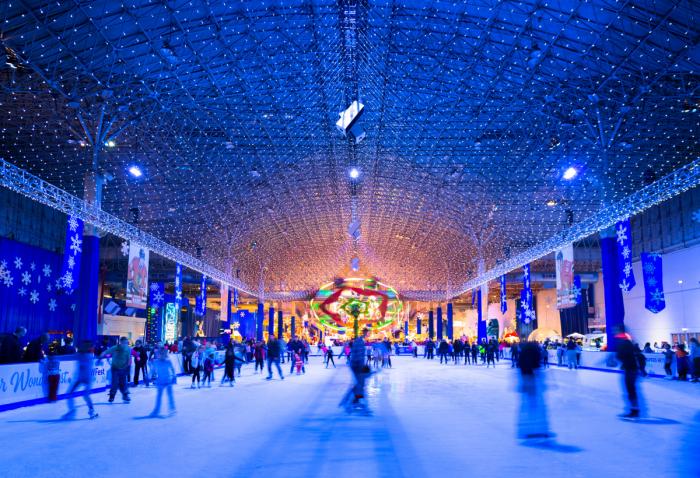 If you want to enjoy the winter fun, but don't want to be out in the winter cold, you can skate inside at Light Up The Lake.
This Chicago Christmas tradition turns Navy Pier's Festival Hall into a wonderland with trees, Santa Claus, and an ice skating rink.
Admission provides access to all of the attractions, including kiddie train rides, a gift market, Merry Main Street presented by Brach's, and a holiday beer garden.
You'll even get a pass to ride the Centennial Wheel. Don't worry about it being too cold to ride this giant Ferris wheel; all the cars are climate controlled.
Light Up The Lake is open through early January.
---
When you're looking to go ice skating in Chicago, these rinks will fit the bill.