The Glessner House is a remarkable home designed by H.H. Richardson. Meet the family who defied wealthy Victorian-era stereotypes.
This story is featured in Living Landmarks of Chicago, a fascinating book that brings landmarks to life. Get your copy today!
The building on the corner of 18th and Prairie is like a lava cake rolled in a thick layer of coarsely chopped nuts. On the outside, it's crunchy and looks like it could hurt you. But inside, it's all warm and gooey and makes you feel loved.
In 1880s Chicago, Prairie Avenue was all the rage. During the previous decade, the comparatively humble Clarke House had moved out and millionaire mansions moved in. Marshall Field lived there. So did Philip Armour, of Armour & Company, and William Kimball, the piano maker. John and Frances Glessner had a comfortable home on the west side, but as frequent entertainers who also had two kids, they needed some more space. Like, 17,000 square feet of space. They bought a corner lot in a tony neighborhood and brought in an east coast architect by the name of Henry Hobson Richardson.
Richardson was known for his bold, unique style. It was so distinctive people had a name for it: Richardsonian Romanesque. He was only the second American to attend the famed École des Beaux-Arts, a forerunner of what would become a near stampede of American architects in Paris. Upon his return to the states, he eschewed the more traditional, classical designs for his own New World aesthetic. His horizontal lines and innovative use of space inspired Louis Sullivan, Frank Lloyd Wright, and a whole slew of successors.
There was no mistaking a Richardson design, and when the Glessners moved into their new home in 1887, some of the neighbors weren't too happy. Not with the lovely family; it was the house that was the problem. It didn't fit in. It was so close to the lot line it was practically in the street. There were barely any windows – that they could see as they gazed out their own. The heavy front door sat at ground level. What happened to the stairs? Didn't they know a proper home should have stairs to its entrance? The servants had a more impressive entryway, for goodness' sake.
George Pullman, the man who'd lifted a city, made train travel luxurious, and built his own company town, was appalled. "I don't know what I have ever done to have that thing staring me in the face every time I go out of my door," he bemoaned.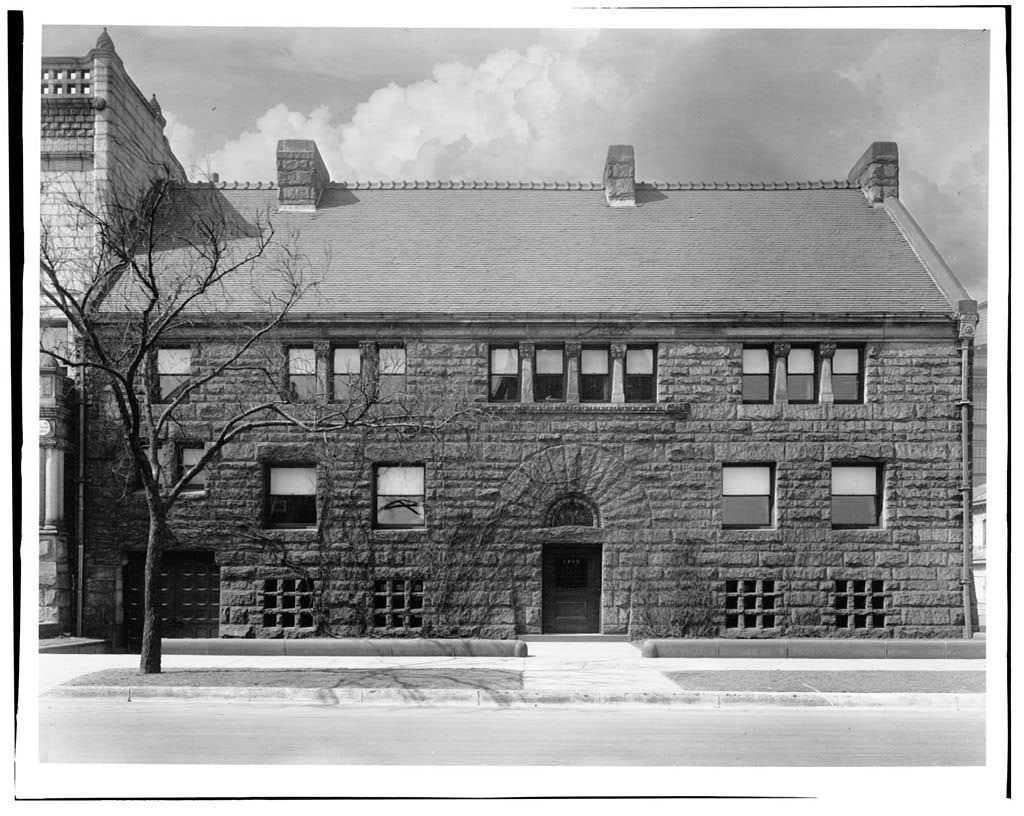 The exterior may have been imposing, but for the Glessners it was perfect. John and Frances had their own secret garden. Behind the stone walls lay a hidden courtyard. The interior of their home was warm, sunny, and inviting and the Glessners welcomed many into their cozy urban castle. "For all its granite," Mrs. Glessner said, "this home is wonderfully elastic. You can squeeze as many as you want into it."
Even though they entertained, there was no ballroom. The rooms were wonderfully intimate, with low ceilings and no vast spaces. The massive Parker desk in the library enabled husband and wife to sit across from each other while they worked. Every servant, and the Glessners employed eight, had her own room. To the consternation of their neighbors who had certain ideas of a servant's station, these quarters each had a window that looked upon the courtyard and individual closets. What next, they must have wondered, private bathrooms?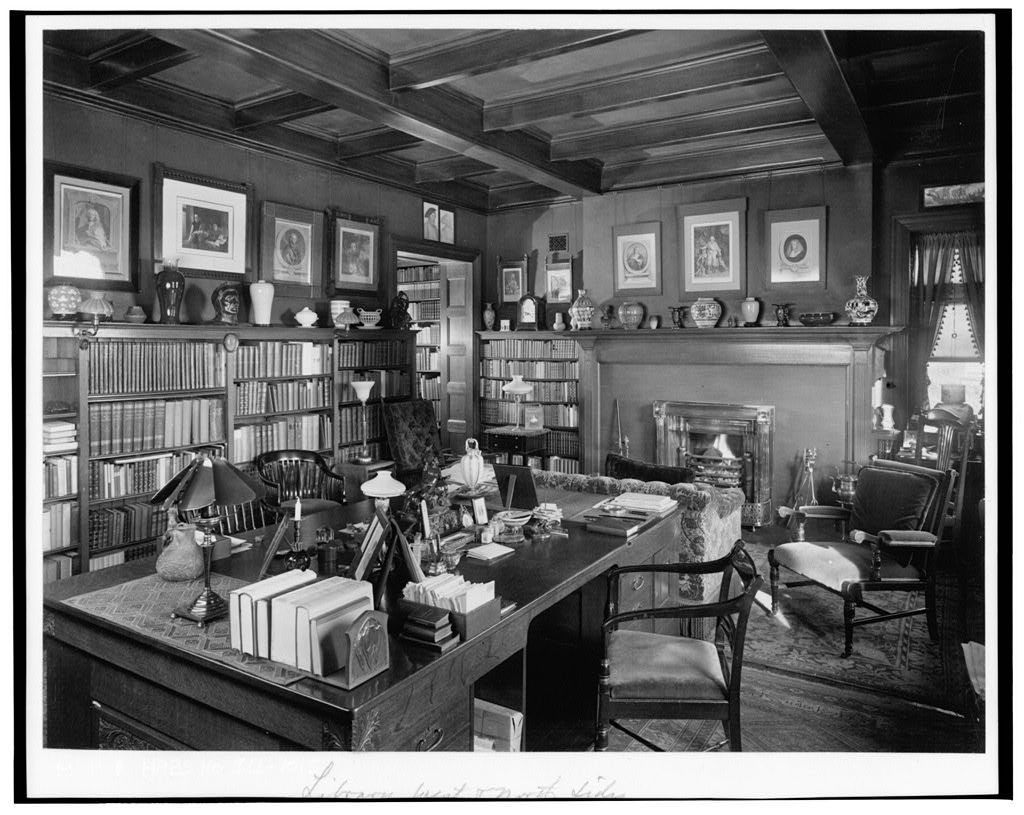 The couple met in 1863 when John boarded with Frances and her mother in Springfield, Ohio. John was a twenty-year-old young man beginning his career in the farm implement industry. Frances was fifteen. Over the next seven years, his career blossomed, and so did their relationship. The two married on December 7, 1870, and moved to Chicago on December 15. Nine years later, John became a full partner in Warder, Bushnell and Glessner. Agricultural machinery was going gangbusters and the Glessner fortunes rose.
John and Frances lived on Washington Street on the west side of town when they hired the boisterous and robust, and boisterously robust, H. H. Richardson. While the architect may not have been for everyone, H. H. understood the Glessners to a tee. After observing an image of Abingdon Abbey on their walls, he quickly sketched out what would become their new home. They loved it, especially how it was uniquely theirs. Sadly, Richardson passed away three weeks after completing their design. Shepley, Rutan and Coolidge carried on his mantle.
The Glessners were not what you might picture when you think of late 19th-century wealthy folk. John, the scion of reapers and mowers, wrote sweet letters to his children when they vacationed at their summer home in New England. The image of a man creating a 36-page leather-bound rebus with pasted pictures and hand-drawn sketches like a lion for "lie on" is not what pops into one's head. Yet, that was John Glessner.
He also surprised his wife one year for her birthday by sneaking members of the Chicago Orchestra, led by founding conductor Theodore Thomas, in through the servants' entrance to perform for her special day. Granted, the Glessners were HUGE supporters, and the early Chicago Symphony Orchestra performed at their house often, but still. Pretty thoughtful, Mr. Glessner.
Are you enjoying this excerpt from Living Landmarks of Chicago? Wonderful! Get your copy today.
John, and this should come as no surprise, was also a philanthropist of the highest order. Many of his peers were members of various boards and donated oodles of money. John's memberships seemed to represent an awareness of social responsibility. The Chicago Relief and Aid Society, Chicago Orphan Asylum, Rush Medical College, and the Citizens Association of Chicago all received contributions of his time and money. So did the Art Institute of Chicago, the Union League Club, and the Quadrangle Literature Club. You have to wonder when the man had time to sleep.
Same with Frances. Frances was a doer. She knitted. For herself, for children (not just her own), for her employees, for servicemen. She was a seamstress and a needleworker. She was an accomplished pianist. She was a trained silversmith with a workbench in her basement and her own logo: a G wrapped around a honeybee (beekeeping was another of her passions).
Silversmithing was no passing hobby. Frances tutored under Hull-House instructor Annibale Fogliata as well as Madeline Yale Wynne. Wynne was a noted artist and a charter member of the Chicago Arts and Crafts Society, which included Frank Lloyd Wright on its rolls. Wynne also wrote The Little Room, the title that artists in the Fine Arts Building used for their social club.
Frances co-founded the Chicago Chamber Music Society. She belonged to The Fortnightly with Jane Addams and Bertha Palmer. She was a member of the Colonial Dames and a founding member of the Chicago chapter of the Daughters of the American Revolution. She attended all rehearsals and performances of the Chicago Orchestra.
And, for thirty-seven years, Frances hosted the Monday Morning Reading Class. Each week from October through May, by invitation only, women arrived at the Glessner House for education, socialization, and lunch. During the first hour, the ladies would sew while they listened to a professional reader. The second hour was devoted to a lighter reading or a lecture. After that, they'd retire to the dining room and parlor for lunch. Women had to be married, with few exceptions, and they had to live on the south side of Chicago. However, if they had been invited and then moved north of the river, they could still attend.
Here's something that won't surprise you in the slightest: the Glessner kids were special, too. George was born six days before the Great Chicago Fire in a home west of the burn zone. Photography fascinated him and he had his very own darkroom in the basement of the Prairie Avenue home. George photographed the entire house and kept meticulous records, a hobby that came in handy for preservationists. He installed telegraphs so he could communicate with his friends, and a fire signal repeater so he could keep track of fire engines.
After graduating from Harvard, he joined his father in what would become International Harvester. He, his wife Alice, and their four kids moved to the Glessner's New Hampshire summer home in 1916 where he served in the state legislature for four terms.
Their daughter, Fanny, was precocious and independent; when her marriage proved unhappy, she divorced. Like her brother, she also went east. In 1918, she managed a half-way house in Boston for soldiers and sailors returning from World War I.
What Fanny, or Frances Glessner Lee, is most remembered for is her contribution to forensic science. She'd developed a friendship with Boston's chief medical examiner, George Burgess Magrath. His work so fascinated her that she donated $250,000 to Harvard University in 1931 so they'd create a chair in legal medicine named for him.
Not content to merely throw money, she dove right into studying this new field herself. She did that by creating dollhouses. These weren't your standard frilly playthings. These were painstakingly accurate miniature crime scenes, complete with bloating corpses and windows that opened. She called these dioramas the "Nutshell Studies of Unexplained Death," and they changed the course of police investigations. In fact, the Maryland Medical Examiner Office still uses them for training.
The Glessners were truly a remarkable family. George passed away in 1929, Frances in 1932, John in 1936, and Fanny in 1962.
Back to the house. John's will decreed that their Prairie Avenue home, which he'd lived in for nearly fifty years, should become "a museum, library, gallery, and educational institution, including a school of design for legitimate architectural assemblages."
However, because he died in the midst of the Great Depression, the bequest proved too expensive for the American Institute of Architects. They gave it back to the Glessner estate, who sold it to the Armour Institute of Technology (later Illinois Institute of Technology) in 1938.
From 1946 until 1965, the Lithographic Technical Foundation used the building until moving to Pennsylvania. Like the Nickerson Mansion, there was real concern that the historic home would be demolished, so a group of concerned citizens banded together to save it. The newly-formed Chicago School of Architecture Foundation bought the Glessner home in December of 1966. That organization would become the Chicago Architecture Foundation, now the Chicago Architecture Center.
Glessner House Today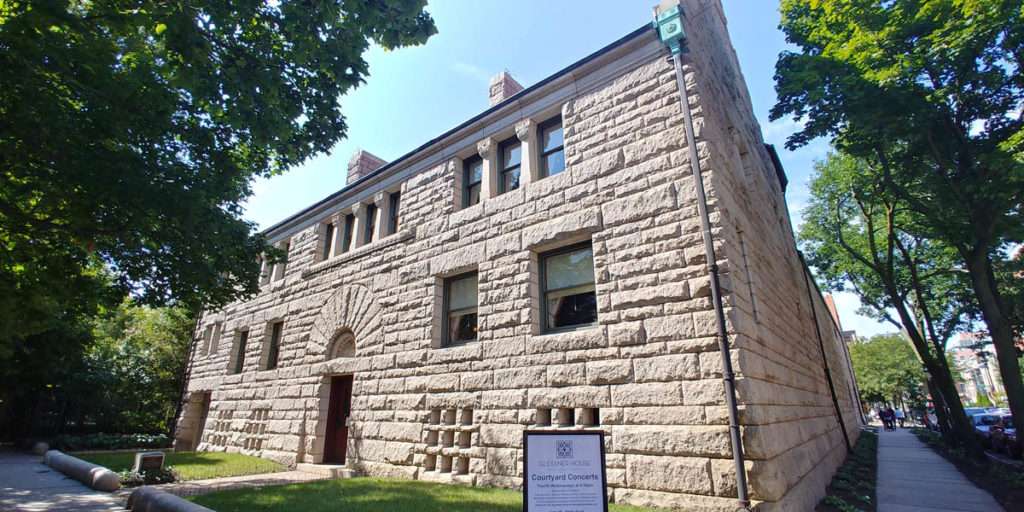 Walk into the Glessner House Museum and you'll know how the Glessners lived.
You'll see the books they read, the plates they used, and the piano Frances played. Once the Chicago School of Architecture Foundation purchased the home, John's request to use his beloved mansion as a museum and home for architecture could finally be honored.
The family began returning belongings and 90 to 95 percent of the furnishings are original. It's a remarkable collection of late 19th- and early 20th-century decor as well as personal pieces that were important to the Glessners.
There's a portrait of H.H. Richardson, for example, as well as a shadow box dedicated to Theodore Thomas containing a palm frond from his funeral and one of the last batons he used to conduct the Chicago Symphony Orchestra. Frances gave John a copper relief portrait by Augustus Saint-Gaudens, the same sculptor who created the monuments of Abraham Lincoln in Grant and Lincoln Parks.
On John's side of the Parker Desk is a bronze life mask and hands of President Lincoln, also by Saint-Gaudens. On Frances' side is a diminutive bronze known as "Rolling Bear Cub," the work of New York artist Anna Hyatt Huntington.
Because of George's photography obsession, Frances' diary of forty years, and John's 1923 record The Story of a House, preservationists and restorers knew exactly where every item belonged.
The Glessner House is a Chicago Landmark and a National Historic Landmark in a Chicago Landmark District. It is a time capsule of an era and one of its most prominent and generous families.
Glessner House Museum; 1800 South Prairie Avenue, Chicago, Illinois 60616; (312) 326 – 1480 glessnerhouse.org