The Palmer House is opulence defined.
Its chandeliers and sculptures weigh a ton, literally. Entering the lobby through the travertine double staircase is like being smacked on one cheek with history and on the other with affluence.
To state the obvious, it's gorgeous, and it is the most historic and luxurious hotel lobby in Chicago.
It started with a love story, although it's not as dramatic as one enduring myth would have you believe. There's a consistent narrative about Palmer House's beginnings that usually starts like this: "Potter Palmer built his hotel as a wedding gift. The hotel opened on September 26, 1871, but burned down just 13 days later in the Great Chicago Fire."
While that is romantic and tragic, that's not quite what happened. Even though the story is repeated over and over and has reached mythic proportions, like the tale that Mrs. O'Leary's much-maligned cow started the Great Chicago Fire, it's not accurate.
But, parts of it are true, and it is still a love story, of both a December/May couple and the city they adored.
Potter Palmer, born on May 20, 1826, in Albany County, New York, moved west in 1852. Although his family owned a thriving farm, he preferred the retail life and had already run his own store before he left New York.
With $5,000 in seed money from his father, he moved to the booming town of Chicago and very quickly made his mark. In about five years, his dry goods mercantile on Lake Street grew from a small market to an emporium spread out over four stories.
While P. Palmer and Company was not the only dry goods merchant in Chicago, his concept was unique, because his was the first store to offer exchanges, returns and bargain sales. He also had the inspired idea that attractive window displays would entice customers.
Bertha Honoré, born on May 22, 1849, in Louisville, Kentucky, moved to Chicago in 1855 with her parents (naturally, since she was all of six years old). The wealthy Honorés gave their precocious child every advantage, and that included outings at P. Palmer and Company.
Potter's fortunes ascended and he and Bertha's parents ran in the same circles. By the time Bertha was a teenager, he'd become a frequent guest at the Honorés' home.
At the ripe young age of thirteen, Bertha must have been fairly formidable because Potter Palmer was smitten, despite being 23 years her senior. Fortunately, he didn't ask her dad for his daughter's hand or act the Lothario.
Over the next six years, Potter made millions in real estate and cotton speculation, sold his store to his former protegé Marshall Field, and took off for Europe at the advice of his doctors.
Bertha grew up. She attended St. Xavier's Academy in Chicago and, after the Civil War, the Convent of the Visitation in Georgetown where she received highest honors. She excelled in botany, logic, philosophy, astronomy, literature, algebra, and chemistry. She also played the harp.
Bertha carried herself with elegance, had a waist the width of a thimble, and by all accounts would have been a catch for any man.
Any man with a backbone, that is. Bertha was no wilting flower. Potter returned from his sojourn in 1868, the year after Bertha came back from her studies. Potter bought blocks of real estate on State Street.
By the time he proposed and she said yes, he'd succeeded in moving the shopping district from Lake Street to That Great Street.
In 1870, Bertha was 21 years old and her fiancé, more than double her age, was 44. He'd made $40 million by the time he was forty, and the social scene was all a-titter. The age difference, combined with Potter's enormous wealth, was fodder for the rumor mill.
When the couple married on July 29, 1870, it was scandalous enough that the Chicago Tribune came to their defense:
"The engagement has been short – only two months. It is stated that the bridegroom, when going away recently, offered to settle a million dollars on his intended bride but she nobly and persistently refused. This may put an end to the bitter observations of envious or cynical persons inclined to stamp the marriage contract – so momentous to the high contracting parties – as a commercial transaction. No matter who married Mr. Palmer the same cruel and unjust remarks would be made."
While Mr. Palmer couldn't convince his new bride to take a million dollars, he could give her a hotel. Palmer House, Potter's wedding gift to Bertha, opened on September 26, 1870.
September 26, 1870, not 1871. The day after the hotel's inspection, the Chicago Tribune reported: "Not less than 5000 of our citizens accompanied by their wives and daughters" attended the Palmer House's opening at State and Quincy.
The first Palmer House existed in all its glory for a year and thirteen days before its untimely demise.
The confusion regarding the wedding gift timing may have occurred because, in 1871, another Palmer House was underway. The foundation for Palmer House II had been laid at State and Monroe; a boat loaded with iron destined for the new hotel was moored at the docks when the fire tore through the city.
Potter was out of town on business and his wedding gift burned. His quick-thinking architect, John M. Van Osdel, took the plans for the new hotel, raced into the basement, and buried them in clay. This not only saved the plans, but it also provided inspiration for future fireproofing.
Potter quickly returned to Chicago and nearly left just as fast, but Bertha told him no way were they going to run."Mr. Palmer," she said, "it is the duty of every Chicagoan to stay here and devote his fortune and energies to rebuilding this stricken city." (According to a 1902 article in the New York Times.)
The Palmers stayed. Potter secured a loan for $1.7 million, the largest private individual bank loan in the United States at the time. He never rebuilt his hotel at State and Quincy, but his Monroe Street palace welcomed its first guests within two years.
It was an opulent affair, worthy of a woman who could have gone anywhere in the world but chose to stay. There were electric lights, telephones, and elevators. The lobby resembled a grandly-scaled European drawing-room, and the barbershop floor was inlaid with silver dollars.
The dining room served blue points on the shell, green turtle soup, quail on toast, and smoked beef tongue. Baths could be had if one applied at the office.
Bertha's sister, Ida, married President Ulysses S. Grant's son, and it was only natural that the General would be a guest when visiting Chicago. In 1879, the Palmer House hosted a banquet in Grant's honor after his round-the-world trip; by the end of Mark Twain's 2 a.m. toast, the President might have felt like he'd toured the world again.
In 1874 and 1875 the Palmers had two sons, Honoré and Potter, Jr. respectively. Potter continued his entrepreneurial success and helped beautify the city with his involvement with the South Park Commission. He donated regularly and prolifically.
Bertha bought scores of paintings from contemporary artists like Monet and Degas. She donated much of her collection to the Art Institute of Chicago. She invited factory girls into her home to learn about their working conditions – and do something to improve them.
She helped millinery workers and shop girls, and when Jane Addams opened Hull-House in 1889, Bertha helped her get what she needed. As President of the Board of Lady Managers for the World's Columbian Exposition of 1893, Bertha insisted that a female architect design The Women's Building, and what Bertha wanted, Bertha got.
She also instructed her kitchen to create a dessert that people could carry, and the brownie was born. The woman was a force, and any questions about the age difference between her and Potter must have disappeared quickly.
Potter passed away in 1902, and over the next sixteen years Bertha ran the business, traveled Europe, bought much of Sarasota, Florida, and doubled the estate her husband had left her.
After her death in 1918, Honoré and Potter, Jr. realized that Chicago could sustain a much larger hotel. The sons hired Holabird and Roche to design this final iteration of their father's dream. The two inherited their parents' entrepreneurial savvy: instead of shutting down the hotel during construction, they built one half at a time, ensuring continual operation.
When the Palmer House was completed in 1925, it was said to be the largest hotel in the world, a distinction it would retain for a short two years.
In keeping with previous standards, the new Palmer House displayed extravagant luxury and innovative features.
The lobby's ceiling frescoes were a series of twenty-one allegorical paintings by French artist Louis Pierre Rigal, inspired by Bertha's love of the Sistine Chapel. (In 1996, acclaimed art restorer Lido Lippi, who was one of the lead restorers of the Sistine Chapel paintings, restored those at the Palmer House.)
Women had their own floor and each room had a bathtub. Retail stores lined the street level, including C.D. Peacock, a jeweler that began as House of Peacock in 1837 and was the first registered business in Chicago.
When the retailer moved into its new Palmer House location, customers entered through bronze hand-forged doors decorated with peacocks. Designed by Louis Comfort Tiffany, they weighed more than a ton. Three restaurants served guests, including the extravagant Empire Dining Room.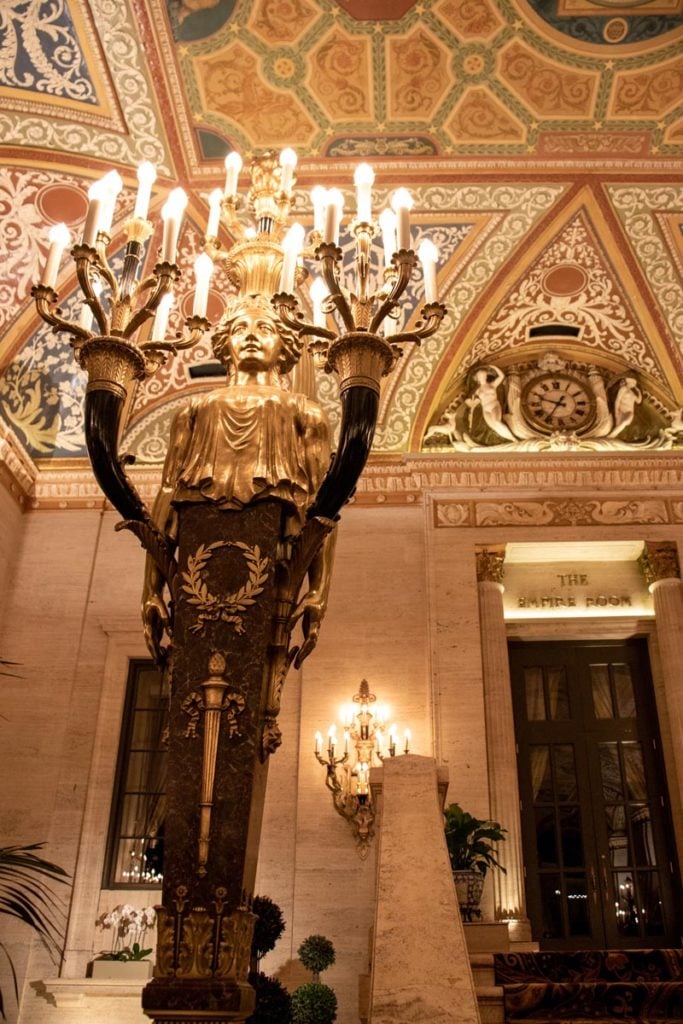 In 1933, the Empire Room was converted into the hottest supper club in town. For more than forty years, diners heard artists who would become legends, including Ella Fitzgerald, Harry Belafonte, Frank Sinatra, and Louis Armstrong.
Unlike many of its competitors, the Palmer House survived the Depression, but it was soon to leave the Palmer family. Enterprising hotelier Conrad Hilton came to Chicago to buy The Stevens in 1945.
When its owner, Stephen A. Healy, kept changing the selling price, Hilton's broker threatened that they'd just buy the Palmer House instead. In the end, Conrad ended up with both.
The hotel changed hands once again in 2005. Its current owners, Thor Equities, completely renovated the hotel from 2007 to 2009 to a tune of $170 million.
Palmer House Today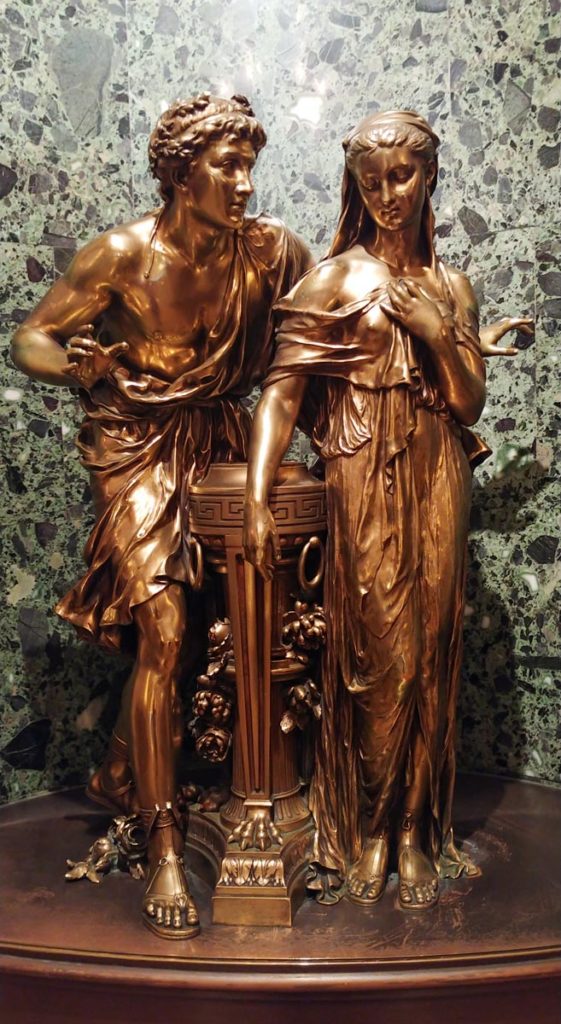 Ladies, shimmy into those flapper gowns and gents, don your spats. Entering the Palmer House Hilton is a return to the glitz and glamour of the Roaring Twenties.
It begins from the moment you swing through the revolving entry and see those priceless peacock doors. At the landing of the travertine staircase, a sculpture of Romeo and Juliet reminds guests of the inherent romance of the hotel.
The real magic happens when you turn left or right and ascend the last few steps into the lobby. Don't be surprised if you catch your breath – be more surprised if you don't. The ceiling murals sparkle after another restoration in 2019, as do the massive 1.25-ton, 24-karat gold Tiffany & Co. candelabras. For a birds-eye view, take the stairs up to the mezzanine level.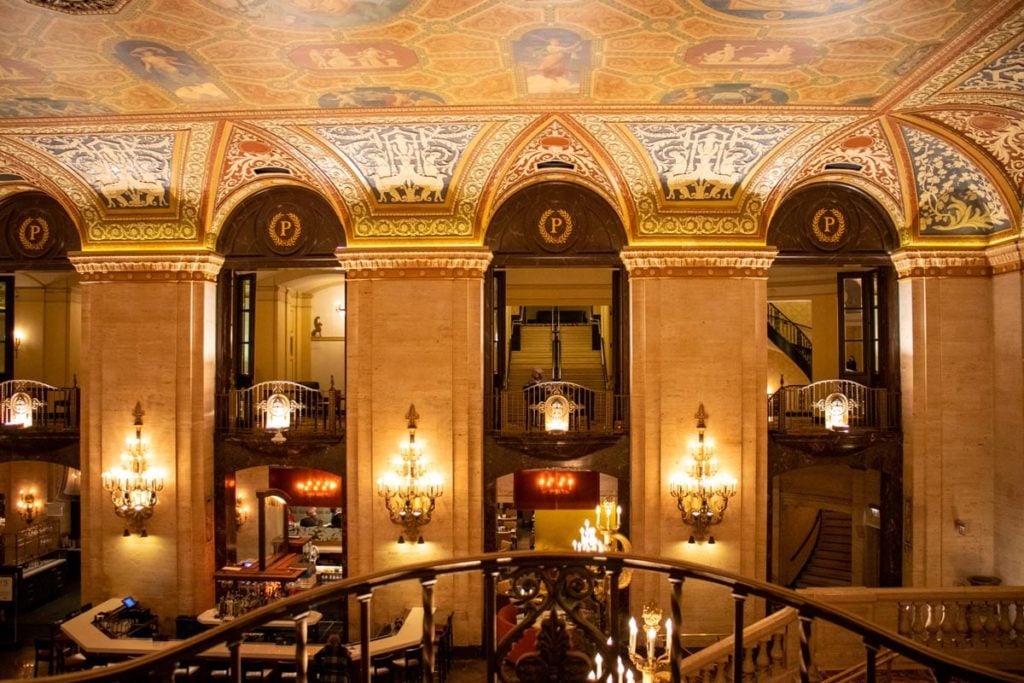 Dining options include Afternoon Tea in that luxurious lobby, Lockwood Restaurant, and Potter's Burger Bar. The latter hosts The Magic Parlour, an evening of magic and mind-reading.
The hotel's history stays with you after check-in. Halls are carpeted with peacock carpet and lined with photos documenting the building's past and previous entertainers. The rooms have modern amenities with decor that evokes the glamour of the Roaring Twenties.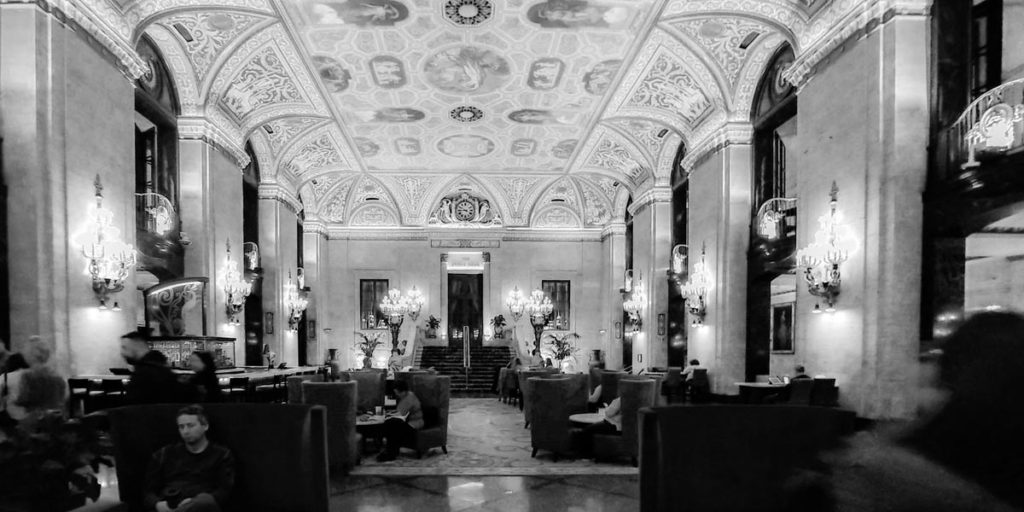 Palmer House's history is such an integral part of the experience that the hotel has its own resident historian. Ken Price, Director of Public Relations, leads "History is Hott!!" tours that offer behind-the-scenes highlights.
The tours start with lunch at Lockwood with a brownie and a glass of wine to go. Then you'll adjourn to the museum for an up-close glimpse of memorabilia including a $20,000 set of china, followed by a tour of the ballrooms and other places that aren't open to the general public.
From the moment you enter Palmer House Hilton and are greeted by those priceless peacock doors, you'll feel like you've entered a museum. In a sense, you have.
Palmer House Hilton is located at 71 E Monroe, Chicago, IL. To see current packages, visit their website at palmerhousehiltonhotel.com