Quick – what's the first thing you think of when you hear "bowling alley food?"
I bet I can guess:
Pizza – thin and floppy without a lot of flavor
Pretzels – stale and served with gloppy cheese sauce (which is extra)
Nachos – stale chips topped with gloppy cheese sauce
Burgers – more bun than burger, overcooked and overpriced
It doesn't have to be like that. You can have your strike and decent food, too.
Kings Dining and Entertainment has made it their mission to turn the idea of bowling food alley on its pin. Instead of the lukewarm items that have been rotating in glass-enclosed cases for who knows how long, each location offers a menu that's worth a visit, with or without some time on the lanes.
The Draft Room is the iteration of that concept at Kings Rosemont. Opened last fall, the modern-day sports bar is a spacious restaurant next to the bowling alley. Above the bar are fourteen-foot LED display panels. I tell you – you haven't watched a game until you've seen it on one of these behemoths.
Below, the bar itself offers 40 draft beers. In a clever configuration, every few feet at the bar there's a peninsula, so if you've got a group of three or more you can face each other while maintaining optimum proximity to the bartenders. 
In addition to beer, The Draft Room offers a collection of signature drinks, with savory to sweet scales so you can pick one that suits your palate. 
Now, what about that food? I visited recently with a group of Midwest Travel Bloggers, and their reactions were unanimous: "This is NOT what I expected – it is SO much better!"
We sampled their cocktails, including one of their giant bowls and a pitcher of their new Mai Tai.
Dinner began with a mini quesadilla sampler and a sampler platter that included buffalo wontons, mac & cheese bites, and southwestern spring rolls. The Korean fried cauliflower turned that cruciferous head on its ear. The four cheese pasta with spinach, seasoned tomatoes, and basil pesto was rich and creamy. Rosemary chicken served atop organic farro mushroom risotto with crispy brussel sprouts was another favorite, and the ribs and pulled pork? Disappeared.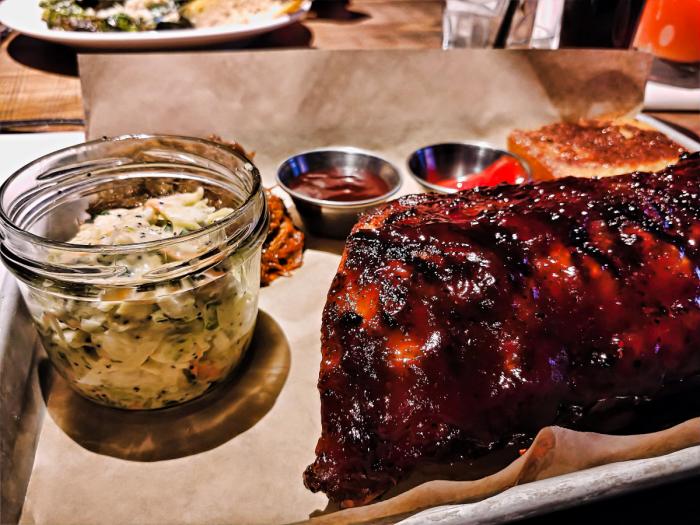 Because it's in a separate room, you don't even know there's a bowling alley and a billiards room right next door. However, if you want to bowl, you can tell them you want to Dine Then Bowl.
The Draft Room is located at Kings Rosemont in the Parkway Bank Park, 5505 Park Place, Rosemont. Free validated parking is available. So's Happy Hour, from 3 to 6pm every Monday through Friday. Don't be surprised if you see me there trying their fig jam, bacon, and prosciutto pizza with a side of bacon sriracha deviled eggs.