The phrase "outlet mall" doesn't often bring to mind words like stylish, chic, artsy, and upscale. Yet Fashion Outlets of Chicago is all of those and more. With stores like Prada, Tory Burch, Burberry, and Michael Kors, and services that rival that of an upscale hotel, this mall is to outlet malls what Drew Barrymore is to childhood movie stars: beautiful, confident, savvy, and all grown up.
How stylish, chic, artsy, and upscale is the Fashion Outlets of Chicago? In 2014 it was named the Best Factory Outlet Centre in the world – yes, the world – at the MAPIC awards.
There are many reasons for this. One is that it's visually striking. Clean, bright, with two floors and high ceilings there's none of the claustrophobic environs that are endemic to the indoor shopping mall. The fact that it's indoor alone separates it from other outlet malls, as it's the only one that isn't an outdoor arcade. 
Enhancing the aesthetic is the art that's featured throughout the mall. More than ten nationally and internationally renowned contemporary artists were commissioned and their works appear on the walls, on the escalators, and even on the ceiling. Instead of only finding things that catch your eye within the stores, at Fashion Outlets of Chicago art is everywhere.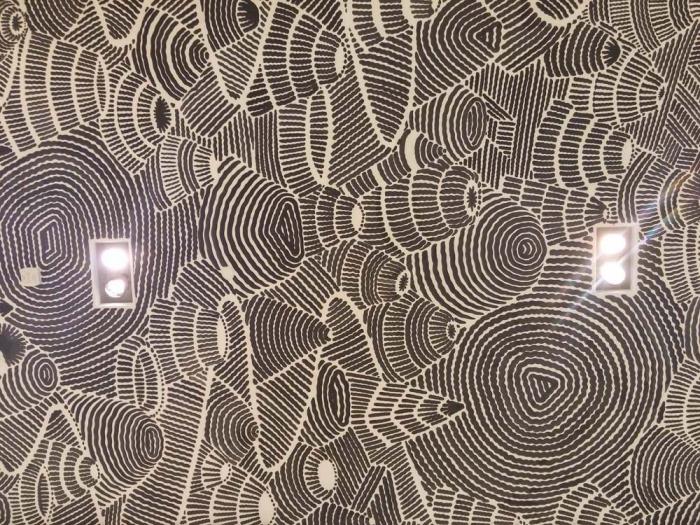 Another reason is that it's well organized. Upscale stores are generally located upstairs. More economical stores are located downstairs. Children's stores and family-friendly shops have their own wing. Even the parking garage is logical and efficient. A light above each space indicates whether it's taken (red), available (green), or accessible (blue) and an LED monitor tells you how many spots are available on each level.
The stores are, as you would expect, focused on fashion, but there are also representatives in other categories. The mall is anchored by Bloomingdales The Outlet Store, Forever 21, Last Call by Neiman Marcus, and Saks Fifth Avenue OFF 5th. Fashion plates will find, in addition to exclusive locations of Burberry, Prada, and Tory Burch mentioned above, Chico's, DVF, Gucci, and AllSaints, for example. The Art of Shaving and Bose, Coach and crocs, Gap and Godiva are just a few of the other outposts available.
A must stop for any sweet tooth is Lolli and Pops, which offers every kind of candy you can think of, including bins of jawbreakers, a wall of Pez, and a golden bear presiding over a room full of gummies. Follow that with a visit to the Lindt Chocolate Cafe and you'll have a sugar buzz to last your entire shopping excursion.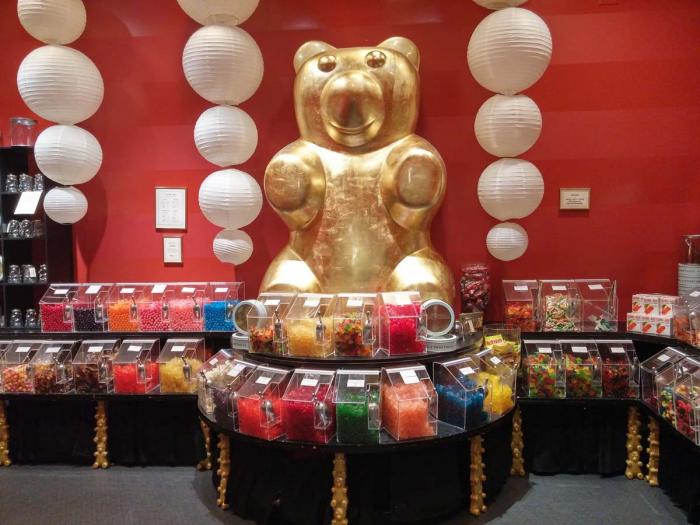 For those who want a full-service shopping experience, Fashion Outlets of Chicago provides an array of amenities. The concierges can make reservations, check coats, and even answer questions via text (847-957-4600). Wheelchairs are available for free and strollers can be rented. Packages purchased from 95 of the 130 stores can be delivered within a ten mile radius. Shoppers and travelers from nearby O'Hare International Airport can check bags. If a shopper is flying out, their service desk is actually TSA-certified. You can not only check bags and luggage directly through to flights, you can also print out your boarding pass. At the mall. Then they can get to the airport via shuttle.
Local shoppers have easy access either by taking advantage of the free parking or by using the Rosemont "Entertainment Circulator," a free bus that makes stops at the CTA Rosemont Blue Line station, the Donald E. Stephens Convention Center, the mall, and MB Financial Park, which includes several restaurants and entertainment venues.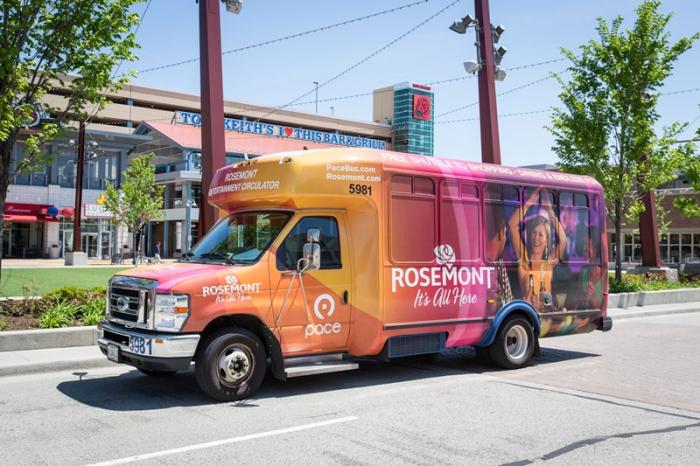 Fashion Outlets of Chicago, located at 5220 Fashion Outlets Way in Rosemont, is a full-service mall with an incredible selection of stores and amenities. Visit their website for a complete list and for more information.