Rojo Gusano has become a neighborhood favorite in Albany Park since its opening a couple of years ago. They have now expanded into Ravenswood where they are sure to become a solid favorite in that neighborhood as well.
The new Ravenswood location's menu is similar to Rojo Gusano's Albany Park headquarters, featuring an elevated, global-fusion spin on the simple street foods of Latin America. The new, re-imagined Ravenswood spot features full bar service, along with cozy couches and seating areas, plus a charming 40-seat outdoor sidewalk patio.
Recently I invited a friend to join me for an evening to sample both the menu items and the cocktail list at the new Rojo Gusano – Ravenswood. Neither one of us were fully prepared for just how excellent – but even more, how quirky and unique – the experience would be. When you hear the phrase "elevated street food" you being to think of fussy, over-prepared items that bear little or no resemblance to the simple fare that inspired them. Rojo Gusano, however, has managed to create a fusion of simple with unique that never feels fussy. In fact, anything on the menu would be a welcome addition to a food truck or a beachfront hut in Mexico.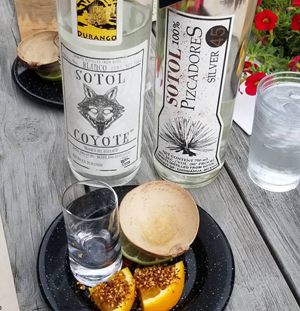 First, let's start with the cocktail program. One of the most intriguing items on the cocktail menu is a liquor called Sotol. I pride myself on being a connoisseur of great cocktails, but this one stumped me. Of course, like any good foodie, I immediately searched online and discovered some fascinating history around this little-known Mexican liquor. Essentially, it is made from a type of agave plant, so it is a cousin to tequila. I found it smoother than tequila, with just a hint of smokiness like mezcal. When you order a shot, ask them to serve it traditionally – in a hollowed-out gourd, served with a wedge of orange covered in toasted sesame seeds. What a fascinating new experience!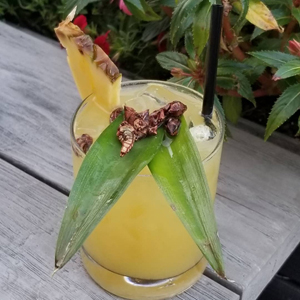 Beyond the Sotol, however, Rojo Gusano has a large array of tequilas and mezcals. The craft cocktail menu has some definite one-of-a-kind offerings. For instance, check out the Chapulin – mezcal, ginger puree, lime juice, pineapple juice and sundried grasshoppers. Yes – you read that correctly. Grasshoppers! At first, I was a bit trepidatious but my friend (a braver eater than I) convinced me to give it a go. The grasshoppers are served atop a leaf garnish. They taste a bit like salty popcorn. Give it a try but take my one word of caution – remove them from the drink and do not let them get wet because they will start to get soggy. For me, not the most delectable texture. Still, the cocktail itself is well-balanced and the saltiness and crunch of the grasshoppers added a fascinating accompaniment to the fusion of smoky, sweet, and tart.
Other standout cocktails included the Gusano Rojo (mezcal, triple sec, cucumber, mint, watermelon puree, cranberry juice) and the Gusano Margarita (tequila, lime juice, agave nectar, salt rim).
The food menu at Rojo Gusano – Ravenswood keeps the flavor of street food by offering nearly everything in small portions. You can sample the menu much like you would at a tapas restaurant, trying single portions of some items or ordering more if you like. For any vegetarians out there, Rojo Gusano has a wealth of offerings (guacamoles, salsas, tacos, empanadas, salads, rice bowls, sides, and desserts).
I suggest sampling the guacamoles and salsas by ordering a trio of each on your first visit. My friend and I opted for the Spicy Pumpkin Seed Guacamole, Pico de Gallo Guacamole, and the Chicharron Guacamole. All are fresh and light. The added ingredients are incorporated at the end of the preparation process, so everything remains separate and distinct – a nice change from some other types of guacamole. The salsas were all excellent, and even for me – someone who does not deal well with hot spicy food – none were too hot. I particularly liked the Macha Salsa (árbol, pasilla, morita, pepitas, sesame seeds, garlic, peanuts).
Rojo Gusano currently has twelve different tacos on the menu. The tortillas are freshly-made and still soft and warm. The size is a perfect two – three bite version (or four bites if you have a small mouth). For vegetarian options, try the Charred Butternut Squash, Braised Cauliflower, or Mixed Mushroom. If you're more omnivorous, you can't go wrong with the Al Pastor Pescado, Pork Belly, or Korean BBQ Beef. I suggest ordering at least three per person, then splitting them.
We sampled three of the sides. The Sweet Plantains were a nice offering, still warm and served with Mexican crème fraiche and farmer's cheese. The Equites (essentially elotes cut from the cob) were excellent, served with cotija cheese, piquin chile, and chipotle aioli). The best of the sides, however, was the Elotes Callejero. This is the most traditionally-prepared item I had all night. If you like traditional elotes, order this one. The corn is charred then covered with chili butter, cotija gratin, sesame seed, and cilantro. You may want more than one.
Finally, if you have any room left, try the churros for dessert. Like every item we tried, these are freshly-prepared. They arrive hot from the fryer, dusted with cinnamon and sugar, and served with chocolate rum sauce and/or raspberry sauce. Order both sauces, try them both, then mix them together. Believe me, you will thank me for that tip.
Rojo Gusano – Ravenswood is located at 4217 N. Ravenswood Avenue. They are open Monday – Saturday for both lunch and dinner. Street parking can be difficult during the day, but for evening and weekend reservations there is plenty of free street parking directly in front of the restaurant. For more information, call (773) 360-7687 or visit the Rojo Gusano website. You can also follow their social media conversations on Twitter, Facebook, and Instagram.