Pumpkins are popping up everywhere!
Sure, you could pick up a pumpkin at a big-box store, but there's something distinctly comforting about picking your own at an all-out pumpkin festival.
Throw in some hayrides and corn mazes and you've got fall, Midwest-style. Chicago pumpkin patches and festivals usually open mid-September. Ready to find your own Great Pumpkin? Check out this list of pumpkin patches near Chicago.
Find a Pumpkin Patch in Chicagoland
Bengtson's Pumpkin Fest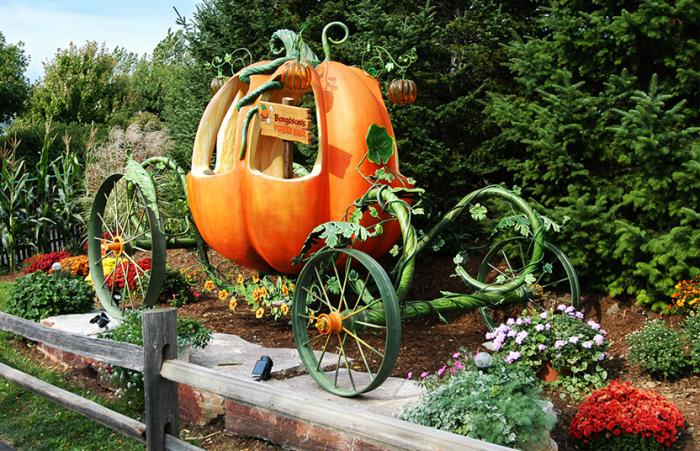 This fall festival is known for its cider doughnuts and barbecue. Bengtson's Pumpkin Fest offers a fun-filled day with tons of attractions and fall things to do.
They've got rides and slides and a whole kids village. You can ride a pony and pet llamas and kangaroos after diving into the box full of corn.
There's even a Tractor Town ride, which takes you past fantastic farm animals and talking animated farm tractors.
Where: 13341 W 151st St, Homer Glen
How much: $11.99 – $22.99
Jack's Pumpkin Glow
You'll be all aglow when you visit this nighttime pumpkin patch. Jack's Pumpkin Glow will have over 5,000 hand-carved pumpkins and other glowing foliage will illuminate the Sensory Garden Playground in Lisle.
Stroll a trail lined with life-size characters, and learn from master carvers. They'll show you how it's done and will add 1,000 fresh carvings a week. You can also pick up a pumpkin to take home.
Jack's Pumpkin Glow is open select dates between October 3 and October 27, 2019.
Where: 2751 Navistar Drive, Lisle, IL 60532
How much: $16.99 – $27.99
Goebbert's Pumpkin Patch and Farm
Goebbert's Pumpkin Patch and Farm has two locations, one in Pingree Grove and the other in South Barrington.
The South Barrington location is the main farm and garden center that's been hosting a Fall Festival since 1978.
In addition to hay rides, pig races, and more standard attractions, you can also feed giraffes at eye-level.
Other activities (available for an extra fee) include pony and camel rides, gem mining, a duck derby, and a haunted house.
Where: 40 W Higgins Rd, South Barrington
How much: $12.99 – $16.99
Where: Pingree Grove, 42W813 Reinking Rd, Hampshire
How much: $12.99 – $16.99
Harvest Tyme Pumpkin Patch
You can pick your own pumpkin at this Indiana farm, or select from one they've picked for you.
You can also stock up on mums and fall decorations. There's more than just shopping, though, with carnival rides and lots of games for the kids.
They've also got a corn maze, and they'll send you clues via text so you can find your way out.
Where: 17904 Grant St, Lowell, IN
How much: General admission with unlimited fun pass is $18.95 online or $21.95 at the gate
Odyssey Fun Farm
You could spend days at Odyssey Fun Farm, a working farm located in Tinley Park.
In addition to pumpkins, they've got zip lines, hay mazes, a petting zoo, and pig races.
Stay late on Friday and Saturdays for the Zombie Safari.
Where: 18900 Oak Park Avenue, Tinley Park
How much: $12/person; children 2 and under free; pony rides, zip line, and pumpkins extra
Siegel's Cottonwood Farm
Siegel's Cottonwood Farm has over thirty attractions, several of which are included with your admission price.
There's a sports zone, trains, zip lines, and hay rides. Hours vary for each so you'll want to check before visiting.
First Responders, Military, and their immediate families get free admission September 28 & 29. Specials Needs and their immediate families also get free admission on those dates, plus October 26 & 27.
Where: 17250 S Weber Rd, Lockport
How much: $9.95 – $18.95
Sonny Acres Farm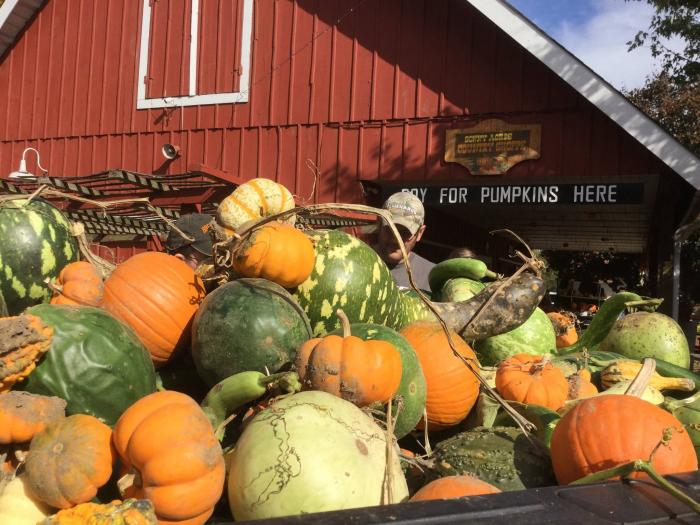 Sonny Acres Farm has been going strong since 1883. In addition to pumpkins, they offer specialty squash and gourds.
They've got a farm market, carnival rides, a haunted house, and a petting zoo, and their hayride takes you through the woods.
Where: 29W310 North Ave, West Chicago
How much: Admission is free; activities require tickets – cash only!
Want even more fall fun? Check out these upcoming Fall events in Chicago!
All photos courtesy of individual farms