Gold Coast has just become more hip, folks! Brand new Viceroy Hotel has teamed up with Boka Restaurant Group with some spectacular results. Welcome on the scene, Somerset Restaurant and Devereaux Lounge! Your timing is impeccable. Both are now open for our dining and imbibing pleasure.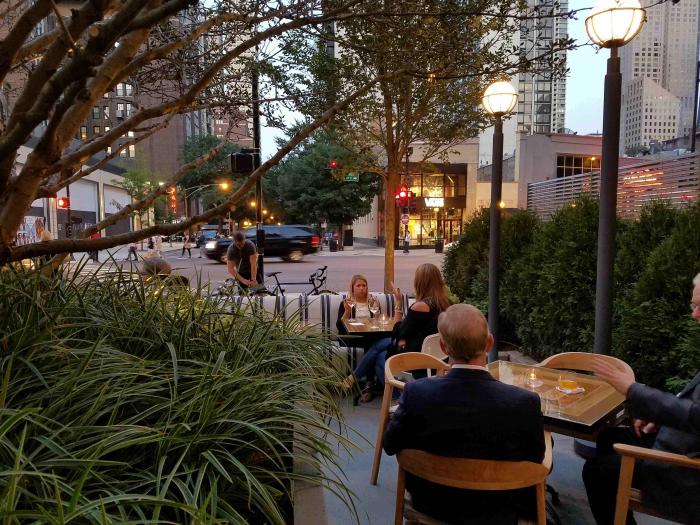 Somerset, a sleek two-story space with plenty of outdoor seating overlooking the bustle of State Street, is open for breakfast, lunch and dinner daily. Here at The Local Tourist we have only attended the opening party, but if the passed bites are any indication, the food is spectacular. Then again, Boka Restaurant Group has made a name for itself in this town, with excellent food. We tried signature burgers made with Slagel Farm beef. It is always a good sign when the producer is mentioned. Outstanding beet tartare (yes, beet!) was quite popular with our group and surprisingly hearty. Fried chicken with housemade pickles was welcomed with a rave each time a tray went by. I hear that the dinner version is served with a homemade biscuit. Yum… Plump chilled shrimp cocktail required no introduction or embellishment. And whole roasted suckling pig, hand chopped and turned into tacos with zingy salsa verde, was top notch. We can't wait to return for dinner! Somerset also boasts two beautiful bars and some well-heeled bartenders. On the night of the party the cocktail choices were limited, but we tried a stellar Old Fashioned from the intimate upstairs bar, and a Tom Collins from the bustling large bar on the ground level. If those are any indication, cocktail game will be strong at Somerset. We could already see ourselves watching the world go by on the patio while sipping a refreshing beverage. Or seven. Don't judge, you'd do it too.
An elevator ride up 18 floors took us to Devereaux Lounge, an intimate cocktail den, if "intimate" includes sweeping city views and a swimming pool. (Yeah. There is a swimming pool. Yours truly almost teetered in. So what…) Managed by the talented Sophia De Oliveira, the bartender about town with quite the family legacy of adult beverage making, Devereaux Lounge is in excellent hands. Trust The Local Tourist's favorite barfly, this gal can make a drink and design a killer cocktail menu. On our visit, during the party, cocktail choices were limited. But we enjoyed the ones that were on offer quite a bit, especially the Salty Dog. (Did I mention the pool and the teetering? Heels and cocktails, my friends. Lethal combo.) Because all drinks are served poolside technically, no glass is allowed on the rooftop at Devereaux. But fear not, this isn't Solo cup territory. Sturdy and beautiful unbreakable glasses will not cramp your style while you mingle and take in the breathtaking views, promise.
As we enter Indian summer, fingers crossed, no time like the present to take advantage of alfresco dining and drinking at its finest. Like I said, Somerset & Devereaux, your timing is impeccable.
Viceroy Hotel, Somerset & Devereaux Lounge are located at 1118 N. State Street, in the heart of Chicago's Gold Coast.
The Local Tourist access to the preview event courtesy of The Door Idea House. 
All photos by Gourmet Rambler.