An appetizing store, typically in reference to Jewish cuisine, is best understood as a store that sells "the foods one eats with bagels." ~ Wikipedia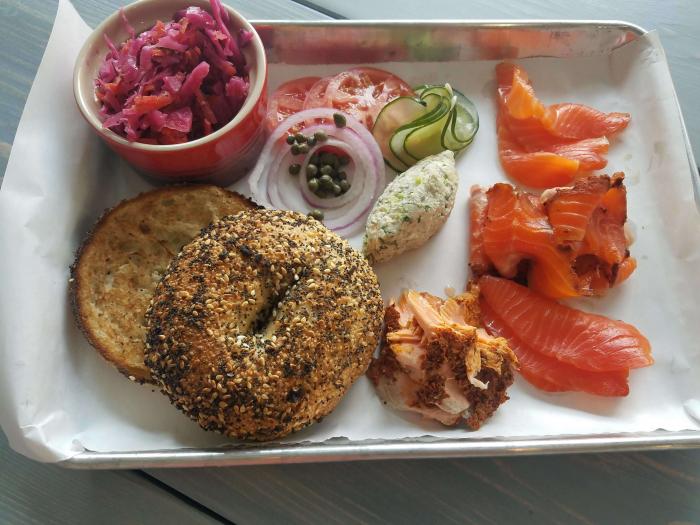 If any of you in Chicago, like me, hightail it to Russ & Daughters while visiting New York City, rejoice! Our fair city has recently gained its own appetizing store. Steingold's of Chicago is now not only open, but has expanded its production and hours to accommodate the hordes of us clamoring for bagels, lox and pastrami. Huzzah!
I had been stalking Steingold's on social media for quite some time. When, I cried, when will you open?! Open they did, and then they were promptly relieved of all of their delicious items before closing time on day one. And day two. You can catch my drift. It seems Chicago was hungry for what Steingold's was selling. I managed to get in on the action before the crowds on day one. I wanted The Whole Shebang for one. No problem, the folks at Steingold's said. Enjoy these bagel chips with smoked salmon cream cheese while you wait. My two year old sidekick demolished the tasty snack before I could say boo. How is that for an endorsement?
Bagels made in house. House cured & smoked fish. House made pastrami & corned beef. Everything from scratch. Eggcreams. Pie. Matzo ball soup. Herring pickled in house. Caviar. Do you need more reasons to go?! I didn't think so. Steingold's is open for the first time for weekend service tomorrow. Yes, that means brunch. BYOB, at least for now. North Center has never been such a foodie destination.
What are you waiting for? Go, go, go! Just make sure you leave me some herring, darlings. Eat something, you are skin and bones…
Steingold's of Chicago is located at 1840 W. Irving Park Road in Chicago's North Center neighborhood.
This post is in no way sponsored. That means we spent our own dollars to eat here because we wanted to. Worth it!
All photos by Gourmet Rambler.