The Slurping Turtle's new Summer Menu was spread out before me like a perfectly realized staging for furiously likable foodstagramming. The Pride Roll, the Poke cones, their fiercely delicious cold brothless ramen and its hot sister, with the shrimp and the pork belly and the nom nom nom. All there staring at me, daring me to eat them, and I wanted to. I did. But I was dining at a press gig with professional Instagrammers so I had to wait while they took pictures and moved things around and did take after take after take of serving noodles and while I was waiting I made a critical error and now I was in pain and I was about to die.
It troubled me to think I would expire there in one of the comfortable stools at the long central table of the Slurping Turtle and never get to taste those new summer dishes. As I slumped into my seat, about to burst into flames, I had a moment to reflect on my choices: should one lick the spicy rim of their summer cocktail, the Mangopeña? Should one just blindly shove a poke cone into one's mouth before making such pertinent queries as "Will this burn a hole through my skull?" or "Where is the nearest hospital?"  Should one sit next to a famous Instagrammer who is literally spooning the restaurant's signature hot sauce, auspiciously and, as far as I'm concerned, hazard labelly named Volcano Sauce and think to one's self, "Dude, I can eat that"?
No. One should not. Because one is a horrendous wimp when it comes to combustible condiments and one should just take it easy and one should definitely not let the famous Instagrammer know you're about to ignite because she will make fun of you. Relentlessly. And you'll deserve it.
I don't want to paint an unfair picture of the Slurping Turtle's summer menu as being volatile. It is not. You will find its level of spiciness squarely in the upper-mild curve of the spectrum. It won't burn you. Your mom can eat it. My experience and your experience will not be the same. Mileage may differ. You're probably a mature adult who can handle a mildly spicy poke cone. Or a Mangopeña. Or an Instagrammer.
I am not.
What follows is an ENTIRELY unbiased review of the Slurping Turtle's new summer menu as experience by someone who, when he orders Mayonnaise, requests it mild.
Mangopeño – I am here to warn you about licking the spices off the edge of your Mangopeño because while it is tempting and quite delicious, they are made from lava. The drink is reposado, Cointreau, lime and a mango Jalepeño shrub. I loved it but I was also drinking pretty fast because flames were shooting out through my teeth, which were melting. Perhaps the jalapeño slice on the straw is overkill – if, like me, you're on fire.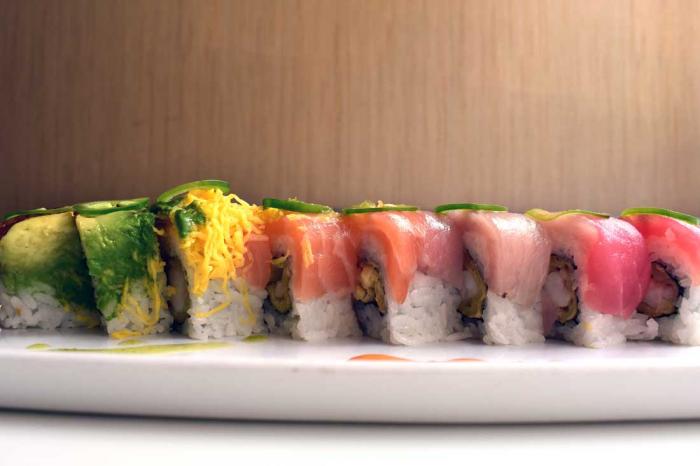 Pride Roll ­– Shrimp tempura wrapped with tuna, Hamachi, salmon, tamago, avocado, and eel – all delicious, and a brilliant combination of traditional and Americanized flavors which is where Slurping Turtle cooks from. It is topped with sliced jalapeno and garnished with a spicy mayo, sriracha, and jalapeño vinaigrette which was really helpful because sometimes what a roaring inferno needs is more fire. I wiped the sweat off my brow and popped one of these bad boys into my mouth and my head exploded. Delicious, but incendiary. Like a tasty, tasty tiny nuclear bomb.
Poke Cones – Finally, something extraordinarily good with cooling ingredients: avocado, mixed greens, nori sesame-soy marinated ahi tuna, scallions which, ok, they're tangy but I wouldn't say they're spicy; they're just little onion babies, perfectly harmless curled up next to the sushi rice in the nori cone which is all wrapped in a cucumber sheet which is like the vegetable version of ice and also SPICY MAYO which is, ok, it's fine. I can handle this. Except that was the mild Ahi Tuna Poke Cone and actually it would have been nice if I'd eaten that next since the cucumber wrap would have acted like a fire break but I was eating with Instagrammers and I don't know if you know this but they play with their food. They will play with your food.
Spice Salmon Poke Cone – So a famous Instagrammer snatched my mild poke cone nearly out of my mouth to take seventeen thousand pictures and because I could not read the menu through the tears in my eyes, I thought the other poke cone was also mild but it was not. It was tartare-style salmon, scallion, avocado, cherry tomatoes, masago, mixed greens and sesame seeds wrapped in nori wrapped in a cucumber sheet wrapped in dynamite. I guess. I don't know. I couldn't see through the blazing torch of nitroglycerine roaring out of where my mouth once was.
North Saint Chicago ­– Obviously I needed something to extinguish this inferno and Daniel my waiter (and first responder) delivered a whiskey and beer concoction that was absolutely scrumptious the second time I had it. The first one was ruined as I couldn't drink it because eleven Instagramming professionals had removed our entire dinner to a staging area to get a decent shot and when we got back my drink had separated into its constituent parts and –
Look, this is a great cocktail. It's made from rye, elderflower, cherry, lemon, house-made grenadine, and Brewdog's insane grapefruit peel forward malty IPA, Elvis Juice, which is perfect against the rye and the red fruit flavors and managed to squelch the hellfire burning in the uranium crater that once housed my teeth.
Hyashi Chuka (vegetarian and meatish) – Cold ramen with no broth sounds like something you wake up to after a please-God-erase-what-happened-from-my-memory evening with friends that tastes like shame and regret. But it is not, it is genius. And toothsome to a nearly embarrassing someone-stop-that-man-before-he-eats-the-bowl kind of way. A patron told me she loves the cold ramen because it's delicious, she can order it to go, and because it's served sans broth she can eat it right away and not worry too much about spilling soup on her blouse. Which is a thing. It's not called Careful Dainty Bites Turtle. This food is horfable. It's scarfalicious. You don't wait for it to cool down, you sacrifice that alabaster Dolci and Gabbana shell and slurp that ramen soup as your eyes roll back in your head while you white knuckle the bowl. #flavoroverfashion #drycleanonly
Unless your ramen is the Hyashi Chuka, which doesn't have any broth and isn't hot. Unless you're sitting next to that famous Instagrammer I keep mentioning who adjusted her hyashi chukka by folding an entire bucket of the Slurping Turtle's Volcano Sauce into her bowl then taking a bite THEN ASKING FOR MORE HOT SAUCE because her teeth are made of diamonds and her tongue is Wolverine. I tried to keep up with her because I am an old man and (please read this in your best grandpa voice) By gum these young whippersnappers can't get one over on me! So I spooned a modest and perhaps functionally immeasurable dollop of the Volcano Sauce onto my perfectly cool ramen, took a bite, and ejected into the stratosphere on a column of superheated capsaicin into the surface of the sun. @jeneatschi what are you made of?
Red Curry Ramen – Because, of course, make it hotter. Mushrooms, eggplant, sugar snap peas, fried kabocha squash, fried potato, carrots, little baby bok choys, scallions,  coconut-lemongrass cream (which should be a desert) and the entirely unnecessary and completely unwarranted chili oil and @jeneatschi and @chicagofoodcoop and maybe even @gregbirman all owe me a steamed baby bok choy because these tiny emerald brassicas were like floral jewels and everyone gasped and stole them to take pictures while I melted into a puddle of roasted reporter under the table.
Excuse Me, Miss Hill – Before this drink was served, there was a flurry of activity while the Instagrammers whipped out portable lights and tried to get the perfect shot of hot noodles being pulled from a steaming bowl of ramen and I learned something about them. They work hard and they work together. I was holding a light, another guy was doing a technical thing I didn't understand (#ancient) that the other 'grammers were thrilled about. Someone else wrangled ramen and two more were snapping pictures and it warmed my soul although that could have been the sriracha. Food is visual. Even the most delectable dish on the planet tastes a little better if it's served to you like it's a work of art. And every dish at the Slurping Turtle is beautifully plated. Or bowled. 
This cocktail is gorgeous. It's made with Junmai, a premium sake with old school credentials, elderflower, blanco tequila, lemon, and violet. It's served in a sexy coupe glass with a roasted lemon wheel floating dead center. It is elegant and surprising just to look at but then the flavor in that first sip is exquisite. Floral. Like drinking a dipsomaniacal orchid.