Any Chicagoan knows that pizza is not just pizza. There are over 1100 restaurants in the Chicago area that serve these Italian pies, and each one of them is different. Variations stem from the toppings, the techniques, the sauce, and the dough.
Finding the perfect pizza dough is a big task, and a difficult one. Some people like crisp, others like hearty, and some like light and fluffy. Then there are the people who love pizza but are avoiding gluten. What are they supposed to do?
Eataly to the rescue. Since opening three years ago the Italian culinary playground has made delicious pizza napoletana in its beautiful forni d'oro, or "golden ovens." Now they've expanded their crust repertoire to offer four recipes providing distinct textures and flavors. They've even converted one of those ovens to burn coal while the other maintains white oak as its fuel source.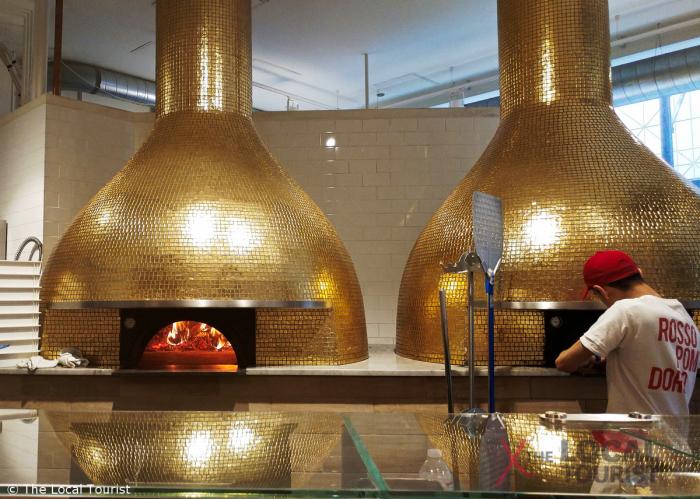 I had the opportunity to try all four of their crusts and they were all – including the gluten-free – delicious. Each had its own characteristics. The classica is Eataly's signature dough with a charred, airy crust. It's made with powder-fine double 00 flour and cooked at 900 degrees for just 90 seconds.
The rustica is a multi-grain dough that Simone Falco, President and CEO of Rossopomodoro USA, told us is the precursor to bread. You can tell – its texture is more robust and the hearty flavor is well-suited for a white sauce, although it worked well with just tomato and spicy salami (good to know if you're lactose-intolerant).
The moderna, with its light, fluffy crust and crispy center, was my favorite, but it was a close race. Both it and the rustica are baked in the coal-fired oven for 600 degrees for three minutes.
The most surprising dough of all was the leggera. This is their gluten-free dough, and if you didn't know ahead of time there was no gluten in it you'd never be able to tell. I couldn't – I watched as Davide Civitiello, one of the best pizza makers in the world, rimmed the crust with olive oil about an inch from the edge. Falco told us later that it was to help conduct the heat so that the edges of the gluten-free crust would rise. He couldn't tell me when I asked because we were trying to guess which dough was which. The dough is made with corn, rice, and buckweat flours in the wood-fired oven. While La Pizza is not celiac-friendly due to the preponderance of flour, if you're avoiding gluten this dough will do the trick.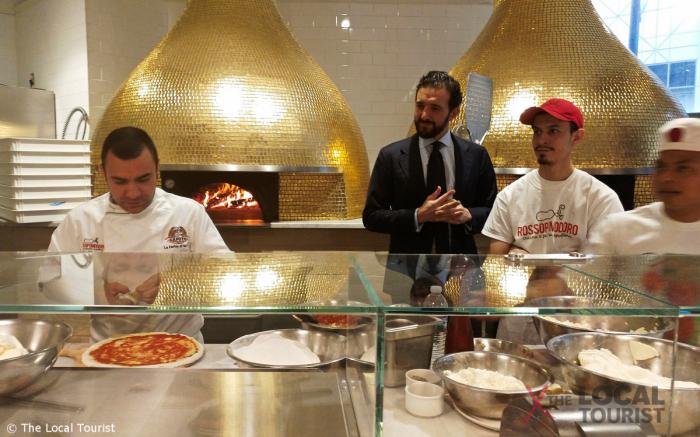 In early 2017 Eataly will host a series of pizza-related events including guest chefs and learning the art of making this Napolean-style pizza. In the meantime you can try all of these drool-worty doughs on the second floor at La Pizza and La Pasta.
Eataly Chicago is located at 43 E Ohio St, Chicago, IL 312-521-8700