Did you know potato skins were invented in Chicago?
The story goes that Rich Melman, the founder of Lettuce Entertain You, wanted to help his patrons eat healthier. This was in 1971 and he noticed that everybody kinda skipped over the good (read: healthy) stuff at the salad bar.
He'd read that sailors would eat the peels of potatoes because they contain tons of nutrients. BAM. Potato skins were born.
(There are two other restaurants that claim the distinction of inventing this delicious appetizer, but we don't care about them, do we?)
His first version may not have included the now requisite bacon, cheese, and sour cream. That's OK. We'll forgive him.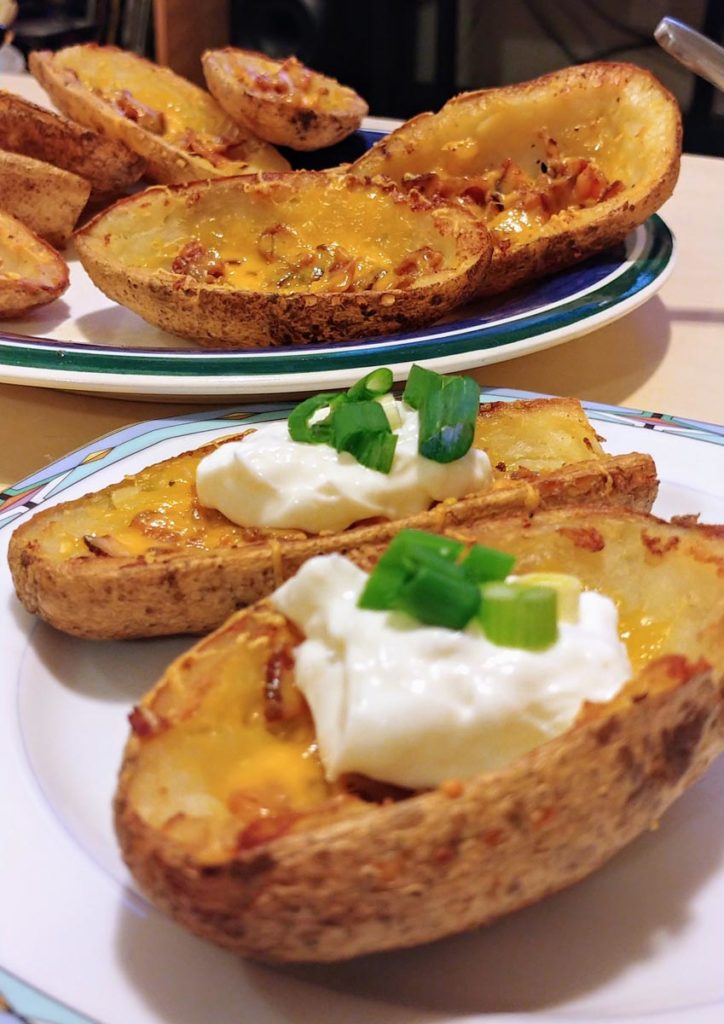 In restaurants, potato skins are typically deep-fried. After an incident with a grease fire in my kitchen in 2002, I've stayed away from pots of bubbling oil. Instead, I've found a way to bake the skins so that they're crispy and flavorful and not good for you at all.
The key?
Bacon. I cook the bacon, and then baste the skins with the grease and bake them in a hot oven.
Bacon makes everything better.
Speaking of bacon and potatoes, check out this recipe for the best bacon potato salad ever.
The recipe is very simple. Bake the potatoes (in the oven, not the microwave). Let them cool until you can handle them. Cut them in half lengthwise and scoop out the insides. You'll want to leave a thick rim of flesh to give these skins some heft.
And, DO NOT THROW AWAY the insides. Save them to make mashed potatoes or gnocchi.
While the potatoes are cooling, cook the bacon in the oven. Once that's done, you'll brush the skins with the bacon grease and cook them in the same pan. (Brilliant, I know.)
After you've flipped them so that the whole skins are the right amount of crispness and firmness, turn them face up and add your fillings. The traditional filling is bacon and cheddar cheese. However, my mom's lactose intolerant, so she'll substitute goat cheese. That's really good with ham. You can add whatever you want. The potato skin is your palette.
After you've added your toppings, you'll put the skins back into the oven for a few minutes.
Ready to make some easy baked potato skins? Here you go!