You're shopping in downtown Chicago and all of a sudden you smell…chocolate! You're not imagining things: it's actually Blommer Chocolate Company. Located in River West, the factory emanates such an overpowering aroma because it's the largest processor of cocoa beans and chocolate-related products in North America.
If that scent inspires you to pick some up, there are several chocolate shops in downtown Chicago, including national favorites Godiva, and Ghirardelli.
Prefer shopping from the comfort of home? I've included some Amazon links where available. The Local Tourist is an affiliate, so we'll get a small commission. It's at no additional cost to you and helps support this site, so thanks in advance!
Downtown Chicago Chocolate Shops
Blommer Chocolate Company
The place that makes Chicago smell so delicious is more than just a factory; it also has an on-site retail store.
600 W Kinzie St, (800) 621-1606
Fannie May Candies
Fannie May Candies is a hometown favorite, and they've got five downtown Chicago locations, so you never have to go far for those Mint Meltaways or my personal favorite, Trinidads.
343 N Michigan Ave, (312) 453-0100
117 N Wabash Ave, (312) 750-1755
111 W Washington St, (312) 346-5102
144 S Dearborn St, (312) 726-3224
500 W Madison St, (312) 876-6395
Ghirardelli Chocolate Shop & Soda Fountain
This San Francisco outpost has two downtown Chicago locations. One is across from the historic Water Tower, and the other is in the Wrigley Building. Both offer ice cream as well as their signature chocolates.
400 N Michigan Ave, (312) 923-0168
830 N Michigan Ave, (312) 337-9330
Godiva
When nothing but Belgian chocolates will do, Godiva Chocolatiers offers a selection of freshly dipped treats in addition to their luxury chocolate gift boxes.
108 N State St, (312) 658-0477
Teuscher Chocolates of Switzerland
Located in the tony 900 North Michigan Shops, Teuscher has been called the "#1 chocolatier in the world" by National Geographic. You can make your own truffle box, or pick up their signature Champagne truffles.
900 N Michigan Ave, (312)943-4400
Vosges Haut-Chocolat
When a chocolatier has apprenticed under renowned chef Ferran Adrià, you know her creations are going to be delicious. Katrina Markoff is on a mission to spread Peace, Love, and Chocolate®, which makes her chocolates perfect for the holidays.
520 N Michigan Ave, (312) 644-9450
---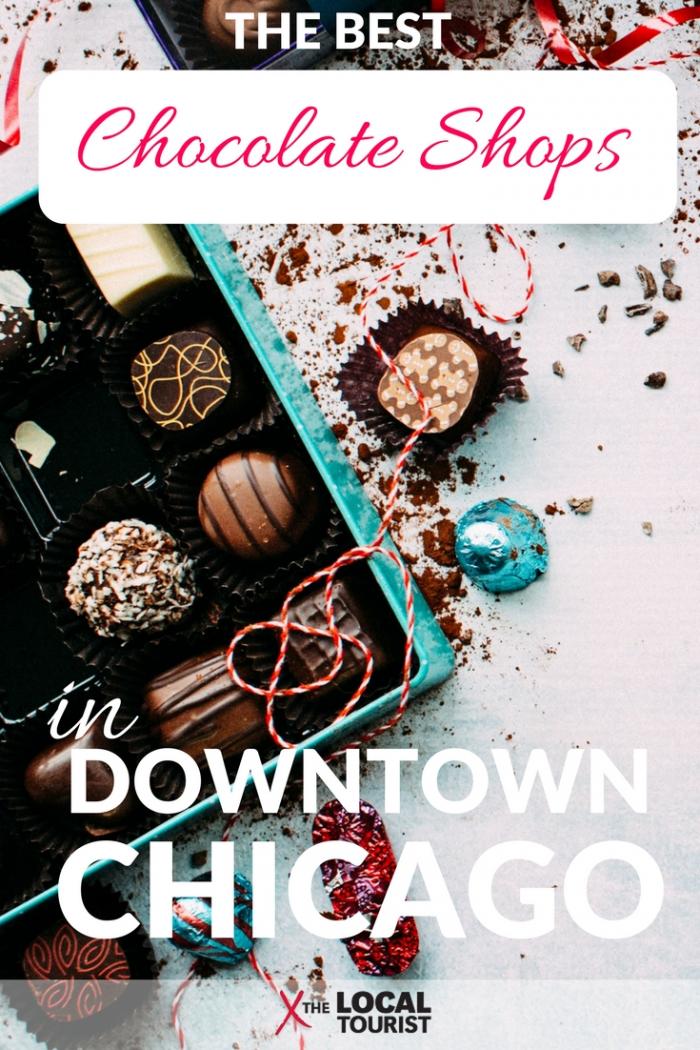 ---