One of the best things about summer is dining at one of the Chicago Riverwalk restaurants.
Located on the south side of the Chicago River, the Chicago Riverwalk is one of the city's must-visit summer activities. It's a vibrant destination that's popular with Loop lunchtime crowds as well as tourists. A stroll down this 1.25-mile long path is like a mini-vacation.
In addition to renting boats and cycles, there are also several places to eat. Restaurants line this walkway that begins at Lake Street and runs all the way to Lake Shore Drive.
Chicago Riverwalk Restaurants
Here are all the Chicago Riverwalk restaurants, so you can plan your waterfront dining with ease.
These are open seasonally and are weather-dependent, so you'll want to confirm they're open before trying to visit. The exception is City Winery, which breaks out awesome heated domes in the winter.
Looking for more riverfront dining? Check out 12 Restaurants on the Chicago River.
Sweet Home Gelato
You can tell when you're getting close to Sweet Home Gelato. The smell of waffle cones gives it away.
Serving gelato, floats, and milkshakes, you can get your frozen fix in a cup or one of those heaven-scent waffle cones. It's a nice treat either before or after your electric or cycle boat rental, and the kids (or you) can cool off in the splash pad that's right in front of their location.
Sweet Home Gelato, 151-155 W Riverwalk South 312-405-5736
Tiny Tapp & Cafe
If you're in the mood for craft cocktails with a view, you can't beat Tiny Tapp & Cafe. This al fresco cafe was originally an outpost of popular Lincoln Square spot, Tiny Lounge. While that location is now closed, you can still get a feel for the Chicago neighborhood when you dine and drink along the Chicago River.
Their limited food menu includes items like a turkey club, street corn nachos, and the perfect-for-summer elotes. As far as drinks go, expect local craft beers, margaritas, and wine on tap. When it's super hot, cool down with Frozen Henry's Holiday, made of fresh pureed strawberries, vodka, and lemon juice.
Tiny Tapp, 55 W Riverwalk South
City Winery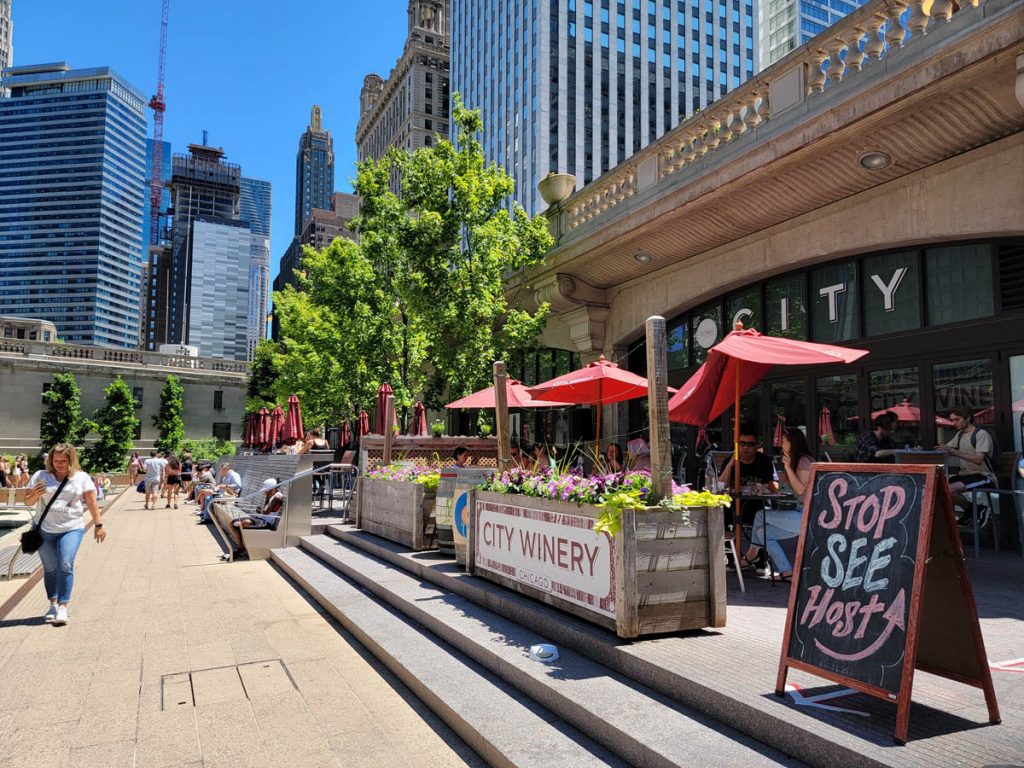 You simply can't go wrong with locally-made wine, outside, on a beautiful day, especially when it's accompanied by music and a view of the iconic Marina Towers.
City Winery on the Chicago Riverwalk is open daily, with a limited food menu on Mondays and Tuesdays and a full menu the rest of the week. Cheese and charcuterie is always an option at a wine bar, but you can also get surf and turf or a fancy-schmancy grilled cheese.
City Winery, 11 W Riverwalk South (312)733-9463 (phone number for Randolph Street location)
Chicago Brewhouse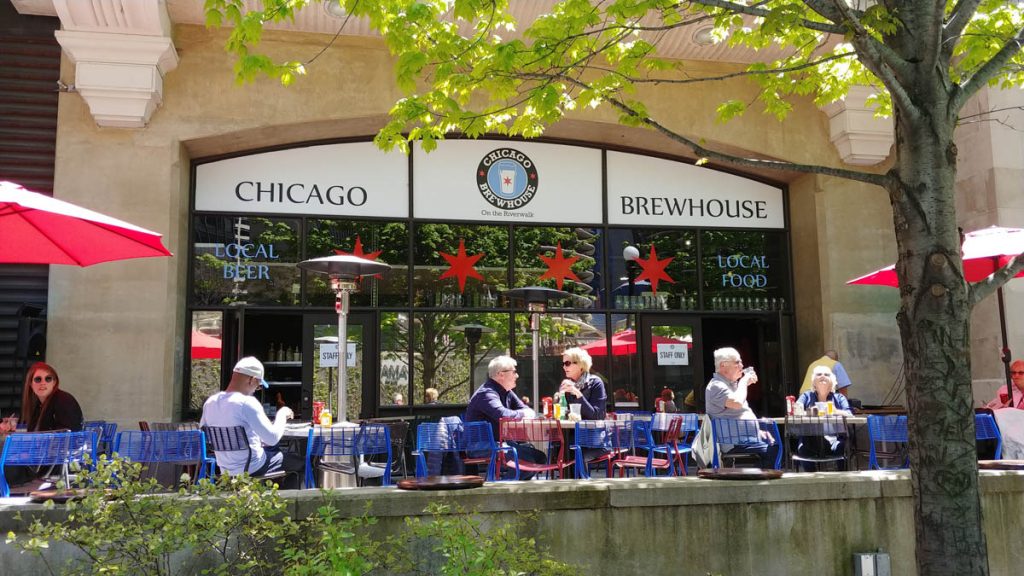 Chicago's craft beer scene is out of this world, and this spot showcases the stars. They offer a rotating selection of local beers and serve food inspired by the city's many ethnic enclaves.
Menu items include Pilsen Street Tacos, Greektown Gyro Sliders, and Lincoln Square Jumbo Pretzel.
Chicago Brewhouse, 31 – 35 E Riverwalk South (312)867-5766
O'Brien's Riverwalk Café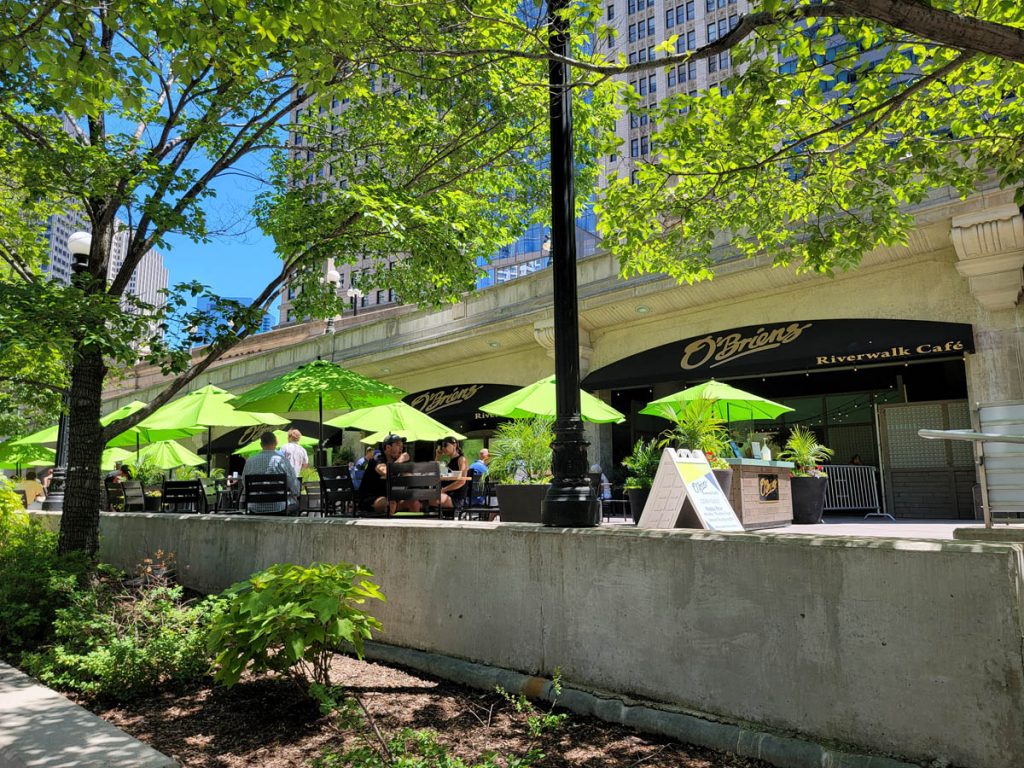 If you'd like a little shade during your riverfront dining, O'Brien's Riverwalk Café offers plenty of umbrella seating.
One of the first places to have an outpost on the riverwalk, they offer a relaxed atmosphere with burgers, salads, apps, and more. This is also a kid-friendly spot that the whole family can enjoy.
O'Brien's, 45 E Riverwalk South (312)346-3131
Since you're out and about, here are some more things to do in Chicago.
---
Chiya Chai Café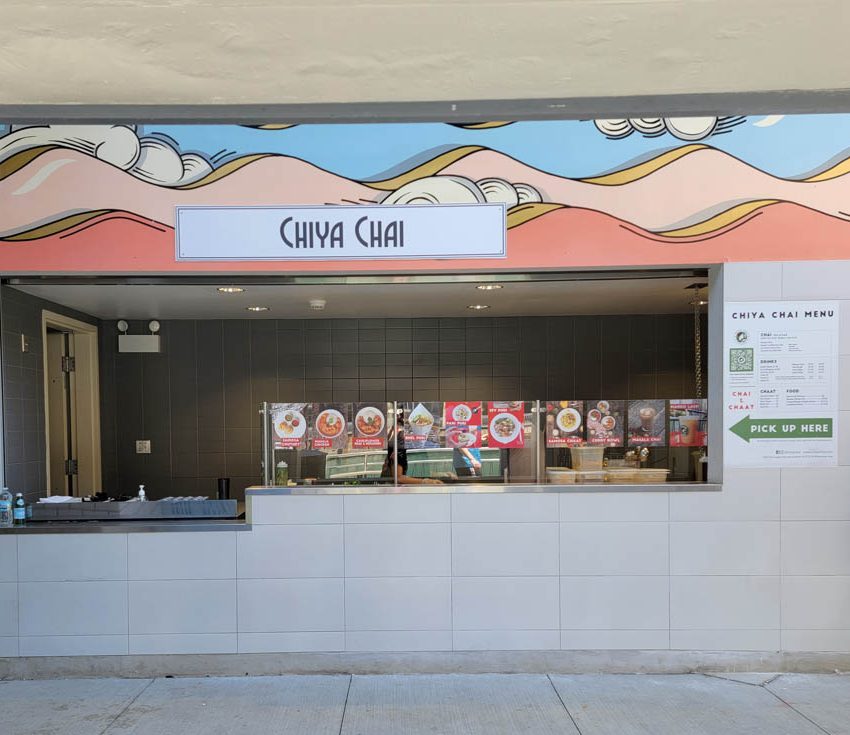 Located in the Community Marketplace, Chiya Chai Café is focused on – you guessed it – chai. It offers more than the beverage, though. They've got a menu of cuisine that represents countries that are associated with chai. For example, you can get savory pies from Great Britain, curry and other dishes from India, and dumplings from China and Nepal.
The Chicago Riverwalk location has a limited menu. For even more chai, visit their original Logan Square spot.
Chiya Chai Café, Community Marketplace, 773-360-7541 (Logan Square location)
Beat Kitchen on the Riverwalk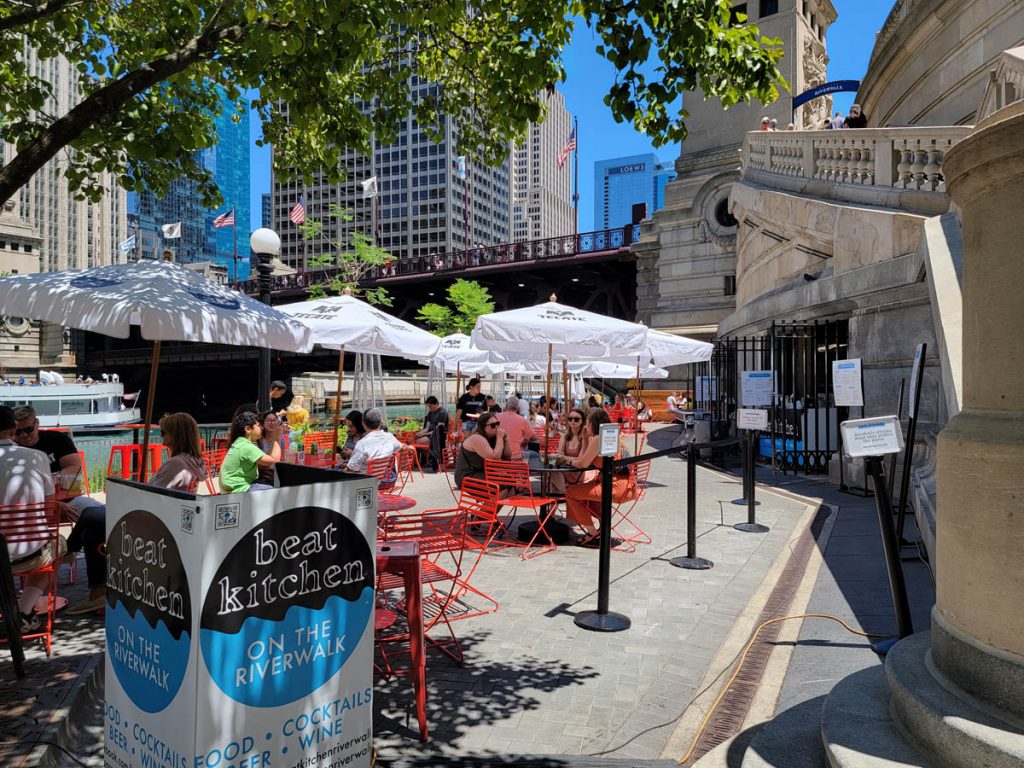 Fans of this Roscoe Village favorite will be happy to find its location on the Chicago Riverwalk. Located next to the Bridgehouse Museum, you can enjoy refreshing drinks and delicious food including tacos, pizzas, bacon mac 'n' cheese, guac and chips, and more.
Beat Kitchen, (773) 281-4444
The Northman Beer and Cider Garden Riverwalk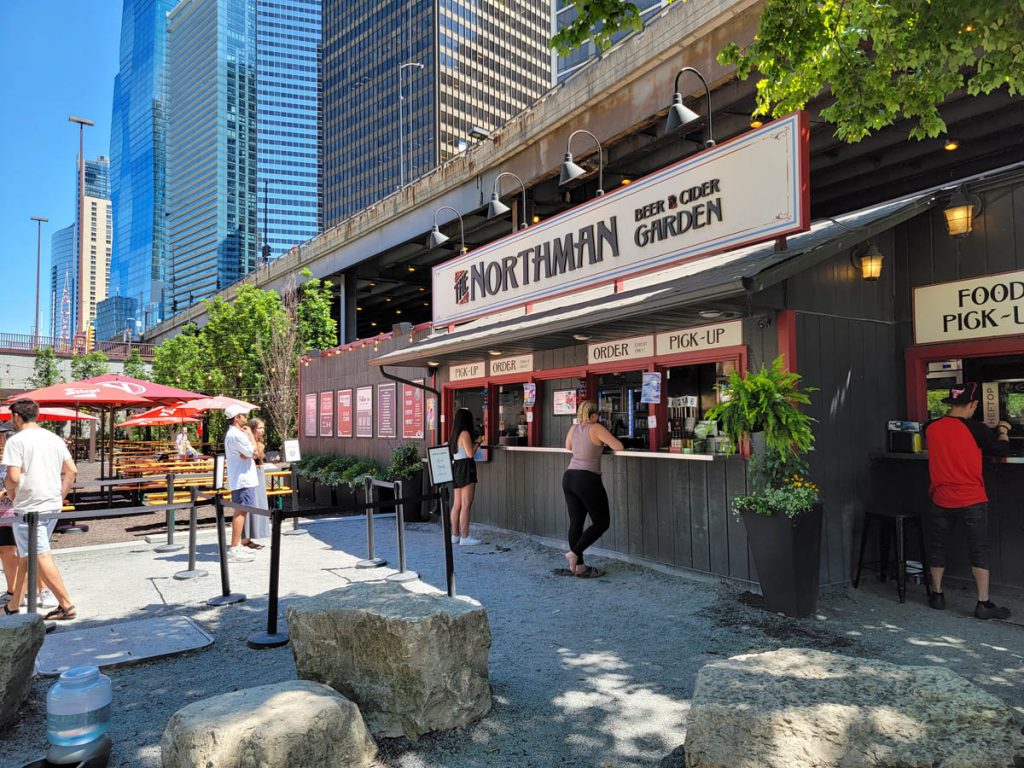 If cider's your thing, then there's no better place to enjoy it than at one of the newest Chicago Riverwalk restaurants. If you want to mix it up, they've also got beer, wine, and a full bar.
Drinks aren't the only things they've brought from their year-round location. Dig into their signature Döner Kabob Sausage, inspired by The Northman Lincoln Square's döner kabob, served with a bun, seasoned yogurt, marinated tomatoes, cucumbers, onions and sriracha.
The Northman Beer and Cider Garden Riverwalk, 233 E Riverwalk, (312) 228-1911
Island Party Hut
Head to the end of the line for this party place. The guys behind the Island Party Boat – you know, the tiki hut boat with the slide off the back? – have taken the party landside with this Riverwalk outpost.
Expect live music on Thursdays through Sundays, grilled goodies, and a Polynesian-themed party.
Island Party Hut, 355 E Riverwalk South (312)600-0488
Get above it all at these Chicago rooftop bars
---
What Chicago Riverwalk restaurants will you visit this summer? Visit chicagoriverwalk.us for more details on this Chicago attraction.
Pin this for later!