Tacos Guanajuato, also known as Tacos G, is a casual yet classy full-service Mexican restaurant located in Kildeer. The restaurant is owned and operated by Salsalito, Inc., led by Chef Margarita Challenger, Chef Jovanny Diaz, and the creative team behind Chicago's North Shore favorite Guanajuato (located in Winnetka).
Tacos G recently invited Your Chicago Guide to sample the menu on their newly expanded outdoor patio.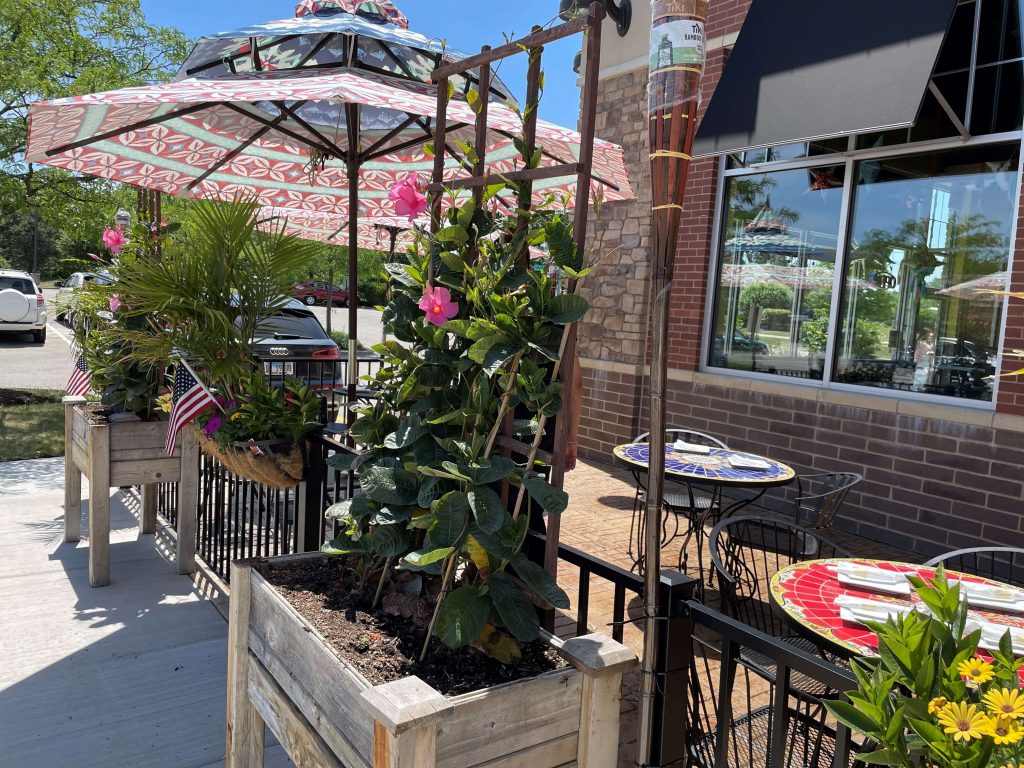 Tacos G highlights Mexican street fare from the region of Guanajuato, the childhood home of Chef Margarita. This traditional menu is elevated with sophistication under the talented leadership of Chef Diaz. The comprehensive menu allows the flexibility to craft a meal from street fare – a delectable collection of tacos, burritos, and tortas. But those who would like to enjoy a more traditional three-course meal can choose from an excellent selection of starters, salads, and main courses.
The restaurant has only been open for about 18 months but has already become a firm favorite for those lucky enough to have visited. According to Chef Margarita Challenger:

"As we opened just before the pandemic, we have been very fortunate to have built a loyal following at Tacos Guanajuato. Tacos G bridges the gap between the small Mexican taqueria and the super-fresh, highly crafted preparations found at the best, cutting-edge restaurants. We also are paying homage to the Mexican region and city of Guanajuato, my childhood home."

On a recent visit, I invited a friend to join, and we were treated to some of the finest Mexican food I have ever tasted. That is not hyperbole. Tacos G is absolutely one of the best Mexican restaurants I have encountered in the Chicagoland region. If you are lucky enough to live nearby, it can and should become a favorite 'go to.' If you live farther away (as I do) it is well worth the drive. From my home in Berwyn, during the latter end of rush hour on a Wednesday, it took me less than 45 minutes to drive to Tacos G.
Trust me – make the drive.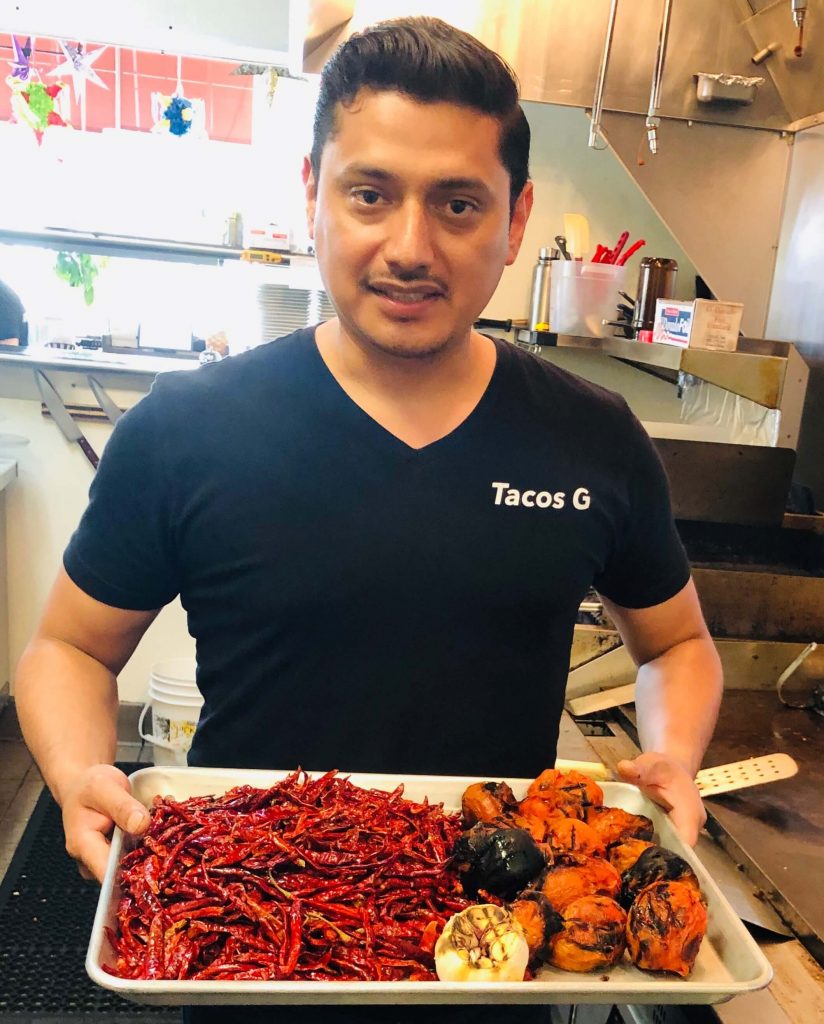 One of the hallmarks of the Tacos G menus is the emphasis on fresh and homemade. While we were dining, Chef Diaz visited our table. During the conversation, he told us that he feels strongly about treating guests like he would treat someone visiting his home – serving only the best, freshest, homemade foods to create a festive and memorable experience. This philosophy was clear throughout our meal.
For a starter, we began with the Guacamole & Jicama. I tend to be a bit averse to heat in food, but this guacamole was light and refreshing with only a hint of heat. For those with more of a love for heat, there are some sauces that can be served on the side to ramp it up a bit. We also enjoyed a side of their chips (for a traditional accompaniment to guacamole) – crisp and still warm from the fryer.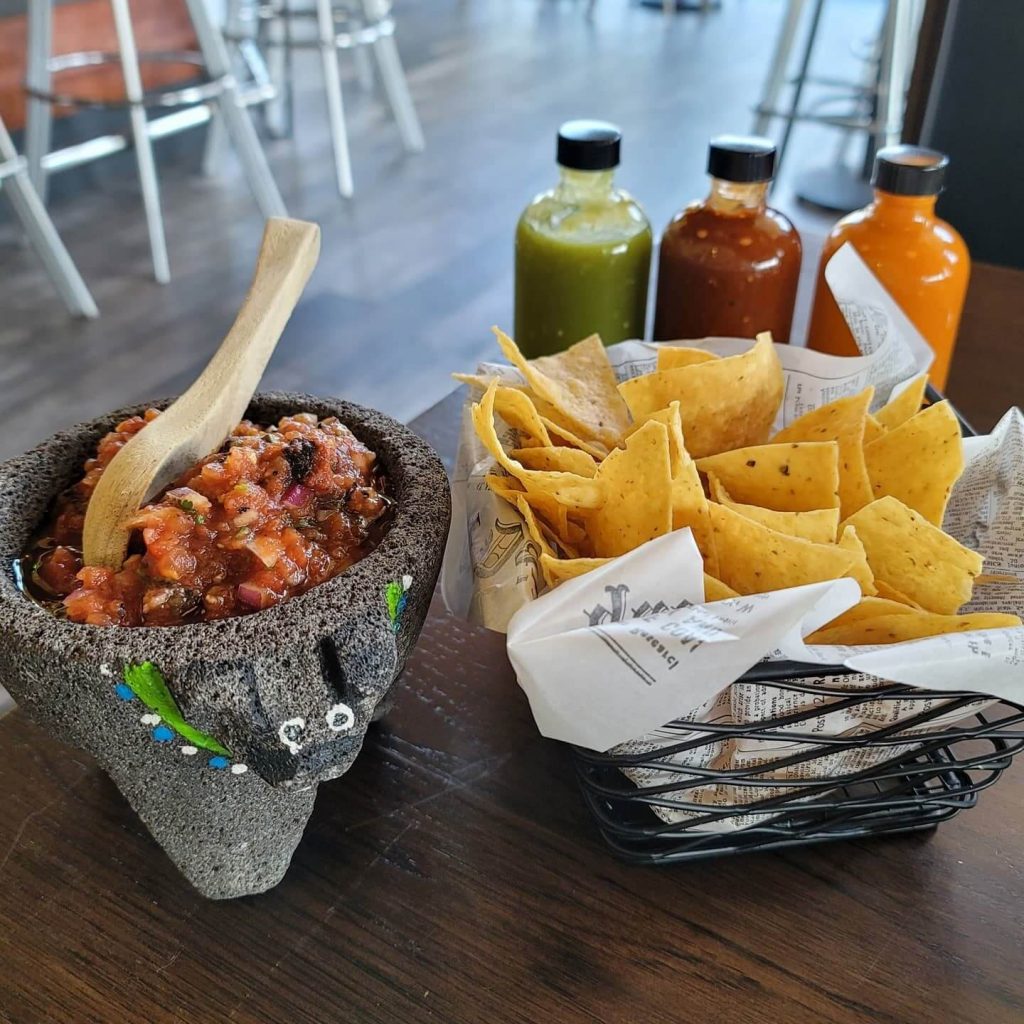 Taco G offers a large selection of unique signature tacos, priced from $4 to $5 each. We sampled four of these:
Rib Eye Taco (grilled rib eye steak served with grilled chihuahua cheese and topped with red cabbage, cilantro, and radishes) – marinated rib eye well-seared to medium rare and incredibly tender.
Chicken Taco (Adobo chipotle chicken served with lettuce, pico de gallo, avocado and sour cream) – a lighter preparation with superb layers of flavors.
Grilled Mahi Taco (grilled mahi mahi served with guacamole, pico de gallo and queso fresco) – another lighter taco and the flavor of the mahi was delicately balanced by the other flavors.
Grilled Octopus Taco – a special offering on the evening we were there. The grilled octopus was fork tender and well-marinated.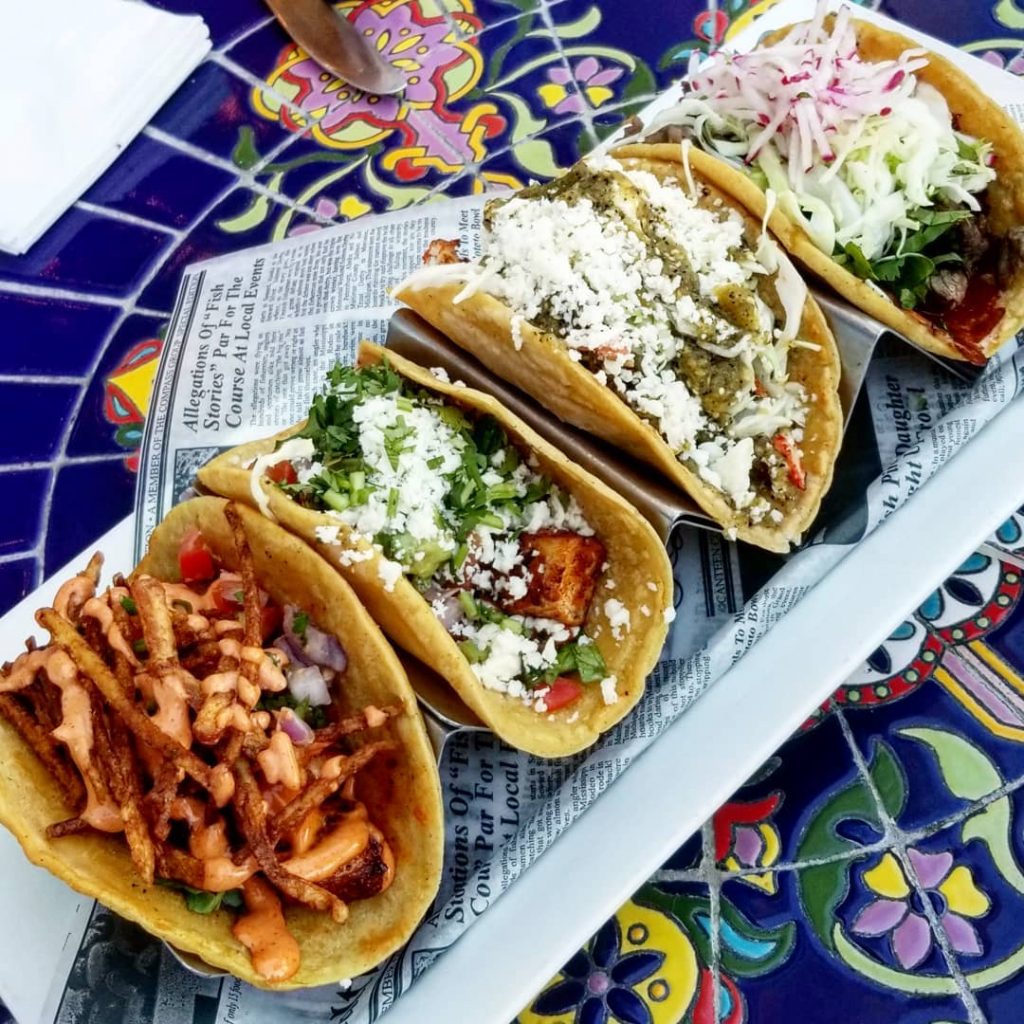 There are vegetarian options along with the most popular types of tacos including Barbacoa, al Pastor, Carnitas, Grilled Shrimp, and others. The menu includes an equally impressive selection of burritos and salads, but we skipped past those to focus on the main courses, all modestly priced from $17 – $20.
We tried the following three main courses:
Carne Asada (grilled skirt steak served with rice, black beans and freshly made tortillas) – the steak is marinated in a secret homemade sauce grilled to be nearly fork-tender. I have often asserted that some of the best steaks to be had in the Chicago area are not always at a traditional steakhouse but can be found at other types of restaurants. This is one of those experiences.
Enmoladas (three tortillas filled with your choice of steak, chicken, ground beef or cheese, dipped in mole sauce and topped with melted cheese, and served with rice and beans) – the mole sauce is another secret house recipe and was delectable. Everyone who makes mole has their own recipe, and whatever magical ingredients Chef Diaz uses here make this deeply flavorful but not so overpowering as to mask the rest of the flavors in the enmoladas.
Chile Relleno (a vegetarian option made with roasted chile poblano pepper, filled with cheese and served with black beans, rice, and fresh tortillas) – Normally I shy away from things with a great deal of cheese, but this looked so fantastic that we had to try it. Even if you're not a vegetarian, this one is well-worth ordering. The chile was mild with only a hint of heat and the tomato-based sauce gave a perfect acidic complement to the creamy cheese.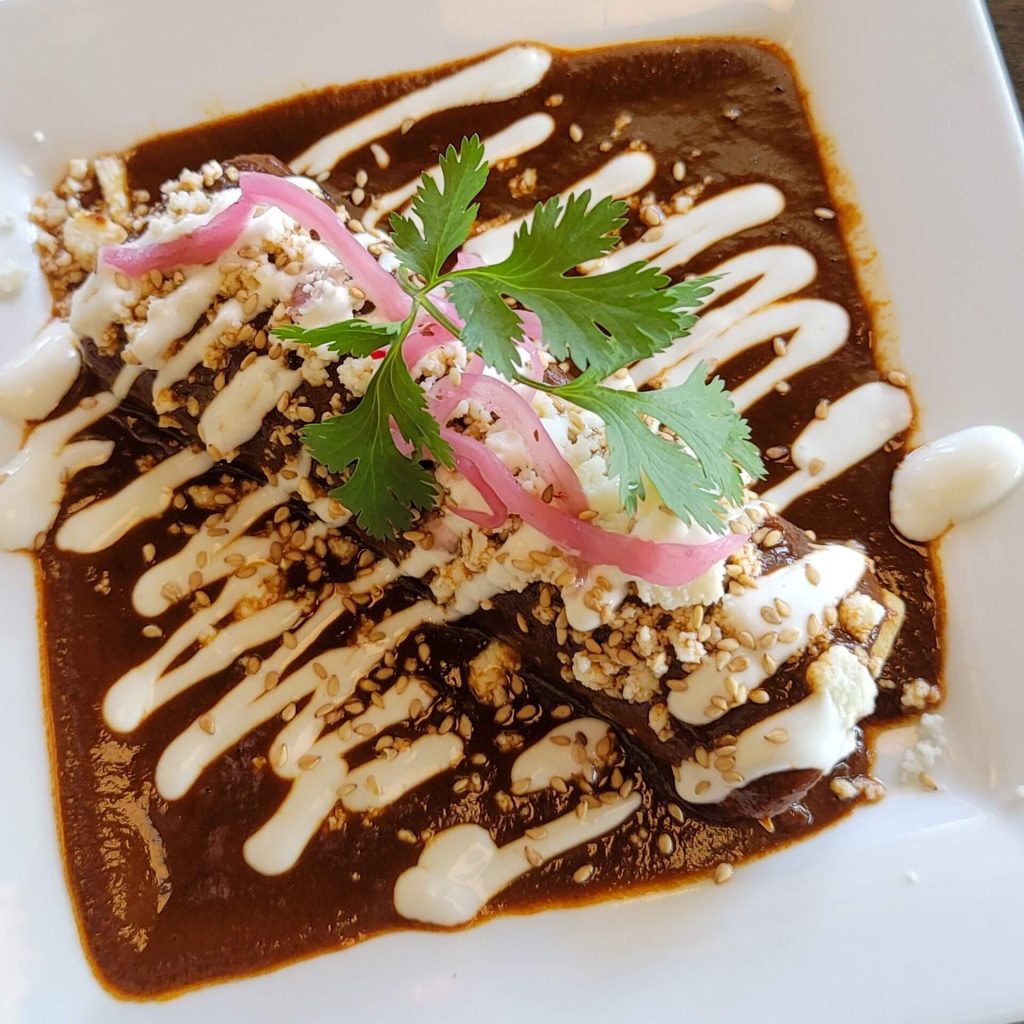 Although we had already tried a vast amount of food, we had to save room for dessert. Actually, three desserts – the Tres Leches, Vanilla Flan, and Churros Con Nieve. All I can say here is, "Save room!" All three were standouts, but my personal vote goes to the Vanilla Flan.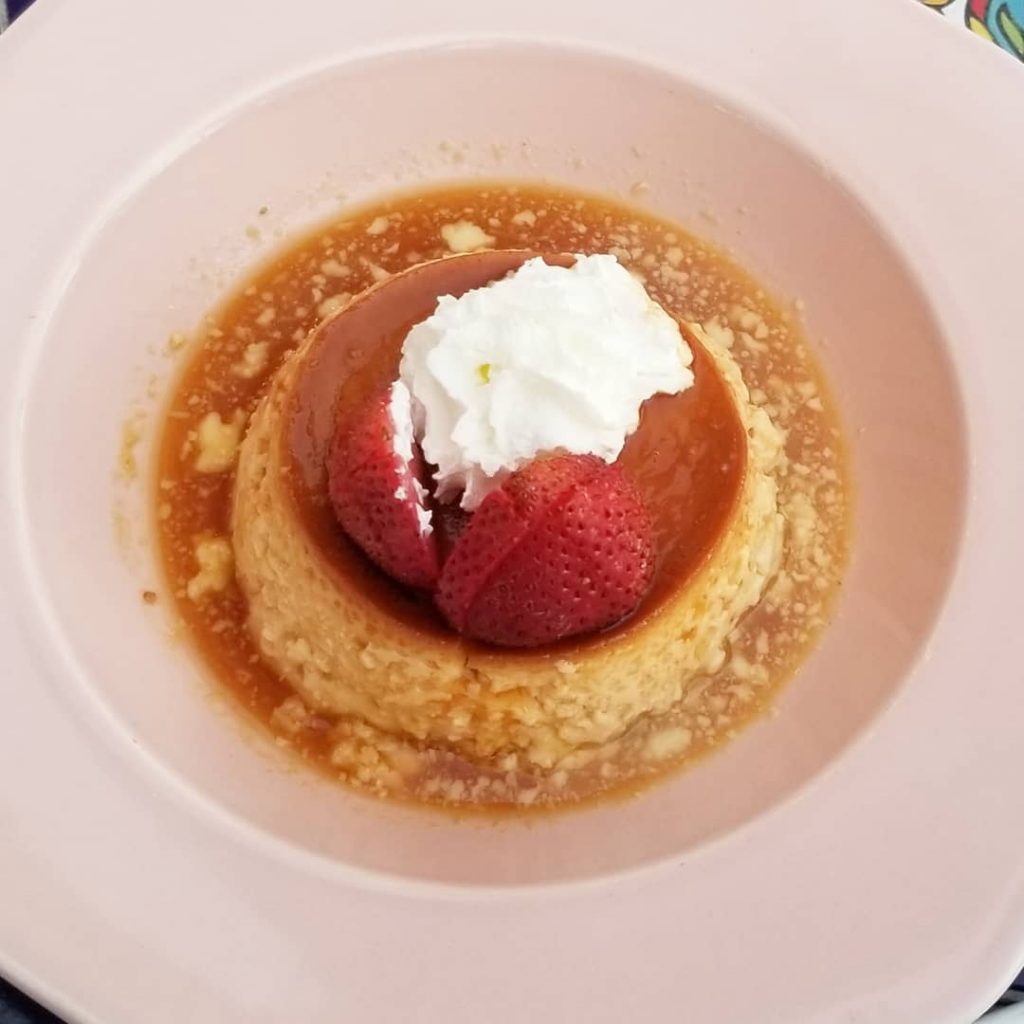 No visit to a great Mexican restaurant would be complete without sampling at least one margarita. OK – in my case it was three margaritas. The selections vary based on the availability of fresh ingredients and on the recipes created by their talented mixologists. On my recent visit, we opted for an intriguing collection including an Avocado Margarita (made with Mezcal), the Oaxaca Margarita (also a Mezcal-forward version) and the Tamarind Margarita. All of them were superb and unique. We also tasted the incredible Horchata which is well worth the calories.
Tacos Guanajuato (20771 N. Rand Road, Kildeer, IL) is open Monday through Saturday from 11 a.m. to 9 p.m.; closed Sundays. Takeout and delivery, as well as group catering, is available. All major credit cards are accepted, and ample parking is available in the adjacent parking lot.  The newly expanded outdoor patio is perfect for warm weather dining. For more information about Tacos Guanajuato, please contact the restaurant at (847) 847-1056 or visit the website.