Your Chicago Guide's tickets for two to the press opening of Bald Sisters courtesy of Steppenwolf Theatre.
Steppenwolf Theatre Company continues its 47th season with the world premiere of Vichet Chum's Bald Sisters. The production enjoyed a successful run and has now been extended through January 21st, 2023. Directed by Jesca Prudencio, the play is a brazen, comic examination of the ties that bind multigenerational families of immigrants together. Bald Sisters is staged in Steppenwolf's stunning new in-the-round Ensemble Theater in Honor of Helen Zell, the centerpiece of its recently unveiled Liz and Eric Lefkofsky Arts and Education Center. What that means for the audience is simple: there isn't a bad seat in the house, every inch of space is action packed. Bald Sisters cast features stellar performances by Francesca Fernandez McKenzie, Coburn Goss, Wai Ching Ho, Jennifer Lim and Nima Rakhshanifar.
Ma is dead; now what happens? Vichet Chum's world premiere follows two sisters, Him and Sophea – at odds since birth – as they settle the affairs of their strong-willed, wise-cracking mother while reconciling their family's Cambodian heritage with its ever-so-complicated American present. Where's the will? A burial or cremation? And what happens with Ma's teeth? Bald Sisters is an irreverent, comic and ultimately poignant examination of the ties that bind multigenerational families of immigrants together: history, spirituality and humor.
Vichet Chum's touching, and humorous work Bald Sisters is at its essence a story of two Cambodian-American sisters mourning their mother's passing. But there is more to the story than meets the eye at first glance. "Ma used to say because the Khmer Rouge invaded on the new year… we've learned to mourn and celebrate in the same breath." The wise Ma (Wai Ching Ho) dies in the opening scene. In a series of flashbacks throughout the play, we get to know this quirky character. And while not always welcome by her daughters, Ma's feisty spirit is a treat for the audience.
Bald Sisters is a reflection on the cycles of life. Both Him and Sophea are in fact bald, for very different reasons. Him, as a result of her chemotherapy treatments, and Sophea, newly bald based on a Cambodian ritual that suggests those in mourning should shave their heads. The play begins with Ma's death, Him may be dying of breast cancer, and Sophea is newly pregnant, contemplating bringing new life into the world. This connective thread between the three women in this family is what keep the audience captive. It's the circle of life encompassed in the three characters.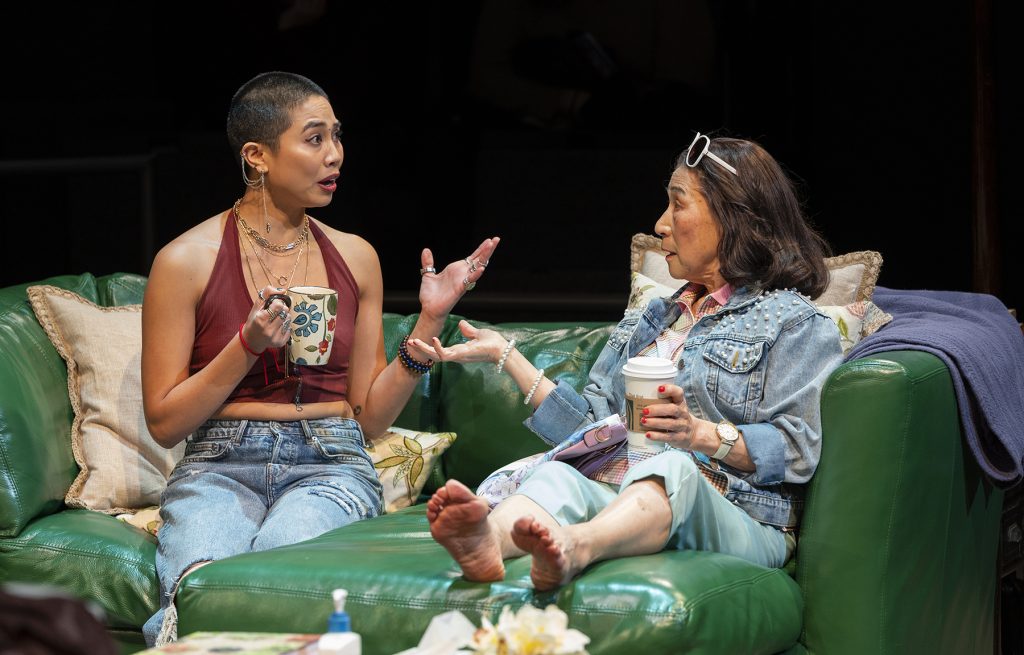 Bald Sisters is now EXTENDED through January 21, 2023 at the Steppenwolf Theatre, 1650 North Halsted, in Chicago's Clybourn Corridor neighborhood.
Tickets are available at steppenwolf.org and the Box Office at (312) 335-1650.