Your Chicago Guide's tickets for two to the press opening of A Mile in The Dark courtesy of Interrobang Theatre Project and Rivendell Theatre Ensemble.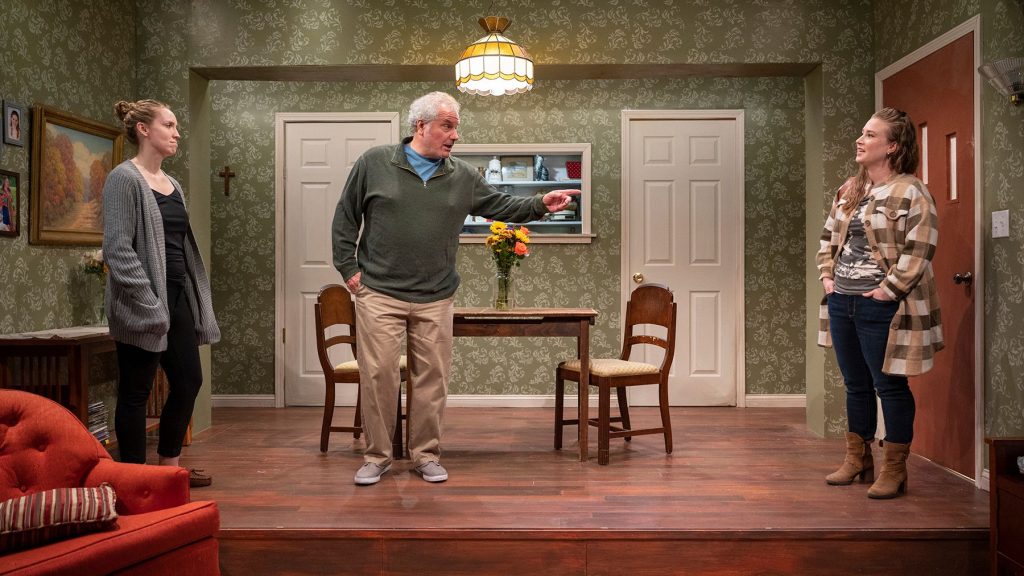 Interrobang Theatre Project together with Rivendell Theatre Ensemble are proud to present the world premiere of the new drama, A Mile in The Dark, now playing at Rivendell Theatre through December 11, 2022. Jess's stepmother Carol was a cheerful woman whose unexpected passing has left Jess searching for answers. Can something in Carol's life explain her untimely death? A Mile in The Dark is about the people we think we know but don't and the hard truth sitting in plain sight.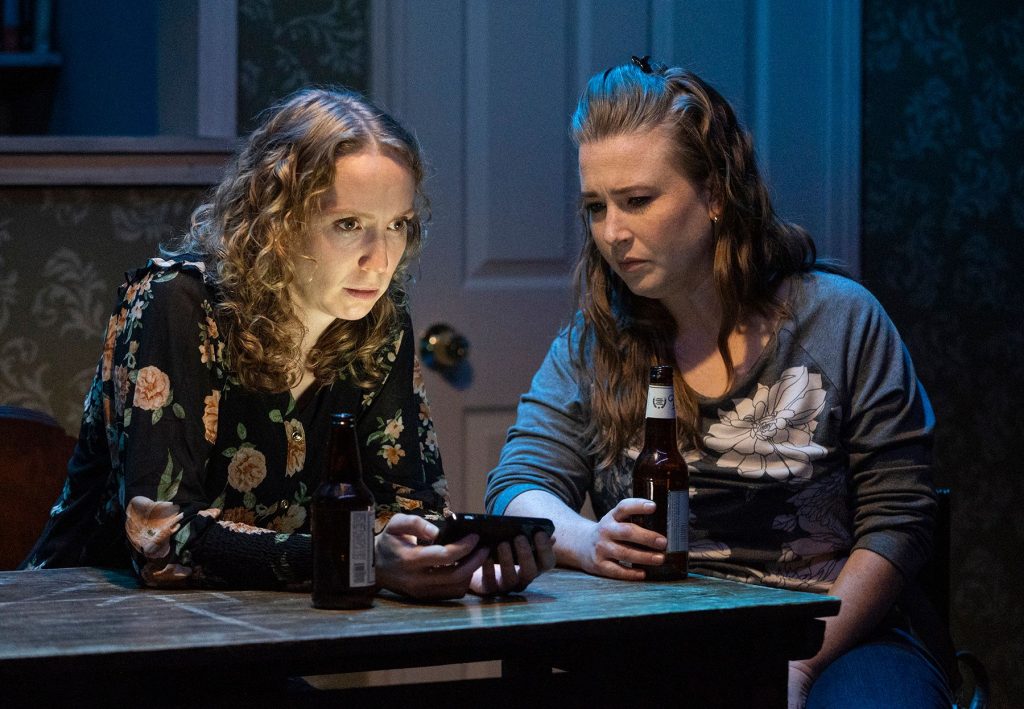 From Director Georgette Verdin: "My introduction to Emily Schwend's work was through her award-winning play Utility, which I was fortunate enough to direct for Interrobang in the spring of 2019. Upon closing that successful run, I immediately started to dream up another collaboration with Emily. We settled on a world premiere of her play A Mile in The Dark, which was originally slated to be produced in Interrobang's 2020-2021 season. It is my great pleasure to have Interrobang and Rivendell joining forces to finally bring this piece to life. Unsettling questions are ablaze in A Mile in The Dark. Emily's self-described brand of eerie-naturalism pervades every aspect of this story to chilling effect. In this digital age, art can sometimes feel like a desperate grasping for dwindling attention spans. Yet Emily's deft use of language and subtext, measured pace, and nuanced characters are on singular display in A Mile in The Dark."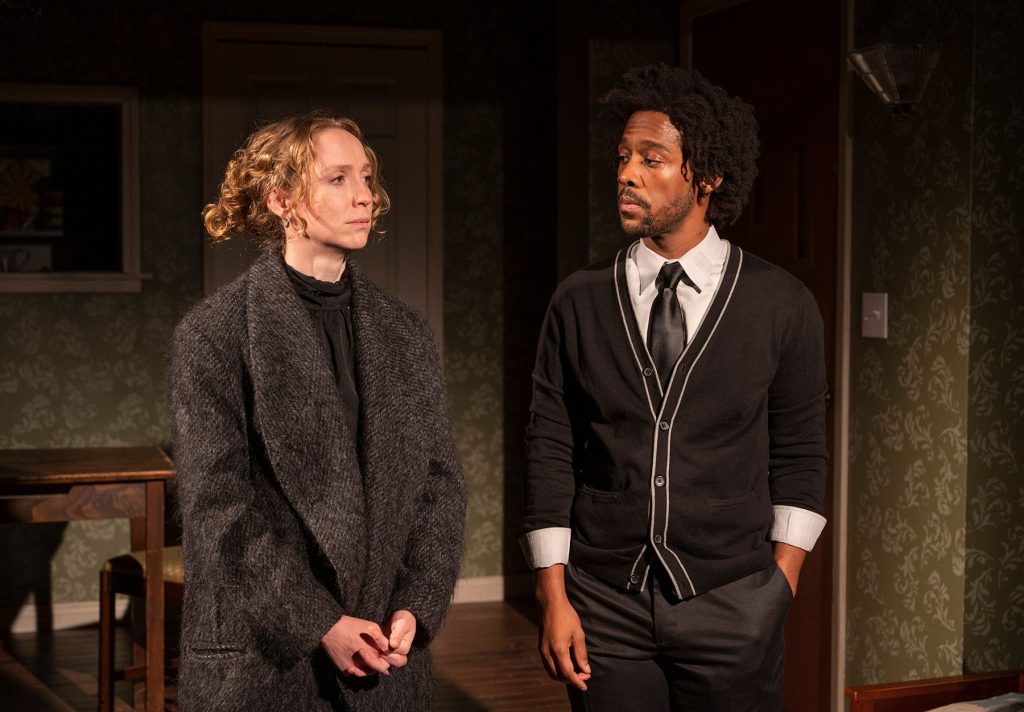 When someone you love dies suddenly, the questions are many and the answers few. Carol, a seemingly cheerful and beloved woman, turns up dead at a hiking trail after having been missing for a couple of days. Her husband is lost and despondent. And her step daughter's questions about what actually happened largely go unanswered. What happened to Carol? An accident or a suicide? The audience is left guessing along with Jess.
The larger scope though is about our humanity, and about how we care for one another. Or perhaps more so about how we fail to do so. Would Carol's death have been prevented if her husband was not neglectful? Could their relationship have been so rocky, that the circumstances are even more sinister? As Jess ponders these questions, she takes us along on her journey to discover the truth. Only the truth is murky at best. There are no real answers, only guessing games.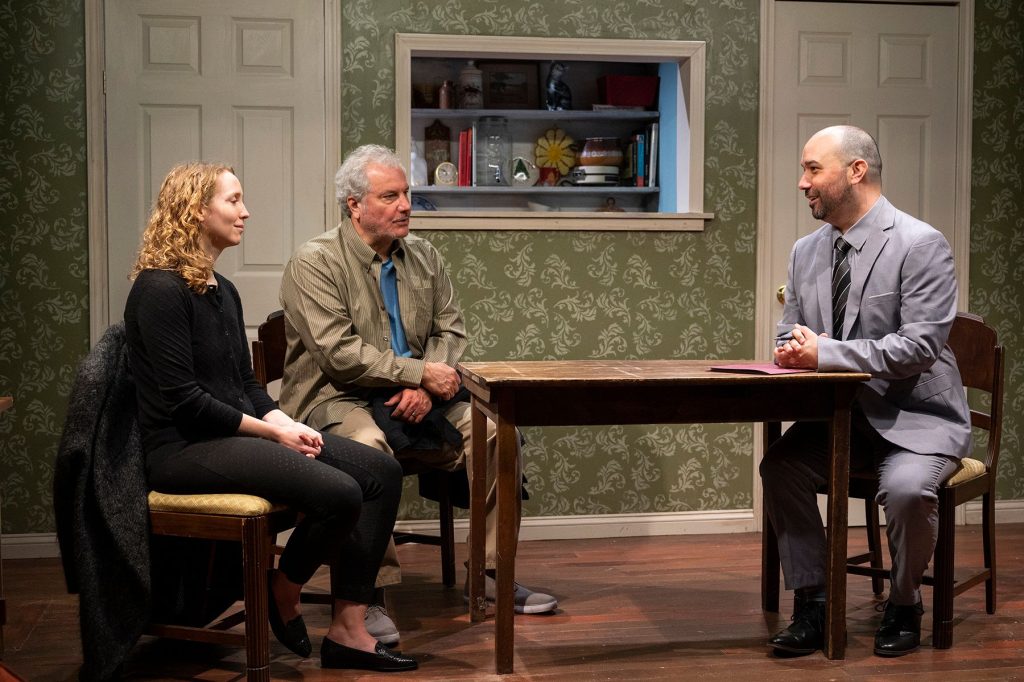 What's an Interrobang? An interrobang is the combination of a question mark and an exclamation point, joining the Latin for "question" (interro) with a proofreading term for "exclamation" (bang). Through the plays it produces, Interrobang Theatre Project aims to pose worthwhile and exciting questions which challenge our understanding and assumptions of who we are and the world in which we live.
Founded in 1994, Rivendell Theatre Ensemble advances the lives of women through theatre. Rivendell cultivates the talents of women artists—writers, actors, directors, designers and technicians—by seeking out innovative plays that explore unique female experiences and producing them in an intimate salon environment. Rivendell fills an important role in the Chicago region as the only Equity theatre dedicated to producing artistically challenging and original plays created by and about women. After years of being an itinerant company, Rivendell moved into its own theater space in 2011 in Edgewater. The company is focused on becoming an integral community partner and serving as a catalyst to engage audiences in a discussion of local social issues.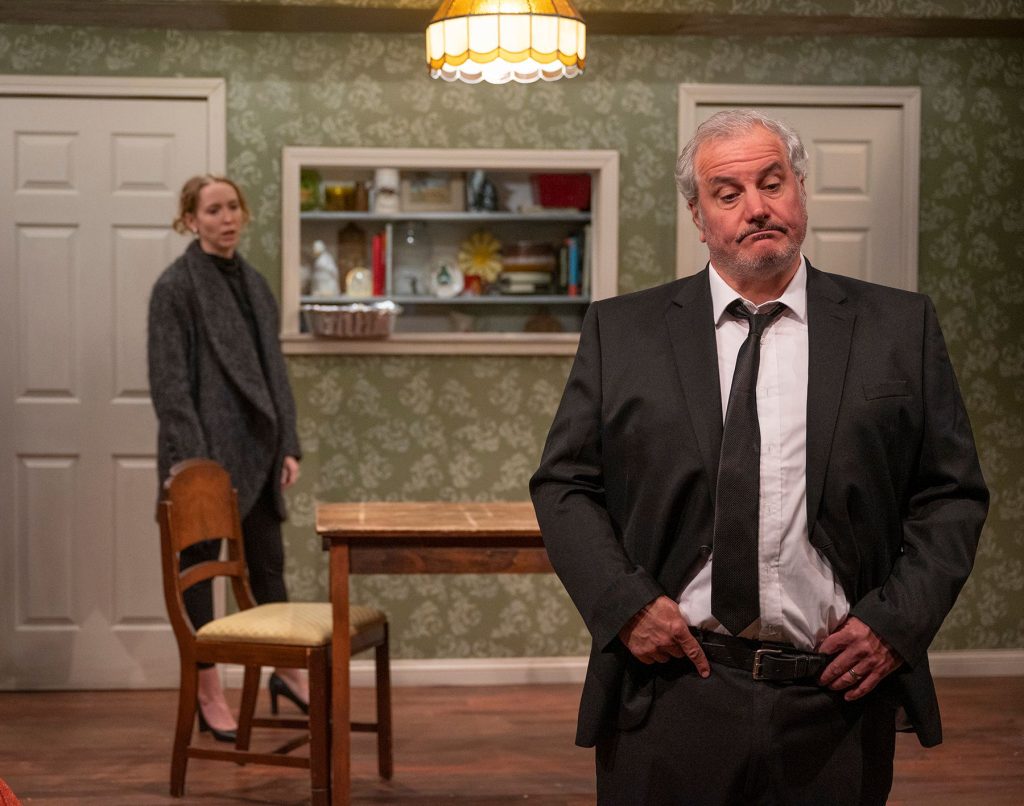 A Mile in The Dark is now playing through December 11, 2022, at Rivendell Theatre, 5779 North Ridge Avenue, in Chicago's Edgewater neighborhood.
Tickets are currently available at rivendelltheatre.org and interrobangtheatreproject.org or by calling (773) 334-7728.