Your Chicago Guide's tickets for two to the press viewing of Sweeney Todd: The Demon Barber of Fleet Street courtesy of Kokandy Productions.
Stephen Sondheim's Sweeney Todd has become a gory worldwide phenomenon after winning eight Tony Awards (including Best Musical) for its Broadway premiere. An unfairly framed and exiled barber returns to nineteenth century London to find his wife and child missing. Sweeney Todd seeks revenge against the lecherous Judge Turpin, who seduced Todd's young wife and set sights on Todd's child, now a young woman the Judge claims as his ward. The unfortunate barber's quest for vengeance brings him upon a failing pie shop and its proprietress, Mrs. Lovett. Her ingenuity along with Todd's thirst for blood bring forth a special ingredient for the meat pies that has London folk clamoring for more.
Kokandy Producing Artistic Director Derek Van Barham says: " For our tenth anniversary season, it felt important to celebrate with a master of the musical form–and it doesn't get much better than Sondheim. It will be fun to take on another tale of revenge, but this time with a twist on class. No one is safe in Sweeney Todd, where those above will serve those down below. Another show of the flesh, this will be a dark delight for the Halloween season, a Sweeney you can smell and taste and feel."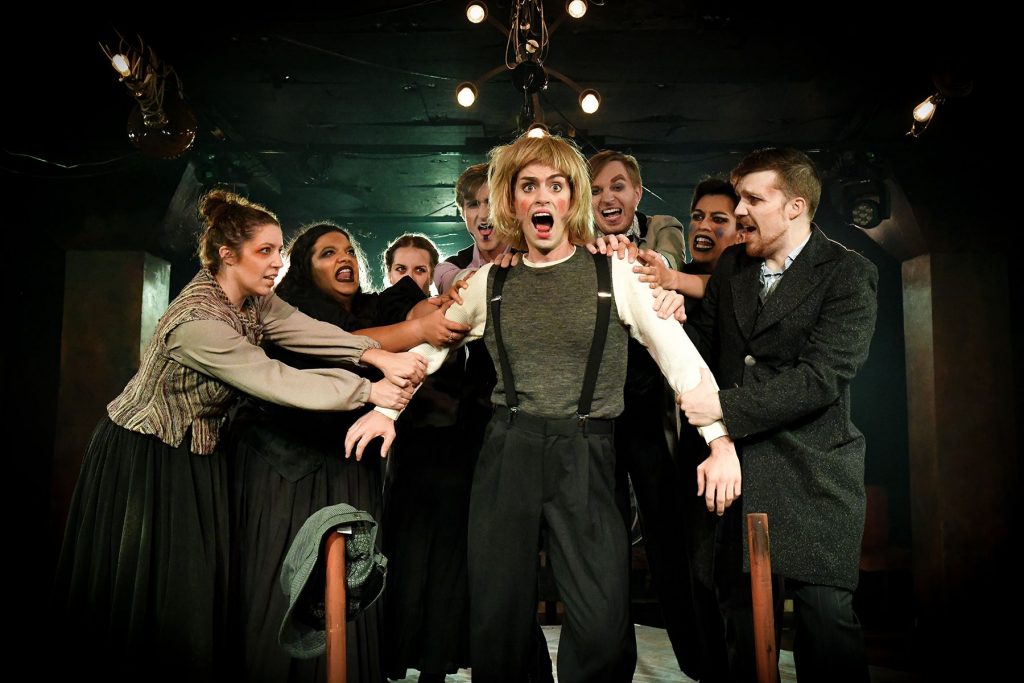 Sondheim's haunting musical thriller has been hailed "the greatest musical of the past half-century" by the Wall Street Journal. Sophisticated and uncompromising, Sweeney Todd is a great mixture of intense drama and howlingly funny moments of dark humor. The audience is laughing hysterically one moment, only to be gasping in horror the next.
Sweeney Todd is a story of revenge and how it consumes a vengeful person. The show is really about obsession, Sondheim himself claimed. The musical forgoes a simplistic view of crimes committed. Instead, the characters' emotional and psychological depths are examined. Sweeney Todd is understood to be a victim as well as a perpetrator, blurring the lines between protagonists and antagonists. The audience then is tasked with drawing those lines for themselves, individually. Nothing is truly ever just black and white.
Kokandy Productions interpretation of this timeless tale comes complete with live musical accompaniment, some clever special effects, as well as strong vocal performances. Small intimate venue, Chopin Theater put the audience in the thick of it, allowing the show to roll through every corner of the room. Engaging and thoroughly entertaining, Sweeney Todd is an utter bloody delight. Happy Halloween, Chicago! Have a meat pie. God, that's good…
Kokandy Production's Sweeney Todd: The Demon Barber of Fleet Street is now playing through November 6th, 2022, at The Chopin Theatre, 1543 West Division Street, in Chicago's Wicker Park neighborhood.
Tickets are now on sale HERE.