Sky Terrace Rooftop Lounge, on the 16th floor of the Ivy Hotel is just steps from the Magnificent Mile. This Chicago rooftop experience offers chic ambiance and a superb menu of both craft cocktails and upscale food.
The Ivy Hotel is one of many boutique hotels which have begun to pop up throughout the River North and Streeterville neighborhoods.
This particular hotel boasts a sleek, ultra chic, modern vibe and the Sky Terrace embodies that same energy. Although the views are not lake or river, there is a certain urban charm to sitting on a rooftop surrounded by higher buildings.
At night, the lights in the surrounding structures give a unique, urban vibe to this charming rooftop.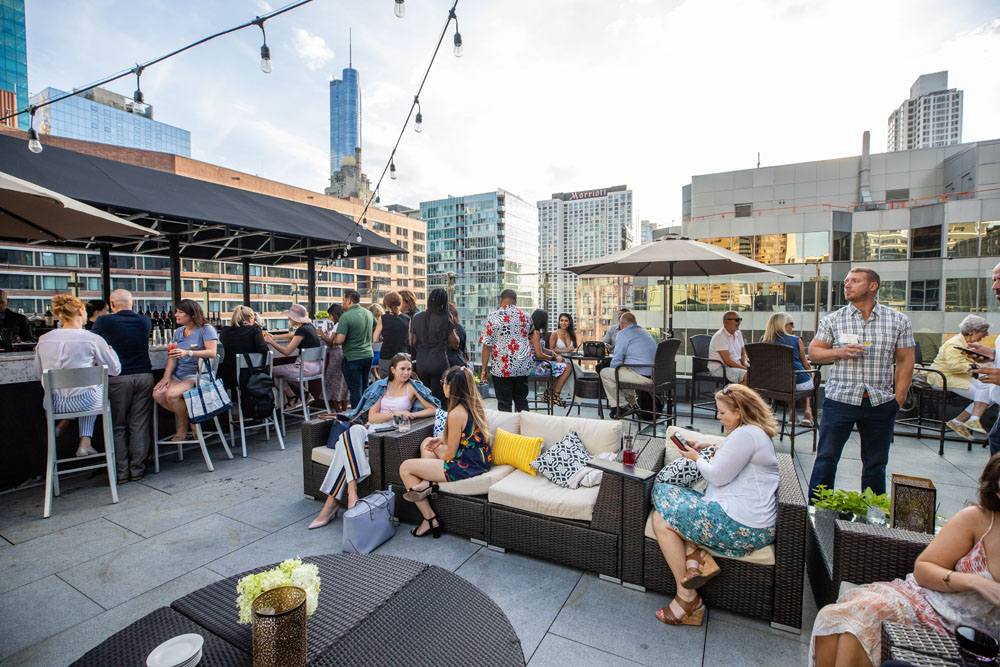 On a recent visit, I joked with friends that Sky Terrace has some of the best built-in marketing available in the city. Residents and workers in surrounding buildings can look out of their windows and watch people having a great time on the rooftop.
If "FOMO" is still a thing, then Sky Terrace provides a perfect opportunity for locals to feel a dose of FOMO and, in my opinion, will drive a bit of business their way.
Although the current plans are to be seasonal, the hotel informed me that they have architects working on plans to create coverings so that Sky Terrace can become an all-season attraction. Keep an eye out on their website for more information on that exciting renovation.
In the meantime, while weather permits, I definitely recommend taking a walk down E. Ontario and visiting Sky Terrace Rooftop Lounge.
The food is elevated, excellent, and reasonably priced. This season, Sky Terrace's menu features a mix of classic favorites including a Charcuterie Board, Hummus Tray, Wings and other shareable items.
For those looking to try something new, explore some of their inventive offerings including Pan-Fried Calamari & Jalapeño, Honey Beef Lettuce Wraps, a Buffalo Chicken Burger, Sweet Chili Chicken Skewers and more.
For guests with a sweet tooth, Home-Made Carrot Cake and a scrumptious Cookie Sundae are definitely worth a try.
Their mixologists are talented and some of their inventive craft cocktails are definitely unique. Try the Amaranthine, which features Jalapeño pepper paired with grapefruit vodka, fresh cucumber and a splash of sweet elderflower.
You might also enjoy the Astaire, made with whiskey, muddled strawberry, grenadine, lime juice ginger ale and blackberry liquor.
"We are overjoyed to be opening for another gorgeous Chicago summer," said Max Herrera, Director of Food and Beverage, Ivy Hotel. "With a fresh new menu for guests to enjoy and a vivacious, upscale atmosphere, we invite everyone to soak up the sun and make great memories at our lounge."
Sky Terrace Rooftop Lounge (233 E. Ontario Street) is now open and business hours are as follows: Sunday – Thursday, 4 p.m. – 10 p.m., Friday – Saturday 4 p.m. – 12 a.m.
For more information on Sky Terrace Rooftop Lounge or to make a reservation, visit their website or call 312.335.5444.