Oda Mediterranean Cuisine invited Your Chicago Guide to a dinner to sample their traditional and modern Mediterranean fare, an homage to the foods of the Ottoman kitchen.
Tucked away on the east side of North Clark street, just before the Ashland intersection, sits one of the finest restaurants I have visited in Chicago. That is not hyperbole, and I have visited a large number of spots. Oda Mediterranean Cuisine quite frankly blew me away on my recent visit.
Oda has many meanings in the Mediterranean and neighboring peoples' heritages. Odas were poems of admiration in ancient Greece and the word itself denoted an accommodation in Turkish and Georgian etymology. Here you will find a lovely spot that makes you feel at home (an accommodation) and the experience should leave you wanting to sing a hymn of praise (oda).
The moniker "Mediterranean" is perhaps not the most accurate way to describe the cuisine except in the broadest terms. The focus is on the foods that were inspired by the Ottoman empire drawing largely from the culinary traditions of Turkey and Georgia. Oda's proprietors, mother-daughter duo Marina and Tamta, present both traditional takes and modern methods on these cuisines. Born and raised in Georgia, Marina decided to reach down to the roots of the Ottoman kitchen and bring the best of its legacy into a single menu of Oda.
The menu provides an impressive array of dishes highlighting the eclectic cuisines of that large "Ottoman" area (Greece, Turkey, Georgia, etc.) Many of the offerings are vegan, vegetarian and often gluten-free as well. It would be impossible to satisfy either your curiosity or your cravings on one visit, so plan to head back more than once. Dining is offered on the patio or inside along large open windows.
On my recent visit, I was joined by a friend who is an expert on the cuisines and wines of that region, so I sat back and allowed her to (more or less) take charge and point me in the direction of items we needed to sample. We coursed the meal with mezes, main course, and dessert and paired all along with wines from their intriguing list.
For mezes (tapas) we sampled two traditional offerings:
Mini-eggplant roulades (walnut pesto, blue fenugreek, coriander, garlic, barberries, pomegranate reduction – both vegan and gluten free): The unusual ingredients drew us to the this one. The walnut pesto was creamy and delectable. They love their garlic at Oda, so be prepared for that.
Mantar guvech (cremini mushrooms, feta, pecorino, tarragon both vegetarian and gluten free): If you are a fan of food that imparts "umami" then this is your friend. The tarragon was just enough without overpowering and the cheese combination was gooey and delicious.
Moving on to larger portions, we opted for a number of traditional dishes:
Stuffed gypsy peppers (rice, asparagus, carrots, onions, garlic, dill, barberries, Turkish dried apricots, tomatoes, baby potatoes – another vegan and gluten free offering): These are not hot peppers (something I would not have enjoyed) but were mild. The combination of flavors here was complex enough that every bite was slightly different. They also offer a version of this with lamb.
Adjaruli (Khachapuri Georgian cheese bread with egg): Forget your diet. The home-made bread boat is baked with a prodigious amount of cheese, then topped with an egg that comes out runny. Mix the egg into the cheese, then break off pieces of the doughy bread and dip like a fondue.
Tabaka (Cornish hen crisped under a brick, milky garlic parsley confit, roasted baby potato – a gluten free dish): My guest told me that this item was one of her "tests" for the restaurant. Made well, it can be exquisite. Otherwise, just average. They won on this one. The hen was crisped and seasoned perfectly.
Oda grill combo featuring charcoal kebabs chicken, adana (lamb/beef), and kofte (meatballs): We could not visit a restaurant featuring Ottoman-inspired cuisine without sampling kebabs. All of these were superb – so ordering any one of them independently would be an excellent choice for the less-adventurous diner.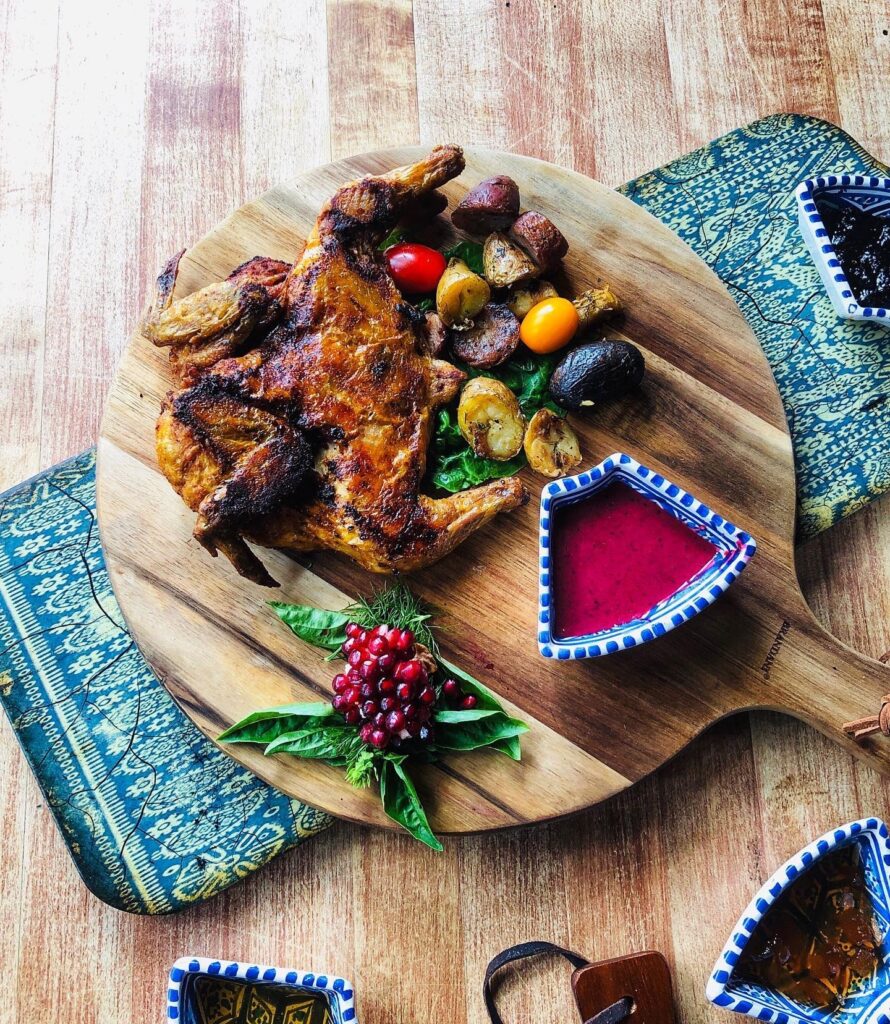 For dessert, despite an epic meal before, we opted to share the Kazandibi (caramelized pudding with cinnamon and berries): Think flan but with a boost from a healthy dusting of cinnamon and the addition of small, tart blueberries.
A perfectly-prepared Turkish coffee was the best end to this marvelous experience.
During your visit, be sure to sample from Oda's wine list. The options are a fascinating curation of wines from some familiar regions and a few that you may not have tried including Serbia, Bosnia-Herzegovina, Greece, and Slovenia. The real stars of the wine menu, however, are the Georgian wines.
Ancient pottery shards have proven that wine was produced in Georgia as far back as 8,000 years making this region one of the oldest – if not the oldest – wine-producing region in the world. Eastern Georgia is home to the Kakheti wine region, the most important vineyard area in the country both in terms of quality and quantity. On Oda's list are six amazing wines from the Kakheti region.
Each of these six wines is made using the Qvevri (Kvevri) method – an ancient technique in which the wines are fermented and aged in large, hand-made clay vessels which are buried in the ground. Do an internet search for images of "qvevri" or "kvevri" and you will see just how amazing this wine-making technique can be.
These wines highlight grape varieties indigenous to the region. You may have never heard of Rkatsiteli, Mtsvane or Saperavi but if you are an adventurous wine drinker you need to sample them.
These six Georgian wines on Oda's menu are available by the half glass, full glass, or bottle. My suggestion is to order all of them in half glass pours and treat the experience like a fascinating wine tasting. Different wine tasters may tell you differently, but here is my suggestion. Order them in two flights.
For flight one, start with the reds. The two dry wines have lingering earthy flavors but soft tannins from time in the clay. The third is sweeter. Taste in this order:
Vartsikhe Marani – a dry red made from the Aladasturi grape with notes of sour cherry, plum, spice, and a high acid.
Do-Re-Mi – a dry red made from the Saperavi grape. It's full-bodies with nice tannin, blackberry and chocolate.
Friend's Wine – a semi-sweet red made in the Kindzmarauli style from the Saperavi grape. This is a popular wine among those who enjoy sweet(ish) wines. It is fresh and fruity, served chilled.
For the second flight, move into the most intriguing of all the wines on Oda's menu – the amber wines. These are not necessarily "sip on the patio" wines. They are robust and earthy, made for food, with fascinating flavors unlike anything you may have sampled before. Try this order:
Khikhvi– a grape that creates wines with notes of white flower, orange peel and apricots.
Mtsvane – a more herbal grape that leaves you with hints of herbs, chrysanthemum and dried apricot.
Rkatsiteli – the most robust of the three, tannic and rich, with hints of dried apricot and honey.
Although we visited for dinner, Oda also serves a midday Mediterranean brunch every Sunday, complete with unlimited mimosas in five flavors. The brunch menu offers an array of omelets, savory Georgian cheese boats, mezes and more. As a special treat, Marina has created a "panburger" featuring layers of Russian pancakes with Nutella, kaymak (whipped cream) and berries. Drink options include Turkish Toddy, Boozy Coffee, wine, beer, Turkish tea and coffee, and Ayran (traditional Turkish yogurt drink).
Oda Mediterranean Cuisine (5657 N. Clark Street) is open for dinner Sunday-Thursday, 5-10 p.m. and Friday-Saturday, 5-11 p.m. Sunday brunch is offered 11 a.m.-3 p.m. Oda is closed on Mondays. For more information, visit their website or call 773-878-8930.