Your Chicago Guide dinner for two compliments of Edie's All Day Cafe and Bar.
"Meet me at the corner of Wells and Huron." It is Friday night, the evening is warm and filled with cicada song. The sun is setting and the summer heat dissipates. The day is fading, and the evening is tailor-made for Happy Hour and people watching. Enter the new kid on the Wells and Huron block, Edie's All Day Cafe and Bar.
We hit the sunny patio just as the sun itself dips below the adjacent buildings. Perfectly timed, I muse to myself. My extra fair complexion isn't fond of the sun. Across the street, Wells is closed off for expanded outdoor dining. Welcome to Friday night in the time of COVID-19, when all we can do is dine in the streets. Though if you ask me, it makes Chicago seem like a quaint European town. The tables, the drinks, the music, the vibrant scene… It's appealing in many ways. And from our table on the sidewalk we can watch the world walk by: young couples with strollers, dogs big and small sniffing away at the bowl of bacon treats thoughtfully provided by Edie's, people young and older returning home from work. Edie's is a welcoming, airy place, all beachy turquoise and white, with an open kitchen and a takeaway counter. It is redolent of good coffee and truffles. A solid neighborhood spot, I think to myself. Welcome, Edie's Cafe, stay a while.
My dining companion and I first venture into the cocktails. After all, the Happy Hour is in full swing, and trays of brightly colored drinks are making their way to the sidewalk. The staff is cheerful and young (and properly attired per the COVID-19 restrictions). Underneath those masks I would guess they are all smiles. I smile back from under my own mask. The cocktails are fun and whimsical. We fall in love with Edie's Spritz, refreshing and vibrantly green from its lime cordial. Wildflower Sangria is a solid choice, fruity and floral and ice cold. Our favorite though is Dos Santos, Edie's take on a strawberry margarita, zesty with the habanero shrub. Yes, please!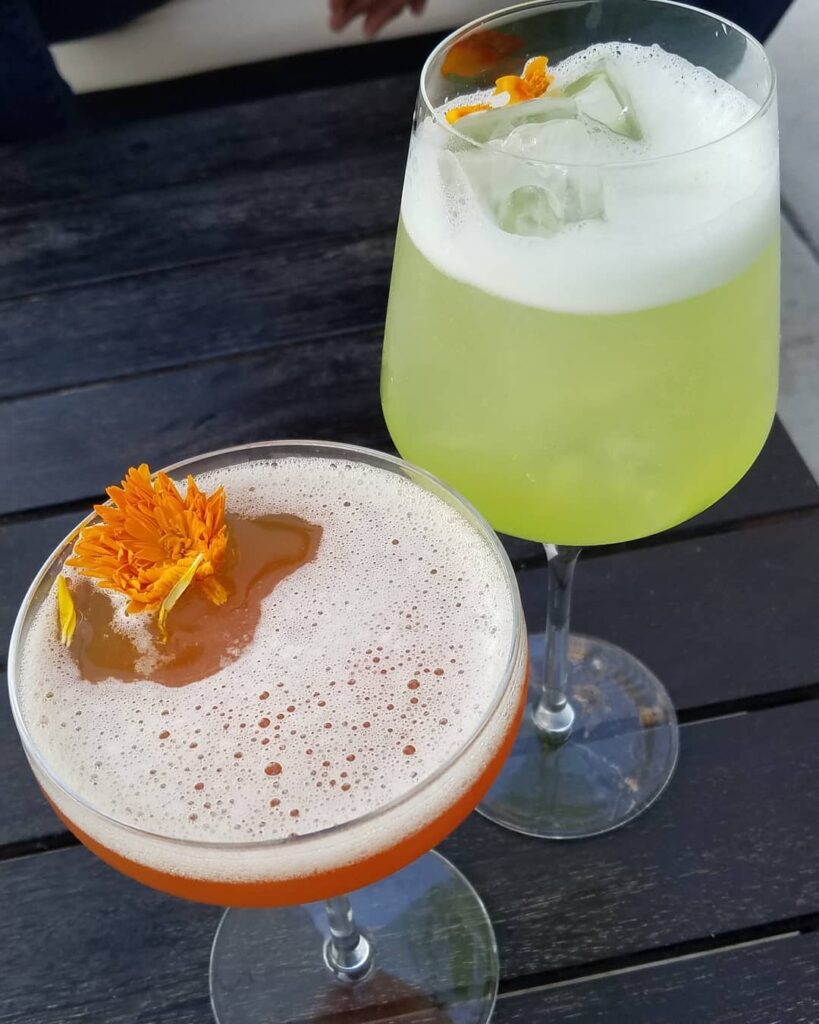 We peruse the menu. It is divided into Morning, Noon and Night. Edie's Cafe takes that "ALL DAY" moniker seriously. Breakfast is served from 8am until 3pm, full of sandwiches and bowls and signature smoothies. A nice selection of cold-pressed juices is also available. And the coffee menu brims with innovations, (more on the coffee later).
Lunch starts at 11am and is available the rest of the day. Sandwiches, salads, flatbreads, some small plates. After 3pm a very well curated charcuterie and cheese collection steals the spotlight. According to our server, charcuterie is all he ever orders when he dines at Edie's himself. We order a couple of flatbreads, Trufflelicious being a clear favorite. It is so rich in black truffle slices, truffle oil and truffle salt, that we understand why the aroma of truffles permeates the place. We sample the burrata and the paté du jour, both perfectly fine. Grilled carrots come topped with pistachios and raspberry glaze, and would satisfy a plant-based palate. So would the grilled portobello mushroom sandwich. Our favorite dish though is as far from plate-based as we can get: the BLT sports TEN (!!!) slices of bacon on whole grain bread with a thick slice of heirloom tomato and crisp iceberg lettuce slicked with real mayonnaise. Perfection.
We order wine. By the glass list is a little light for my personal wine geekiness, but we make do. Edie's is a brand new spot, and there is bound to be room for improvement. With our glasses of wine we make use of the charcuterie and cheese. The cured meats are expertly sliced and the cheese is "the stinker of the week." A few sweet and savory accompaniments and a basket of crackers round out the plate. Charcuterie is sold individually, and is half price during Happy Hour, which is a great deal! For me, the Mole salumi steals the show, dressed in chocolate, cinnamon and ancho pepper. My companion admires the cured duck breast slices.
Happy and full, we opt to split the chocolate mousse cake and wash it down with some coffee. Espresso for me, an innovation latte for him. Both are excellent. My espresso comes topped with thick foam, blazing hot, with a sidecar of seltzer, as espresso should be. His charcoal oat milk latte is creamy and smooth and beautiful. The baristas at Edie's know their craft very well.
It is dark now, but the street scene is still vibrant with sounds, sights and aromas. I catch myself thinking that Happy Hour at Edie's might be a nice thing to do on the regular. Meet me at the corner of Wells and Huron for cocktails, charcuterie and people watching. Even in the time of COVID-19 there is room for a little bit of fun!
Edie's All Day Cafe and Bar is now open at 675 North Wells Street in Chicago's bustling River North neighborhood.
Please, consult the restaurant for COVID-19 restrictions and requirements. Dine out responsibly.