I'm going out on a limb here, but I think it's fair to say most people don't associate bowling alleys with fine dining and craft cocktails. I associate bowling alleys with heartburn, terrible monogrammed polyester shirts, and regret. Or I used to, until I went to Pinstripes and had their new spring menu.
It should be noted nothing on the following list is deep fried, nor does a single item possess melted 'cheese,' but instead is comprised of fresh, seasonal ingredients and is, in every case, delicious and in one case alarmingly so.
FARMER'S MARKET SALAD: Fresh spinach and baby kale tossed in a sherry tarragon vinaigrette they make in-house. On top of this salad are roasted carrots, marinated figs, roasted corn, Humboldt fog cheese, fresh raspberries, and spiced pecans.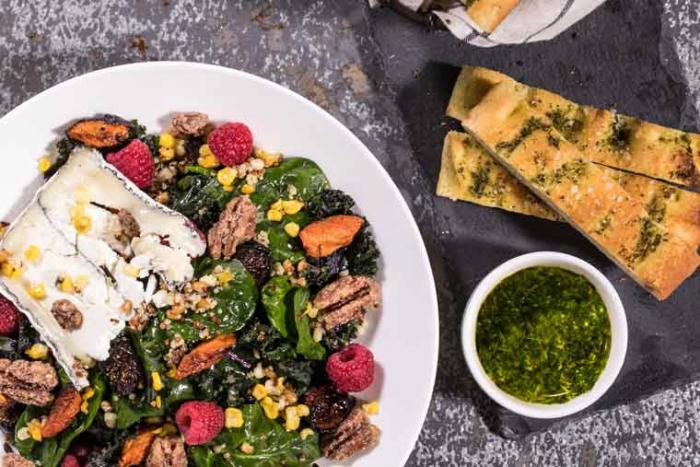 BURRATA CAPRESE: Heirloom tomatoes, fresh basil, and burrata cheese served with a relish made from heirloom tomatoes. Dressed with a pesto-infused oil and balsamic glaze.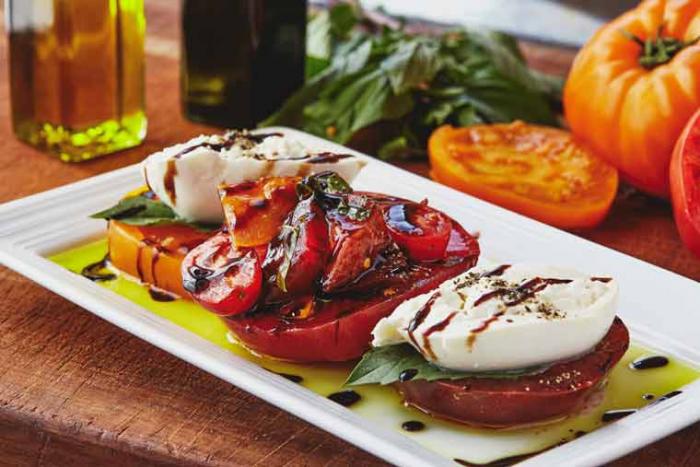 FILET MIGNON: Please read the following sentence carefully: this incredibly toothsome, brilliantly cooked steak has an espresso crust. If you're the kind of person who hates coffee (and mankind, and kittens, and apparently life itself) you might think to yourself, oh my God, there is no way I'm eating a steak rolled in coffee, which is the wrong thing to think to yourself. Eat this steak. It is tender. It is flavorful. It is everything you want from a filet mignon with a crust that contains a SCANT amount of espresso. Served with creamy polenta and calabrese broccolini with a peppercorn brandy cream sauce.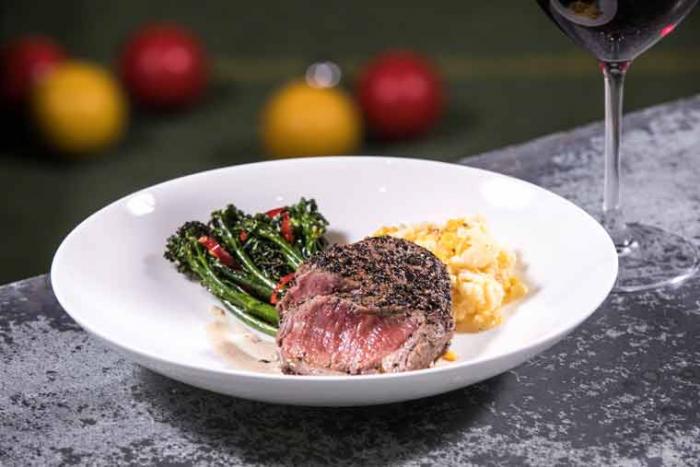 All of that is good. Extra good, actually. I ate my own portions then fought my wife for hers which is saying something–she's got a solid right hook; so believe me, the food is good.
But starting this Monday, Pinstripes is offering something that is insanely good. It's better than good. It's deserted island crazy last meal quality mouthwateringly nomilicious: a PB&J pairing menu.
Listen, I've had good PB&J. I've slid into the marble-and-gold appointed lobby of La Pavillon in the Central Business District in New Orleans at the stroke of 10pm with eighty pounds of beads around my neck scream-singing Neil Diamond songs because, New Orleans, and instead of collapsing from a full day of removing the city's whisky, helped myself to LaPav's legendary PB&J bar and rallied and went back out.
And I've had Susan Spicer's cult-status take on PB&J, which uses smoked duck for the P and sweet caramelized onions for the J and changed my life.
I've had fried PB&J from that one food truck in Portland and nearly suffered a nom-stroke so look, listen to me, pilgrim, I KNOW WHEREOF I SPEAK and the PB&J menu at Pinstripes will make you curse out loud.
NOT YOUR MOM'S FLATBREAD: Fulfills its eponymous promise. Your mother would never make this flatbread. Parts of it go against God. Other parts are illegal in Texas and Mississippi. This is a recipe that, on paper, is wrong in several ways. Read this: house-made flatbread dough smothered in chunky peanut butter and raspberry preserves with Fontinella and mozzarella cheese. Baked in Pinstripes' wood-burning oven until golden and melted. Topped with fresh arugula, roasted peanuts, slices of Fresno peppers and fresh raspberries.
But when you taste it—Jesus Mary and Joseph, be seated. It's just perfect and that whisper-thin wafer of Fresno pepper, I mean, come on. It tops it off with exactly, ever so slightly, too much heat that is definitely not too much heat.  
PB&J WITH A SPOON: This dish made me angry. House-made peanut butter gelato? House-made grape sorbet? Pound cake and salted peanut brittle? I'm on a diet, man. I have to drive home and eat plain lettuce. How can you do this to a man in my condition, to dangle such a delectable morsel in front of me just to watch me beg for–
I ate mine and my wife's too. She still doesn't know. I told her someone stole it while she was bowling.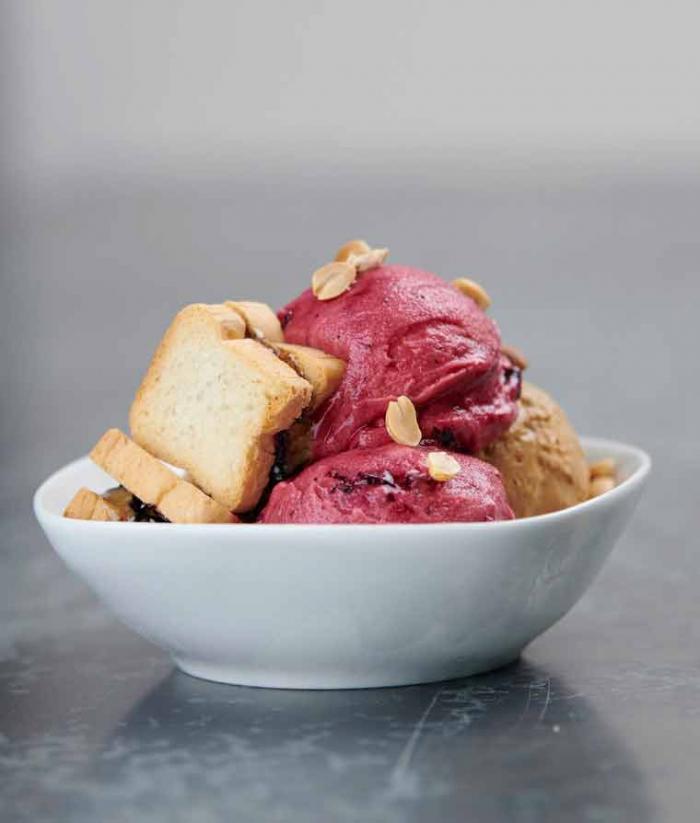 Oh yeah, bowling. Pinstripes is an upscale bowling experience with lanes as thoughtfully crafted as their food. Instead of hard plastic seats and shoes from 1963, you get comfortable couches and leather chairs and the shoes are new.
If bowling is too violent for you (I'm looking at you, person I married) Pinstripes has two Bocce Ball courts inside and at least one on their deck. Bocce Ball, in case you've never played it, is kind of like Lawn Bowling and Shuffle Board had a baby. It looks quiet and dignified at first glance but trust me, beneath its placid surface there is lethal, cutthroat competition. Also, due to a binding agreement between myself and the aforementioned Mrs. Garlington, I am required to say, in print:
She won.
Click here to make reservations for Pinstripes PB&J Menu